On March 7 the Ministry of Industry and Trade issued Decision No.686/QD-BCT with safeguards against the import of diammonium phosphate and monoammonium phosphate fertilisers.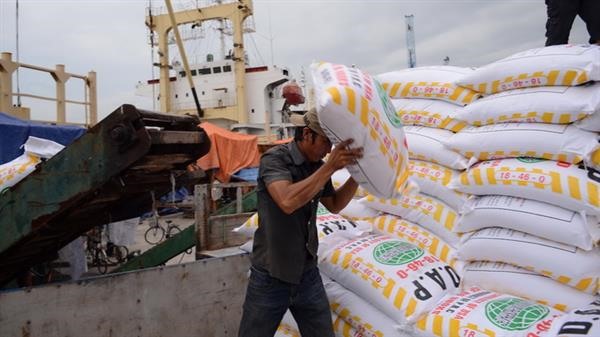 On March 7 the Ministry of Industry and Trade issued Decision No.686/QD-BCT with safeguards against the import of diammonium phosphate and monoammonium phosphate fertilisers. — Photo baohaiquan.vn
The new policy will last two years, and after that, the ministry will consider their socio-economic impacts and decide whether to extend the safeguards.
Now the imported fertilisers in the list will be subject to taxes.
For one year from March 7 the safeguard duty will be VNĐ1,128,531 (US$50) per tonne, the amount equal to the difference between the actual selling price and the break-even price for the domestic industry, but equivalent to only 60 per cent of the tax rate Việt Nam is entitled to apply in accordance with WTO provisions and its own laws.
On March 7, 2019, the tax rate will drop to VNĐ1,072,104.
The ministry's investigation and application of safeguard measures on imported diammonium phosphate (DAP) and monoammonium phosphate (MAP) fertilisers were carried out in accordance with Ordinance No.42/2002 on safeguards against the import of foreign goods and the provisions of the World Trade Organisation Agreement on Safeguards.
Earlier some fertiliser producers had complained that imported products were causing negative impacts on the domestic industry.
One year ago China, one of Việt Nam's biggest fertiliser suppliers, scrapped export duties on urea, DAP and triple superphosphate (TSP) and cut the export tax on NPK fertilisers from 30 per cent to 20 per cent.
These hit Vietnamese fertiliser producers, who were unable to compete on prices, and Chinese DAP grabbed an 80 per cent share of the market.
With the safeguard measures, the ministry expects to right the situation.
Some experts agreed with the decision, saying farmers should not be afraid of the possibility of an increase in fertiliser prices after the safeguard measures are implemented.
They said domestic NPK producers may not increase prices further since their current prices are already too high.
Many experts said that of course this expectation cannot happen and fertiliser producers are almost sure to increase their prices as costs go up with the import tariff.
Farmers will be the most affected by the tariff, especially the many who abuse fertiliser use to increase yields.
They said it is not fair and instead the Government should ensure fertilisers are sold at reasonable prices to farmers while also protecting fertiliser producers.
It should make changes to policies to support consumption of local fertilisers by putting up more technical barriers and cracking down on imports of fake goods and smuggling, they said.
Producers should focus on improving the quality of their products to match imports, including from China, thus encouraging farmers to use locally made fertilisers, they said.
They also suggested that the Government should subject fertilisers to value-added tax, albeit zero tax. They are now exempt from VAT. There is an important distinction: Any VAT, even zero per cent, allows a business to claim refund of VAT paid on all input materials.
Thus, if the Government scraps the VAT exemption on fertilisers and instead imposes a zero per cent tax, producers can claim refunds and reduce their costs.
Bad debt burden persists
Last year was a good one for Việt Nam's banking sector with many lenders reporting big profits and lower bad debt ratios.
According to the National Financial Supervisory Committee, non-performing loans (NPLs or bad debts) in the banking system fell to 9.5 per cent from 11.9 per cent in 2016.
ACB is the lender with the lowest bad debt ratio of only 0.7 per cent. Its unrecoverable debts fell from 0.64 per cent in early 2017 to 0.4 per cent later that year.
In the same period, Sacombank's bad debt ratio fell from 6.91 per cent to 4.16 per cent.
These are due to an improvement in the legal framework for restructuring credit institutions and dealing with bad debts, such as Resolution No 42/2017/QH14 issued by the National Assembly and the amendments to the Law on Credit Institutions.
The resolution, which allows banks and the Việt Nam Asset Management Company (VAMC)  to appropriate collateral in the event of a borrower defaulting, allowing banks to be more active in managing bad debts.
Besides, banks have been proactive in provisioning for bad debts.
ACB for instance, spent VNĐ2.565 trillion ($113 million), a whopping 49.1 per cent of its profits, on provisioning.
Despite their great performance with regard to bad debts, banks have been warned by experts that their bad debt burden would continue this year.
They said lenders would have to earmark a considerable amount of money, equivalent to 20 per cent of the value of the special bonds they got by selling their bad debts to the VAMC.
A Sacombank representative revealed that the lender's target is to reduce the bad debts ratio to 3 per cent this year by provisioning, meaning its pre-tax profit would be a modest VNĐ1.64 trillion ($72.5 million).
The State Bank of Việt Nam (SBV) established the VAMC in 2013 with a mandate to take over the bad debts that plagued Vietnamese banks and manage their recovery.
The company takes NPLs off banks' balance sheets in exchange for special bonds it issues.
VAMC bonds do not pay interest and banks have to effectively recognise losses related to the NPLs as they provide for the VAMC bonds over five or 10 years, meaning these assets add to lending costs and hurt profitability.
But they believe things would change this year with the banking sector's bad debt settlement becoming more active and efficient.
That is because of the overall stability in terms of macroeconomic factors like growth, recovery by companies in various sectors and improvement in the stock and housing markets.
Besides the burden of clearing their bad debts, banks would also continue to face pressure to achieve Basel II standards this year, analysts said. VNS