Amazon is making its long-awaited foray into Vietnam's e-commerce market in March, a move that could shake up the country's entire online retail market.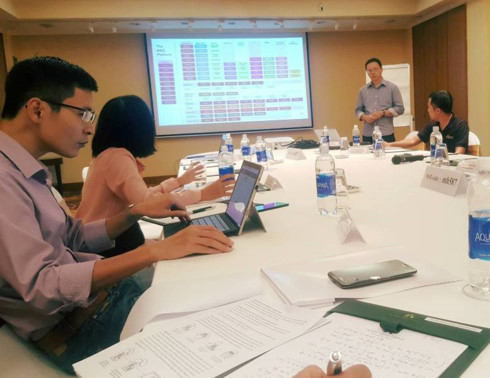 On March 14, Amazon will make a presentation at the Vietnam Online Business Forum 2018 about its strategy to develop business in Vietnam. 
The US e-commerce firm will launch a cooperative programme with Vietnam E-commerce Association (VECOM) this month to aid small- and medium-sized enterprises (SMEs) to sell through their website.
Nguyen Thanh Hung, VECOM's chairman, said that Amazon's strategy is to provide cross-border e-commerce trade, as well as to import products from Vietnam.
"Vietnamese shoppers will buy products on Amazon, while Amazon is considering selling Vietnam's products. They want to support Vietnamese SMEs on Amazon," he said.
Amazon Web Services (AWS), a subsidiary of Amazon, has been operating a representative office in Vietnam since 2017 to provide cloud computing services. AWS supplies cloud-based infrastructure services based on its parent company's back-end technology platform.
Commenting on Amazon's move, Tran Trong Tuyen, general secretary of VECOM, said that this is good news for the market. In fact, the year 2017 was a turning point for the Vietnamese e-commerce sector with the entrance of many tech and financial giants.
"Amazon's arrival is set to spur local market development. Services suppliers will compete to develop selling services, logistics solutions, ecosystems, and much more. Meanwhile, Vietnamese shoppers can buy goods with greater convenience and competitive prices," he said.
Amazon has spent 2017 pushing into new territories. It expanded into the Middle East following the acquisition of Souq.com, while also debuting in Australia, and purchasing Whole Foods Market for US$13.7 billion.
Amazon has been continuing its international expansion push, with last year's launch of its services in Singapore. The move marks its first entry into Southeast Asia, a region of 600 million consumers where rivals Alibaba and Tencent are already actively investing.
Alibaba spent US$1 billion to acquire a 51% stake in Lazada in 2016. Last year, it injected another US$1 billion in Lazada to raise the stake to 83%. Lazada is the region's largest e-commerce platform, and has operations in Indonesia, Malaysia, Singapore, Thailand, the Philippines, and Vietnam.
Alibaba chairman Jack Ma visited Vietnam in November to promote Alipay and other non-cash payment methods.
The company has decided to cooperate with the National Payment Corporation of Vietnam, enabling Chinese tourists to use its online payment platform in Vietnam.
According to VIR's source, Alibaba is in the process of buying Vietnamese e-commerce platform Sendo.vn to acquire more market share.
Meanwhile, Tencent-backed gaming and shopping company SEA is the parent company of e-commerce marketplace Shopee Vietnam, which has delivered solid growth after nearly two years in the market. Recently, JD.com has managed to increase its presence in Southeast Asia by way of investing in Vietnamese e-commerce portal Tiki.vn.
Meanwhile, Tran Ngoc Thai Son, CEO of Tiki.vn, hoped that the arrival of e-commerce giants will attract a wave of investment into local companies. Tiki fared well when Alibaba took over Lazada.
Consumer-to-consumer marketplaces in Vietnam include Sendo.vn, Shopee, Chotot, and Vatgia.com, Lazada, Tiki, Adayroi, Lotte, and Vuivui are a few names among the local business-to-consumer marketplaces.
VIR