Australian delegation examines shrimp processing chain in Vietnam
A delegation from Australia's Ministry of Agriculture and Water Resources is visiting Vietnam from February 26 to March 2 to inspect the processing chain for shrimps exported to Australia.
According to the Trade Office of Vietnam in Australia, the delegation focuses on four main issues, including prevention and control of aquatic animal diseases.
The delegation plans to examine the issuance of shrimp quarantine certification for export and visit laboratories where shrimps are tested for white spot syndrome and yellow-head disease before export.
It will also visit shrimp hatcheries, farms and processing facilities in the shrimp processing chain for export to Australia.
According to the Ministry of Industry and Trade, Australia banned green and raw shrimp from Asian nations, including Vietnam, on January 9 last year.
The ban was levied after the Australian government detected white spot viruses in shrimp sold at stores and suspected that was behind a white spot outbreak in Queensland.
The ban was lifted in July 6, 2017 but Australia introduced stricter import conditions in which uncooked shrimp products from Vietnam are subject to tests for white spot syndrome virus at the Australian Animal Health Laboratory before being sold.
If testing positive for the white spot syndrome, the products must be re-exported, destroyed or cooked.
Nghe An to improve effectiveness of investment attraction
The central province of Nghe An has implemented measures to lure more investments, including enhancing the role of the provincial centre for investment promotion, holding investment promotion activities and helping investors solve difficulties.
This year, the province will focus on improving its investment and business environment to create favourable conditions for investors by reforming administrative procedures, upgrading infrastructure system, training human resources and supporting investors.
Nghe An will also review and inspect the operation of already signed projects, while handling stagnant projects for new investors.
Since 2009, the province has held meetings with big domestic and foreign investors with the participation of top politicians.
Through nine years, many cooperation deals have been signed in both investment and social welfares, making significant changes in investment attraction.
At the meetings, Nghe An reached 93 investment deals worth 173.39 trillion VND (7.63 billion USD), while granting investment licences to 32 projects totaling 29.46 trillion VND (1.29 billion USD).
Major projects included 21 projects funded or provided consultancy by North Asia Bank with a combined capital of 65.69 trillion VND (2.89 billion USD). Of which, the most noteworthy was a 1.2 billion USD dairy cattle breeding and milk processing plant invested by TH Group.
Petrolimex to issue e-invoices from April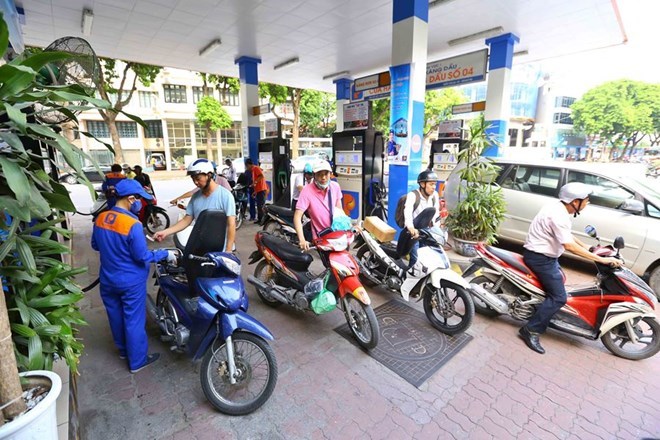 The Vietnam National Petroleum Group (Petrolimex) is ready to issue e-invoices to customers from April 1, according to Deputy General Director Tran Ngoc Nam.
Nam said that in March, Petrolimex will hold training courses for its member units on the process of issuing e-invoices.
He said a pilot month of applying e-invoices in the group and Ha Son Binh petroleum company has finished. All problems have been tackled and the firm has finalised preparation work.
Petrolimex launched the e-invoice project on May 19, 2015 with the support of VNPT-Vinaphone-Daka joint venture, said Nam, adding that the firm's database has been computerised to serve the issuance of electronic receipts.
Issuing e-invoices is expected to cut costs and make petroleum trade more transparent.
Customers can receive their receipts via email or by accessing Petrolimex's website at http://hoadon.petrolimex.com.vn.
The invoices will be kept on the Petrolimex server for 10 years. This will also help management agencies access information and control petrol trade activities in Vietnam.-
Bustling trade activities at border gates
Border gates have been bustling with trade activities in the first months of 2018.
In January, total import-export turnover through Tra Linh border gate in the northern province of Cao Bang surged 806.98 percent year-on-year to 8.8 million USD, of which exports exceeded 3.2 million USD with cashew nut and bamboo the main products.
From the beginning of the year to February 19, the customs department at Huu Nghi border gate in the northern province of Lang Son processed more than 6,470 sets of import-export declarations worth some 371 million USD, up 163 percent year-on-year.
According to the Department of Industry and Trade in the northern province of Lao Cai, total import-export revenue through the locality was estimated at 409.91 million USD, nearly 14 percent of the yearly target. Of which, exports exceeded 165 million USD. 
In February, the locality recorded trade turnover of 220 million USD, up 18.98 percent against the previous month. Of which, exports were valued at 90 million USD, up 18.97 percent against January.
Such positive trade outcomes were attributed to synchronous measures to prevent smuggling and trade fraud and to simplify administrative procedures to facilitate trade.
Organic rice project underway in Hai Phong
The Thuan Loi Limited Company has launched a high-tech organic rice farming model in Hai Phong's Kien Thuy district, the first of its kind in the northern city.
Head of the company Nguyen Dinh Thuan said preparations for the project have been carried out since June 2016, with four high-quality rice varieties selected to be cultivated on 32.3 hectares.
The company has built a production site with facilities for general management as well as rice processing and storage. 
Pham Van Ha, Vice Chairman of the Hai Phong People's Committee, said the project will help boost clean agricultural growth in Hai Phong and requested Kien Thuy authorities to facilitate its operation. 
In 2017, Hai Phong passed a resolution on high-tech agricultural area for 2016-2025.
Two-month pepper export turnover reaches 138.8 million USD
Vietnam raked in 138.8 million USD from exporting nearly 36,000 tonnes of pepper in the first two months of 2018, posting a year-on-year increase of 127 percent in volume and 23.7 percent in turnover.
According to the General Department of Customs, in February alone, the country shipped 18,736 tonnes of pepper to abroad, earning 69.86 million USD. 
The US remained the largest importer of Vietnamese pepper in the reviewed period, with 2,697 tonnes worth 12.3 million USD, accounting for 15.7 percent and 17.8 percent in volume and value of the country's pepper exports.
Other markets witnessing the strongest surges in pepper import turnover from Vietnam were India (140 percent), Kuwait (up 104 percent) Pakistan (101 percent), and Thailand (84.9 percent)
However, the export price of pepper went down at almost export markets of Vietnam compared to the same period last year. 
The biggest fall was reported in the Pakistan market, dropping by 50 percent to 3,534 USD per tonne. Meanwhile, the highest export price was seen in the Australian market, reaching 6,318 USD per tonne.
Vietnam's pepper industry is forecast to continue facing difficulties in 2018 as the supply is increasing beyond demand, and because of technical barriers applied by importers such as the US and the European Union.
Vietnamese pepper products have been exported to 100 countries and territories, with Asia, Europe and the US being the biggest markets.
Central bank urges property lending caution
The State Bank of Vietnam (SBV) has asked credit institutions to limit their lending to the real estate and construction sectors to better control bad debts.
Under Document 563/NHNN-TTGSNH issued recently, SBV asked lenders to avoid too much focus on real estate customers and maintain credit growth in the sectors within safe limits.
The institutions must keep a close watch on lending to the sectors, continuously review and assess the progress of realty projects and their developers' financial condition, particularly as it relates to their collateral assets, and have measures in place to handle any defaults, SBV said in the document.
Besides evaluating and processing lending applications with scrutiny, the institutions must also monitor borrowers to ensure that they refrain from using consumer loans for investment in property or securities.
Credit expansion should go hand in hand with strict supervision to ensure loans are used for their intended purpose and do not add to bad debts, the document said.
As an alternative, commercial banks were asked to increase their lending to the manufacturing, production and business sectors, particularly those in need of capital for growth, such as agriculture, export, supporting industries and small- and medium-sized enterprises.
This is not the first time the central bank has told local lenders to tighten the valve on credit meant for the real-estate and construction sectors. The move was made after consumer lending accelerated last year and a significant amount of consumer loans went to the real estate sector.
According to the National Financial Supervision Committee, the growth rate of consumer lending last year was three times higher than the average credit growth rate of 18 percent to reach 1.17 quadrillion VND (51.54 billion USD).
Notably, some banks dodged credit regulations by offering lending packages supposedly earmarked for "house repairs" or "house construction" to consumer credit customers. Loans for house repairs and construction last year soared 76.5 percent and accounted for nearly 53 percent of total consumer loans.
Pham Manh Thang, deputy general director of Vietcombank, said the capital limit in the real estate and securities sectors would help the banking system develop sustainably as banks would have to select feasible property projects to provide loans, avoiding non-performing loans in future.
Bad debts in the country's banking sector, mostly incurred due to a slowdown in the country's real estate market in the early 2010s, had been cut to 2.3 percent by the end of 2017, down from 2.46 percent at the end of 2016, according to SBV.-
Vietnam may be allowed to ship fresh longans to Australia from 2019
Vietnam may get the green light to export fresh longans to Australia from 2019, after lychees, mangoes and dragon fruits.
The information was revealed on the occasion of a working visit made by a delegation of the Australian Department of Agriculture and Water Resources to northern Hung Yen province and southern Ben Tre province to examine the longan farming, processing and packaging process there.
According to the Ministry of Industry and Trade, after this visit, the Australian ministry will have an assessment report and draft import requirements for the product.
This is good news for Vietnam's fruit sector as Vietnamese fruits can be sold at high prices in Australia.
Last year, fruit and vegetable exports set a record of 3.5 billion USD, a year-on-year increase of 40 percent. Vietnamese fruits and vegetables are sold in 40 countries and territories around the world.
The delegation from Australia's Ministry of Agriculture and Water Resources is visiting Vietnam from February 26 to March 2 to inspect the processing chain for shrimps exported to Australia. 
Industrial production index rises 15.2 percent in Jan-Feb
The country's industrial production index (IPI) in the first two months of 2018 expanded by 15.2 percent year-on-year, much higher than the growth of 2.4 percent recorded in the same period last year, reported the General Statistics Office (GSO).
In February alone, the IPI dropped by 17.1 percent from the previous month due to the Lunar New Year (Tet) holidays which lasted from February 14-20.
In the two-month period, the processing and manufacturing sector rose by 17.7 percent; electricity production and distribution up 11.2 percent; mining up 5.7 percent; and  water supply, and waste and sewage treatment up 4.3 percent.
High production growth was reported in the fields of electronics, computers and optical products (38.3 percent), metal ore mining (25.3 percent), metal production (21.1 percent), furniture production (20 percent), and drainage and sewage treatment (20 percent).
Slight increases were seen in crude oil and natural gas exploitation (5 percent), water supply and treatment (4.5 percent), and tobacco production (2.9 percent).
Surges were also recorded in major industrial products such as television (73 percent), iron and steel (40 percent), powdered milk, liquefied petroleum gas (LPG), and fabric (20-23 percent).
All 63 provinces and cities across the country witnessed growth in the IPI. The central coastal province of Ha Tinh led the nation with IPI growth of 164 percent, followed by Bac Ninh (45 percent) and Hai Phong, Quang Nam, Vinh Phuc, Hai Duong, Da Nang, Quang Ninh, Hanoi, Thai Nguyen, Ba Ria – Vung Tau, Dong Nai and Ho Chi Minh City with growth rates ranging between 6-20 percent.
HNX raises over 10 trillion VND from G-bonds in February
The Hanoi Stock Exchange (HNX) mobilised more than 10 trillion VND (440 million USD) from auctioning off Government bonds in February, down 48 percent from the previous month.
The coupon rates of five-year term bonds and seven-year term bonds were 3.05 percent and 3.4 percent, respectively.
Meanwhile, successful bidders of ten-year term bonds would enjoy an interest rate of 4-4.35 percent per year while the coupon rate for 15-year term bonds ranged from 4.4-4.5 percent.
As compared to January, the annual interest rates of the terms fell 1.25 percent, 0.95 percent, 0.38 percent and 0.1 percent, respectively.
On the secondary market, the total volume of Government bonds sold by the outright method reached over 645 million worth 73.9 trillion VND (3.25 billion USD), down 37 percent in value from January.
Trading volume through repurchase agreements (repos) was more than 806 million bonds valued at 83.8 trillion VND (3.86 billion USD), decreasing 29 percent in value from January.
Foreign investors also made outright purchases of over 4.3 trillion VND (189.2 million USD) and outright sale transactions of more than 4 trillion VND (176 million USD). They made repo buys of over 207 billion VND (9.1 million USD) and repo sales of over 205 billion VND (9.02 million USD).
Aquatic export enjoys 29.5-percent growth in Jan-Feb
Vietnam's seafood export turnover hit 1.11 billion USD in the first two months of 2018, posting a year-on-year increase of 29.5 percent.
According to the Ministry of Agriculture and Rural Development, Japan, the US, China, and the Republic of Korea were top four importers of Vietnamese aquatic products in January, accounting for 50.9 percent of the total export value. 
Also in the first two months, Vietnam imported 270 million USD worth of aquatic products, a year-on-year surge of 33.1 percent. 
The Ministry said the production and sale of Tra fish (pangasius) has showed positive signs. Notably, the price of Tra fish materials hit a high record, standing at 28,000-29,500 VND (1.22 – 1.29 USD)/kg.
Tra fish output in the Mekong Delta localities in the last two months was estimated at 163,300 tonnes, 8 percent higher than that of the same period of 2017. An Giang and Can Tho are the main contributors to the region's total Tra fish production with respective volumes of 49,000 tonnes and 17,200 tonnes. 
Vietnam's tra fish exports reached 1.8 billion USD in 2017, up 4 percent against 2016, according to the Vietnam Association of Seafood Exporters and Producers (VASEP).
China, the US and the EU were the country's largest importers of tra fish.
Meanwhile, the black tiger and white-leg shrimp yield in the Mekong Delta region respectively reached 29,800 tonnes and 10,800 tonnes, respectively up 8.1 percent and 2.2 percent. 
Quang Ninh to carry out three key transport projects in 2018
The northern province of Quang Ninh will carry out two key transport projects -the Van Don – Mong Cai Highway and Ha Long – Cam Pha coastal road, while studying the construction of an undersea tunnel through Cua Luc bay (the gateway to Ha Long Bay) in 2018.
The Van Don – Mong Cai highway project's feasibility study report was just approved in February. Investor selection is underway to ensure the project can be launched in the third quarter and completed by 2020.
The 80.2km-long Van Don – Mong Cai Highway with four lanes for vehicles will be carried out under the build-operate-transfer (BOT) form with a total investment of nearly 11.2 trillion VND (492.58 million USD). Fees will be collected for 20 years on the highway.
Meanwhile, the 27 km-long coastal road linking Ha Long - Cam Pha will be implemented under the build-transfer (BT) form, with a total investment of 5.6 trillion VND (246.4 million USD).
Construction of the Vingroup-invested project will begin by the end of June. Once completed, the road is expected to help ease traffic on National Highway 18A section running through Cam Pha city, while forming a modern and comprehensive transport network connecting urban areas in the province.
The 1.3km-long undersea tunnel project in Ha Long city is estimated to cost 7.875 trillion VND (346.5 million USD).
The provincial Department of Transport will set up a management board of the project. Public opinions will be collected after a feasibility study report is completed. Once approved by the Prime Minister, the project will be commenced in 2019.
The implementation schedules of the three projects will be reviewed at weekly meeting of the provincial People's Committee, said Vu Van Hop, chief of the committee's office.
Together with other local transport projects, including the Hai Phong – Ha Long, Ha Long – Van Don highways, upgrades to National Highway 18, and Van Don international airport, the three key projects are hoped to improve the province's transport infrastructure system, thus contributing to local socio-economic development and promoting local tourism and border- and marine-economic potential. 
Nearly 18,700 enterprises established in two months
Nearly 18,703 new enterprises were formed in Vietnam in the first two months of this year, with a total registered capital of more than 197.3 trillion VND (8.66 billion USD).
According to the Ministry of Planning and Investment, there has been a rise of 29.4 percent in the number of enterprises and 29.3 percent in registered capital compared to the same period last year.
In February alone, the country had 7,864 newly-established firms, with a total registered capital of 99 trillion VND (4.3 million USD), posting 44 percent and 59 percent year-on-year increases in terms of the number of companies and registered capital, respectively.
The average registered capital of each firm was 12.6 billion VND (554,000 USD) last month, increasing 10.5 percent from the same period last year.
The number of labourers in newly-established enterprises in February was 71,120, posting a 13.8 percent year-on-year increase.
However, the number of new firms in February was reduced by 27.4 percent compared to January due to the eight-day Tet (Vietnamese Lunar New Year) holiday.
More than 2,300 companies resumed their operations in February. While some 2,677 companies halted their operations or were awaiting dissolvement, 975 others completed the dissolvement procedures.
The average registered capital of each firm was 10.5 billion VND (462,000 USD) in the two-month period, reducing 0.1 percent from the corresponding period last year.
The number of labourers in new enterprises in the first two months of the year was 156,410, down 6.1 percent from the same period last year.
More than 6,800 enterprises resumed their operations in the two-month period, representing a 13.8 percent year-on-year decrease.
The number of businesses that halted their operations in the first two months of the year rose by 29 percent to 11,191.
The new firms mostly focused on sectors such as wholesale, retail, repairing, automobile, construction, manufacturing, processing and consultancy.
Foreign pharma firms seek remedy for concerns
Vietnam's recent pharmaceutical policies will be discussed at a forum held tomorrow by the American Chamber of Commerce in Vietnam (Amcham) and the Vietnam Association of Foreign Invested Enterprises (VAFIE).
The forum will attract representatives from embassies in Vietnam, relevant ministries, and associations of foreign businesses, including members of Amcham.
This is an opportunity for them to discuss the impacts of these policies on their operations, as well as make suggestions to the Vietnamese government.
As planned, a circular guiding the implementation of Decree No.54/2017/ND-CP will be on the top of the agenda at the forum.
In May 2017, Vietnam issued Decree 54 guiding the implementation of the Law on Pharmaceuticals. The decree has caused great concern among foreign pharmaceutical companies, including members of AmCham and the European Chamber of Commerce in Vietnam (EuroCham).
According to EuroCham, the newly-issued decree finally allows importation, but also introduces a long list of restricted activities that render an importing foreign-invested enterprise (FIE) dysfunctional.
If a viable FIE was offered, the time needed to shift the operation model is estimated at around two years for most companies. Therefore, it is important to retain the current operations of representative offices (particularly drug information activities).
The decree also expands the definition of "distribution" activities, which could effectively drive FIEs providing warehousing and transportation services in Vietnam for over 20 years out of business.
As a result, it would be challenging for pharmaceutical multi-national corporations (MNCs) to identify partners that meet international quality and compliance requirements, and so supply continuity and product quality may be at risk.
According to statistics from Business Monitor International (BMI), the Vietnamese pharmaceutical market is growing positively with revenue in 2017 estimated at $5.2 billion, up 10 per cent on-year. The market is forecast to continue to produce double-digit growth in the next five years.
Dinh Vu polyester plant to resume operations on March 20

The long-delayed Dinh Vu polyester plant is expected to resume the operation of its draw texturised yarn (DTY) manufacturing workshop on March 20 this year, creating the premise to resume the operations of the remaining workshops.
The operating duration of the DTY workshop will be six months, during which PetroVietnam Petrochemical and Textile Fiber JSC (PVTex), the plant's operator, will select a partner to co-operate to run the plant.
In order to operate the plant smoothly, PVTex asked the Ministry of Industry and Trade and PetroVietnam to consider a number of its proposals. Accordingly, PVTex wants to receive paraxylene (PX) manufactured by Nghi Son Refinery and Petrochemical (NSRP) complex from PetroVietnam and receive 50 per cent of the polypropylene manufactured by Binh Son Refinery (BSR). At the same time, PVTex requested preferential policies that NSRP and BSR applied to partners in PX and polypropylene sales contracts.
Deputy Minister of Industry and Trade Hoang Quoc Vuong stated that PVTex's proposals are legitimate, thus MoIT will mention them at the meeting of the Government Steering Committee on dealing with 12 loss-making projects.
However, according to Dao Van Ngoc, chairman of the Board of Directors of PVTex, the company has built long-term plans to deal with the plant and in April it will submit them to the authorities to select the optimal plan.
The first alternative offered by PVTex is to take the plants operation in its own hands. The second alternative is co-operating with either an international or a domestic partner, while the third plan is either to sell the plant or to declare bankruptcy for the plant.
The Dinh Vu polyster plant came into commercial operation in May 2014 with a capacity of 236 tonnes of polyester fibre and yarn per day, equalling 48 per cent of its designed capacity. However, the factory had to suspend operations numerous times due to unsold products piling up. It is one of the 12 projects under MoIT incurring trillion-dong losses.
Previously, in September 2017, Reliance Industry Company from India decided to co-operate with PetroVietnam to restart the plant.
Accordingly, Reliance will provide personnel for maintenance, material supply, and sales operations, among others. PetroVietnam proposed the Indian partner to buy PVTex's stakes, but no official information is forthcoming yet.
Besides, PVTex also worked with domestic partners to discuss plans to raise capital to maintain the operation of the plant, while simultaneously collaborating with experts to evaluate the quality of the DTY manufacturing lines.
Vingroup and T&T build investment dossiers for urban railway projects

Vingroup and T&T Group are permitted to compile investment dossiers on three of the ten urban railway projects to be constructed until 2025.
Accordingly, Vingroup plans to invest in two routes, No.5 from Van Cao Street to Hoa Lac with the length of 38.4 kilometres and No.2 from Tran Hung Dao Street to Thuong Dinh with the length of 5.9km.
At the same time, T&T Group proposed taking charge of route No.4 connecting Me Linh, Sai Dong, and Lien Ha with the length of 54km.
Previously, both groups proposed building the pre-feasibility and feasibility plans financed from their own equity for these projects. If Vingroup and T&T become the official investors of these projects, their expenditure for building investment dossiers will be added to the investment capital for these projects.
However, in case they are not selected to develop these projects, they will be ready to hand over all investment dossiers to the Hanoi People's Committee and the selected investors without asking for recompense.
According to the capital's transportation development planning from now to 2030 with a vision to 2050, Hanoi will develop 10 urban railway projects with the total investment capital of $40.056 billion.
According to the capital's transportation development planning from now to 2030 with a vision to 2050, Hanoi will develop 10 urban railway projects with the total investment capital of $40.056 billion.
The investment capital will be disbursed over several phases. In 2017-2020 some $7.55 billion will be disbursed, while in 2021-2025 there will be some $7.6 billion. More than $3.56 billion will be spent in 2026-2030 and over $21.3 billion will be spent after 2031.
At present, Hanoi has four urban railway routes, two of which—Ngoc Hoi-Yen Vien and Cat Linh-Ha Dong—are invested by the Ministry of Transport. The remaining two—South Thang Long-Tran Hung Dao and Nhon-Hanoi Railway Station—are invested by the city and are under construction.
In November 2017, Vision Transportation Group (VTG) from Canada proposed the government to develop the urban railway project linking Noi Bai International Airport with the West Lake area under the public-private partnership (PPP) model.
Besides, numerous international and domestic investors expressed interest in developing urban railway projects, including Xuan Thanh Corporation, Lung Lo 5 Company, Tan Hoang Minh Group, Licogi Company, and MIK Group JSC, Lotte Group from Korea, and OJSC Mosmetrostroy from Russia. However, to date, no official proposals have been submitted to the local authorities.
Vinapharm yet to shine after equitisation

Despite receiving strong financial support from leading local banks and having valuable land plots, the performance of Vinapharm—a state-owned pharmaceutical corporation—has not improved much throughout over one year of equitisation.

Vinapharm (DVN) has published its consolidated financial report for the fourth quarter of 2017. Accordingly, the firm's net revenues reached VND1.844 trillion ($83.8 million), while its net profit hit VND66.6 billion ($3.02 million).

As a result, the company made a total revenue of VND6.8 trillion ($309.09 million) and total net profit of VND255.6 billion ($11.6 million) in the first fiscal year after its equitisation (from December 8, 2016 to December 31, 2017).

The figures marked an on-year rise of 12.65 per cent in revenue, but a significant fall in profit compared to the VND662 billion ($30.09 million) in 2016.

By the end of 2017, inventory increased to VND1.6 trillion ($72.72 million). Total assets hit nearly VND6.4 trillion ($290.9 million) and total equity was VND2.52 trillion ($115.45 million).

Established in 1971, Vinapharm specialises in research and development and the production of pharmaceuticals and functional foods and medical equipment. DVN has four subsidiaries, including Codupha, Central Pharmaceutical CPC1.JSC, FORIPHARM, and Codupha Laos.

Vinapharm also invested in eight associated companies and has 14 long-term financial investments of nearly VND1.4 trillion ($63.6 million).

DVN also owns a total of 11,000 square metres of valuable land plots in Hanoi and Ho Chi Minh City

DVN has two major shareholders: the Ministry of Health (MoH) with 65 per cent and Viet Phuong Group with 17 per cent. In 2017, MoH's planned to divest 35 per cent of its stake in DVN, however, in 2018, the ministry plans to divest its entire stake.

Nafoods and new major shareholder shoot for high growth in 2018

Vietnam-focused activist investment company Endurance Capital Vietnam I Ltd. recently decided to increase its ownership in local partner Nafoods by adding a total of 753,958 shares to its current holding, and thereby becoming the latter's major shareholder with a total of 5.5 per cent of the shares.

Founded in 1995, privately-held Nafoods is a globally recognised manufacturer and supplier of fruit ingredients for the local food and beverage processing industry.

Nafoods is the largest exporter of passion fruit juice concentrate in Asia and the number one Gac puree producer in the world.

The transaction, in which Endurance Capital Vietnam I buys shares directly from the family of Nafoods' chairman Nguyen Manh Hung, took place on February 9 through a put-through transaction at market price.

"We like owner-operated Vietnamese mid-caps that have the potential to triple their value over 3-5 years–we see this potential, and more, in Nafoods," said Christopher Beselin, chairman and chief investment officer of Endurance Capital Vietnam I. "We have worked closely with Nafooods for 1.5 years and seen many positive changes implemented by the company's management. The VND410-billion ($18.6 million) investment into the new and modern factory that is coming online in the first quarter of 2018 is the most obvious one, as it dramatically changes both capacity and production cost."

"There are also more recent initiatives in Nafoods that we like and which we think hold equally big future profit potential. Vietnam has a great strategic advantage over other countries growing passion fruit and Nafoods has the right integrated-value-chain-oriented strategy to utilise it fully," he added.

"We are very happy that Endurance Capital Vietnam I has become a major shareholder in Nafoods," said Nafoods chairman Nguyen Manh Hung. "We think the close co-operation we had with Endurance Capital over the past years has been very fruitful for both the company and its shareholders and I am looking forward to how this even deeper engagement will build even more value going forward."

"We simply see them as a great partner to have fully onboard when we set off to implement our VND850-billion ($38.6 million) sales and VND85-billion ($3.8 million) net income plan for 2018, as well as for the years to come," Hung added.

"Nafoods has put in some years of really hard work and is now getting ready to reap the benefits," said founding partner of Endurance Capital Johan De Geer, who joined Nafood's Board of Directors in September 2017.

"The projects now underway in R&D for seedlings, fresh fruit technology for faster and bigger sales to Europe as well as continuous organised concentrate sales into the enormous market in China, are of course very exciting to follow," De Geer said. "The recent months also meant reaching important milestones, as the first deliveries of Nafoods Fresh Fruit from Son La, Nghe An, and the Central Highlands fulfilling all major European certifications have been exported to Switzerland, France, and the United Kingdom. We think the coming years will be very good for Nafoods!"
FDI tops 3.34 billion USD in Jan-Feb