The Ministry of Transport has accepted the model of Vehicle Type Approval (VTA) certificate issued by the Thailand Government for vehicles exported to Viet Nam.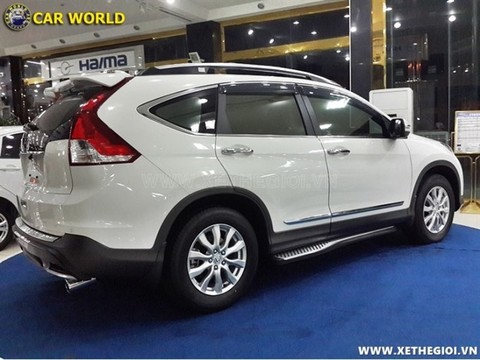 A Hona CR-V model made in 2014. Honda Viet Nam says that its batch of CR-V will be imported to Viet Nam in early March. — Photo enbac.com
This was said by Pham Anh Tuan, head of the Policy Subcommittee of the Vietnam Automobile Manufacturers' Association.
Tuan told Viet Nam News that VTA certificate was the most important document, as required by the Vietnamese Government's Decree 116/2017/ND-CP on automobiles, for businesses that wanted to export cars to Viet Nam.
"Automakers including Toyota, Honda, Ford, GM, Mitsubishi, Nissan and Mazda, who imported vehicles from Thailand to Viet Nam, had submitted the paper to the ministry and recently received the ministry's approval. The firms are aggressively planning to resume export after several months of halt," said Tuan.
Decree 116 stipulates the conditions for production, assembly, import and business of automobile warranty and maintenance services, issued on October 17 last year. After the issuance, many companies, such as Honda and Toyota, have stopped importing cars into Viet Nam. Ford, Nissan and Mitsubishi also announced a halt on import.
In the last two months of 2017, since the decree was issued, auto businesses sold the remaining vehicles in stock and delivered the last batch of orders. In the first two months of this year, there were no cars for sale, and the number of cars floating in the market was rare.
Honda Viet Nam told ndh.vn that its batch of CR-V would be imported to Viet Nam in early March. However, it may take up to two months to inspect every batch at the ports, so the cars may finally be rolled out in the market in late April or early May.
According to customs regulations, in the declaration of one batch, the value of tax payment must not exceed 12 digits. Therefore, with high-value vehicles, the import of a thousand cars at the same time and in the same shipment must be split into batches. Each batch must be tested with a sample car, extending the time at the port.
Honda has imported four models from Thailand — CR-V, Civic, Accord and upcoming Jazz — and Odyssey from Japan.
Meanwhile, Toyota has not been able to bring imported cars as early as Honda because it had to order the plant. Shipments that were previously booked but cannot be exported to Viet Nam have been exported to other markets. From the time of ordering to leaving the factory, it takes some three months or more to get to Viet Nam. Toyota may import cars from Thailand in June this year.
Ford faces a similar situation. The firm is still waiting for an official response from Ford Thailand and has not yet ordered a new batch.
According to a manager of a European car firm, if car manufacturers want to sell cars in Viet Nam, they will know how to arrange for the VTA certificate; they just need more time.
In contrast to Asian importers, most European brands, such as Porsche, Mercedes, Volvo and Volkswagen, said the manufacturers would provide VTA certificates. — VNS