Vietnam imported flowers and ornamental plants worth 18 million USD from December 1, 2017 to January 31, 2018 for the Lunar New Year.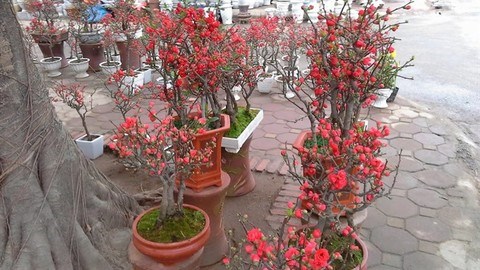 Red apricot blossom from Taiwan (File photo)
This was a sharp increase of 46.8 percent against last year, according to the General Department of Customs.
The countries witnessing a high surge in export value of these products to Vietnam included the Netherlands (up 76 percent to 5 million USD compared to before Tet last year) and China (up 80.8 percent to 3.6 million USD).
This year's imported products included fresh flowers and living ornamental plants reaching 7.9 million USD, accounting for 43.8 percent of the total import value. They included orchids, rhododendron, dumb cane plants and cedrus bonsai trees.
Of these, flowers and plants worth 3.3 million USD, including orchids reaching over 2 million USD, were imported from mainland China, while the imports from Taiwan and Japan were worth 2.7 million USD and 1 million USD, respectively.
Vietnam imported flowers having tuberous plants worth 7.6 million USD, accounting for 42.1 percent of the total import value of flowers and ornamental plants.
Lilies reached an import turnover of 4.4 million USD from the Netherlands, 1.1 million USD from New Zealand and 1 million USD from France.
The General Department of Customs said flowers in the form of branches reached an import value of 2.4 million USD, down slightly from 2.5 million USD before Tet last year.
Notably, fresh orchids imported from Thailand reached an import value of 2.2 million USD.-VNA