Pepper growers concern about falling prices
Pepper growers are entering the harvest season of 2018 in the southeastern region of Vietnam, concerning about price fall and output reduction because of pests and diseases.
Traders now pay VND65,000-66,000 a kilogram of pepper, accounting for half of the price in the same period last year.
Long lasting rains last year created conditions for pests and diseases to attack pepper crop, resulting in output drop this year.
According to statistics, high pepper prices in previous years sent farmers to expand farming area to 40,100 hectares in Ba Ria-Vung Tau, Dong Nai and Binh Phuoc provinces in 2017. The area far exceeds the plan of 12,800 hectares by 2020 of the Government.
That has broken supply and demand balance causing continuos price reductions for the last two years.
Enterprises develop fast in number, efficiency low: economic survey 2017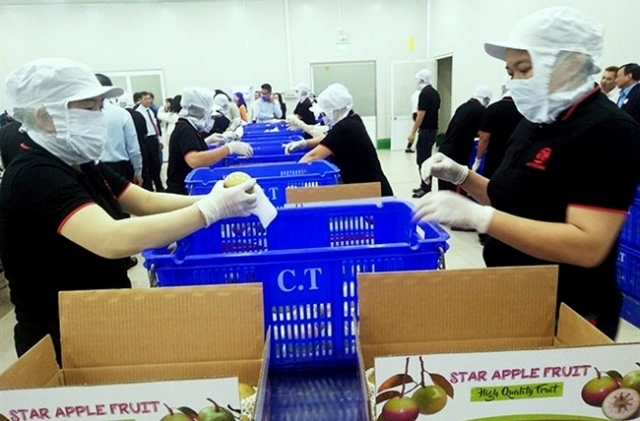 Data from economic survey of HCMC 2017 showed that although the number of enterprises quickly develops, their scale is mainly small and very small and efficiency through profit norms is limited.
That was announced a conference, presided over by standing deputy chairman of HCMC People's Committee Le Thanh Liem, to reckon up the economic survey results.
Mr. Liem is head of the steering board of the survey which is one among three under the national statistical survey program stipulated by the Prime Minister, conducted every five years.
Of 171,655 active businesses, 64,607 are profitable accounting for 37.81 percent, 96,936 loss making making up 56.49 percent and the remaining ones break even.
The ratio of loss making firms has been in up trend after five years, increasing 2.87 percent to non-state companies. The number of profitable ones dropped from 43.30 percent in 2011 to 37.41 percent in 2016.
Similarly, the ratios of profitable and under performance state own firms went down 0.71 percent to 81.79 percent and up from 16.6 percent in 2011 to 17.65 percent in 2016 respectively.
The city has 633,637 economic, administrative, public service units and religious and faith facilities, up 26.99 percent over 2011 with the average growth rate of 4.9 percent a year. Workers neared 4.1 million, increasing 19.04 percent.
Economic sector developed faster than administrative and public service fields, growing 26.99 percent in number and 10.04 percent in workers.
On December 31, 2016, the city had 172,979 businesses and cooperatives, raising nearly 62 percent over 2011. Of these, non-state firms post an outstanding development step compared to other types of businesses, accounting for 97.36 percent of the city's companies.
Total capital of this economic sector was up 2.11 times equivalent to VND3.26 trillion. This sector also created lot of jobs for workers.
Stating at the conference, Mr. Liem appreciated efforts by the statistics industry and 3,600 staff who had worked to draw the survey's results at the soonest time.
The survey results were a valuable source of data for city leaders to build and plan economic, social policies and others to encourage modern science and technology application in all economic fields as well as administrative and public service units, he said.
He assigned specific tasks to relevant agencies to improve the survey's results.
Specifically, the Department of Planning and Investment, HCMC Taxation Department and Statistics Department have been asked to work together and review the number of registered and active companies in fact to draw the most exact number.
The number of registered firms now near 300,000 in fact while the survey shows it is only 172,979.
Agriculture must apply technology to advance
Vietnamese farmers account for 70% of population, yet they only contribute 20 percent to GDP, while these figures in other developed countries are 2 percent -4 and 40 percent, respectively.
According to the annual summary report of the Ministry of Science and Technology (MOST), in 2017, science as well as technology themselves had an active role in restructuring the agriculture sector, helping the countryside not only to gain a new appearance but also to increase performance and quality while boosting exporting ability.
Looking into more detail, science and technology now comprise 30% of the increase in agricultural production and 38% of the growth of seeds and breeding stock. More than 90% of rice fields, 80 percent of corn fields, 60 percent  of sugarcane fields, and 100 percent of new cashew fields are using Vietnamese seeds.
The performances of animal raising and plant growing are higher than those of neighboring nations. For example, Vietnamese's rice is leading ASEAN while our shark catfish and pepper are unparalleled worldwide. Vietnamese's coffee and rubber also stand at the second position globally.
The rate of mechanized agriculture is boosted as well, with a 1.5-2 percent increase of machines in production compared to 2016. There exist new models of aquaculture farms, having a chain of value production for  shrimps, shark catfish, and lobsters.
As stated by Deputy Minister Tran Van Tung of MOST, after a long time focusing on increasing yields and performance, Vietnam now pays more attention to raising quality and value-added chains.
To also improve its competitiveness in international markets, agriculture has already restructured its production methods to create close links to be a foundation for the application of science and technology to boost efficiency as well as quality, effectiveness of advantageous produce.
The participation of large corporations and businesses into agriculture recently or the growth of certain special animals and plants for exporting to particular markets are some typical examples of that change.
Nevertheless, MOST also admitted that all of those results are not the full potential of Vietnamese agriculture. Vietnamese farmers account for 70 percent of population, yet they only contribute 20 percent to GDP, while these figures in other developed countries are 2-4 percent and 40 percent, respectively.
According to the report of World Bank Group (WBG), GDP in agriculture of Vietnam is on the wane, and its performance growth has a signal of weakening while the income gap between workers in this sector and those in others is widening.
To tackle this issue, WBG suggested that Vietnamese agriculture should change its visions and methods so as to apply more technology to build value links or gather farmers into companies.
In this way, Vietnam will change from traditional production to high-tech one, creating prominent values with its newly-built agricultural links having higher competitiveness.
At the moment, although agriculture in Vietnam has high yields, its labor performance and preservation are too low in the local area. Speaking in the general summary meeting of 2017 of MOST, Prime Minister Nguyen Xuan Phuc asked that MOST must play an active role in renovating models of economy increase, especially in agriculture.
In particular, MOST should pay much attention to modernizing production models and enhancing the quality of produce. He also mentioned that more investment should be stimulated and more technology should be applied in advantageous areas of each produce such as the Mekong Delta with fruit trees and shrimps and fish or the South East area with industrial trees in order to form major agriculture centres and areas.
It is obvious that to obtain sustainable development and create high-tech agricultural links or organic agriculture, there is no way but to refresh our mind, our production as well as preservation methods by applying more advances of science and technology.
Vietnam's first smart fertilizer plant inaugurated in Tra Vinh province
The Rynan Smart Fertilizers Limited Company held a ceremony on January 13 at Long Duc Industrial Park in the southern province of Tra Vinh to inaugurate a smart fertilizer plant, the first of its kind in Vietnam.
The five-hectare plant, with an annual processing capacity of 50,000 tonnes, carries a total investment of over US$35 million.
According to Doctor Nguyen Thanh My, Chairman of the Board of Rynan Smart Fertilizers, the smart fertilizers will be coated with an environmentally-friendly high-tech polymer material, reducing greenhouse gas emissions by more than 60%.
In addition, smart fertilizers only need to be applied once, with the amount less than conventional fertilizers by between 40 and 60%, but the crop yield could increase by more than 10%.
Earlier, Rynan Smart Fertilizers also organised a smart fertilizer experiment on an area of 200 hectares in Tam Nong district, Dong Thap province.
The results show that the production of rice under the technical process and the use of smart fertilizers has reduced environmental pollution to the lowest level and helped farmers cut seed and fertilizer costs.
Agriculture makes up exports imprints in 2017
Export achievements in 2017 were encouraging amidst declining minerals and crude oil exports thanks to the strong growth in telephone, electronic components, and especially the agricultural sector, made up for the gap left by the mining industry's exports.
For the first time in history, exports marked a remarkable achievement in 2017 as they exceeded the US$200 billion benchmark with a total value of US$213.77 billion, up 21%. 2018 is also expected to be a good year for export targets.
Typically, the seafood industry has returned impressively earning the country US$8.4 billion in 2017 (up 18.5% from the previous year), while wood and furniture brought in US$7.6 billion (up 9.2%), rice exports reaped US$2.6 billion (22.7%), and cashew nuts earned US$3.5 billion (23.9%). Most notably, fruit and vegetables surpassed the long standing crude oil in terms of export value at US$3.5 billion, up 43.1%.
It is time to further improve the agricultural sector's role. The good results in 2017 show that Vietnam has potential to develop a modern agricultural sector with higher added value and higher contributions to the GDP compared to the quite modest contribution level at present.
For fruit alone, the recent encouraging results have opened up opportunities for the industry's accelerated growth, especially its exports to the US and European markets. Positive news arrived as after ten years of negotiations, the first batch of star apple fruit from Tien Giang province has been allowed to export to the US, opening up great business opportunities for enterprises and farmers in the Mekong Delta.
Star apple fruit shipments to the US have to meet high agricultural practice standards and have been strictly inspected by the US Animal and Plant Health Inspection Service. After meeting all of the requirements, the price of this high quality fruit is up to VND25,000-30,000 per kg and will be doubled when sold in the US market.
Vietnamese fruit and vegetables are currently exported to more than 40 countries and territories around the world, including selective markets such as the US, Australia, New Zealand, Chile, Japan and the Republic of Korea. The sector's target is to earn approximately US$4.5 billion in exports by 2020 and nearly double that by 2030.
The strong return of shrimp and fish exports is also a remarkable phenomenon. In 2016, this industry encountered challenges in the face of serious droughts and the Formosa maritime environmental incident. However, in 2017, thanks to more favourable weather and tighter production processes, the fisheries sector generated great success.
The largest contributor to seafood exports in 2017 was shrimp with a growth of over 21%, as shrimp exports were valued at US$3.8 billion. Tra fish exports contributed US$1.8 billion, up nearly 4% compared to 2016, while exports of tuna and squid also reached nearly US$600 million, up 16% and 42% respectively.
Remarkably, in seafood exports in 2017, China surpassed the US as Vietnam's largest import market for tra fish and shrimp. It is expected that Vietnam's neighbouring market will continue to grow satisfactorily in the coming years due to the increased demand for high quality seafood in China thanks to improved incomes and its changing trend to a consuming economy.
The spectacular improvement of Vietnam's agricultural sector in 2017 is generally a very important event, thereby encouraging further investment from leading corporations in hi-tech agriculture. Of course, the export target this year will surely face challenges amidst the increased trade protectionism and anti-dumping measures from a number of developed markets, such as the US and Europe, against Vietnamese commodities such as shrimp and tra fish.
According to Deputy Minister of Agriculture and Rural Development, Ha Cong Tuan, 2018 is identified as a pivotal year, which is important in the implementation of the sector's five-year plan during 2016-2020, targeting a growth rate at about 2.8-3.0% and an export turnover of US$36-37 billion.
It is time for the relevant departments, sectors and local authorities to take measures in removing barriers and create a favourable environment for businesses, while actively reporting on new market policies to help businesses reduce their risks. Another important orientation is that the State needs to maintain or reduce credit interest rates to strengthen the financial capacity of enterprises.
For their part, agricultural businesses should pay more attention to brand building, quality improvement, the application of modern technology and completing the production and distribution chain to improve business efficiency and increase competitiveness in the international markets.
Vietnam striving to become new "economic tiger"
"Growth and development is a marathon, not a sprint," Prime Minister Nguyen Xuan Phuc emphasised and set the goal of raising Vietnam to become a new "economic tiger" in Asia.
At the high-level policy dialogue with the theme of "Fast and sustainable economic growth: existing challenges and new motivation" under Vietnam Economic Forum, Prime Minister Nguyen Xuan Phuc confirmed his hopes that Vietnamese people would change their mindset and habits to create a prosperous Vietnam.
The prime minister said that 2017 was a successful year for the Vietnamese economy, with a growth of 6.81 per cent. Vietnam is one of the highest-growing countries in Asia and over the world. The economic reform has been strengthened and the business climate has been improved. These have consolidated the faith of investors and enterprises, creating new momentum for the economy.
"We should affirm that the Vietnamese economy is facing many challenges in the medium and long term. It is necessary to find a way to promote fast and sustainable development and overcome the middle-income trap in the coming time," PM Phuc emphasised.
In 2018, the government asks ministries, branches, and localities to strive to reach father than the growth targets set forth by the National Assembly. Thereby, GDP growth should be over 6.7 per cent, with the quality of growth and productivity improved significantly, accompanied by rising environmental indicators.
Vietnam has produced many socioeconomic development achievements during 30 years of reform. The prime minister noted: "We should not be subjective and satisfied with these achievements. In the coming time, Vietnam should follow a new growth model based on productivity and innovation, and reduce dependency on old advantages like natural resources and low-cost labour."
He added, "Growth and development is a marathon, not a sprint. We could be delighted with the 2017 achievements, but we should consider them as a basis for economic restructuring and shifting the growth model. This way we will create a solid foundation for the economy to grow in the long term."
The prime minister said that besides economic achievements, the poverty rate has reduced, environmental protection and afforestation received more attention, and forest coverage has increased.
The prime minister was especially proud of Vietnam's global competitiveness index (GCI) that jumped to the 55th place, five places up against the previous year, according to the latest list announced by World Economic Forum (WEF). Vietnam climbed 14 places to 68th in the World Bank's latest Ease of Doing Business 2018 ranking. The reliability index of the banking system has shifted from "stable" to "active."
Additionally, the leader of the government expressed concerns over the issues of climate change and Industry 4.0 and emphasised the need to find better ways to implement the nation's sustainable development strategy.
In order to improve the resilience of the economy, the prime minister focused on mechanisms which boost innovation in the country.
"We need to improve productivity, apply science-technology, and promote e-commerce. The economy needs to be restructured on every level, branch, and business, in order to improve the competitiveness of the country. This should go along with reducing costs, as well as promoting anti-corruption and preventing group interests from taking over. Thus, we need an innovative national education in line with the development," PM Phuc stated.
Ocean Group not out of trouble yet
Over the past three years, especially after the lending fraud scandal of Ocean Bank's former chairman in late 2014, the business performance of multi-sector Ocean Group (HSX:OGC) was lacklustre despite signs of recovery shown over the first nine months of 2017.
Specifically, over the first three quarters of 2017, the multi-sector firm reported a total after-tax loss of VND226.7 billion ($9.92 million) which was nearly half of the VND468 billion ($20.49 million) in the same period in 2016.
During the first nine months of 2017, the firm's collective sales and service-based revenue mounted to VND900 billion ($39.42 million), which was roughly 9 per cent up against the same category in 2016. To add, the firm saw a meagre rally in gross profit, with a respective VND371billion ($16.2 million) and VND420 billion ($18.3 million) in the first three quarters of 2016 and 2017.
By the end of September 2017, OGC's accumulated loss reached VND2.742 trillion ($120 million), followed by the threat of delisting from the Ho Chi Minh City Stock Exchange. At the end of the third quarter of 2017, the company's total liabilities mounted up to VND4.938 trillion ($217.45 million) which was equivalent to 84 per cent of its total assets.
Additionally, as presented in the firm's consolidated financial statement for the third quarter in 2017, OGC scored a net revenue of VND479.74 billion, up 14 per cent against the same period in 2016. Besides, the firms' cost of goods sold (COGS) touched VND223.74 billion ($98.2 million), 21 per cent up, resulting in a modest gross profit totalling VND252 billion ($11.06 million), merely 8 per cent up against the third quarter in 2016.
Ocean Group, is a Hanoi-headquartered multi-sector firm which concentrates on various fields, such as financial investment, build-operate-transfer (BOT) investment, as well as hotel and real estate services. The firm's total charter capital is VND3 trillion ($133.5 million), with its ticker fetching VND2,410 ($0.11) on the Ho Chi Minh City Stock Exchange.
Ocean Commercial One Member Limited Liability Bank, or Ocean Bank, is a Vietnam-based commercial bank that was previously bought out by the State Bank for zero VND. Prior to the lending fraud scandal in 2014, Ocean Group held 20 per cent stake at the commercial bank.
Vingroup & Tan Hoang Minh lead the way in apartment sales
Vingroup and Tan Hoang Minh are the two leading investors in Vietnam's real estate market in terms of apartment sales, according to a fourth quarter report from Savills Vietnam.
Vietnam's real estate market recorded strong growth in the number of apartments sold by real estate projects in the Grade A segment during 2017, tripling the figure in 2016 and the highest growth rate since 2010.
According to Savills, buyers of Grade A apartments are both owner-occupiers and investors with an eye on leasing the property, which lie behind the impressive increase.
Meanwhile, sales of Grade C apartments increased only slightly while those in the Grade B segment declined.
As two prestigious investors with high-end real estate projects, Vingroup and Tan Hoang Minh lead the way in sales. They have provided thousands of high-end apartments over the last year, through Vingroup's Vinhomes-branded projects and Tan Hoang Minh's projects such as D'. Le Roi Soleil, D'. El Dorado, D'. Le Pont D'or, and D'. Capitale.
These projects are located in prime locations and provide a high-end living space, convenience, and substantial profitability, while seeing good absorption.
Ms. Do Thu Hang, Deputy Director of Savills Research in Hanoi, said that 98 per cent of developers of real estate projects are now domestic enterprises.
Tan Hoang Minh is expected to continue to provide high-end apartments for market this year, with the launch of D'. El Dorado Phase 2, which has received significant attention from buyers.
In the years to come, Savills forecasts that the high-end segment in Hanoi will remain stable, with supply of Grade A apartments coming from reputable developers.
In Ho Chi Minh City, meanwhile, given the low price of apartments compared to the Asian region and their quality and prestigious investors, Grade B is expected to attract the largest number of foreign buyers this year, especially in areas with good infrastructure, such as Districts 2 and 7.
Credit risks pose threat if not fully addressed: experts
Credit risk management should be enhanced to make sure business information is transparent and reliable in order to improve Vietnam's trade, economic, and investment conditions, experts told the "Credit Risk Management for Trade and Investment in Vietnam" workshop held in Hanoi on January 11.
While credit risk management is normally considered a core business activity done only in the banking and finance sector, potential risks may also pose threats to the country's trade and investment environment if they are not fully addressed, CEO of data analysis firm StoxPlus, Mr. Nguyen Quang Thuan, said.
Transparent business and economic information and data would help strengthen Vietnam's international trade, draw more attention from foreign investors, improve the performance of local businesses, and help them access foreign capital markets.
At the moment, "the reliability of data inputs in Vietnam is still weak given the fragmented data-source infrastructure and poor financial reporting environment," Mr. Thuan said, adding that better credit risk and business data management would provide local banks with better insight of the finances and operations of local businesses.
"As banks conduct insightful reviews of company profiles, they are able to determine whether the businesses are strong enough and whether lending rates should be high or low based on the financial risks that the business may encounter," he said.
Credit risk and data management would help local authorities prevent foreign companies from transfer pricing, which is used to avoid taxation, and improve the quality of foreign investment in the economy, he added.
In fact, there was a big difference between a company's financial statement sent to tax authorities and the one sent to credit institutions for making loans.
"We find out in some cases that if companies do not issue tax invoices for products sold in the market, they do not have to record the transaction in financial reports for tax purposes and avoid business income tax," he explained. "But they can record the transaction in the financial statements submitted to banks for credit purposes."
He therefore urged authorities to empower independent third-party vendors that have technological advances, such as StoxPlus, to collect and analyze financial and economic data so that information is transparent and reliable for investors.
Agreeing, Lead Financial Sector Specialist at the World Bank in Vietnam, Mr. Alwaleed Alatabani, told the workshop that local authorities must compel companies to improve their financial statements and reports to international standards.
Local authorities also need to work with financial institutions on corporate earnings reports, so that the country can provide a better business environment and give foreign investors better insights into Vietnam's economy.
Japanese science and technology enterprises keen on Vietnam
Vietnam is an attractive investment market for Japanese enterprises, especially in the field of science and technology, the "Connecting Vietnamese and Japanese Companies in the Field of Science and Technology" seminar, held in Hanoi on January 12 by the Japan External Trade Organization in Hanoi (JETRO Hanoi) and the Science and Technology Enterprises and Market Development Department.
The seminar aimed to promote cooperative exchanges between ASEAN and Japanese enterprises in the field of information technology, digital technology, and the Internet of Things (IoT) within the framework of the "ASEAN - Japan New Industry Development" project.
Mr. Hironobu Kitagawa, Chief Representative of JETRO Hanoi, told the seminar that investment by Japanese enterprises in Vietnam in the field of IT primarily focuses on the development of software systems. "In the wave of the fourth industrial revolution, new investment opportunities between Vietnam and Japan will arise in the future and this will bring benefits to both countries," he added.
Japanese businessman Mr. Hiroyuki Ono, from ACA Investments Pte Ltd, said that Vietnam is an attractive investment destination in the region, surpassing Indonesia and Thailand. "Japanese companies are opening branches and building factories in Vietnam and we are even more active in finding partners and linking them with Vietnamese businesses," he said.
Regarding Vietnamese startups, Dr. Le Thai Phong from the Foreign Trade University said that, in general, the development of a startup eco-system in Vietnam is satisfying the necessary conditions but still faces a host of obstacles. "In tax policy, although the government's policy is very supportive, local governments sometimes make it difficult, requiring enterprises pay VAT on unnecessary items," he noted.
Within the framework of the "ASEAN - Japan New Industry Development" project, Vietnam is the fifth country to have held a networking event. Similar programs were previously held in Bangkok, Jakarta, Manila, and Kuala Lumpur, and received positive feedback from participants.
Mr. Nguyen Van Truc, Director of the Center for Training and Supporting Technology Market Development, told the seminar that the Ministry of Science and Technology (MoST) held a meeting in 2017 to prepare plans for 2018, where the Prime Minister and Deputy Prime Minister commented on the management and implementation of the plan, focusing on development, technology transfer, and innovation for national development.
M&A deals increase Chinese investment in Vietnam
Chinese businesses tend to make their stronger presence in Vietnam through mergers and acquisitions (M&A) deals, especially in real estate.
Chen Dehai, Chinese Consul General in Ho Chi Minh City, said at a recent meeting to promote investment opportunities in the city that Chinese investment into Vietnam has surged high since 2016. Businesses have poured much capital in different projects in thermal and wind power, solar energy pin, garment, and tyre production, even up to US$2 billion in one project.
According to the Foreign Investment Agency under the Ministry of Planning and Investment, China ranked fourth among foreign investors with the highest amount of investment capital pledged for Vietnam last year.
2017 also witnessed many M&A deals between Chinese businesses and Vietnamese partners in real estate.
Chinese businesses have not only focused on M&A deals and real estate but also increased their investment in industrial production. They tend to invest in garment, fibre and footwear to take advantage of tax incentives when exporting to the EU and US as Vietnam have signed free trade agreements with these countries.
A clear proof for the move is that the Bank of China, Ho Chi Minh City branch and China's Shenzhen Stock Exchange signed a cooperation deal in December 2017 to further attract Chinese investment into Vietnam.
Central Da Nang city boosts investment attraction
The central coastal city of Da Nang is deploying a number of measures to increase investment attraction in 2018.
According to Chairman of the municipal People's Committee Huynh Duc Tho, the city will build on achievements gained in 2017, particularly the successful organisation of the APEC Economic Leaders' Week and Da Nang Investment Forum.
Local authorities pledged to create the optimal conditions for investors to carry out and put into operation tourism and resort projects.
The city targets the creation of high added value products, especially in the field of science and high technology.
The inspection and treatment of environmentally polluted areas, including industrial parks, will be stepped up in the coming time.
Preferential policies will be devised to lure large-scale industrial production investors and businesses in high-added value and environmentally friendly fields.
The city will work to ensure labour safety, improve infrastructure, and ease traffic jams.
It will focus on finalising a master plan for socio-economic development by 2035 with a vision toward 2050 and building projects, mechanisms and policies to develop tourism and services.
As a driving force of the central region's key economic zone, Da Nang is leading in the development of infrastructure as well as land, railway and airway connectivity for the central and Central Highland regions.
In 2017, the gross regional domestic product (GRDP) recorded a year-on-year growth of 9%. 
To date, industrial parks in the city have attracted more than 400 investment projects, of which 100 are foreign invested ones, creating jobs for over 74,000 labourers in the locality and vicinities.
High-tech bitumen plant to be built in Phu Yen
Danish global machinery equipment maker DenimoTech and Vung Ro Petroleum Company Limited on January 11 signed an agreement to build a high-tech bitumen plant in the central coastal province of Phu Yen.
The construction of the plant will be divided into two phases. The first will be implemented in a year, and the second will begin in the middle of the year and last for 26-28 months.
During the first phase, the plant will import high quality bituminous binders from the world's leading manufacturers and process them into advanced construction materials for both the Vietnamese market and exports to neighbouring countries.
The plant has been designed to have a storage capacity of 12,000 metric tonnes (MT) with a second phase upgrade to 30,000 MT. It is expected to be a top-notch environmentally-friendly bitumen-emulsion and polymer-modified bitumen plant. It will also be a state-of-the-art packing facility for exports of hi-tech bituminous products to regional markets. It will have its own port facility.
The plant is part of Vung Ro Petroleum's attempt to produce its own high-quality bituminous binders compliant with Vietnamese Standards, American Superpave Performance Grade Standards and other standards required by customers in the region.
Kirill Korolev, CEO of Vung Ro Petroleum, believes that the project will contribute significantly to Vietnam's infrastructure development.
"The road, airport and port infrastructure of a country are barometres for its advancement, wealth and prosperity. We are proud to contribute to this development. We are selecting the world's best technology providers to bring the best materials and science to the Vietnamese market," Kirill said.
Vung Ro Petroleum's CEO said he was not authorised to disclose the full amount of the investment, but said it was above US$500 million.
"Together with our partners, international vendors and some of the best scientists from Denmark, we will deliver a cutting-edge facility for Vung Ro Petroleum and help solve the engineering problems of Vietnamese construction and industrial sectors," said Bernd Schmidt, chairman of DeminoTech.
HCM City retail grows by more than 11% in 2017
HCM City's retail sector has been growing steadily, achieving an 11.3% increase by the end of 2017 compared to 2016, according to the city's Department of Industry and Trade.
According to the department, the total revenue of the retail sector last year was over VND923.84 trillion (US$40 billion).
Revenue from retail sales was VND594.65 trillion, accounting for 64.4% of total retail revenue (retail sales and retail services).
The city had 207 supermarkets in 2017, an increase of 18 compared to 2016. At least 116 of them are domestic supermarkets, while 91 are foreign-owned.
In addition, there were around 43 shopping malls in 2017, three more than in 2016. Fourteen of them are foreign owned. There were around 1,100 convenience stores in 2017, 218 more compared to 2016.
Leather, footwear sector sets US$20 bln export target
Vietnam aims to earn between US$19.5 - 20 billion from leather and footwear exports in 2018, up 10% from 2017, according to a conference in January 12.
According to the Vietnam Leather, Footwear and Handbag Association (LEFASO), the leather and footwear industry is destined to increase by 5% from one year earlier, with the localisation rate of 55%. 
Footwear and handbags will remain Vietnam's top four and 10 export items, respectively.
In her remark at the conference, LEFASO Vice President Phan Thi Thanh Xuan highlighted positive signs in the world economy and growing consumption demand, which have provided favourable conditions and posed challenges to Vietnam's exports and investment.
To actualize the target, the association has been urged to engage in relevant policy making, attract more foreign and domestic investment in support industry, thus increasing the localisation rate and ensuring sustainable development.
Trade promotion events, workshops, and training classes are planned to improve the management capability of enterprises, and attend international trade fairs, Thanh said.
In 2017, the sector fetched US$18 billion from exports, a year-on-year rise of 10.7%.
Animal breeding industry eyes 4% growth of production value
The Department of Livestock Production under the Ministry of Agriculture and Rural Development (MARD) has set several targets for 2018, including a growth rate of 4% in production value.
The other targets are to have more than 5.4 million tonnes of meat of all kinds, 11.58 billion poultry eggs and one million tonne of milk, a year-on-year surge of 3.8%, 8.8% and 14.1%.
The sector will review and evaluate restructuring results in 63 cities and provinces, direct localities to set up specialised husbandry products as well as work to build trademarks and facilitate output consumption. Efforts will be channeled to preserve native varieties like Mong Cai pig, Tien Yen chicken, Mia chicken, Dong Tao chicken, Ho chicken and H'Mong cow.
Organic farming process and safe breeding in accordance with VietGAP standards will be developed. Also, the department will promote market forecast and recommend measures for the MARD to remove bottlenecks for products with great potential for exports like meat, chicken and dairy products.
Domestic production will be enhanced in parallel with the development of free-of-disease breeding zones.
Value of husbandry production in 2017 totalled more than VND230 trillion (US$10.1 billion), rising 3.05% compared to that of 2016.
Vietnam complains to WTO about US fish tariffs
Vietnam has challenged U.S. anti-dumping measures against Vietnam's exports of fish fillets, a filing published by the World Trade Organization showed on January 12.
Vietnam has challenged U.S. anti-dumping measures against Vietnam's exports of fish fillets, a filing published by the World Trade Organization showed on January 12.
Vietnam says Washington has broken WTO rules in the way it has imposed punitive tariffs on Vietnamese fish it claims are being "dumped, or sold at an unfairly cheap price, on the U.S. market.
U.S. imports of fish fillets from Vietnam have grown from $100 million in 2007 to more than $520 million in 2016. That made Vietnam the third-biggest U.S. supplier after Chile and China and the U.S. the top export market for Vietnamese fish.
The United States has 60 days to settle the complaint, or Vietnam could ask the WTO to adjudicate.
Washington has faced a slew of trade disputes over its use of anti-dumping duties in the past two decades, and has lost many of them after its calculation methods were found to be out of line with WTO rules.
Earlier this week, the WTO published a wide-ranging Canadian trade complaint, lodged in December, against the U.S. use of anti-dumping and anti-subsidy tariffs.
The United States called that complaint a "broad and ill-advised attack" that could cause a "flood of imports from China and other countries".
The Vietnamese complaint was the fourth dispute initiated by Vietnam since it joined the WTO in 2007.
Two of its previous complaints took aim at U.S. anti-dumping actions against Vietnam's shrimp exports. The long-running shrimp battle finally ended in 2016 when the United States agreed to remove duties on a Vietnamese shrimp exporter and to refund duty deposits that it had paid.
At the time, the two countries were partners in the Trans-Pacific Partnership trade talks. But under President Donald Trump the United States has withdrawn from those negotiations.
Vietnam-China border gate sees record high import-export revenue
The total import-export revenue through the Thanh Thuy International Border Gate in the northern province of Ha Giang reached a record high of US$3.66 billion in 2017, soaring 200% from the previous year.
The Thanh Thuy International Border Gate, an important import-export gateway connecting China's Yunnan province with Vietnam's Ha Giang province, reported total export revenue of US$1.92 billion and total import revenue of US$1.63 billion, in addition to over US$111 million worth of goods being temporarily transferred through the gate.
The border gate bustled with a large number of container trucks from the beginning of 2017 which carried Vietnamese agricultural and forestry products to export to China, particularly fresh dragon fruits.
Deputy Head of the Management Board of Ha Giang Economic Zone Nguyen Huu Tri said that the province has invested in an automated numbering system for container trucks in a bid to simplify its procedures and boost transparency.
In addition, the Customs Department of Thanh Thuy Border Gate has stepped up the reform of its administrative procedures and has deployed an automated customs clearance management system to shorten customs clearance time, Tri noted.
The Thanh Thuy National Border Gate was upgraded to an International Border Gate in 2014, contributing to promoting trade exchanges between China and Vietnam and other countries in the ASEAN region.
Capital to develop 11m sq.m housing     
The capital city of Ha Noi is planning to develop housing area covering 11 million sq.m in 2018, according to the municipal Department of Construction.
This will include 430,000sq.m of social housing projects and 348,000sq.m of resettlement projects, while the rest will be commercial housing projects.
The municipal department said it would initiate measures to remove obstacles and promote the development of the real estate market. It would also strive to create conditions for developers to diversify products as well as adjust the planning of scales of housing projects to meet the market demand.
Nguyen Chi Dung, Deputy Director of Ha Noi Department of Construction, said the capital city developed more than 11 million sq.m housing area last year, including 60,688sq.m of social housing projects, 164,640sq.m of resettlement projects and 2.5 million sq.m of commercial housing projects, in addition to 8.3 million sq.m built by residents.
The average housing area per head is 25.6sq.m and the city plans to increase it to 26.3sq.m by 2020.
The city has placed orders with developers to develop commercial housing projects for resettlement purposes, including a project in Linh Dam and six others. This is aimed at encouraging developers to invest in resettlement housing projects.
Social housing projects of Ha Noi are concentrated in five areas, namely Tien Duong in Dong Anh District, Co Bi in Gia Lam, Ngoc Hoi in Thanh Tri, and Co Nhue 2 and EcoHome 3 in Bac Tu Liem. 
Deputy PM urges PetroVietnam to up efficiency     
Deputy Prime Minister Trinh Dinh Dung urged the Viet Nam Oil and Gas Group (PetroVietnam) to focus on restructuring and improving business efficiency in 2018.
Dung at PetroVietnam's conference to implement 2018 tasks held on Friday appreciated the efforts of PetroVietnam to achieve higher-than-target results in 2017 despite significant impact from low oil prices in the global market.
"The most difficult time of PetroVietnam is gradually over. Now, resources should be focused on restructuring the management system from the parent company to the affiliates to streamline and enhance operation and restructuring investments to prevent losses and enhance efficiency," Dung said. "At the same time, PetroVietnam must hasten the application of industry 4.0 technologies to move towards sustainable development."
Dung asked PetroVietnam to effectively implement the oil and gas industry development strategy by 2025 with a vision to 2035.
He said the government would support the company in implementing major oil and gas projects.
Dung urged PetroVietnam to speed up major projects that were making slow progress, such as the expansion of Dung Quat Oil Refinery, Nghi Son Oil Refinery, Petrochemical Complex in the southern region, Block B- O Mon gas pipeline, and Vung Ang A, Thai Binh 2, Long Phu 1 and Song Hau 1 thermoelectricity plants.
Five inefficient projects must be handled thoroughly, including Dinh Vu polyester plant, Dung Quat shipyard and three bio-fuel plants, Dung said.
PetroVietnam general director Nguyen Vu Truong Son said the company targeted to produce 22.83 million tonnes of oil in 2018, adding the group would hasten exploration this year to increase oil reserves.
In addition to this, PetroVietnam will closely monitor the fluctuations in global oil prices for timely measures to cope with the volatility.
PetroVietnam's production output reached 25.41 million tonnes in 2017, 1.6 million tonnes higher than the target.
Its 2017 revenue reached VND498 trillion (US$21.85 billion), exceeding the target by 13.8 per cent and rising by 10 per cent over 2016, while its pre-tax profit was VND31.9 trillion, 92 per cent higher than the target.
The group contributed VND97.5 trillion to the State budget last year, 30.8 per cent higher than the target. 
Can Tho retail revenue hits 100 trillion
Can Tho's revenue from retail sales and services reached VND106 trillion (US$4.7 billion), 10 per cent higher than 2016, according to Can Tho City's Department of Industry and Trade.
The city surpassed its 2017 goal of VND100 trillion, achieving the highest revenue in the Mekong Delta region, and the third highest within Viet Nam's municipalities, after HCM City and Ha Noi.
Last year, more supermarkets and malls opened while outlying districts also saw more shops, boosting total retail revenue in the city.
Truong Quang Hoai Nam, the deputy chairman of Can Tho People's Committee, said the city achieved a high level of industry and trade last year, but noted that the modern retail facilities were concentrated in Ninh Kieu District, whereas other districts were not as developed.
Nam urged the department and other units to develop the retail sector in other districts such as O Mon, Thot Not and Cai Rang.
For 2018, the city targets reaching retail revenue of VND117.6 trillion, 10.9 per cent higher than 2017.
It also aims to increase export turnover by 1.2 per cent and decrease import turnover by 6.5 per cent this year.
The city's Department of Industry and Trade aims to improve the processing industry and focus on products with higher added value, such as agriculture, aquatic products and other Can Tho's specialties, and attract more investors. 
Animal breeding industry eyes 4 percent growth of production value
The Department of Livestock Production under the Ministry of Agriculture and Rural Development (MARD) has set several targets for 2018, including a growth rate of 4 percent in production value.
The other targets are to have more than 5.4 million tonnes of meat of all kinds, 11.58 billion poultry eggs and one million tonne of milk, a year-on-year surge of 3.8 percent, 8.8 percent and 14.1 percent.
The sector will review and evaluate restructuring results in 63 cities and provinces, direct localities to set up specialised husbandry products as well as work to build trademarks and facilitate output consumption. Efforts will be channeled to preserve native varieties like Mong Cai pig, Tien Yen chicken, Mia chicken, Dong Tao chicken, Ho chicken and H'Mong cow.
Organic farming process and safe breeding in accordance with VietGAP standards will be developed. Also, the department will promote market forecast and recommend measures for the MARD to remove bottlenecks for products with great potential for exports like meat, chicken and dairy products.
Domestic production will be enhanced in parallel with the development of free-of-disease breeding zones.
Value of husbandry production in 2017 totalled more than 230 trillion VND (10.1 billion USD), rising 3.05 percent compared to that of 2016.
HCM City's industrial growth predicted to rise 8-8.5 percent
Industrial production of Ho Chi Minh City is forecast to see stable growth in 2018, with the index of industrial production index (IIP) to expand by 8-8.5 percent year-on-year.
According to the municipal Department of Industry and Trade, the city's IIP in 2017 increased by 7.9 percent compared to 2016.
The city's four key industrial sectors saw an average growth of 15.5 percent, much higher than the overall rate. In particular, the IIP of the electronics-information technology industry expanded by 39.11 percent, and that of processing and manufacturing industry by over 8 percent). 
Meanwhile, the chemicals – plastic- rubber industry posted a growth of 3.4 percent after slow development in 2015 and 2016.
Deputy Director of the department Nguyen Phuong Dong attributed the good performance to efforts made by local enterprises and the municipal authority's policy to promote industrial development. 
Decision No.15/2017/QD-UNBD issued by the municipal People's Committee in early 2017 on supporting businesses to develop industrial manufacturing and supporting industry has also contributed to boosting the city's industrial development.
According to the department, there is a great potential to develop the mechanical sector in the city, especially automobile industry. 
However, industrial enterprises are also facing difficulties and challenges, especially in terms of competitiveness and markets.
The department said many measures will be implemented to support industrial enterprises in their production and business activities in 2018, towards accelerating restructuring of the industrial sector in connection with renovating the growth model. 
According to Le Nguyen Duy Oanh, Deputy Director of the HCM City Department of Industry and Trade's Centre of Supporting Industry Development, her agency will focus on assisting support industry enterprises in raising their supply capacity, expanding production and connecting with more domestic and foreign partners, thus gradually joining the global supply chain.
EVNNPT strives to ensure progress of power transmission projects
The National Power Transmission Corporation under the Electricity of Vietnam Group (EVNNPT) plans to disburse over 18.1 trillion VND (797.6 million USD) to finish and put into operation 62 projects and start construction of 43 projects in 2018.
With this huge investment, the corporation aims to ensure the progress and quality of power transmission projects, said EVNNPT Deputy General Director Nguyen Tuan Tung at a conference to set forth plans for 2018 in Hanoi on January 12.
Tung said EVNNPT invested nearly 18 trillion VND (792.2 million USD) in projects in 2017, equivalent to 94 percent of the adjusted target assigned by the EVN, and disbursement was more than 18.1 trillion VND, equal to 95.1 percent of the adjusted target.
With the capital, the corporation began construction on 38 projects, including six 500kV transmission projects and 32 220kV transmission ones.
In the year, 50 500kV and 220kV transmission projects were put into operation, many of which play an important role in ensuring power supply for regions across the country, notably projects ensuring electricity provision for Hanoi.
A factor helping the corporation to finish and start construction on its projects on schedule was the arrangement of investment capital. Specifically, EVNNPT signed domestic credit contracts totalling 660 billion VND. It also worked to complete procedures to disburse loans from German's Development Bank (KfW) and the Asia Development Bank (ADB).
BIDV to cut annual lending interest rate by 0.5 percent
The Bank for Investment and Development of Vietnam (BIDV) will cut down its lending interest rate for short-term loans in VND for prioritised sectors by 0.5 percent to 6 percent per year from January 15.
The preferential rate will be applied to customers operating in export, support industry, hi-tech industry and hi-tech agriculture.
At the same time, the bank will continue running large-scale loan packages with preferential interest rates that are lower than the normal rate by 1-1.5 percent per year for customers in the Government's priority list. They include 10 trillion VND package for small and medium-sized enterprises, 20 trillion VND for large firms, and 3 trillion VND for micro enterprises and startups.
Earlier, Agribank, Vietcombank and Vietinbank also announced their plans to cut interest rates for loans in five prioritised sectors to assist people and businesses in accessing capital, thus boosting economic growth.