Dozens of villas and bungalows in The Song Resort project have been built without licences along Danang beach.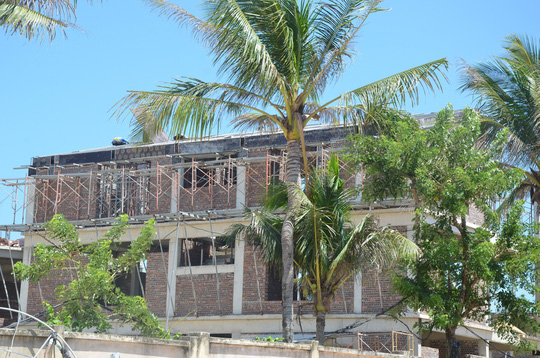 Dozens of villas and bungalows built without licences
The project was invested by Song Viet Tourism-Urban Development JSC and given a building permit in 2011 for 37 villas. The construction was started in early 2017 but the investor failed to follow the regulations.
The investor was given permits to build 19 villas, covering 5,008 square metres in total. In reality, they built 20 villas that cover 6,975 square metres. They also built 18 villas without licences. Some villas have different locations or are bigger than what were registered. There are also seven unlicensed bungalows.
Song Viet also built a 17-metres embankment that encroached on the water.
Ngu Hanh Son District People's Committee Chairwoman Nguyen Thi Anh Thi said that they would punish Song Viet for their violations. According to Thi, they discovered the violations since May 2017 and directed authorities in Hoa Hai Ward to inspect and halt the construction.
However, Song Viet continued the construction despite the ban. Hoa Hai Ward People's Committee halted the construction again in November 2017 to no avail. When being discovered on January 9, the workers quit the jobs afterwards.
Thi said the Department of Construction didn't submit the project's documents to the district authorities. If Song Viet cannot submit required documents on January 18, their illegal buildings will be demolished. Vu Quang Hung, head of Danang Department of Construction, said that they had asked Song Viet to report about the illegal buildings by January 17.
During a meeting with Ngu Hanh Son District People's Committee on January 10, Party Secretary of Danang Truong Quang Nghia asked the local authorities to inspect 33 other coastal projects. Public access routes to the beach also need to be clearly identified.
dtinews