Phu Yen pours over 2.1 trillion VND into aquaculture
Authorities in the central coastal province of Phu Yen will spend nearly 2.12 VND trillion (93 million USD) developing aquaculture from now until 2025.
According to Vice Chairman of the provincial People's Committee Tran Huu The, the master plan on fisheries development by 2025 with a vision toward 2030 will involve aquaculture, harvest and processing and building infrastructure for fishing logistics, including breed stock production.
From now until 2020, the province will invest more than 1.45 trillion VND (64 million USD) in conducting 13 key projects that aim to boost sustainable fisheries development.
These projects include building Long Thanh aquaculture infrastructure system, upgrading infrastructure for the Hoa An aquaculture production centre in Song Cau town, building a fishing port, a tuna auction market and a tuna processing factory with a capacity of 1,800 tonnes per year in Tuy Hoa city.
In Song Cau town, the province will also construct a frozen seafood processing factory with a capacity of 3,500 tonnes per year and a factory to produce feed for lobsters, which can make 1,000 tonnes per year.
The master plan is aimed at giving a boost to local aquaculture and production, contributing to developing the local economy. 
The province has set a target of reaching an average growth of 5.2 percent per year from now until 2030. 
Vietjet offers a million tickets with shocking prices in the spring
From January 10 to January 12, budget carrier Vietjet offers 1 million super promo tickets priced from only 0 VND to passengers on website www.vietjetair.com within the golden hours from 12:00 to 14:00. 
The promotional tickets are available for all Vietjet's domestic routes flying from the North to the South with the flight period from February 1 to March 4 (including national holidays).
Besides an opportunity to discover the nation in the spring, passengers flying with Vietjet during the promotional period from December 28, 2017 to February 28, 2018 will have chances to win many attractive prizes with a total value of up to 1 billion VND. 
Accordingly, passengers on special flights in the festive season "Enjoy Sky Festival" with Vietjet will have a chance to participate in lucky draw to win free domestic return tickets, "lucky money" prizes worth 10 million VND as well as a special cash prize worth 100 million VND. Passengers play the online game "Vietjet Sky Fun" also have an opportunity to win more gifts including a pair of domestic or international return tickets.  
The promotional tickets are available during Vietjet's daily "golden hours" from 12:00 to 14:00 at www.vietjetair.com (also compatible with smartphones at https://m.vietjetair.com) or www.facebook.com/vietjetvietnam (just click the "Booking" tab); payment can be easily made with debit and credit cards of Visa/ MasterCard/ AMEX/ JCB/ KCP and any ATM card issued by 32 Vietnamese banks that have been registered with internet banking.
Vietjet always is a pioneering airline that is loved by many for its exciting promotional and entertaining programmes, especially in the festive season. Vietjet is continually opening new routes, adding more aircraft, investing in modern technology and offering more added-on products and services to serve all demands of customers.
EVNGENCO2 to launch IPO in June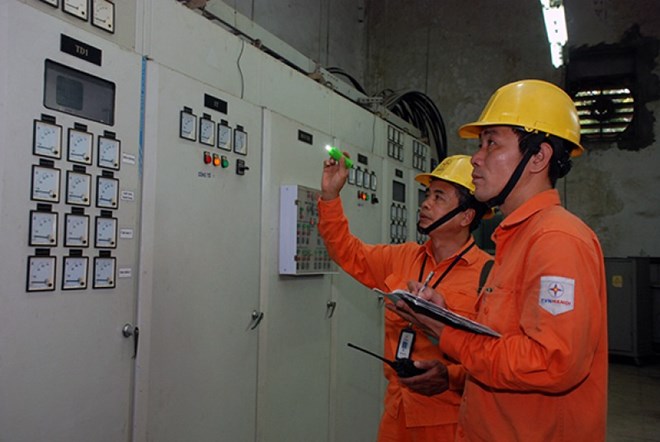 The Power Generation Corporation 2 (EVNGENCO2) is taking necessary steps to conduct the first public offering (IPO) in June, according to newly-appointed Director General Truong Hoang Vu.
Vu mentioned the plan at the corporation's conference to review its performance in the Mekong Delta city of Can Tho on January 10.
The corporation has completed value evaluation and selected consultancies for developing its equitisation plan, he said.
EVNGENCO2, a member of the Electricity of Vietnam (EVN), produced more than 16.74 billion kWh of electricity last year, up 10.28 percent from 2016. It accounted for about 13.67 percent of EVN's electricity output and 8.49 percent of Vietnam's total power generation.
Ending 2017, the company earned more than 22.9 trillion VND (916 million USD) in total revenue and nearly 3.14 trillion VND (125.6 million USD) in profit. It paid over 2.1 trillion VND (84 million USD) to the State coffer.
The power producer sets the target of generating over 16.78 billion kWh of electricity this year, up 0.25 percent from 2017. It also plans to put Song Bung 2 Hydropower Plant into operation and join the country's competitive power market in 2018.
Habeco sets to raise turnover by 6.7 percent to 322 mln USD in 2018
The Hanoi Beer Alcohol and Beverage JSC (Habeco) is set on earning 8.3 trillion VND (332 million USD) in turnover and 955.4 billion VND (83.2 million USD) in pre-tax profit in 2018, an increase of 6.7 percent and 0.3 percent from last year, said Habeco Director General Ngo Que Lam.
He announced the firm's goals at the conference to review its performance in 2017 and outline tasks for 2018 in Hanoi on January 10.
The brewer will also contribute an estimated 5.37 trillion VND (214.8 million USD) to the State budget.
Ending 2017, Habeco reported total revenue of nearly 7.8 trillion VND (311.2 million USD) and paid more than 4.8 billion VND (192.5 million USD) into the State coffer.
Headquartered in Hanoi, Habeco is the largest beer producer in the North and the third-largest beer company in the country, with popular brands such as Hanoi Beer and Truc Bach Beer. It owns 17 subsidiaries and six affiliated companies, with total production capacity of over 800 million litres of beer per year.
The corporation will list 231.8 million shares, equivalent to the total listing value of about 2.32 trillion VND (103 million USD), on the Ho Chi Minh Stock Exchange (HOSE) on January 19.
Shares of the North's largest brewer are trading at some 128,000 VND per share on the Unlisted Public Company Market (UPCoM), which is under the management of the Hanoi Stock Exchange.
By changing its listing to HOSE, which is the main bourse in Vietnam, with total market capitalisation of some 68 billion USD, Habeco is expected to improve its reputation and draw more investments.
The company has become a 'phenomenon' on the UPCoM since its debut on October 28 last year, when its price shot up from an initial 39,000 VND per share to a peak of 225,800 VND per share on December 16.
Binh Duong waste treatment complex put into use
The Binh Duong waste treatment complex, the second stage, was put into use in Ben Cat town, the southern province of Binh Duong on January 10 after 18 months of construction, four months ahead of schedule. 
The second stage of the project cost over 180 billion VND (8 million USD), nearly 131 billion VND of which came from Finnish official development assistance and the remaining from the provincial budget. 
It included the construction of a biogas-fueled power generation complex with a capacity of 820KW and an incinerator of hazardous wastes with a daily capacity of 100 tonnes, and the doubling of the capacity of a waste compost plant to 840 tonnes per day.
Work on the 30.5 million USD complex, invested by the Binh Duong Water – Environment JSC, started in January 2004.  The 100ha facility is now capable of handling 1,200 tonnes of household wastes, 400 tonnes of industrial wastes, 200 tonnes of hazardous industrial wastes and 3 tonnes of medical wastes. 
Once fully completed, it is expected to handle around 3,000 tonnes of household wastes and more than 1,000 tonnes of industrial wastes. 
According to environment experts, it is the most perfect waste treatment complex in Vietnam up to now. 
Deputy Minister of Construction Phan Thi My Linh said the rate of solid household waste landfill nationwide accounts for 77.5 percent. 
There are 161 incinerators across the country at present, 22 of them have a capacity of 100 tonnes per day. It is targeted that between now and 2020, 2 percent of them use collected energy for electricity generation and another 2 percent for other purposes.
G-bonds worth over 7 billion USD issued in 2017
G-bonds worth 159.9 trillion VND (7.04 billion USD) and having an average maturity of 13.52 years, up 4.81 years against 2016, were issued last year, according to the Ministry of Finance.
The bonds had an average interest rate of some 6.07 percent per year, down 0.2 percentage points against 2016.
The National Financial Supervisory Commission forecast that the G-bond market in 2018 would see modest change thanks to the economic growth of more than 6.7 percent and inflation of below 4 percent.
The value of G-bonds issued in 2018 is estimated at some 180 trillion VND, with the focus being on long term maturity and keeping the interest rate at low levels.
The Government in 2017 approved the roadmap for the development of the bond market from 2017 to 2020 with a vision for 2030, in which the the outstanding debt in Vietnam's bond market is targeted at 45 percent  of the total GDP in 2020 and some 65 percent  of the GDP in 2030.
Under the plan, the outstanding debt of the Government bond, Government-guaranteed bond and municipal bond market is aimed at some 38 percent of the total GDP in 2020 and 45 percent in 2030. The corporate bond market's outstanding debt is expected to reach some 7 percent of the GDP in 2020.
The roadmap aims for stable development, larger size and better quality of Vietnam's bond market, which should have more diverse products, proactively integrate into the global market, and gradually operate, in line with international standards and practices.
For this, Vietnam is set to complete its policy framework for the bond market, develop the primary and secondary markets, diversify investors, and facilitate intermediary institutions and market services.
VN steel export up last year     
Viet Nam has transformed from a steel-importing country to a producing nation, with the export of 300,000 tonnes of steel billets last year.
This was revealed on Tuesday in a report of the Viet Nam Steel Association on the status of Viet Nam's steel manufacture in 2017.
According to the report, Vietnamese steel billets are mainly exported to markets in the Philippines and Indonesia, with the average prices ranging from US$480 to $500 per tonne, depending on the period.
Besides billets, Viet Nam also exported more than one million tonne of construction steel in 2017, a year-on-year increase of 62 per cent.
The total steel consumption in the country in 2017 is estimated at nearly 18 million tonnes, up 20.7 per cent compared to the previous year.
Prior to this, VSA forecast the steel industry to grow by 12-15 per cent in the next five years. Of which, cast iron output is forecast to increase 80 per cent to reach 4.5 million tonnes, while steel billets will jump 47.2 per cent (11.5 million tonnes), finished steel products up 12 per cent (20 million tonnes), cold rolled coils up 13 per cent and steel pipes up 15 per cent. 
Sacombank invests in LOS system     
Sacombank and Aurionpro-Integro on Wednesday signed a contract for setting up a loan originations system (LOS) at the bank at a cost of over VND100 billion (US$4.4 million) to streamline lending, improve productivity, enhance credit quality and reduce risks.
The LOS that the Aurionpro-Integro will supply to Sacombank has three main systems: loan application origination, credit limit management and collateral managements.
It will help the bank better manage every aspect of the operation from customer profile creation, loan review and credit approval to collateral management, credit limit management and reducing the formation of non-performing loans to enable the lender to gradually meet international standards on risk management.
Sacombank will put into operation the LOS early next year.
Speaking at the signing ceremony, Phan Dinh Tue, Sacombank's deputy CEO and director of the LOS project, said as one of the 10 banks selected by the State Bank of Viet Nam to pilot Basel II risk management norms, Sacombank constantly upgrades technologies to digitise processes and operations to ensure the safety of data and minimise errors. 
Banks cut interest on priority sector loans
The Bank for Foreign Trade of Viet Nam (Vietcombank) and the Agriculture and Rural Development Bank of Viet Nam (Agribank) announced on Wednesrday that they would cut interest rates on short-term loans in priority sectors this year.
They said the cut followed up on the Government's instruction to support domestic production and businesses.
These are the first banks to make public their plan to cut interest rates as per a Government Resolution (No 01/NQ-CP dated 01/01/2018) and instructions from the Governor of the State Bank of Viet Nam, to help ease pressure of high interest expenses for enterprises.
Accordingly, interest rates for short-term dong loans will be lowered to 6 per cent per year. Apart from new loans taken this year, the rate would also apply to existing loans with interest rates higher than 6 per cent.
The policy, which will be effective from January 15 to December 31 this year, will apply to the five priority sectors of agriculture businesses, firms producing goods for export, small- and medium-sized enterprises, enterprises operating in auxiliary industries, as well as hi-tech enterprises including startups.
Also yesterday, Agribank reduced its annual interest rates for short-term loans by 0.5 percentage points from 6.5 per cent to 6 per cent, and those for medium and long-term loans from 8 per cent to 7.5 per cent.
Earlier, on Tuesday, Vietcombank Chairman Nghiem Xuan Thanh had said that the bank would save costs and enhance labour productivity to enable a 0.5 percentage point reduction for short-term loans in the five prioritised sectors, which currently make up 42 per cent of the bank's total outstanding loans.
Last year, Vietcombank had cut its rates by 0.7-1 percentage points for such loans.
At Tuesday's meeting on tasks set for the banking industry, Nguyen Van Thang, chairman of Vietinbank, said loans given to the five priority sectors accounted for up to 59 per cent of the bank's total outstanding loans. The bank would announce a detailed plan to cut interest rates soon after the meeting, he said.
Governor of the State Bank of Viet Nam (SBV) Le Minh Hung said at the meeting that the central bank would also slash the lending rate in Open Market Operations (OMO) to help credit institutions.
The central bank announced a credit growth target of 17 per cent for 2018, lower than the 18.17 per cent last year. It will, however, closely monitor the market to make suitable adjustments from time to time, Hung said.
SBV stated that lending this year would continue to focus on the five sectors prioritised by the Government, while limiting capital lent to risky industries like real estate and securities. 
Agribank's pre-tax profit touches US$220 million in 2017     
Vietnam Bank for Agriculture and Rural Development (Agribank) reported a pre-tax profit of more than VND5 trillion (US$220 million) in 2017, posting an increase of 20 per cent against the previous year.
The bank announced that its total assets reached some VND1.2 quadrillion, a year-on-year increase of 15 per cent. The capital mobilised was relatively high at VND1.1 quadrillion, rising by 15 per cent from the previous year's figure.
The bank also reported outstanding loans amounting to more than VND900 trillion, 17.6 per cent higher compared to 2016. Its loans have primarily focused on agricultural production and the farming sector, aiming to support rural areas in Viet Nam.
According to Agribank's chairman Trinh Ngoc Khanh, the bank had achieved all business targets assigned by the central bank in 2017.
Last year, Agribank implemented three preferential interest rate loan programmes, supporting over 2,000 corporate customers in high-tech agriculture, with a total amount of VND600 billion, said Khanh.
In October, the bank had also signed a co-operation agreement with the Viet Nam Asset Management Company to speeding up bad debt settlement. Accordingly, an amount of more than VND23 billion of non-performing loans was resolved under Resolution No. 42 of the National Assembly. 
MatchMove to provide digital payment solutions in VN     
MatchMove, one of Asia's leading mobile and digital payment companies, will focus on digitising payments across sectors in the country, such as gaming, tourism, digital disbursement, retail and e-commerce.
"As more customers turn towards technology to conduct bank transactions, Viet Nam offers a huge potential for digital banking," Priscilla Le, Senior Vice President, Indo-China & Singapore, MatchMove, said.
"With more people having access to the internet, commercial banks have been developing internet banking services on mobile devices to offer better services to its customers," she said.
MatchMove has been providing innovative enterprising solutions to help businesses monetise their user base, increase revenue and user engagement as well as build brand loyalty through the strategic use of secured, certified and customisable cloud-based platforms across Southeast Asia and multiple global markets.
It is also one of the few worldwide mobile payment platforms (as a service) authorised by American Express and MasterCard to issue cards directly to users in approved jurisdictions, or anywhere else in the world with partner banks.
In Viet Nam, MatchMove has been working closely with corporations such as TienPhong Commercial Joint Stock Bank and VTC Intecom. 
Tra Vinh calls for investment in agricultural projects
The Mekong Delta province of Tra Vinh is calling for 969 billion VND (over 42.63 million USD) in investment in ten priority agricultural and rural development projects.
The projects include construction of a freshwater reservoir for agricultural production in Don Chau, Duyen Hai district; farm produce quality and safety management programme; programmes to encourage agriculture, fisheries and rural development and support agricultural restructuring.
The province will prioritise projects developing cattle, pig, goat and poultry farming in areas zoned off for animal husbandry and building meat processing and feed factories.
It has adopted a set of measures in terms of policy, infrastructure and personnel training to attract investment in the areas.
Tra Vinh aims at comprehensive agricultural development towards effectiveness, sustainability and large-scale commodity production with high added value in an effort to improve farmers' living standards, said Director of the provincial Department of Agriculture and Rural Development Tran Trung Hien.
The province targets an agricultural production growth of 4 percent, he added.
Bosch and Ricons team up for real estate and construction
On January 9, Germany-based multinational group Bosch and Ricons, under the management of Coteccons Group, signed a Memorandum of Understanding (MoU) for comprehensive co-operation in the fields of construction and real estate development, which could enable the two firms to enhance the safety, security, and efficiency of their construction projects and buildings across Vietnam.
Specifically, the MoU covers three key areas of co-operation where Bosch will provide the high-quality hardware, software, and services, leveraging its strength in numerous fields, such as the automotive aftermarket, drive and control technology, packaging technology, power tools, security systems, and thermo-technology.
Guru Mallikarjuna, managing director of Bosch Vietnam, asserted that, "With our diversified portfolio, international network, and local presence, Bosch commits to offering partners a wide range of customised products and solutions. Therefore, we are confident to step into this new partnership with Ricons, one of the leading construction firms in Vietnam."
"In the long term, Bosch can collaborate with Ricons in fostering integrated and connected solutions for high-tech products and services such as Smart City and Smart Campus as well as provide electric scooter (e-scooter) system solutions and other Internet of Things-based (IoT) solutions," Guru also added.
In the early stages of the partnership, Bosch will provide Ricons with professional power tools, accessories, and spare parts, as well as a full package of services, including product consultation, technical training, health and safety training, and product maintenance.
Regarding product maintenance, Bosch and Ricons considered to set up booths or small shops at key construction sites in order to provide workers with the direct and instant support when in need of frequently-used accessories, spare parts, and quick repairs.
Besides, the firms also considered co-developing a scheme to monitor and manage the full circle of tool usage, using Bosch's software and sensor technology, which in turn could assist Ricons in promoting project efficiency and waste reduction as well as maximising the utilisation of products and resources.
Furthermore, Bosch committed to providing Ricons with products and solutions for the sake of security, safety, and communications with the target of protecting people's lives, assets, and enhancing the security of infrastructure. In particular, such products could range from video surveillance, intrusion and fire detection to voice evacuation systems as well as access control and management systems.
As a supplier of real estate projects, Ricons was in search of reputable and professional partners with the intent to provide high-quality projects as well as to ensure the productivity of the equipment used in the construction progress. Ricons' operation activities stretch over 100 construction projects nationwide, ranging from industrial parks, shopping malls, residential complexes, schools, hospitals, and office towers.
Minh Phu sees little love on UPCoM
Regardless of the appreciable rally in business performance over the first ten months of 2017, Minh Phu Seafood Corporation (MPC) saw little eagerness in the security trading on Vietnam's unlisted public company market (UPCoM).
On December 25, 2017, the market price of the ticker MPC shrank to VND52,900 ($2.32), which was 24.4 per cent down against the initially offered VND79,000 ($3.47) and 54.4 per cent down against the closing price of VND110,000 ($4.83) on the first trading session.
In less than two weeks, the MPC stock saw a mild recovery as it rebounded to VND60,000 ($2.63) on January 5, 2018. Nevertheless, the average volume of matching orders was shy of 1,000 units per session, which critically crippled the stock's liquidity.
As shown in Minh Phu Seafood's third quarter financial statement, during the first nine months of 2017, the seafood supplier earned a total revenue of VND10.88 trillion ($479.3 million) and an after-tax profit of VND430 billion ($18.9 million).
Regarding the October business performance, the seafood processing firm grabbed a total revenue of VND1.78 trillion ($78.7 million) and after-tax profit of VND127.2 billion ($5.6 million), equivalent to 16.5 and 29.5 per cent of the nine-month totals.
In contrast, by the end of the third quarter of 2017, the firm was reported to have total debts worth VND7.13 trillion ($314.3 million), up 21 per cent against the firm's total debts recorded at the beginning of 2017.
Additionally, the separate security issuance plan the purpose of which was to raise the firm's equity and diminish the debt over equity ratio appeared sluggish despite being approved by the annual general meeting in 2011. Earlier, MPC's total debt was reported to be nearly triple the firm's total equity.
In particular, exported seafood volume over the first ten months of 2017 was 45,371 tonnes, up 24 per cent against the same category in 2016 and 1.1 per cent higher than the planned export volume for the entire year of 2016. Additionally, the soaring market price of prawns was instrumental in the latest notable upturn in the sales revenue of Minh Phu Seafood.
Currently, the average export unit price of Minh Phu Seafood is $12.26 per kilogramme, a $0.44 increase against 2016 and a $0.36 rise compared to 2015.
Ministries protest special consumption tax on soft drinks
Numerous ministries and associations protested against the Ministry of Finance (MoF)'s proposal to apply a special consumption tax (SCT) of 10-20 per cent on soft drinks.
According to newswire Vnexpress, in a document sent to MoF to contribute an opinion related the adjustment and addition of the SCT, the Ministry of Industry and Trade (MoIT) stated that citing soft drinks' impact on health is not convincing enough to apply the SCT.
Besides, mentioning tea and coffee products that contain no added sugar in the soft-drink group makes MoF's definition inconsistent. Thus, MoIT asked MoF to clarify the reasons for the application of SCT on soft drinks as well as the reason for issuing a quota on these products.
The Ministry of Agriculture and Rural Development (MARD) also disagreed with MoF's proposal. The ministry stated that there has yet to be an official study showing that sugar drinks, including instant tea and coffee, causs obesity and diabetes in Vietnam, especially among children.
As Vietnam is stimulating the development of the agricultural product processing industry, MARD also asked MoF to clarify the definition of soft drinks, and simultaneously proposed to remove instant tea and coffee from the subjects to the SCT.
The Ministry of Planning and Investment proposed MoF to study the impact of this policy on the beverage sector, the state budget, and other factors, including jobs and production facilities.
According to the Association of Tea of Vietnam, mentioning instant tea on the list will impact the operation of tea manufacturing firms as well as tea growing households.
Associate Prof. and PhD Ngo Tri Long proposed that the calculation of the SCT needs to be based on the percentage of sugar content in each soft drink product.
Responding to the above opinions, MoF quoted a report from WHO, which shows that consuming too many drinks containing added sugar will have a negative impact on health.
WHO also stated that 40 countries currently apply SCT on soft drinks. Besides, three countries in the ASEAN, namely Myanmar, the Philippines, and Indonesia, are also considering applying SCT on soft drinks.
According to the calculations of MoF, applying the SCT of 10 per cent on soft drinks from 2019 will contribute over VND5 trillion ($220.2 million) to the state budget per year.
This is not the first time that MoF's proposal has received objections. In February 2014, government agencies and beverage companies, and most notably, foreign beverage producers in Vietnam showed pronounced opposition to MoF's proposal from the moment it made headlines.
Finally, in August 2014, MoF decided to withdraw its proposal.
Second Vietnam Economic Forum to open tomorrow in Hanoi
Continuing the success of Vietnam Economic Forum 2017, the second forum will take place on January 11 and 12 at Lotte Hotel (Hanoi), in order to provide general advice on socioeconomic development strategies and polices.
The forum is held by the Central Party Committee's Economic Commission in collaboration with ministries, branches, and institutes. At the forum, policy-makers and representatives of ministries and related agencies, the academia and experts, as well as private sector stakeholders and international organisations will discuss Vietnam's economic situation this year and prospects in the years ahead.
They will also identify economic obstacles and raise solutions for sustainable economic development. Discussions at the forum will also provide solutions to implement Resolution No.01/NQ-CP on major tasks and solutions guiding the implementation of the 2018 socioeconomic development plan and the state budget estimate.
The economic conference with the theme of "Vietnam's economy 2017 and prospects for 2018—Towards fast and sustainable development" will take place in the morning of January 11, 2018.
In the afternoon, there will be three sessions: 
Session 1: "Technology, green energy, and sustainable development"
Session 2: "Accelerating productivity in the context of industrialisation"
Session 3: "Improving the business environment through credit risk management in trade and investment"
On the second day, a high-level policy discussion will take place with the theme "Fast and sustainable economic growth of Vietnam: challenges and new motivation."
Last year, on June 27, the Central Economic Commission in collaboration with the Australian Embassy held Vietnam Economic Forum 2017 with the theme of "Unleashing the potential for sustainable economic growth." With the participation of over 500 representatives, the forum featured many useful and significant discussions and recommendations, evaluated Vietnam's economic situation, and proposed medium- and long-term solutions for the Vietnamese economy.  
Hong Kong's steel, solar power projects seek approval in Hau Giang
The People's Committee of Hau Giang had a working session with Hong Kong-based Dragon Joy International Engineering Company on January 9 to discuss the firm's two projects which are seeking permission in the Mekong Delta province.
The projects include a steel mill with a designed capacity of 150,000 – 200,000 tonnes per year and a 1.1 trillion VND (4.8 million USD) solar project capable of producing 66,000 MW annually.
At the event, Deputy Director of the provincial Department of Planning and Investment Nguyen Van Quan informed the company about local incentives to attract investment in terms of taxation and land lease as well as the list of priority areas.
In Hau Giang, agriculture is the largest contributor of the economy while the industry is developing, Vice Chairman of the provincial People's Committee Nguyen Van Tuan said. 
Hau Giang is looking for more investment and will create all possible conditions for investors to implement their projects in the province, he noted, adding that it wants the development of the local industry to have little impact on the environment.
Dragon Joy International Engineering, based in Hong Kong (China), has nine subsidies and seven joint ventures operating in the fields of real estate, finance, industry and foreign trade.
Restructuring improves Sacombank health     
A year after it began to restructure under a Government-approved scheme, Sacombank appears to have turned the corner with decent results for 2017.
Its total assets increased as of December 31 by 10.7 per cent to VND364 trillion. Deposits were up 11.4 per cent to VND323 trillion (US$14.2 billion), and outstanding loans by 12.6 per cent to VND219 trillion. Income surged 33 per cent to VND8.2 trillion, strongly supporting bad debt resolution efforts.
Non-interest income was worth VND2.4 trillion, with traditional fee income increasing 29.6 per cent.
The lender managed to recover more than VND19 trillion ($837 million) worth of bad debts last year, reducing its non-performing loans (NPLs) ratio to 4.28 per cent compared to 6.68 per cent a year earlier.
Its chairman, Duong Cong Minh, said the bank hopes to reduce the NPL rate further to below 3 per cent this year.
The bank is among the largest in terms of network with 566 transaction offices in 48 cities and provinces in Viet Nam, Laos and Cambodia.
Its two major goals in 2018-20 are to speed up the restructuring and settle bad debts, improving its asset quality, and become the top retail bank in the country and the neighbourhood.
The Government decided to restructure banks to improve the health of the financial sector.
Sacombank was among the lenders with a high NPL rate, and its restructure is expected to be completed in three to five years. 
Real estate brokers association opens office in Thanh Hoa     
The Association of Real Estate Brokers has opened a representative office in the central province of Thanh Hoa.
The three-year-old body, which operates under the aegis of the Viet Nam Real Estate Association, has 3,500 members and tie-ups with most real-estate transaction centres in the country.
It has offices also in Ha Noi, HCM City, Nha Trang, Đa Nang, Hai Phong and Can Tho.
Trinh Nguyen Tuan Anh, head of the new office, said it would streamline the real-estate market, human resources and information and adopt new technologies.
This would enable brokerage activities in Thanh Hoa to improve rapidly, catching up with the places like Ha Noi and HCM City, he added.
The association said it plans to collaborate with foreign partners to set up an information system.
It also plans to collate information for the Government to draft suitable policies. 
TTC Land's Carillon 7 show house ready in HCM City     
TTC LAND, formerly Sacomreal, has opened a show house at its Carillon 7 in Tan Phu District, HCM City.
It is its fifth project in the mid-priced (around VNĐ2 billion [US$87,000]) segment and popular thanks to affordable prices and good location.
Carillon 7 is on Luong Minh Nguyet Street, on the interchange between districts Tan Phu, Binh Tan, 6, and 11, and close to Dam Sen Park.
It has a total area of over 8,600 sq.m with one block of 27 floors, 625 apartments and 14 shophouses.
TTC Land said 76 per cent of the apartments would have two bedrooms.
The project is well-served by nearby-amenities like schools, shopping centres and amusement places that are in its vicinity.
TTC has said that this year it will launch many products in all segments in districts 1, 5, 10, 7, Tan Binh, Tan Phu and Dong Nai Province.
The TTC Land brand was launched last September.
It is now developing a range of products like housing, industrial zones and logistics facilities. 
VNPT to help Ha Giang become smart city     
Viet Nam Posts and Telecommunications Group (VNPT) signed a memorandum of understanding with Ha Giang Province People's Committee to support the northernmost mountainous province to develop into a smart city.
This was one of the highlights of the conference held on Monday to review the three-year implementation of the strategic cooperation agreement in telecommunications and information technology between the two sides during 2014-20.
A representative of Ha Giang Province said the application of IT in the province had improved significantly, and urged VNPT to hasten the implementation of new systems as well as provide training aiming at building e-governance and smart city.
General Director of VNPT Pham Duc Long said focus would be placed on implementing solutions to develop IT infrastructure, apply IT at management agencies, implement online public services, ensure security and develop education and health services.
According to VNPT, its mobile network now covers more than 90 per cent of the province's area and high-speed broadband is connected to 83 per cent of the communes.
VNPT is providing consultancies and implementing smart solutions for 17 provinces and cities in the country. 
German carmaker opens two more Ha Noi showrooms     
German carmaker Volkswagen on Tuesday officially introduced two new showrooms in Ha Noi, taking its total number of showrooms in Viet Nam to 11.
The new showrooms, located in Pham Van Dong and Le Van Luong streets, are run by 4S VW AutoHaus, Volkswagen Viet Nam's affiliate, that currently has nine 4S-standard showrooms in Viet Nam.
"The 4S-standard showrooms have the largest scale among Volkswagen's showroom network in Viet Nam, international-standard spare parts, equipment and service to meet customers' demands in repair, guarantees and maintenance," said Nguyen Minh Trang, director of VW AutoHaus.
This is considered a long-term step in Volkswagen's strategy for its distribution system expansion and brand value improvement in Viet Nam, said Vo Tuan Anh, general director of Volkswagen Viet Nam.
Tuan Anh said the company was on track to bring the Volkswagen brand closer to consumers in Viet Nam through the distribution network over the country.
Three auto models were also introduced at the launch of the showrooms, including the Volkswagen Passat, priced at VND1.35 billion to VND1.45 billion (US$59,300-63,700).
SeABank honoured for most trusted savings product
The Southeast Asia Commercial Joint Stock Bank (SeABank) has been listed in top 100 quality products and services which are trusted and used by consumers for the title of the most trusted and recommended savings product in Vietnam.
The "Trust and Use Awards 2017" was organised by the Consumption Advisory Magazine under the Vietnam Economic Times.
This was the seventh time SeABank has been named in the list, acknowledging the bank's efforts to offer the best retail products and services suitable for demands and financial capacity of each consumer, as well as affirming consumers' confidence in the bank's product and service quality.
The "Trust and Use Awards" nominate products and services in seven fields: finance-banking-insurance, food and retail, fashion-cosmetics-beauty services, household appliances-interior decor, pharmaceuticals and health care equipment, tourism-resorts-real estate and telecommunications-technology. 
The results are based from consumer votes on several criteria, including product quality, safety, clean and energy-saving manufacturing, brand prestige and others.
The awards have been presented annually since 2006.
Recently, SeABank was also listed among the 15 Vietnamese banks in The Asian Bankers' AB500 ranking and survey of Asia Pacific's strongest banks, and awarded with the "sustainable business" title by the Vietnam Chamber of Commerce and Industry.
HCM City, EuroCham step up cooperation
The European Chamber of Commerce in Vietnam (EuroCham) will implement a number of cooperation programmes with Ho Chi Minh City and vicinal localities, with focus on promoting the city's economic potential among European enterprises, said Eurocham co-Chairman Nicolas Audier.
While briefing EuroCham's 2018 plans at a meeting with Nguyen Thanh Phong, Chairman of the Ho Chi Minh City People's Committee in the city on January 9, Audier said the organisation will lobby parliaments of European nations to ratify the EU-Vietnam Free Trade Agreement (EVFTA) and work with relevant agencies of Vietnam to introduce the benefits and importance of the agreement.
Speaking highly of the city's potential for economic development, Audier expressed his hope that the two sides will increase cooperative activities for mutual benefits in the coming time, particularly in the key sectors of European firms, such as smart urban construction, green and renewable energy development, transportation and logistics, pharmaceutical trading and auto industry.
European firms are willing to cooperate and share with HCM City their experiences in developing a legal framework on managing investment projects in the public-private-partnership (PPP) form, and building procedures and standards for cyber security, he said.
Phong lauded the fruitful cooperation between EuroCham and Vietnam in general and HCM City in particular.
He expressed his belief that the economic cooperation, particularly in trade and investment, between Vietnam and European nations will grow further, especially after the EVFTA takes effective.
The municipal leader hopes that EuroCham will connect and call on European businesses to invest in the fields that HCM City has paid heed to, such as transport infrastructure, smart urban construction, and urban environment issues.
The city treasures and highly values foreign resources, Phong said, pledging to create favourable conditions for European firms to invest in the city.
He suggested EuroCham cooperate with local agencies in organising trade promotion activities for local and European businesses, contributing to the development of the city in the future.