A new wave of private agricultural investments has surged in the country, helping to super-charge the capital-poor agricultural sector.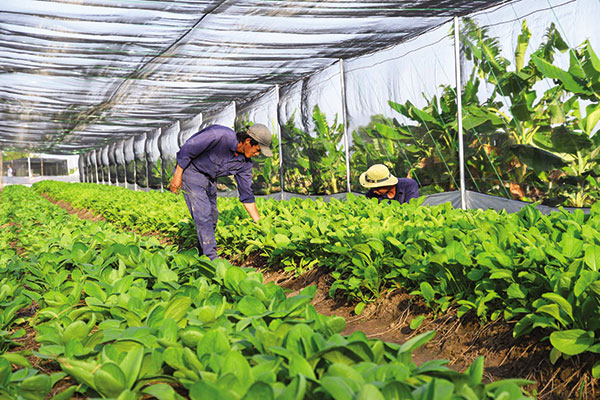 Optimism is high in Vietnam's agricultural sector as investments rise nationwide
Over the next two weeks, locally-owned TH Group will start construction of a large-scale dairy farm and processing plant in the south-central province of Phu Yen, with total investment capital in the hundreds of millions of US dollars.
Last week, the group's $2.7 billion dairy farm and dairy processing plant in Russia's Moscow oblast received the first 1,100 pregnant cows imported from the US.
The group has also been investing billions of US dollars into expanding its agricultural projects in many other provinces.
"We also want to provide financial consultancy for firms that cultivate herbal plants," said Thai Huong, general director of BAC A BANK and chairwoman of TH Group.
At last week's conference on Vietnam's agricultural development, attended by leaders of some major local firms, Prime Minister Nguyen Xuan Phuc said that TH Group is "typical of local firms boosting their investment into Vietnam's agricultural sector."
"I'm surprised that in 2017, a record number of nearly 2,000 enterprises were newly established in the sector, accounting for 35.7 per cent of the total number of agricultural firms in Vietnam as it stands," Phuc said. "We are expecting a new wave of local private investment in the sector, on top of the billions of US dollars invested in 2017."
Two weeks ago, Nafood Group began construction on a $9 million facility in the northern province of Son La to process export-oriented vegetables and fruit. This 2ha facility will become operational in September 2018, with a capacity of 120 tonnes of product per day.
Nafood holds over 10 per cent of international market share in condensed passion fruit products.
Nguyen Manh Hung, chairman and general secretary of Nafood, said the group will invest much more money into other projects and rent more land for production.
Nafood recently signed a deal with Japan's Maruzen Co., Ltd., on deploying a high-tech project to cultivate and process organic ginger in Vietnam.
This investment movement extends beyond consumer goods. Last week, Dabaco Group issued its production and business plan for 2018, aiming to reap VND9.3 trillion ($442.54 million) in total revenue, VND281 billion ($12.8 million) in pre-tax profit, and VND246 billion ($11.2 million) in post-tax profit.
Dabaco operates in many sectors, including animal feed, poultry and cattle breeding, and foodstuff processing.
The firm is currently working with several localities on its new projects.
Dabaco has many animal feed mills and a $39 million oil-extracting factory in the northern province of Bac Ninh. The firm wants to produce one million tonnes of animal feed over the next several years and build more large-scale hog breeding farms.
Other firms are also planning to invest more and expand their businesses, such as egg producer DTK Phu Tho, Viet Phuc Export-Import and Production, FPT, Hoang Anh Gia Lai, and Hoa Phat.
For example, DTK Phu Tho Company recently inked co-operation deals with three Japanese firms, including ISE Food Corporation, Hytem Corporation, and Nabel Corporation. These deals concern projects to raise chicken and produce eggs in Vietnam, which will be exported to Japan and regional markets.
"DTK has purchased high technology from these firms for its $36.4 million egg-producing facility in the northern province of Phu Tho," a DTK source told VIR. "DTK will continue seeking more Japanese partners to expand its production in Vietnam, and its eggs will also be exported."
Meanwhile, Viet Phuc has also clinched a co-operation agreement with Japan Agriculture Association about developing a high-tech agricultural investment complex in Vietnam.
The People's Committee of the southern province of Bac Lieu also reported that the province will begin construction of a multi-million-US-dollar high-tech shrimp production and research complex over the next two weeks.
"Twenty firms have registered to build their factories at the complex," said the committee's Chairman Duong Thanh Trung.
Minister of Agriculture and Rural Development Nguyen Xuan Cuong told the conference that his ministry will combine with other ministries and localities to directly support all agricultural projects which will be implemented this year.
"There has been a new wave of local investments in agriculture, and we will create all the best conditions for them," Cuong said.
VIR