Vingroup, T&T to develop urban railway projects in Hanoi
The government of Hanoi City has proposed the Prime Minister allow Vingroup and T&T Group to develop three urban railway projects which the city plans to complete by 2025, Tuoi Tre newspaper reports.
The two domestic investors will use their capital to make pre-feasibility studies for these projects.
When the projects were announced, many investors expressed interest in Hanoi. However, only Vingroup and T&T Group have registered to take part.
Both of them proposed implementing the projects in the build-transfer (BT) format. Particularly, Vingroup registered to build the 38.4-kilometer metro line No. 5 which connects Van Cao and Hoa Lac and metro line No. 2 from Tran Hung Dao to Thuong Dinh with a length of 5.9 kilometers. Meanwhile, T&T Group is keen on metro line No. 4 connecting Me Linh, Sai Dong and Lien Ha, and measuring 54 kilometers in length.
The two investors said they would use their own finances to study the feasibility of the projects and hand over pre-feasibility and feasibility studies to the city government in case they do not become official investors of the projects.
After the PM's approval is forthcoming, the city will ask investors to quickly hire foreign consulting firms. These projects are expected to be submitted to the PM for consideration and the National Assembly for approval this year.
Bio-fuel consumption makes up 30% of gasoline sales in HCMC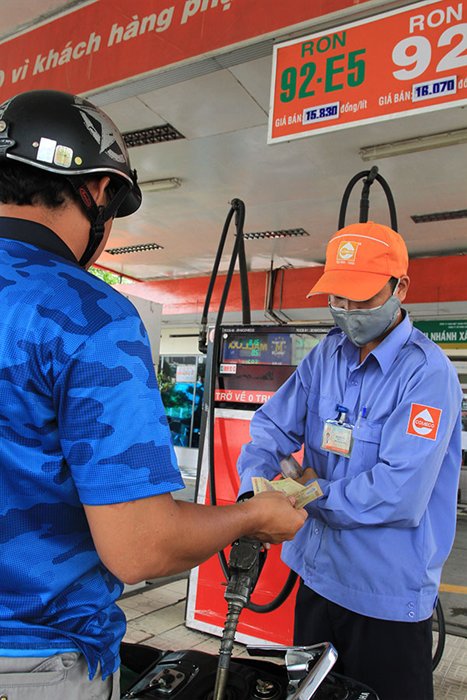 The consumption of bio-fuel E5 accounts for a mere 30% of total gasoline sales in HCMC as consumers have yet to trust the quality of this type of gasoline, a mixture of 95% RON 95 gasoline and 5% ethanol.
Fossil fuel RON 92 has been completely replaced by E5 three days ago.
Fuel retailers ascribed the small consumption of E5 to the consumer's reluctance to switch to using it for fears that it might negatively affect the engines of their vehicles. They said the demand for RON 95, a higher-grade type of gasoline, had surged.
The price of E5 is VND1,000-1,200 per liter lower than RON 95.
According to fuel retailers, a bigger difference in price might help boost bio-fuel sales. But consumers are not yet confident in the quality of E5.
A leader of a local fuel retail firm said a majority of consumers prefer RON 95 to E5. In the past, the oil price was more than US$100 per barrel, so it was reasonable to make bio-fuel. But it is now lower than US$60 per barrel, making bio-fuel production commercially unviable.
He added drivers of taxis and commercial vehicles are regular customers of the bio-fuel.
According to the Australian Federal Chamber of Automotive Industries, the bio-fuel is not suitable for all vehicles but old models such as Audi A3 1.8L produced in 2000, Ford Laser prior to 1986, and GM Daewoo which are widely used in Vietnam.
Bui Xuan Vu, deputy general director of Saigon Fuel JSC, was quoted by news website Zing as saying that the lower-than-expected consumption of the bio-fuel is due to low consumer confidence.
Stock market cap equivalent to 70.2% of GDP
The stock market capitalization in 2017 was equivalent to 70.2% of Vietnam's gross domestic product (GDP), meeting the Government's target.
According to Minister of Finance Dinh Tien Dung, many big corporations launched their shares on the stock market, sending the stock market capitalization surging.
The VN-Index of the Hochiminh Stock Market (HOSE) closed the year 2017 at 984 points, up 48% from the previous year. Liquidity on the stock and bond markets picked up 65% and 39% respectively.
Listed businesses reported respective rises of 18% and 23% in revenue and profit in January-September last year.
The stock market grew as a channel to mobilize mid- and long-term capital for the Government and contributed greatly to the equitization of State-owned enterprises, the divestment of State holdings in enterprises, and attraction of foreign direct investment capital.
The market for unlisted public companies (UPCoM) grew strongly. The total capitalization of companies on UPCoM hit more than VND603 trillion (US$26.56 billion), double the figure in end-2016. The Hanoi Stock Exchange (HNX) saw its market capitalization leaping 45% year-on-year.
On average, transaction volume soared 35% and transaction value jumped 71% year-on-year.
The Ministry of Finance said it will speed up the merger of HNX and HOSE, and restructure the stock, bond and derivatives markets.
HCMC to invest VND29 trillion in public projects
The government of HCMC will spend VND29 trillion on public investment projects in the first few months of this year.
Of the amount, VND4.88 trillion will come from official development assistance loans, VND2.52 trillion from the city budget as reciprocal capital for ODA-funded projects, and VND540 billion from the city budget for public-private partnership (PPP) projects.
In the first tranche of funding this year, city departments and districts in their capacity as supervisors of project developers will be responsible for disbursing capital and giving assignments to project developers.
To make sure capital disbursements will be on time, the city government told directors of departments and leaders of districts to sign an agreement in which half of the capital needed must have been disbursed by late July. If the disbursement target is missed, they would be held accountable.
At a conference on socio-economic development plans and budget estimates this year held by the city government on January 2, the secretary of the HCMC Party Committee, Nguyen Thien Nhan, said the city's daily budget collections last year totaled VND1.11 trillion, excluding Sundays. The city accounted for nearly 28% of the country's State budget revenue.
The city's gross regional domestic product (GRDP) last year grew 8.25%. Agriculture grew 6.3% at some VND19.4 trillion.
In 2017, the city beat its budget collection target.
This year, the city will focus on piloting a special mechanism already approved by the National Assembly, enhancing the quality of growth and the competitiveness of the city, creating a favorable and fair business environment, and encouraging innovations and startups.
In addition, the city will drastically streamline administrative procedures and boost e-government development. Another mission is to develop HCMC into a smart city in the 2017-2020 period with a vision towards 2025 to better serve residents and enterprises. 
The city will also downsize the State apparatus while ensuring its efficiency and improving the quality of officials and civil servants.
Vietnam pays US$10.5-billion debt as of mid-December
Vietnam had spent VND238 trillion (nearly US$10.5 billion) to pay debt, including VND147.6 trillion in principals and VND91 trillion in interest, as of mid-December, according to data of the General Statistics Office (GSO).
This is part of the State budget expenditure that totaled more than VND1,210 trillion as of mid-December. The State also spent VND862 trillion on regular expenditures and VND259 trillion on development investments.
On the other hand, State budget revenues in the year to mid-December reached more than VND1,100 trillion, meeting 91.1% of the full-year target. Domestic revenues contributed the most to the State budget with more than VND871 trillion, followed by import and export taxes with VND183.8 trillion, and crude oil exports worth VND43.5 trillion.
According to GSO, tax collections from industry, trade and service contributed VND167.5 trillion to the State budget, while foreign-invested and State-owned enterprises contributed nearly VND154 trillion (excluding crude oil) and VND196.5 trillion respectively.
The budget deficit is estimated at VND115.5 trillion as of mid-December.
According to a debt payment plan released in May, the Government had plans to borrow more than VND342 trillion (US$15 billion) to pay debts this year, US$5 billion less than that of last year.
The money mainly comes from domestic sources with VND243.3 trillion, and official development assistance (ODA) and foreign preferential loans with nearly VND98.8 trillion. Some VND172.3 trillion is used to cover the budget deficit while VND144 trillion used for loan principal payment, VND316.3 trillion for budget allocation and nearly VND25.8 trillion for on-lending.
Khanh Hoa, Danang still popular among Chinese tourists
Khanh Hoa Province and Danang City, which are both attractive to Chinese tourists, are forecast to receive a large number of tourists from the neighboring country next year, administrators and tour operators said.
According to the Khanh Hoa Department of Tourism, more than 1.11 million Chinese tourists visited this south-central province in January-November last year, posting a record growth rate of 130% against the same period last year.
Many travel firms said they are waiting for the new international terminal at Cam Ranh Airport in the province to be put into service so that they can operate more chartered flights. This airport is being overloaded, so many flights from China must be operated at night.
Nguyen Van Thanh, vice chairman of the Nha Trang-Khanh Hoa Tourism Association, said the Chinese market has grown steadily in recent years. He referred to the forecast of some enterprises, saying the number of Chinese tourists may increase to almost two million next year if the new terminal is operational on time.
As for the central city of Danang, China is the second biggest market after South Korea. There are currently 15 air routes between China and Danang with up to 100 flights a week, mostly chartered flights.
Danang welcomed around 700,000 visitors from China last year and may see more this year.
Tran Chi Cuong, deputy director of the Danang Department of Tourism, said Chinese tourists may flock to his city this year as a result of APEC Vietnam 2017 taking place there last month. After such a successful event, many firms have come to explore tourism services.
"Chinese tourists in Danang will surge this year. The increase may be approximately 200,000," Cuong said.
Last year, Danang catered to over 2.3 million international arrivals, a 36.8% rise against 2016. Two-thirds of these, equivalent to nearly 1.7 million arrivals, come from South Korea and China.
Data of the Vietnam National Administration of Tourism showed that China remained the biggest visitor-generating market for Vietnam's tourism in January-November with more than 3.59 million arrivals, up 44.9% year-on-year.
Saigon Newport handles around 6.8 million TEUs last year
Saigon Newport Corporation (SNP) handled an estimated 6.8 million twenty-foot equivalent units (TEUs), or 90 million tons of cargo last year, a year-on-year rise of 13.6%.
SNP deputy general director Phung Ngoc Minh said at a conference in the Mekong Delta province of Dong Thap last week that cargo throughput at the corporation's ports accounts for 50% of the nation's total, and 92.5% of HCMC's.
"At the Cai Mep-Thi Vai deep-sea port complex alone, for example, our operations make up roughly 72%," Minh said at the conference on logistics development in the Mekong Delta's transport sector.
He added Tan Cang-Cai Cui Port in the Mekong Delta city of Can Tho has handled 33 container vessels of 44,700 TEUs through the newly-opened Quan Chanh Bo Canal into the Hau River of Tra Vinh Province since 2016.
"The transport volume through our waterway and road systems has reached 71,000 TEUs in the Mekong Delta," he said.
He added SNP has managed and developed five ports in the Mekong Delta, namely Tan Cang-Sa Dec, Tan Cang-Cao Lanh (Dong Thap Province), Tan Cang-Thot Not, Tan Cang-Cai Cui (Can Tho City), and Tan Cang-Giao Long (Ben Tre Province).
"We will start work on a deep-sea port called Hon Chong in Kien Giang Province early next year," he said, adding the port would bolster growth in the local tourism sector, and facilitate goods transport, and logistics services for the oil and gas sector.
The corporation is pursuing its strategy based on three business cornerstones – port operation, logistics services, and sea services, according to its deputy general director. Therefore, SNP has developed a port system from the north to the south.
HCMC exports heavily reliant on FDI firms
Although HCMC achieved rapid industrial and export growth last year, the city still heavily relies on foreign direct investment (FDI) in these business areas.
According to a report by the HCMC Department of Industry and Trade, the city's total exports in 2017 were estimated at US$35.2 billion, up 15.1% compared to the same period last year. Excluding crude oil, the export figure may still hit US$30 billion, up 12% year-on-year. 
The city's industrial production index, an economic indicator that measures the real production output of manufacturing, mining, and utilities, increased from 7.25% last year to 8.48% last year.
Industrial production and exports have contributed greatly to the city's economic development. However, they have been heavily dependent on the FDI sector.
FDI firms make up more than 50% of the city's industrial production and nearly 63% of the city's total exports. Particularly, they account for more than 99% of total exports of hi-tech products.
Besides, the weak cooperation between FDI and local firms has resulted in unsustainable industrial development. 
Logistics, a driving force for industry and trade growth, is still underdeveloped. Most local logistics firms are smaller and weaker than foreign rivals.
Textile-garment exports exceed EAEU limit
Vietnam's textile and garment exports to the Eurasian Economic Union (EAEU) have exceeded trigger levels, or the total amount subject to preferential tariffs allowed into EAEU markets for this year, the General Department of Vietnam Customs said on its website.
According to the Ministry of Industry and Trade, the Department of Domestic Market Protection of the Eurasian Economic Commission has announced that 173.3 tons of underwear and 112.7 tons of children's clothes from Vietnam had been shipped to EAEU in the year to end-October, exceeding the trigger levels for this year in accordance with a free trade agreement between Vietnam and EAEU.
The agreement also stipulates that the union can slap safeguard duties on products beyond trigger levels within six months upon the shipment. In case the trigger levels are breached, Vietnamese underwear and children's clothes will not be entitled to preferential tax and will be imposed Most Favored Nation (MFN) import duties.
Ministry seeks investors for North-South Expy project
The Ministry of Transport has issued a decision calling for public-private partnership (PPP) investment totaling nearly VND104.1 trillion (US$4.58 billion) in eight sections of the North-South Expressway in 2017-2020.
The investment will include some VND40.4 trillion from the State budget, according to Decision 3535 signed by Minister of Transport Nguyen Van The.
Eight sections of the expressway comprise four in the north namely Mai Son - Highway 45, Highway 45 - Nghi Son, Nghi Son - Dien Chau, and Dien Chau - Bai Vot, and four in the south namely Nha Trang - Cam Lam, Cam Lam - Vinh Hao, Vinh Hao - Phan Thiet and Phan Thiet - Dong Nai. All these sections will be implemented under the build-operate-transfer (BOT) format.
The 98-kilometer Phan Thiet – Dong Nai section will need the most investment, nearly VND19.6 trillion, and the Nha Trang – Cam Lam section with a length of 29 kilometers may require the least amount, over VND5.1 trillion.
The Ministry of Transport is conducting feasibility studies for the eight sections whose construction is expected for completion in 2021.
According to the ministry, the eight sections are aimed at meeting transport demand. The expressway, when in place, will help connect three key economic regions, thus bolstering the country's socio-economic development.
Last month, the National Assembly passed a plan to develop the North-South Expressway to the east of the country.
Accordingly, 654 kilometers of the road will be built between 2017 and 2020. The total cost of the project is estimated at over VND118.7 trillion including VND55 trillion in State capital from the mid-term investment fund for major projects and the remaining VND63.7 trillion from the private sector.
The National Assembly asked relevant agencies to prepare plans for recovering investment capital for those components financed by public capital, and have mechanisms to supervise and use investment capital efficiently. As for project components under the PPP format, such agencies were required to overcome drawbacks of the investment mode.
Site clearance will be done to make room for a six-lane road, except for the Vung Ang (Ha Tinh)-Tuy Loan (Danang) section which will have four lanes and some sections leading to economic centers which will have eight lanes.
Ben Tre sees investments up ten-fold
The Mekong Delta province of Ben Tre has attracted a staggering VND22.5 trillion (US$990.8 million) in domestic investment and around US$400 million in foreign direct investment (FDI), which is a ten-fold increase over 2016, the provincial Department of Planning and Investment said.
Local investors have embarked on 51 new projects, and have injected more money into 10 existing projects this year.
Meanwhile, foreign investors have been involved in five new projects, and have poured extra capital into four other operational projects.
The large-scale FDI projects include the Binh Dai-Ben Tre wind farm worth over US$180 million, the Nexif Energy Ben Tre wind farm valued at US$160 million, and the Family Vietnam textile factory (US$11.9 million).
As many as 72 investors or groups of investors at home and abroad have sounded out business opportunities in the province in 2017.
Currently, the province is home to 188 valid domestic projects worth more than VND37.7 trillion (US$1.65 billion), and 52 FDI projects capitalized at over US$843 million.
International tourists contribute half of tourism revenue
International tourists to Vietnam accounted for only one-sixth of domestic tourists last year but contribute up to 58% of total tourism revenue, which amounts to VND510.9 trillion, or roughly US$22.5 billion.
Of such an amount, which is VND110 trillion higher than 2017 figure, 90% comes from pure tourists.
According to the Vietnam National Administration of Tourism, after the record number of over ten million international tourists in 2016, 2017 set a new record as the country has catered to 13 million international and 73.2 million domestic tourists.
Tourist hotspots of the country such as Danang, Quang Ninh, Kien Giang and HCMC have welcomed more international tourists this year, with 6.6 million tourists (up 19%), 9.87 million tourists (18%), 6.07 million tourists (up 7.8%) and 6.38 million tourists (up 22.88%) respectively.
The year also witnessed strong growth in tourist lodging facilities when 1,000 more places offering accommodation to tourists are put into service, raising the total number of such places to 25,600 with more than 508,000 guest rooms. Of these, there are 116 five-star hotels, 259 four-star hotels, and 488 three-star hotels.
Vietnam's national tourism authority is planning to carry out many promotion and personnel training activities next year, including attending 13 travel fairs around the world, and the organizing of roadshows in Europe, Russia, China, Japan, South Korea, Australia and New Zealand. International travel agents and media will also be invited to Vietnam to explore local tourism products and destinations.
The country expects to attract 15.5-16 million international tourists and 78 million domestic tourists thí year. It also targets VND620 trillion in tourism revenue.
HCMC firms step up investment in supporting industries
Many industrial enterprises in HCMC have invested dozens of millions of U.S. dollars in supporting industries to participate in the supply chains of foreign direct investment (FDI) firms, especially those in electronics and auto sectors.
According to experts, the HCMC engineering industry holds high potential, offering numerous opportunities for those local firms wanting to engage in supporting industries.
Take the auto sector for example. Mercedes has plans to boost auto manufacturing in Vietnam to supply the Southeast Asian market, while other firms such as Daehan Motors, Vinh Phat Motors and Samco have penetrated into the Vietnamese market. Such a trend will result in higher demand for parts, thus boosting supporting industries.
According to the HCMC Department of Industry and Trade, many engineering enterprises have invested heavily in modern production lines including Saigon Industry Corporation, Lap Phuc Precision Mold Making Company and Mechanical and Industrial Construction JSC.
In addition, some companies have spent huge amounts of capital on production lines for hi-tech supporting industries at industrial parks and export processing zones in the city. Particularly, EChigo Vietnam JSC has poured nearly US$11 million into a high precision mold manufacturing project to manufacture 240 precision molds and 100 million parts a year.
Meanwhile, THT Precision Engineering Co Ltd has spent US$12 million on a project to develop precision engineering products for hi-tech machines and engines with an annual capacity of 600,000 drive shafts.
Besides, APC Industry Corporation has invested US$7.5 million in a plant to manufacture hi-tech support equipment such as motors, electric generators, transformers and electricity distribution and control equipment.
Up to date, the city has had two enterprises chosen to supply parts for Samsung, namely Hiep Phuoc Thanh Production Co Ltd and Minh Nguyen Supporting Industry JSC.
Electronics manufacturers in HCMC have high demand for electronic components, circuits, and measurement and optical devices. However, they have to import parts to serve local production, mainly from China, Taiwan, South Korea and Singapore.
According to the HCMC Department of Industry and Trade, the city's Index of Industrial Production (IIP) this year may accelerate by 8.48% over last year, higher than 7.25% last year versus 2015.
The city has set a target of maintaining the growth rate of 8-8.5% next year, in which processing and manufacturing industries will post 8.2% year-on-year growth.
Toyota Vietnam recalls over 8,000 Corolla cars
Toyota Motor Vietnam (TMV) on December 27 began to recall 8,036 Corolla cars manufactured in Vietnam to inspect and replace defective inflator modules of the front passenger airbags which may cause injury for passengers.
According to Toyota Motor Corporation (TMC), these cars were manufactured between July 14, 2008 and December 31, 2009.
TMC said the reason for its recall is that the inflators of front airbags supplied by Takata might be made improperly, allowing moisture to intrude over time.
Improperly manufactured propellant wafers could cause the inflator to rupture and the front passenger airbag to deploy abnormally in a crash and may seriously injure passengers.
TMV will check and replace affected airbag inflators free of charge at Toyota garages nationwide. Airbags of other suppliers are not affected.
Checking and replacing the inflator module will take about half an hour to three hours depending on each model.
For Corolla cars which were not officially imported by TMV, the company will contact TMC to confirm information if it receives requests to check airbag inflators from customers. Once TMV gets official approval from TMC, it will replace defective airbag inflator modules at no charge.
TMW had earlier recalled thousands of imported Corolla and Yaris cars and domestically manufactured Vios cars for the same reason, taking the total number of Toyota cars involved in the program to more than 30,000 units.
Auto firms still at odds over import conditions
Major players in the auto industry are still at odds over new conditions on auto imports though such rules will take effect in the next couple of days.
Some auto firms and the auto association have written to the Government, with two major firms upholding the new rules as fair and workable while most others are skeptical to Decree 116/2017/ND-CP on manufacture, assembly and import of autos. The new rules also set conditions on auto warranty and maintenance services that shall come into force from January 1, 2018.
The decree stipulates that auto importers must have a written certificate or document proving that they are authorized to represent foreign auto manufacturers or assemblers to recall imported autos with defects. When granted an import license, importers must maintain business conditions and assure their fulfillment of liabilities involving warranty, maintenance and recall of imported autos in line with the decree.
The Vietnam Automobile Manufacturers Association (VAMA) said the decree will kill small and unauthorized importers, and has written to the Prime Minister and ministries asking for amendment.
VAMA said it will be time-consuming and costly for importers to obtain such certificates from foreign automakers, as well as warranty and maintenance certificates issued by Vietnam Register.
In a document sent to Minister and Chairman of the Government Office Mai Tien Dung in mid-December, VAMA proposed delaying Decree 116 by at least six months.
VAMA also proposed scrapping the regulation that requires auto importers to provide the scanned copies of the quality certificates for their imported autos issued by competent authorities in exporting countries. Besides, a regulation requiring that auto importers must have an auto test road with a minimum length of 400 meters before April 17, 2019 is also hard to meet.
However, some other domestic auto manufacturers and assemblers support the decree, saying that it will protect consumers and domestic automakers, thus developing the domestic auto industry.
Truong Hai Auto Corporation (Thaco) as the biggest player on the domestic market said regulations in Decree 116 are practical and workable. According to Thaco, quality certificates will protect consumers by preventing the import of substandard autos while gas emission inspections for each auto shipment will help protect the environment.
In a document sent to the Prime Minister, Thanh Cong Group JSC also echoed the point, reaffirming its support for the decree whose strict regulations on auto manufacture, assembly, import and maintenance services would ensure fair competition between importers and domestic automakers.
Vietnam seen as significant growth market for MHI
Mitsubishi Heavy Industries (MHI) has underscored the significant role of Vietnam in the Japanese conglomerate's growth plan for Asia and will seek to further capitalize on opportunities in this growing ASEAN market.
An MHI spokesperson shared how MHI evaluates the potential of the Vietnamese market in an emailed interview with the Daily after a recent trip organized for international journalists to get an insight into the conglomerate's facilities in different parts of Japan.  
"We see Vietnam as a significant growth market for us going forward, and it will be a major focus," said the spokesperson of MHI, which is active in a variety of business fields, including shipbuilding, power generation and aerospace.
He said this year marks the 10-year anniversary of MHI Aerospace Vietnam Co Ltd which supplies parts for Boeing 737 and 777 aircraft. MHI's operations in Vietnam also include MHI Engine System Vietnam Co Ltd which provides sales and after-sales service for diesel power generation sets.
At a roundtable with the participating journalists in the media trip, MHI President and CEO Shunichi Miyanaga mentioned the conglomerate's business and investment activities in Vietnam, saying the investment has been successful. He described Southeast Asia as a familiar and key market for MHI.
In addition to power generation sets, MHI has delivered a total of 1,750MW of large scale thermal power systems in Vietnam. These comprised of four gas and steam turbines at Phu My 1 Combined Cycle Power Plant, boilers and steam turbines at O Mon Thermal Power Plant Unit No. 1 and O Mon Thermal Power Plant Unit No. 2.
MHI said it has a wide range of thermal power systems suitable for the Vietnamese market, including J-series gas turbines which achieve the world's highest efficiency level of over 63% and air quality control systems that can help meet stringent emissions standards for coal-fired and other thermal power plants.
Mitsubishi Hitachi Power Systems (MHPS), a joint venture between MHI and Hitachi, opened an office in Hanoi in November 2016 in response to the growing demand for thermal power systems in this country.
MHI is also exploring opportunities in transportation. According to the group, in December 2008, the Vietnamese Government announced a master plan for the nation's expressways, which involve the construction of around 6,000 kilometers of expressway.
As part of this plan, intelligent traffic system technology is to be introduced to major expressways in order to enhance safety and driving experience. The plan calls for progressive introduction of traffic control, electronic toll collection (ETC), and other advanced traffic management systems going forward.
MHI has worked with the Directorate for Roads and the Ministry of Transport in Vietnam and collaborated with VietinBank and Sojitz Corporation to conduct a demonstration project to develop a new ETC system integrating the three existing formats. The demonstration was successfully completed in 2016.
MHI has also supplied 50,000 on-board ETC units and antennas for use at toll gates, to be introduced on the 55-kilometer HCMC-Dau Giay expressway in southern Vietnam. In addition to highway toll collection, the scalable system is also capable of providing various traffic related information.
MHI is committed to long-term partnerships in Asia, and has longstanding relationships with governments and industry in the region. "For instance, we have relationships with State-owned enterprises like EVN in Vietnam…," the spokesperson said.
Local airlines transport 94 million passengers this year
Airports Corporation of Vietnam (ACV) on December 27 held a ceremony at Noi Bai International Airport to celebrate the 800,000th flight managed by Vietnam Air Traffic Management Corporation (VATM) carrying the 94 millionth passenger of this year.
Flight VN220 from HCMC to Hanoi landed at Noi Bai International Airport yesterday, carrying the 94 millionth passenger, Nguyen Van Huynh, and the 1.5 millionth member of the Golden Lotus Program of Vietnam Airlines, Nguyen Thanh Son.
The number of passengers passing through ACV's airports this year has increased by 16% versus last year while the volume of cargo has reached nearly 1.34 million tons, up 19% year-on-year.
ACV has implemented numerous solutions to improve its management capability and upgrade and expand airports with modern facilities.
Meanwhile, VATM has invested heavily in infrastructure, modern equipment and advanced technologies, and has operated safely over 800,000 flights, increasing 10% against last year, as it has taken measures to enhance its capacity. It has also coordinated with agencies of the Ministry of National Defense to optimize flights, minimize costs for airlines, and trained high-skilled workers.
Launched in December 1999, Vietnam Airlines' Golden Lotus Program has attracted a large number of passengers thanks to its incentives such as bonus miles, business class lounges, and priority check-in.
The national flag carrier has improved service quality and adopted advanced technologies by launching the online membership registration service in 2009, a Golden Lotus app for smartphones in 2013 and a round-the-clock customer care center this year.
More than 80 establishments in aviation, telecom, finance, banking, tourism and hotel sectors are the Golden Lotus Program's partners, bringing diverse incentives for members. Especially, members of the Golden Lotus Program can earn miles with 20 international airlines after Vietnam Airlines joined the SkyTeam alliance in 2010.
At the ceremony, Dinh Viet Thang, director of the Civil Aviation Authority of Vietnam (CAAV), said the sector has tried to make Vietnam one of the four leading aviation service providers in ASEAN.
ACV, VATM and Vietnam Airlines pledged to boost cooperation, investment, technological innovation and service quality, and ensure flight safety to meet the air transport development demand.
Vietnam pays US$10.5-billion debt as of mid-December
Vietnam had spent VND238 trillion (nearly US$10.5 billion) to pay debt, including VND147.6 trillion in principals and VND91 trillion in interest, as of mid-December, according to data of the General Statistics Office (GSO).
This is part of the State budget expenditure that totaled more than VND1,210 trillion as of mid-December. The State also spent VND862 trillion on regular expenditures and VND259 trillion on development investments.
On the other hand, State budget revenues in the year to mid-December reached more than VND1,100 trillion, meeting 91.1% of the full-year target. Domestic revenues contributed the most to the State budget with more than VND871 trillion, followed by import and export taxes with VND183.8 trillion, and crude oil exports worth VND43.5 trillion.
According to GSO, tax collections from industry, trade and service contributed VND167.5 trillion to the State budget, while foreign-invested and State-owned enterprises contributed nearly VND154 trillion (excluding crude oil) and VND196.5 trillion respectively.
The budget deficit is estimated at VND115.5 trillion as of mid-December.
According to a debt payment plan released in May, the Government had plans to borrow more than VND342 trillion (US$15 billion) to pay debts this year, US$5 billion less than that of last year.
The money mainly comes from domestic sources with VND243.3 trillion, and official development assistance (ODA) and foreign preferential loans with nearly VND98.8 trillion. Some VND172.3 trillion is used to cover the budget deficit while VND144 trillion used for loan principal payment, VND316.3 trillion for budget allocation and nearly VND25.8 trillion for on-lending.
Committee to be established for State capital management
The Government will set up a committee tasked with management of State capital at businesses next year, Deputy Prime Minister Vuong Dinh Hue told an online meeting between the Government and localities on December 28.
Hue at the meeting also presented the Government's draft resolution on tasks and solutions to socio-economic development and budgeting for next year. 
In particular, the Government will continue to maintain macro-economic stability, control inflation, ensure key economic balances, improve the business and investment environment, and promote rapid and sustainable economic development with 11 tasks and solutions.
News website Doi Song va Phap Luat quoted Hue as saying at a meeting late last year on the matter that the committee will eliminate the duty of ministries and provincial people's committees in representing State ownership at enterprises.
The Government's targets towards 2020 include equitizing 137 State-owned enterprises (SOEs) and finishing capital divestment in accordance with plans approved by the Prime Minister. The Government will focus on handling inefficient, loss-making economic groups, corporations and projects; striving to meet international standards concerning corporate governance; enhancing business and production efficiency, product quality, competitiveness of SOEs; and improving management and supervision of SOEs and State capital.
More former DongA Bank leaders arrested
The Ministry of Public Security has detained some former leaders of HCMC-based DongA Commercial Joint Stock Bank, as they have been found to have colluded with Tran Phuong Binh, the bank's former general director, who had been detained by police on alleged charges of financial irregularities in 2016, Thanh Nien newspaper reports.
The detainees include Nguyen Thi Kim Loan, former director of the bank's capital business division; and Nguyen Thi Ai Lan, former director of its debt and assets management division. The two were alleged to have deliberately violated State regulations on economic management causing serious consequences.
In 2016, Ministry of Public Security police arrested the former boss of the bank, Tran Phuong Binh, over alleged mismanagement of the semi-private bank.
In addition to Binh, police detained the bank's former deputy general director Nguyen Thi Ngoc Van on alleged charges of intentionally violating State regulations on economic management causing serious consequences, and lending rules.
This April, police also charged and arrested Nguyen Thi Kim Xuyen, former deputy director general of DongABank, for allegedly abusing trust to appropriate State assets, and intentionally violating State regulations on economic management. She is alleged to have caused losses of over VND350 billion (US$15.4 million).
Earlier in August 2015, the bank checked its funds and found that the funds of its head office and transaction center were in deficit of over VND2 trillion (US$88 million), and more than 62,000 gold taels were lost without any legitimate reasons.
The then boss of the bank Binh was found to have instructed Van, Xuyen and other senior leaders at its transaction center to falsify credit applications and approve them so that he could cover up his financial mismanagement.
Notably, he directed his staff to carry out loan procedures for some individuals and companies, and legalize their loan applications by artificial loans.
Besides, Binh asked his family members to borrow money at the bank for investment, according to the newspaper.
Consequently, he caused a loss of more than VND2 trillion for the bank.
China emerges as largest source market for HCMC tourism
China has surpassed Japan and the U.S. to become the largest source market for the HCMC tourism sector in 2017, heard a meeting on December 28.
La Quoc Khanh, deputy director of the HCMC Department of Tourism, said the strong increase of Chinese tourist arrivals has led the city to draw up new plans to make the most of the spike.
According to data of the department, Chinese tourist arrivals to the city have amounted to 600,000 this year, up 200,000 compared to 2016. However, coastal cities like Nha Trang and Danang are still the most favorite destinations in Vietnam for Chinese tourists.
Khanh said the strong growth was not helped by the city's tourism promotional activities but followed the common trend, meaning the city's tourism sector remains underprepared for the surge. There are currently 20 travel firms that mainly serve Chinese tourists in the city but only 13 of them have good performance.
"We have worked with firms that have fared poorly, asking for improvement but there have not been significant changes," Khanh said.
HCMC should pay more attention to the Chinese market by promoting its tourism and sound out cooperation opportunities at large exhibitions like China International Travel Mart and ITB China Travel Exhibition.
The city needs to create websites and publish travel magazines in Chinese, have more tour guides capable of speaking Chinese, and cooperate with neighboring provinces to offer a wide range of tour programs and prevent zero dong tours.
The increasing number of tourists from China and other countries has raised the total foreign tourist arrivals to the city this year to more than 6.38 million, up 22.8% year-on-year. The city has also catered to 26 million domestic arrivals.
Total revenues from tourism have amounted to nearly VND116 trillion (US$5.1 billion), up 12.6% compared to 2016.
The city expects 7.5 million foreign arrivals and 26 million domestic arrivals next year, with total tourism revenue of VND138 trillion.
Bui Ta Hoang Vu, director of the HCMC Department of Tourism, said the city will continue to organize tourism promotional programs like art performances in Nguyen Hue pedestrian square on weekends, Ao dai (Vietnamese traditional dress) Festival and international marathons.
The city will offer more river tours, develop traditional drug area and jewelry streets in tourist sites, and organize tourism promotional programs in foreign countries to bring in more tourists.
"We will focus on markets that are close to or have direct flights to the city, and based on the report on tourist spending and length of stay in HCMC, which will be released early this year, to draw up plans for tourism promotion in the coming time," he said.
Nearly half of processing-manufacturing firms upbeat about 2018 
Up to 48.2% of enterprises surveyed in the processing-manufacturing sector have expressed optimism about business in the first quarter of this year, news website Vietnamplus cited a report of the General Statistics Office as saying.
The survey on production trends of the sector in quarter four 2017 and forecasts for 2018 showed 35.7% of respondents hope their operations would be stable while only 16.1% are concerned about more difficulties in January-March 2018.
In addition, 44.8% of corporate respondents said their performance in the last quarter of 2017 is better than in three previous months while 36.5% have had stable performance and 18.7% have had more difficulty doing business.
A competitive business environment and opportunities have helped boost the startup movement. Nearly 126,900 enterprises have been set up with total registered capital of VND1,290 trillion (US$56.81 billion) this year, up 15.2% in number and 45.4% in capital over 2016.
Besides, 26,450 firms have resumed operation, taking the total of active enterprises this year to 153,350 with 1.16 million employees.
In the context of fierce competition, small enterprises are more vulnerable. This year sees temporary business suspensions at some 60,600 enterprises and 12,113 dissolving enterprises including 11,087 small firms with capital of less than VND10 billion each.
PM cuts toll fees at BOT traffic projects
Prime Minister Nguyen Xuan Phuc has approved a plan to slash toll fees for trucks weighing 10 tons or higher, and 20- and 40-foot semi-trailers at build-operate-transfer (BOT) road toll stations nationwide, Nguoi Lao Dong newspaper reports.
At a Government teleconference on December 28, Minister of Planning and Investment Nguyen Chi Dung delivered a report on implementation of Resolution 35 on business support and development until 2020.
Dung noted the Ministries of Transport and Finance have worked together to come up with proposals on slashing toll fees at BOT projects. He said the Government leader has approved a plan to reduce toll fees for trucks of 10-18 tons and 20-foot semi-trailers to VND120,000; and trucks weighing over 18 tons, or carrying a 40-foot container to VND180,000 from the respective VND140,000 and VND200,000.
The Transport Ministry has set up an interdisciplinary working group to supervise prices, and reduce unreasonable surcharges on seaborne import and export goods in a bid to slash input costs for enterprises.
Minister Dung also said the PM issued a directive banning authorities from inspecting enterprises more than once a year.
Ministry urges improvement of aviation services
Besides ensuring flight safety as the top priority, aviation companies, airports and airlines have to improve the quality of services for passengers, Deputy Minister of Transport Le Dinh Tho told a seminar on December 28.
Compared to previous years, the quality of aviation services has improved considerably this year with regard to ticket sale, pickup and transport.
According to Tho, even with objective reasons for flight delays and cancellations like bad weather, passengers must be informed early. But in case of subjective reasons, it is crucial that units involved mobilize resources to overcome problems.
"If flights are delayed and cancelled without any prior notification to passengers, it is the fault of competent units and they use objective reasons as excuses," Tho was quoted by news website Dan Tri as saying at the seminar on reducing flight delays and cancellations during the Lunar New Year holiday. 
Though the aviation sector has strived to cut flight delays and cancellations, such efforts must continue in every stage, he noted.
The Civil Aviation Authority of Vietnam has recently put forward several solutions, one of which is operating an additional 5,000 flights to meet transport needs. In addition, flight quality and management must be enhanced.
According to the deputy minister, if each stage is well organized, flight operations will improve and the number of delayed and cancelled flights will be brought down. There must be comprehensive solutions, from flight management, transport, parking, security, customs to immigration, in order to improve the quality of services for passengers.
Meanwhile, according to Trinh Ngoc Thanh, deputy general director of Vietnam Airlines, to provide good services for passengers, airlines must harmonize flight safety, punctuality and reasonable fares. This is determined by management capacities of each airline.
On the side of the aviation authority, Bui Minh Dang, deputy head of the authority's air transport, said the rate of flights departing on time of Vietnamese airlines is high compared to the world's average of 75-79%. The highest rate to be recorded at the world's top airlines is 92%.
Under the existing regulation, passengers will be provided with water if flights are two hours late, with meals in case of three-hour delays, and get compensation for delays of four hours or more. As for lengthy delays lasting more than six hours, airlines have to offer compensation and arrange accommodation for their passengers, whereas passengers can return tickets.
Passengers are encouraged to make use of online check-in and check-in kiosks at airports to cut waiting time, and pay special attention to airport announcements in peak times of travel.
Regarding traffic safety in the coming holiday, Tho said that the ministry's viewpoint is to meet the travel demand of people in any mode of transport with the best services. Units under the ministry will have to closely coordinate with localities to ensure traffic safety and facilitate travel of passengers, he added.