Vietnam is among world's leading honey exporters in both volume and value. Honey, as an important export item, has penetrated demanding markets like the US, EU and Japan.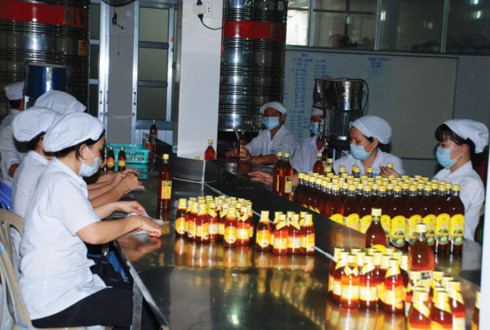 However, honey exports are dropping sharply in terms of output, quality and prices and at the risk of losing market due to its low quality.
According to the statistics of the Vietnam Beekeepers Association, Vietnam has around 1.5 million honey bee colonies and about 35,000 breeders focusing in northern, central highlands and Mekong Delta regions. 
Honey bee production has gradually shifted from small and scattered to intensive farming. Each breeder raises around 50-100, even 500-600 colonies. Bee keeping cooperatives and clubs have been set up to help improve production value and facilitate consumption.
The Mekong Delta region has over 300,000ha of orchards and biological diversity forests such as U Minh Thuong, U Minh Ha, and Tram Chim, which are ideal for bee breeding.
U Minh and Huong Tram honey brands were much sought after by customers and demand often exceeded supply.
Vietnam currently ranks 6th in the world and second in Asia in honey exports. Around 90% of honey output has been exported to the US and the remaining volume to the EU, Japan, Indonesia, and Canada. Its quality has been valued by all importers.
However, the country is facing the risk of losing both domestic and exports markets. Export volume fell rapidly last year. This can be attributed to the exporters' lack of technical and marketing knowledge and their unhealthy competition which leads to the low quality of export products.
Dinh Quyet Tam, chairman of Vietnam Beekeepers Association, said in 2013 Vietnam exported honey at a competitive price with India, but since September this year, it is 7-10% cheaper than India and falls into the lowest level on the world market.
Most of Vietnam's raw and unprocessed honey is exported to the US. Its poor quality is a reason for the limited quantity of honey export to potential but demanding markets like the EU.
Moreover, dependence on the US market leads to many disadvantages. Last year, market demand in the US suddenly declined, and as a result, Vietnamese honey exports to the country dropped sharply in the first nine months of this year.
According to director of Dak Nguyen Hong Company Nguyen Viet Cuong, in order to boost exports to the EU, the quality of honey in the value chain which consists of keepers, collectors and exporters must be improved. 
VOV