VietNamNet Bridge - More than 40 commercial banks are providing mobile payment services, while more than 90 million mobile transactions were made in the first nine months of the year, worth VND423 trillion, equal to 153 percent of 2016 and 316 percent of 2015 figures, according to the State Bank of Vietnam.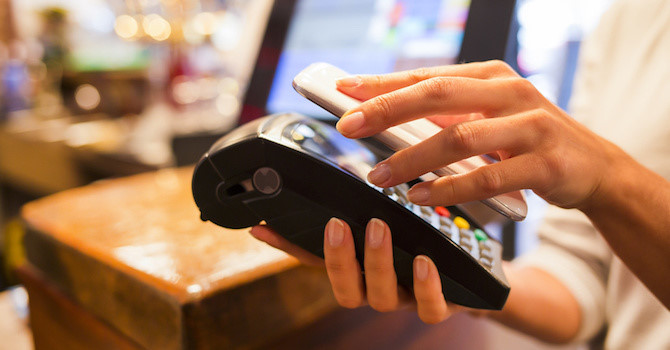 More banks offer mobile payment services
SBV deputy governor Nguyen Kim Anh said at a mobile payment conference held recently that the number of cash payment transactions decreased from 14.02 percent in 2010 to 11.45 percent in August 2017.
The number of cash payment transactions decreased from 14.02 percent in 2010 to 11.45 percent in August 2017.
Tran Cong Quynh Lan, deputy CEO of VietinBank, said that the development of QR Pay would replace traditional payment methods because it brings benefits to all parties.
With QR code, buyers don't need to bring cash and ATM cards when shopping. 
In addition, the payment method ensures information security because buyers don't have to give cards to sellers. 
Meanwhile, sellers don't have to pay for cashiers and money counting. As for commercial banks, they don't have to spend money on ATMs, and it is easy for them to expand networks.
Analysts all commented that they can see great potential of smartphone-based payment services in Vietnam where more than 50 percent of the population use smartphones. 
A report from VnPay showed that from the beginning of the year to September, the payment via QR code grew by 120 percent and the number of transaction points accepting QR payments increased to 5,000.
The figure is expected to increase to 50,000 by the end of 2018. 
At least 12 commercial banks provide QR payment services via smartphones. These include big banks such as BIDV, Vietcombank, VietinBank, Agribank, Indovina, SCB, NCB and TPBank.
A report on the Vietnamese mobile phone market released in April 2017 by Appota, a provider of platforms on smartphones, showed that the number of smartphone users in 2016 was four times higher than in 2013.
Can Van Luc from BIDV commented that a breakthrough in non-cash payments was made in 2017 thanks to QR code solutions. 
According to Samsung Vina, more than 100,000 people have used Samsung Pay and 50,000 transactions have been made since September 29, when it was launched.
Samsung Pay is designed specifically for Samsung smartphones which allows customers to integrate their card information into smartphones and make payments at any shop with POS.
Nguyen Dang Hung, deputy CEO of NAPAS, said that some payment technologies such as Tokenization and QR Code are catching attention from Vietnamese banks.
SBV, in an effort to push up the development of payment via smartphones, is considering setting up standards for QR code payment in Vietnam. 
It has also established a steering committee on fintech which will give advice on a legal framework to facilitate the development of fintechs in Vietnam.
RELATED NEWS
Mobile payments boom, but not in Vietnam
Bank-fintech teams tackle mobile pay
Kim Chi