JETRO to host Invest Japan seminar in Ho Chi Minh City
Japan External Trade Organisation Ho Chi Minh City (JETRO) and the Ministry of Planning and Investment's Foreign Investment Agency will co-organise the Invest Japan seminar in Ho Chi Minh City on December 19.
The seminar aims to introduce the strengths of the Japanese market, the advantages of establishing a branch in Japan, as well as JETRO's free support activities for enterprises in Vietnam looking to invest or establish a business in Japan.
The relationship between Japan and Vietnam has improved significantly over the past years. This January, Japanese Prime Minister Shinzo Abe visited Vietnam. In March, the Emperor and his Empress visited Vietnam for the first time, and in June, Vietnamese Prime Minister Nguyen Xuan Phuc visited Japan for the second time after taking office.
In terms of the economy, the number of Japanese enterprises investing in Vietnam continues to increase, while trade relations are on the rise. A growing number of Vietnamese businesses are visiting JETRO to learn about investment and trade in Japan. In particular, Vietnamese IT enterprises are increasingly developing facilities in Japan to deploy business.
This seminar is a chance to learn about the investment environment in Japan as well as JETRO's support activities. In the seminar, apart from the speeches of JETRO, the Foreign Investment Agency, and the Japanese Consulate, representatives of major Vietnamese enterprises that have invested in Japan, such as FPT and Vietjet, will also share their experiences.
The seminar also includes investment information booths to introduce investment incentive policies in specific localities, such as Kanagawa Prefecture, Yokohama City, Chiba Prefecture, Nagoya City-Aichi Prefecture, Osaka, and Okinawa.
The seminar will be held at Saigon Prince Hotel, 63 Nguyen Hue Street, District 1, Ho Chi Minh City from 9 AM to 1 PM on December 19, and will be free of charge for guests.
Vietnamese, Spanish firms attend networking conference
Representatives from almost 120 Vietnamese and Spanish enterprises participated in a get-together in Hanoi on December 5 to mark the 40th founding anniversary of diplomatic ties between the two nations.
The event was held by the Embassy of Spain in coordination with the Vietnam-Spain Friendship Association of Hanoi.
Reports delivered at the function mentioned the current situation, potentials and prospects for development of trade and economic ties between Vietnam and Spain.
Open dialogues and private meetings were also organised as part of the get-together to help Vietnamese and Spanish businesses enhance mutual understanding and seek partners.
Speaking at the event, Vice President of the Vietnam-Spain Friendship Association of Hanoi Nguyen Xuan Phong said relations between the two nations have seen remarkable progress in all fields, including politics and diplomacy, economics, culture, security and defence. However, there are still untapped potentials, especially in the areas of economics, trade and investment.
Ba Ria-Vung Tau, Japanese city Sanjo forge cooperation
The People's Committee of the southern province of Ba Ria-Vung Tau and the government of Sanjo city, Nijgata prefecture of Japan have signed a memorandum of understanding (MoU) on strengthening exchange and partnership, especially in culture, human resources, economy, trade and investment.
Under the MoU, Sanjo city will increase support to the reception and training activities for Vietnamese officials to be conducted by the municipal Chamber of Commerce and Industry and other agencies.
Speaking at the signing ceremony in Ba Ria-Vung Tau on December 5, Chairman of the provincial People's Committee Nguyen Thanh Long said that the MoU is part of the two localities' commitments to forging friendship and effective cooperation, opening up a new period of collaboration for mutual growth. 
He noted that in 2013, the Sanjo city Chamber of Commerce and Industry and the Ba Ria-Vung Tau Department of Industry and Trade have launched a project on developing human resources and the support industry for the metal sector in Ba Ria-Vung Tau.
Currently, the two sides are jointly implementing a project of personnel training for agencies assisting small and medium sized enterprises, he said. He added that in 2016, the two localities also signed a MoU on human resources cooperation.
Meanwhile, Sanjo city's Governor Isato Kunisada said that Sanjo is strong in mechanical manufacturing and metal production. He said that in the coming time, the Japanese side will increase the reception of Ba Ria-Vung Tau workers in the areas, thus expanding mutual affiliation in developing the mechanical manufacturing sector of both localities.
Workshop spotlights renewable energy investment in Vietnam
A workshop was held in Ho Chi Minh City on December 5, focusing on investment in renewable energy in line with Vietnam's policy of developing alternative energy sources to ensure energy security and protect the environment.
In his remarks, Bo Monsted, Commercial Counsellor at the Danish Embassy in Vietnam said international investors, including those from Denmark, are very interested in Vietnam's market with untapped huge potentials for wind power development, noting that with its experience and expertise, Denmark desires to share new technologies with Vietnam.
Pham Trong Thuc, a representative of the Vietnamese Ministry of Industry and Trade described the event as an opportunity to introduce the country's wind power potentials and incentives for investors in the field.
The Government of Vietnam has adopted numerous incentives to encourage capable international businesses to invest in wind power and transfer their technologies to local producers, he said.
Vietnam's wind power potentials have not been fully exploited, particularly in the central region. There are only four operational projects with a combined capacity of more than 159 MW.
Nguyen Viet Dung, Director of the Vestas Vietnam Company held that the low price of wind power in Vietnam is not the major concern for investors, noting that with high wind reserves, wind power projects in Vietnam are really of investors' great interest.
However, investors need to ensure the operational efficiency of their projects by using cutting-edge technologies to protect the environment, he added.
Ample opportunity for Vietnam's exports to EU market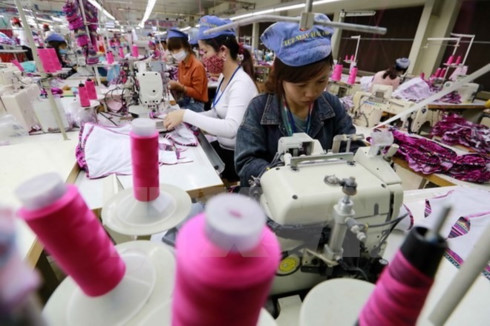 The EU is now the country's second largest export market taking key commodities such as seafood, garments and textiles, footwear, and wood and wooden products.
Opportunities for Vietnam's exports to the EU market were discussed at a seminar hosted by Vietnam Trade Promotion Agency (VIETRADE) on December 5 in Hanoi with a view to further developing economic and trade ties between Vietnam and nations of the European Union.
The event also ensured Vietnamese businesses are up to date on the latest information regarding the EU market and export opportunities.
According to the Ministry of Industry and Trade, two-way trade turnover between Vietnam and the EU increased 11 fold from US$4.1 billion in 2000 to more than US$45 billion in 2016.
The EU is one of Vietnam's leading trade partners. As of October 2017, the Southeast Asian nation's import-export turnover to the EU nearly reached US$42 billion, up 14%.
Under the Vietnam-Europe Free Trade Agreement (EVFTA) commitments, which will take effect next year, 99% of tariff lines will be removed within seven years for the EU and within 10 years for Vietnam.
For the remaining tax lines, both sides will offer each other customs quotas, apply partial reductions or longer tariff removal. At present, import tax has been imposed on 474 commodities from Vietnam while 417 tariff lines for Vietnamese exports to the EU will be abolished under a 15- year roadmap.
Tran Ngoc Quan, deputy head of the EU Market Department under the Ministry of Industry and Trade noted that the EU market has put forth numerous regulations regarding non-tariff barriers in terms of product quality and criteria on food safety and hygiene. 
Therefore, Vietnamese businesses need to meet market access requirements, fully grasp commitments of Vietnam and partner countries, change business attitudes, seek cooperation opportunities with foreign partners, engage in the global supply chain, and increase labour productivity by encouraging highly skilled workers.
Every sector must be subject to codes of production, ISO standards for the whole production process and best conditions to preserve the durability of products as the EU requires origin traceability for the whole product life cycle, Quan emphasized.
Vietnam, Kazakhstan promote trade relations
Vietnam wants to promote cooperative ties with Kazakhstan in the fields of economy-trade, oil and gas, education and training, and tourism and culture, said Deputy Minister of Industry and Trade Hoang Quoc Vuong.
He made the statement while co-chairing the 8th meeting of the Vietnam-Kazakhstan Inter-Governmental Committee on Economic Issues and Technical Cooperation with Kazakhstan Deputy Minister of Foreign Affair Akylbek Kamaldinov in Hanoi on December 5.
Assessing bilateral economic-trade ties during 2015-2017, the two sides agreed that the two countries have enjoyed robust trade growth in the past time, however, it still lags behind the potential and traditional relations between the two countries.
Vietnam's statistics showed that two-way trade in the first nine months of the year surged 42.7% year on year to US$184.9 million. Vietnam exported US$145.3 million worth of products to Kazakhstan in the period while spending US$39.6 million purchasing goods from the central Asian country, up 45.86% and 32.3% from the same time last year, respectively.
Vietnamese key exports include telephones, computers, electronic products and spare parts, farm produce and steel products. It imports from Kazakhstan chemicals, ores and wheat.
The two sides mapped out new directions for cooperation in agriculture, culture and transport. They reached consensus on the establishment of a sub-committee on agriculture to bolster the exchange of agricultural products between the two nations. 
Regarding culture and tourism, Vietnam lauded the organisation of the Vietnam Day in the framework of the EXPO 2017 Astana in Kazakhstan and other cultural events held on the 25th anniversary of bilateral diplomatic relations.
Meanwhile, Kazakhstan welcomed cooperation between Vietnam Railway Corporation and National Company Kazakhstan Temir Zhoy in logistics, especially railway transport with the initiative to set up a railway connecting the two countries.
Increasing productivity - leverage for sustainable development
With the topic "Increasing Productivity - Leverage for Sustainable Development," Vietnam Development Forum (VDF) 2017 will discuss analysis on the situation and find solutions to increasing productivity in Vietnam.
While almost all factors to growth, such as cheap labour and natural resources, have been limited until now, VDF 2017 will offer specific solutions to spur productivity, creating long-term solutions for Vietnam to overcome the middle-income trap and catch up to developing economies.
VDF 2017 will take place on December 13, 2017 at Sheraton Hotel Hanoi. The forum will be co-chaired by the Minister of Planning and Investment and country director of World Bank in Vietnam with the participation of Prime Minister Nguyen Xuan Phuc, Deputy Prime Ministers Vuong Dinh Hue and Pham Binh Minh, and over 350 representatives from ministries, leaders of cities and provinces, embassies, foreign and domestic organisations, and the business community.
The first session aims to discuss overall issues related to productivity and share international experiences on increasing productivity. The second one will discuss how to put productivity in service of Vietnam's sustainable development, such as raising the country's position in the value chain, shifting agricultural structure, enhancing productivity, improving business climate, and building an incentive policy to remove challenges.
The forum was first introduced as Consultative Group (CG) Meeting in 2008 then was renamed Vietnam Development Partnership Forum (VDPF) in 2013, and Vietnam Development Forum (VDF) in 2016.
VDF 2016, with the theme "Facilitating and Action Oriented Government - New Driving Force for Development," identified and reviewed Vietnam's economic prospects, impact factors, challenges, and provided solutions to deploy socioeconomic orientation. Others topics are multi-dimensional impact of international political background to Vietnam's economy, bilateral and multilateral trade agreements, and international experiences in processing relations between public debt and growth.
BOT power projects gain momentum
Two foreign-invested build-operate-transfer thermal power projects – Japanese firm Sumitomo Corporation's Van Phong 1 and Malaysian firm Toyo Ink Group Bhd' s Song Hau 2 – have registered positive movement.   
A source from Sumitomo told VIR that the firm is finalising a build-operate-transfer (BOT) contract with the Ministry of Industry and Trade after getting an investment registration certificate in November. In the same month, Toyo Ink signed an agreement with Hau Giang province on land leasing for the Song Hau 2 project.
BOT contract procedures on the Sumitomo plant are expected to finish in 2018, taking the firm one step closer to breaking ground on its thermal power plant in the central province of Khanh Hoa, the source said.
In November 2009, Sumitomo officially announced that it would embark on an electric power generation project, Van Phong 1 in Van Phong Economic Zone of the province. The investment project was expected to cost a total of 200 billion yen ($2.19 billion).
Initially, Sumitomo had plans to complete the plant's construction and start commercial operations in 2015. However, as the negotiation process dragged on, the timeline was also extended. Electricity sale prices and foreign currency conversion rates were the main bones of contention during the negotiation process.
As Sumitomo would be converting project revenue from dong to dollars, it sought a guarantee on currency conversion rates. As such, under Document No.1604/TTg-KTN, the government offered a guarantee on 30 per cent of project revenue from VND to USD. However, Sumitomo was not content with this offer, and instead requested a guarantee for 100 per cent of its foreign currency exchange. At present, it is unclear how this issue has been resolved.
In other developments, Toyo Ink was reported to have entered into a new memorandum of agreement (MoA) last month with the Hau Giang Department of Natural Resources and Environment for the development of its power plant project in Vietnam.
The new MoA replaces an earlier MoA in January 16, 2017. This current MoA came into effect on the date of its execution and will last until Aug 31, 2018, or the date of signing the BOT contract, whichever comes first.
"Toyo Ink will use commercially reasonable efforts to reach agreements on all outstanding terms and issues relating to the BOT contract and the power purchase agreement  in good faith and as soon as possible. It estimates that this can be completed by August 2018," said the firm's report.    
The 2,000-megawatt (MW) Song Hau 2 coal-fired power plant is part of the 5,200MW Song Hau Power Centre in Hau Giang Industrial Park. This complex will comprise three power plants, including the 600MW Song Hau 1 plant, built by Vietnam's state-owned oil and gas group PetroVietnam.
The project is invested with $3.5 billion and has a concession period of 25 years. It plans to use imported coal for fuel.
Previously, Toyo Ink announced that it called for partners to join on the Song Hau 2 venture in order to reduce capital pressure. Lenders have lately been tightening loans for thermal power. The firm did not respond to VIR's request for comment on this issue.
According to the Ministry of Industry and Trade, the nation needs to add an additional 36,000MW from thermal power plants to the supply system by 2020 to ensure power security. The country's growing demand for power is encouraging more and more foreign power companies to invest in Vietnam.
This year, the power sector witnessed positive movement in many BOT thermal power projects, including the $2 billion Nam Dinh power plant, developed by Saudi Arabia's ACWA Power International and South Korea's Taekwang Power, and the $2.2 billion Nghi Son 2 thermal power plant, developed by Japan's Marubeni Corporation and Korea Electric Power Company (KEPCO).
PVcomBank's third attempt to divest top industrial insurer
Vietnam Public Joint Stock Commercial Bank (PVcomBank) proceeded with the registration of selling two million shares of PVI Holdings, insurance subsidiary of Vietnam National Oil and Gas Group (PetroVietnam), running up to the third attempt to divest the insurance firm over the past four months.
The third transaction is expected to take place from December 5, 2017 to January 3, 2018. Prior to the transaction, PVcomBank was reported to hold 9.56 million PVI shares, equivalent to 4.3 per cent.
From September 8 to October 6, PVcomBank registered to sell two million PVI shares, yet only sold 552,000 due to unfavourable market conditions.
PVcomBank remains persistent in its efforts to divest PVI Holdings
Previously, between June 16 and July 14, the bank aimed at selling 12.5 million shares, yet only sold 3.64 million also due to unsupportive market conditions.
To date, the industrial insurer' list of major shareholders comprises of HDI Global SE, the largest shareholder in possession of 83.71 million shares (37.63 per cent), PetroVietnam holding 81.98 million shares (36.85 per cent), and Funderburk Lighthouse Limited with 27.12 million shares (12.19 per cent).
Over the first three quarters of 2017, PVI Holdings' total consolidated revenue was estimated to be VND6.6 trillion ($290.4 million), outperforming the firm's nine-month target revenue by 5 per cent and achieving 76 per cent of the year's planned revenue. The consolidated pre-tax profit was estimated at VND471 billion ($20.72 million), surpassing the firm's nine-month target by 21 per cent and accomplishing 80 per cent of the annual plan.
After the slight recovery in late November, PVI Holdings' reference stock quote was recorded at VND35,500 ($1.56) per share in the December 4 trading session, with the order matching volume of 326.700 units. On average, over the last ten trading sessions, PVI's order matching volume reached 330,344 units.
In the event of PVcomBank successfully divesting two million shares in the third transaction, the bank would lose the right to gain dividends worth VND4 billion ($176,021) from the insurer.
PVcomBank provides a wide range of banking services, such as corporate finance,  financial advisory services and personal finance services.
PVI Holdings was founded in 1996 as a PetroVietnam subsidiary, providing insurance services for property risk and business operations of the parent group.
Government to fully divest of Hapro
The government will divest its entire holding in state-owned Hanoi Trade Corporation (Hapro). The divestment attracts attention as the company holds a number of golden land plots in Hanoi.
According to information published on the Government Portal, the government has approved Hapro's equitisation plan. Accordingly, Hapro will put 75.9 million shares or 34.51 per cent stake on sale at its initial public offering (IPO) at the initial price of VND12,800 ($0.56) apiece, and offer 143 million shares, or 65 per cent, to strategic investors. The remaining 0.49 per cent will be handed to employees.
Hapro is on Hanoi's list of equitisation in the period of 2016-2020. The company currently has a charter capital of VND2.2 trillion ($96.84 million), equaling 220 million shares.
Ealier on March 7, 2017, the Hanoi People's Committee issued Decision No.1558/QD-UBND on criteria for selecting Hapro's strategic investors.
According to this decision, strategic investors should satisfy the following conditions: they should have an owner's equity of over VND2 trillion ($88.04 million) in the most recently audited financial report by an independent auditing company, no bad debts, a debt/equity ratio less than three in their 2015 audited financial statement, and they should also have positive after-tax profit in 2014, 2015, and 2016.
Besides, the investors must obey the law and be able to prove that they have the amount of money or assets with a value at least equal to the value of stakes registered to purchase. Particularly, they must deposit 30 per cent in advance and have a bank guarantee for the remaining 70 per cent they register to buy at the initial offering price of Hapro.
Bidders will have to buy after winning the auction and if they refuse to buy after all, their deposit will not be refunded.
The investor should be experienced in commercial operations. Priority will be given to those with experience in import-export, domestic retail, and those who have an established retail system or are holding stakes in such enterprises.
Strategic investors must commit to taking over all the rights and obligations of the corporation at the moment of valuation. Meanwhile, strategic investors are also responsible for the workforce in this state-owned corporation in accordance with the law after undertaking equitisation.
Hapro's selling point lies in the fact that it is the operator of a chain of supermarkets and convenience stores and it also holds controlling interest in numerous subsidiaries, which have plenty of huge real estates.
One of the attractive real estates owned by Hapro is the nine-story shopping mall and office building in Le Duan Street. The construction covers an area of 1,624 square metres, however, it has been delayed for months due to financial obstacles and failing to get approval from local authorities to increase the building's height beyond what was previously approved. Another real estate project is in Cat Linh Street, which currently serves as Hapro's headquarters.
In addition, a range of Hapro subsidiaries hold further valuable land parcels, like Hapro Holdings, which owns eight real estate projects in Vietnam, or Long Bien Trade Investment JSC with its 11 office buildings, and Trang Thi Trade & Service Company with 42 land plots for leasing.
When Hapro previously divested from some of its subsidiaries, the stake sale attracted a lot of attention from investors.
Abbott now holds nearly 52% of Domesco
CFR International SPA transferred nearly 17.95 million shares in the Domesco Medical Import-Export JSC (DMC) to Abbott Laboratories (Chile) Holdco SpA, a subsidiary of Abbott Laboratories in the US, on December 4, according to Vietnam Securities Depository (VSD).
The nearly 17.95 million shares are equivalent to 51.69 per cent of DMC's charter capital. Abbott previously acquired CFR International SPA in 2012/2013, so CFR International SPA's shares in DMC already belonged to Abbott indirectly. 
Due to the dissolution of CFR International SPA, Abbott has now taken back the shares directly, with DMC officially becoming an Abbott Laboratories' subsidiary.
The State Capital Investment Corporation (SCIC) is the second-largest shareholder after Abbott Laboratories Holdco SpA, which holds 34.71 per cent of DMC. The SCIC will sell its stake in DMC in December, which is expected to be completed on December 25.
DMC is the third-largest listed domestic drug maker in Vietnam.
Since Abbott became a major shareholder of DMC's capital (through CFR), it has sent delegations to work with DMC to support it in production, operations, finances, and human resources. As a result, after the restructuring, DMC's factories are capable of meeting capacity and business development needs to 2020.
In 2016, DMC recorded revenue of VND1.3 trillion ($57.2 million) and after-tax profit of VND168 billion ($7 million), and paid a dividend of 20 per cent in cash. DMC targets 2017 net sales of VND1.4 trillion ($61.6 million) and after-tax profit of VND185 billion ($8.3 million), while paying a dividend of at least 20 per cent in cash.
In the 2018-2020 period, DMC aims to achieve average growth of 10 per cent. 2018 revenue is expected at VND1.55 trillion ($68.2 million) and after-tax profit at VND200 billion ($8.8 million).
Last year, Abbott also acquired another Vietnamese pharmaceutical manufacturer - Glomed Pharmaceutical Co Inc (Glomed). The merger with Glomed is a key step in Abbott's strategy to focus on the pharmaceutical business in emerging markets with high growth rates, like Vietnam.
Once holding a controlling stake in Glomed and Domesco, Abbott is likely to make a strong attack on the market for generic drugs in Vietnam. Abbott sees opportunities from health spending in emerging markets, including Vietnam, which accounts for just 6 per cent of GDP and continues to grow.
The group aims to grow by 4.6 per cent in Abbott's emerging markets by 2019, more than double the growth rate in the developed world.
Abbott has been in Vietnam for over 20 years and developed a strong business providing science-based healthcare products and services.
Almost no way to stop foreign currency lending
The fact that interest rates for Vietnam dong loans are far higher than those for U.S. dollar loans is one of the key reasons for the State Bank of Vietnam's (SBV) failure to stop foreign currency lending as planned, Nguoi Lao Dong quoted analysts as saying.
According to a draft circular that revises Circular 24/2015 on foreign currency lending, the SBV, the nation's central bank, plans to allow for short-term lending in U.S. dollar until the end of next year. However, at the time of disbursement, borrowers are required to sell U.S. dollars to lenders to get Vietnam dong to buy goods.
Dr. Nguyen Van Thuan at the University of Finance and Marketing was quoted by Nguoi Lao Dong as saying that it is necessary to extend dollar lending to help exporters cut costs, enhance competitiveness on global markets and contribute to economic growth.
The interest rates for three- to six-month dollar loans currently range from 3% to 3.5% per year, way below 6%-7% for Vietnam dong loans with the same tenors.
The low rates are the reason for strong dollar borrowings by enterprises. January-October saw a rise of 11.5% in foreign currency credit, whereas the increase in the same period last year was a slight 4.4%, according to a report by the National Financial Supervisory Commission.
Data of the General Statistics Office shows that the nation's exports in January-October totaled US$173.7 billion and its imports reached US$172.5 billion, resulting in a trade deficit of US$1.2 billion.
If enterprises having export revenues fail to access foreign currency loans, they would have to borrow in Vietnam dong with interest rates two times higher than those for foreign currency loans. This would push up production costs and hit exports.
In the past, the SBV stopped banks from lending foreign currency but then allowed them to resume it given high rates on Vietnam dong loans. 
The central bank in March 2016 announced to suspend foreign currency lending to shift to a regular foreign currency trading regime. At that time, interest rates for U.S. dollar loans rose in line with the rate hike by the U.S. Federal Reserve, and rates for Vietnam dong were expected to go down, thus encouraging enterprises to borrow in the local currency instead.
However, as the SBV ruled short-term capital used to make medium and long-term loans must be cut from 60% to 40% of total raised capital in 2018. This prompted banks to step up capital mobilization, making it impossible to bring down Vietnam dong interest rates and suspend foreign currency lending.
Foreign currency lending was thus extended in June 2016, and maintained until the end of last year, then this year-end to facilitate export.
According to a banker, demands and supplies of U.S. dollars in Vietnam are unpredictable.
3D printing tech can be commercialized in Vietnam
The 3D printing technology in Vietnam can be viably commercialized if its solutions can be applied in sectors such as education, entertainment and construction, heard a seminar on 3D printing technology and the fourth industrial resolution in HCMC last week.
Pham Ba Khien, general director of Meetech Technology JSC, said the 3D printing technology which is still new in the country requires cooperation among local companies.
He explained 3D printers and 3D printing solutions have strong growth potential, so enterprises should sound out cooperation opportunities and look for viable solutions.
He added his company is teaming up with a major cinema chain to provide selfie and 3D rending solutions for interested moviegoers.
Meetech clinched a deal at the event with 3D Smart Solutions Co Ltd and Nam Lien Trading and Service Co Ltd, marking the first cooperation milestone among companies in the sector.
A representative of the Saigon Hi-Tech Park Incubation Center said the organization is assisting startups in making creative products and solutions. These startups are now able to invest in the production and trade of technology equipment and services by themselves.
The global 3D printing technology is establishing a presence in the Vietnamese market. As a result, 3D printers of good quality have been domestically made with prices more competitive than imported counterparts. This is a key factor behind the growth of the local 3D printing sector.
Dak Lak's food production reaches record high
Despite unfavourable weather conditions, total food production in the Central Highlands province of Dak Lak reached a record high of 1.24 million tonnes this year, 71,865 tonnes higher than the same period last year.
Farmers in the province cultivate three main food crops: winter-spring, summer-autumn and autumn-winter.
Local ethnic people were supported to switch from rice to hybrid maize or other short-day food crops in fields suffering from water shortage, which bring in better economic efficiency. They have also used new high-yield hybrid rice and maize varieties in the three crops.
Relevant agencies have guided local farmers in cultivation and disease prevention techniques, contributing to high yields of rice and maize, at 6.3 tonnes per hectare for rice and 5.1 tonnes per hectare for maize. 
Currently, Dak Lak farmers are rushing off their feet to repair irrigation systems and prepare soil and field for the 2017-2018 winter-spring crop.
Japan, Vietnam experts talk investment in high-quality infrastructure
Experts from Japan and Vietnam shared experience and talked cooperation in investing and building infrastructure, especially transport infrastructure, in cities with fast urbanisation at a dialogue on December 7.
The dialogue was organised by the Japanese Ministry of Economy, Trade and Industry as part of the 15th Vietnam International Trade Fair (Vietnam Expo) in Ho Chi Minh City.
Junichi Kawaue, Consul General of Japan to HCM City, said Vietnam is playing an important role in the development of ASEAN. Therefore, the sustainable development of high-quality infrastructure, in terms of road, railway and sea transport, is critical to not only Vietnam but also the region's transport connectivity.
As an economic hub of Vietnam, HCM City needs high-quality infrastructure, he said, noting that Japan wants to continue contributing to important transport facilities in the city like the metro route No. 1. It is also considering some projects in Vietnam to further connect Da Nang Port with the East-West Economic Corridor, and Cai Mep-Thi Vai Port with the Southern Economic Corridor.
Vice Chairman of the HCM City People's Committee Le Van Khoa said his city hopes to cooperate closely with Japan in infrastructure investment so as to develop sustainably and become a major hub of economy, finance and science of Vietnam and the Southeast Asian region.
HCM City has put into use many important transport projects like Mai Chi Tho road, Dong Tay Avenue, the Saigon River tunnel, and metro routes No 1 and 2. In the time ahead, it will focus on building flyovers, key intersections, belt roads and cross-river tunnels and bridges under the public-private partnership format.
To carry out these projects, the city is calling on foreign partners, including those from Japan, to provide advice and technical and financial support. It pledges to create optimal conditions for domestic and foreign businesses to join hands to develop the city, Khoa added.
First Peer-to-Peer lending platform starts trial
The VAY MUON Joint Stock Company (JSC) launched a trial run of VayMuon.vn, the first online Peer-to-Peer lending platform in Vietnam, on December 5.
Individuals seeking short-term, small loans can register online via their mobile phone.
Ms. Dao Thi Trang, General Director of VAY MUON, told VET that applications are reviewed and disbursed within four working hours for the first loan, if approved, and 30 minutes for subsequent loans, with no collateral or papers required.
The loans are then introduced to investors with idle capital on VIMO.vn e-wallet, and are disbursed and secured by VayMuon.vn.
Borrowers need to install the "VayMuon" app on their phone, register, and upload a photo of certain ID papers.
VayMuon.vn automates the process of evaluating customer credit by collecting and analyzing big data based on artificial intelligence (AI). It allows faster decisions on approval and disbursement than traditional forms of consumer credit.
Anyone with idle capital, meanwhile, can download the "VayMuon - nhadautu" app, sign up for an account, and then link to VIMO e-wallet to become an investor.
When a loan application is submitted, the investor receives a notice on their phone to open the app and approve the loan, with the money then transferred from the VIMO e-wallet of the investor to the borrower's bank account.
Upon maturity, 100 per cent of the principal and interest will be automatically returned to the VIMO e-wallet of the investor, ensuring there is no risk to investors.
Ms. Trang also emphasized that the security factor was the highest priority in the process of building VayMuon.vn.
"Cash is transferred directly between the investor and the borrower via a third-party payment platform licensed by the State Bank of Vietnam, which helps ensure transparency and objectivity," she said. "Investors only know the name of the borrower and the purpose of the loan, to ensure the privacy of the borrower."
VayMuon.vn has inherited more than 20 ecosystem services for e-commerce, electronic payments, and logistics from the NextTech Group, providing it with a large data set and powerful algorithms to validate borrowers in real time.
With 15 years of experience in operating NextTech's intermediate trading platforms, VayMuon only connects borrowers with investors that have idle capital, not banks or financial institutions.
VayMuon.vn will become popular due to its simple procedures, confidential information, and, especially, lower interest rates compared to other forms of lending.
Such Peer-to-Peer lending is a UK-based model that came into being in 2005 and found favor in the US following the 2008 economic crisis, with big names in the field including Lending Cub and Prosper.
The model has not previously appeared in Vietnam due to high requirements in information technology in handling large data processing and risk management, so most financial services now require borrowers meet directly with lenders at least once and not connect directly with investors.
Q3 beverage growth leads in FMCG
Nationwide growth in fast-moving consumer goods (FMCG) came in at 6.4 per cent year-on-year in the third quarter, primarily due to an increase of 5.8 per cent in volume, according to the Nielsen Quarterly Market Pulse report released by Nielsen Vietnam.
When looking deeper into the six super FMCG categories nationwide, beverages recorded the highest increase, with growth of 8.5 per cent, led by an increase of 6.4 per cent in volume. Cigarettes also recorded solid growth, of 5.9 per cent. Other super categories, meanwhile, showed some level of stagnation.
The Market Pulse Report is based on the results of the Nielsen Retail Measurement study of FMCG, which provides continuous tracking of product movement through defined retail outlets. The data is used to measure manufacturer and retailer efforts as well as consumer off-take.
The report also shows that rural areas continue to have major potential for many manufacturers. While beverage growth in urban areas was 4.7 per cent year-on-year, growth in rural areas was 7.6 per cent, led by 7.4 per cent volume growth and contributing 54 per cent to total FMCG sales. 
"On the heels of improving consumer confidence in the quarter, Vietnam's GDP grew 6.9 per cent in the first nine months of the year," said Mr. Nguyen Anh Dzung, Director of Retail Measurement Services at Nielsen Vietnam. "This momentum was enhanced by consumers' optimistic perception of personal finance along with their willingness to spend. Despite the rise in GDP this year, Vietnam's FMCG market has fluctuated over the past two years. The volatility reflected in super categories poses a lot of challenges for manufacturers to make sound decisions to fully seize the market growth opportunities and drive a profitable business."
"Rural Vietnam, however, remains a high-potential opportunity for many manufacturers," he went on. "And in rural, the traditional trade channel, a complex and highly competitive channel, is still where most sales are taking place. Getting products to each and every retailer in rural to expand distribution to drive more sales has long thought be to a challenging game for manufacturers. Therefore, store segmentation, or 'where to focus', is what businesses should go after whenever they think about expanding to this new potential market. As the rural Vietnamese community continues to evolve, transform, and take center stage as a key group for businesses, understanding who they really are, where, how, and what they are buying, and what their most effective touch points are will be prerequisites for future success."
Sumitomo strikes strategic partnership with Vietnamese wood company
The An Cuong Working JSC, one of Vietnam's leading wood-working and decorative materials companies, has announced a strategic investment and development partnership with the Sumitomo Forestry Group from Japan, under which both will strengthen their cooperation and aim for business expansion.
"This is an investment that brings benefits to both companies and I am confident that our cooperation will bring great success," said CEO of the Sumitomo Forestry Group, Mr. Masami Kitahashi.
"We are pleased to welcome the Sumitomo Forestry Group as our strategic shareholder," said Mr. Le Duc Nghia, CEO of An Cuong. "With Sumitomo Forestry's 200 years of experience in the industry, annual revenue of $10 billion, modern management technology, and great position in the international market, and our 23 years of operations and strong position in the domestic market, the Group becoming a shareholder will bring advantages to both parties."
An Cuong's business will be promoted in foreign markets such as Japan and the US based on the distribution network of Sumitomo Forestry. The Japanese group will send experts from Japan to help An Cuong's factories producing doors and furniture made of industrial wood meet international standards and be qualified for exports to Japan and the US. The Japanese group's housing development business in the two markets record revenues of more than $4 billion annually.
Moreover, the cooperation will capture a perfect supply chain in the Vietnam, from the production of raw materials to all types of industrial wood surfaces, meeting international standards and supplying all customers in Vietnam as well as the Japanese group's customers all over the world.
An Cuong's foreign strategic shareholders now include the VinaCapital Group, DEG from Germany, and the Sumitomo Forestry Group.
2016 turnover at An Cuong reached $110 million. With an annual growth rate of 30-35 per cent in recent years, the company now dominates the domestic market, with a 50 per cent market share in MFC panels and 70 per cent in Laminate panels, Acrylic panels, and by-products.
The company is currently a provider of products to real estate developers in Vietnam and is cooperating with thousands of interior designers, contractors, and small retailers around the country.
It is the manufacturer and exporter of well-known worldwide brands to Japan, Southeast Asia, the US, and Europe. Wooden products such as MFC, Melamine MDF, Laminates, Acrylic, Veneer and other by-products are widely used in interior design and decoration for offices, homes, condominiums, kitchen cabinets, schools, hospitals, super malls, bathroom partitions, and flooring.
Invest Japan Seminar 2017 on horizon
The Japan External Trade Organization (JETRO) in Ho Chi Minh City and the Foreign Investment Agency at the Ministry of Planning and Investment will organize the "Invest Japan" seminar in Ho Chi Minh City on December 19, to introduce the strengths of the Japanese market, the advantages of establishing a branch in Japan, as well as the free support activities JETRO provides for enterprises in Vietnam intending to invest in or establish a business in Japan.
The relationship between Japan and Vietnam is good and becoming better and better. Japanese Prime Minister Shinzo Abe visited Vietnam last January and the Emperor and Empress paid their first visit to Vietnam in March. Prime Minister Nguyen Xuan Phuc then visited Japan for the second time since taking office, in June.
The number of Japanese enterprises investing in Vietnam continues to increase and trade relations continue to develop. More and more Vietnamese businesses are turning to JETRO to learn about investment in and trade with Japan.
Together with the growth of Vietnam's economy, the number of Vietnamese visitors to Japan has increased rapidly in recent years, while many Vietnamese enterprises in the field of information technology have built facilities in Japan.
The seminar is being coordinated by the Consulate General of Japan in Vietnam, the VNITO Alliance, QTSC, the HCMC Computer Association (HCA), and VINASA, among others.
Apart from speeches from JETRO, the Foreign Investment Agency, and the Japanese Consulate, there will also be experiences shared by representatives from major Vietnamese enterprises that have invested in Japan, such as FPT and Vietjet Air.
The seminar also includes investment information booths to introduce investment incentive policies in localities such as Kanagawa Prefecture, Yokohama City, Chiba Prefecture, Nagoya City - Aichi Prefecture, Osaka, and Okinawa.
Global HR Forum in Vietnam 2017 set for Hanoi
The Global HR Forum in Vietnam 2017 will be held by the Ministry of Education and Training, South Korea's Ministry of Education, and The Korea Economic Daily on December 14-15 at the Melia Hanoi Hotel. 
This year's forum commemorates the 25th anniversary of formal diplomatic relations between Vietnam and South Korea. The three sides jointly organized this inaugural forum with the mutual goal of spreading global prosperity through collective human intelligence and human resources development.
The theme of this year's Global HR Forum in Vietnam is the "Miracle on Han River to Miracle on Red River." Around 30 opinion leaders, experts, and scholars will gather to participate as speakers and discussants.
The forum aims for lively discussion over the various strategies South Korea has successfully implemented in human resources development.
Both countries will share their vision and discuss mutual cooperation in cultivating future talent in the era of the fourth industrial revolution.
The forum will strive to maintain a successful strategic partnership between the two countries while sharing best practices in global talent education, training, and the utilization of human resources.
In November, the 12th Global HR Forum was held in Seoul, South Korea, and the Global HR Forum in Vietnam is the brand export of the Global HR Forum.
The Global HR Forum was first established in 2006 under the slogan "Global Talent, Global Prosperity", organized by the Korea Economic Daily in partnership with South Korea's Ministry of Education and the Korea Research Institute for Vocational Education and Training.
Holding annual meetings since then, this year's theme, "Future in Your Hands", created a new global platform that provides a unique learning and networking experience to share diverse perspectives and insights in addressing the major global challenges.
The forum quickly became the leading international forum specializing in the field of human resources.
Through the Global HR Forum in Vietnam 2017, Vietnam and South Korea will have a new educational platform that enables in-depth discussion of policy development in cultivating human resources and exchanges.
The organizing board expects various cooperation in the private sector as well through networking between universities in both countries. 
Final round of Mekong Delta startup contest slated for late Dec
The final round of a startup contest in the Mekong Delta will take place in Can Tho City on December 28, said the Can Tho branch of the Vietnam Chamber of Commerce and Industry (VCCI Can Tho).
At a press conference on December 4, VCCI Can Tho director Vo Hung Dung said the contest is jointly held by VCCI Can Tho and Can Tho City government to promote the startup movement and develop a startup ecosystem in the Mekong Delta region.
VCCI Can Tho expects to create development opportunities for startups, connect them with investors in agriculture and information technology, and enhance cooperation among provinces in the region, Dung added.
VCCI Can Tho deputy director Nguyen Thi Thuong Linh told the Daily that the winner would receive an investment license and VND20 million.
Contest organizers will display products of candidates and hold a seminar themed "Startup - Connect to succeed" to help candidates access the market, build their brands and connect with investors.
The final will be attended by investors, startup support organizations, consultants, members of the Mekong Delta startup network, and representatives of departments, State agencies, institutes, universities, enterprises, banks and news organizations.
Linh said that since the contest was launched on June 15, it has attracted more than 250 contestants in the region with 100 projects on business solutions, agriculture, production-trade, information technology, food processing, environment, mechanical engineering, tourism and automation, among others.
At the press conference, Linh also introduced a startup plan for the Mekong Delta in the 2016-2020 period with a vision to 2025. The plan is aimed at developing a startup network, building a startup center, raising a fund, holding a contest and offering training courses in the region.
VCCI Can Tho on May 24 established a startup network in the region with 19 members to enhance startup activities and support startups in the region.