After 30 years of renovations, Ho Chi Minh City, the growth engine of Vietnam, has been facing challenges in terms of its population, infrastructure, and social issues. Recently, though, it has received new policy fuel to develop in a stronger manner.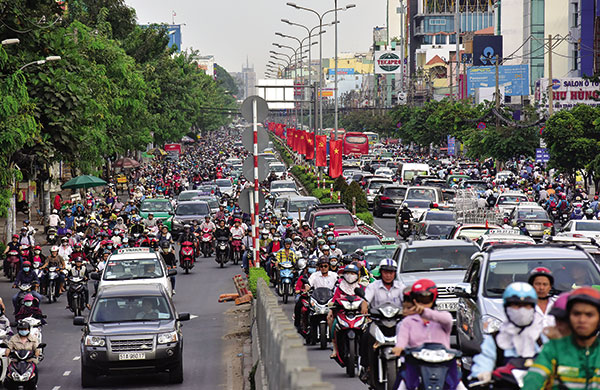 A first-of-its-kind resolution is set to take Vietnam's southern hub to new heights.
The National Assembly last week adopted a long-awaited resolution on specialised policies for Ho Chi Minh City, marking a historic breakthrough for the city to continue taking the lead in the Vietnamese economy.
The resolution, the first of its type in Vietnam and scheduled to take effect on January 1, 2018, covers special regulations that are not available to other localities in the country. They give free reign to Ho Chi Minh City's government to autonomously determine many important issues related to land management, investment, finances and budget, and more.
One of the most startling policies concerns finances and budget. Specifically, the city is allowed to keep all of the money that arises from adjusting its revenue collection policies in order to invest into infrastructure development. Currently, this money must be contributed to the state budget.
Moreover, the government will annually ask the National Assembly Standing Committee to allow it to give more money from state coffers to the city. The city is also allowed to keep half of the money collected from land use fees when land and the assets on it are sold.
Notably, Ho Chi Minh City is allowed to self-develop asset tax policies for itself and to increase taxes which are being commonly applied nationwide, except when it comes to tax policies concerning export-import activities. Ho Chi Minh City can also raise types of fees and charges that are not listed in the existing Law on Fees and Charges.
The city's government is additionally allowed to keep all the money collected from the equitisation of its state-owned enterprises, and from capital divestment of the city's economic organisations. Minister of Finance Dinh Tien Dung reported that if state-owned stakes in the city's 39 enterprises are sold radically, the city will be able to rake in at least VND67 trillion (more than $3 billion) during the 2017-2020 period.
All of this money would be used for the city's infrastructure development.
According to the municipal People's Committee, Ho Chi Minh City's average annual growth rate was 10.7 per cent over the past years, or 1.6 times higher than the country's average 6.6 per cent. The city's contribution to the country's GDP rose from 16.7 per cent in 1996 to 21.6 per cent last year. It makes up 28 per cent of the state budget, even though its population accounts for only 9 per cent of the country's population.
However, the city is facing numerous challenges such as poor infrastructure and reductions in nvestment attraction and exports, in addition to various social issues.
The committee warned that without special policies, the city's economy growth rate would sink to 6.72 per cent in the 2021-2025 period, and 6.36 per cent in the 2026-2030 period
However, with these new policies, the respective rates for these two periods would be 8.13 and 8.67 per cent. Moreover, in the 2021-2030 period, Ho Chi Minh City will contribute about $28.8 billion to the state budget, equal to 57 per cent of the whole country's total budget revenue last year.
"Such a resolution should have been enacted a long time ago," said deputy Dang Thi My Huong of the south-central province of Ninh Thuan. "The city is now heavily burdened with overload in population, infrastructure, environment, health care, and education."
Deputy Huynh Thanh Phuong representing the southern province of Tay Ninh said many of Ho Chi Minh City's neighbouring localities are awaiting this resolution. "The city is the core of the southern key economic region, taking the lead in national modernisation and industrialisation. The city is quite attractive to investors and enterprises."
VIR