Mekong Delta needs VNĐ120 trillion in public investment by 2025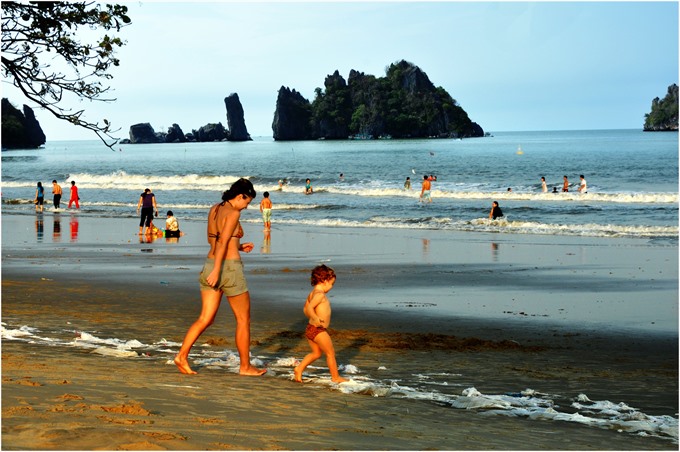 Phu Quoc Island
Tourists in Phú Quốc Island, Kiên Giang Province. The Mekong Delta region needs an investment of VNĐ120 trillion for the green growth by 2025.
Read more at http://vietnamnews.vn/economy/417491/mekong-delta-needs-vnd120-trillion-in-public-investment-by-2025.html#UWXddjjFkEB9eT8X.99
Tourists in Phú Quốc Island, Kiên Giang Province. The Mekong Delta region needs an investment of VNĐ120 trillion for the green growth by 2025.
Read more at http://vietnamnews.vn/economy/417491/mekong-delta-needs-vnd120-trillion-in-public-investment-by-2025.html#UWXddjjFkEB9eT8X.99
The Mekong Delta region needs an investment of VNĐ120 trillion (US$5.3 billion) for the green growth from 2016 to 2025, the Ministry of Planning and Investment (MPI) said.

The investment will be used to implement the action plan on green growth in five Mekong Delta provinces of Cà Mau, Bạc Liêu, Sóc Trăng, Kiên Giang and Hậu Giang, changing the Mekong Delta into a region of strong economic development, social progress and a diversified ecosystem.

Under the plan, those provinces will focus on high linkage and sustainability in development of the region, including increase of environmental sustainability and protection of diversified ecosystems.

The infrastructure for the Mekong Delta region in general and those five provinces in the plan in particular will be built and adjusted to adapt to climate change in the near future.

Phạm Hoàng Mai, director general of the Department of Science, Education, Natural Resources and Environment under the MPI, said those provinces must have synchronous solutions to implement this plan.

There are four groups of solutions, including three groups relating to green growth. They are reduction of greenhouse gas emissions, greening of production and greening of consumer lifestyle.

Company to build factory to increase chicken exports

The Koyu & Unitek Company, based in the southern province of Đồng Nai, plans to develop a second chicken processing factory to meet the demand for chicken products of the Japanese market.

The second factory, worth US$20 million, is expected to produce some 550 tonnes of processed chicken each month once operational in 2019. It will enable the company to export about 1,000 tonnes of products to Japan, according to a report from the Vietnam News Agency.

The company's first factory in the province's Long Bình Industrial Zone has a monthly capacity of 350 tonnes, but it is yet to declare the location of its second plant, where construction will begin in 2018.

Koyu & Unitek, a joint venture between Australia and Japan, started exporting chicken products to Japan in September, after receiving approval from Japanese authorities in June. The firm has currently shipped four containers of products to Japan.

James Hiếu, general director of Koyu & Unitek, said that Vietnamese chicken products are favoured by many Japanese consumers.

"Our goal is to bring Vietnamese chicken products into supermarkets in Japan. However, due to insufficient quantities, these products are only being distributed to restaurants and hotels over there," he told the news agency.

Apart from Japan, the company is exploring new export opportunities in other Southeast Asian countries, Hiếu added.

Koyu & Unitek is a member of a supply chain that operates in the animal breeding and feed industry. Other three members of the chain are Bel Ga JSC, a joint venture of the Belgian Belgabroed Group and the Netherlands-based De Heus, as well as the Hùng Nhơn Group and De Heus.

Agreement to promote sale of safe agricultural products

The Department of Cooperatives and Rural Development on Monday signed an agreement with the Cooperative Union of Agriculture Consumption to develop production and distribution linkages for agricultural products.

Deputy Minister of Agriculture and Rural Development, Trần Thanh Nam, said that increasing added values of farming products and reducing production costs were major problems in agricultural production, which required the development of a value chain.

In addition, it was also important to develop large-scale and stable raw material areas and improve awareness of the cooperatives' members.

Lê Văn Tam, chairman of Lam Sơn Joint Stock Corporation, which had built a sugar production linkage with cooperatives and farmers since 1990s, said that enterprises should have stakes at cooperatives to enhance accountability. The preferential interests should also be provided to farmers, he said.

According to Ma Quang Trung, director of the Department of Cooperatives and Rural Development, there were around 400 value chains established nationwide but the demand for co-operating between cooperatives and enterprises remained huge.

Both sides were still confused about the operation models and accountabilities, Trung said.

The Department of Cooperatives and Rural Department and the Cooperative Union of Agricultural Consumption completed a project on building and developing a value chain of Vietnamese safe agricultural products, which was submitted to the Government for approval.

Under the project, regional and inter-regional centres connecting production and distribution of Vietnamese safe agricultural products will be established.

These centres will also supervise the product quality to ensure origin, food hygiene and safety.

This will also help promote a safe and transparent agriculture market, as well as exports of Vietnamese agricultural products.

HAWA: Domestic firms dominate local wood market

Domestic enterprises have dominated Vietnam's wooden furniture market in recent years with annual revenue of US$2 billion, said Huynh Van Hanh, vice chairman of the HCMC Handicraft and Wood Industry Association (HAWA).

At a press conference on the Vietnam International Furniture and Home Accessories Fair 2017 (VIFA Home 2017) last Friday, Hanh said Vietnam annually spends only US$68 million importing wooden products as reported by the General Department of Vietnam Customs. That is to say most wooden products on the domestic market are home-made.

Local firms have made good use of their advantages and understood consumers' demand. They have invested heavily in advanced machinery and techniques to improve their products' quality and designs, and offered good after-sale services and other services to satisfy customers.

However, local wood processing companies are facing numerous challenges. Duties on wood imports have been cut to zero due to the trade pact between China and ASEAN, opening the market for fierce competition between imported and local products, said Hanh.

In addition, Vietnam has to spend a large amount of money importing wood materials, thus increasing production costs and prices of locally processed products.

In order to enhance the competitiveness of domestic products, HAWA advised enterprises to invest in new machines and technological equipment, and study the market carefully to launch appropriate products. Enterprises were also urged to use wood from replanted forests rather than natural ones and use local materials to reduce imports.

HAWA also said export of wood and wooden products in the first nine months of the years was strong. According to the General Department of Vietnam Customs, wooden product exports in January-September reached US$5.55 billion, up 11.3% year-on-year.

Foreign-invested enterprises exported US$2.63 billion worth of wooden products in the period, accounting for 47.4% of the total export turnover.

VIFA Home 2017, jointly held by Lien Minh Wood Handicrafts JSC and HAWA, will take place from November 23 to 26 at Phu Tho Indoor Stadium in HCMC.

Hanh said as many as 87 enterprises with 487 booths have put their names down to participate in the expo. Of which, 31% of them are trading in wood processing, 33% in interior decoration, 11% in handicraft and the remaining in supporting industries.

Hanh said HAWA would take measures to prevent producers from using illegal timber from participating in those fairs organized by the association. Enterprises that want to take part in HAWA's expos must prove the origin of their products' materials.

In May, the Vietnam Timber and Forest Product Association (Vifores) coordinated with some agencies to hold a seminar on "Vietnamese wood industry says no to illegal timber". Accordingly, Vietnamese associations and enterprises active in the wood processing and trading sector, including those in traditional craft villages, had to sign a commitment not to use illegal timber to ensure sustainable development for the industry.

Resolution intended to fuel growth in HCMC

Regulations provided in a draft resolution on pilot mechanisms and special policy intended to prop up growth in HCMC were delivered last week to the National Assembly (NA) by Finance Minister Dinh Tien Dung.

These regulations would facilitate the municipal government to allocate more resources in order to improve its infrastructure and investment environment, and deal with social and environmental issues.

They would help fuel the more rapid and sustainable growth of the city as a driving force of the southern economic region, contributing more to the national socio-economic growth and the State budget.

HCMC, the largest city in the country, is home to an estimated 8.4 million residents this year, accounting for 9.1% of the nation's population.

In terms of economic scale, the city made up 21.6% of the country's gross domestic product (GDP), and contributed 27.8% to the country's total budget revenue in 2016. The city has posted an annual economic growth rate of 10.45%, higher than that of the country at 6.5%.

However, its infrastructure does not keep up with its current situation, thus hampering the city's fast and sustainable growth.

SHTP attracts four more supporting industries projects

The Saigon Hi-Tech Park (SHTP) last Friday granted investment licenses to four new hi-tech supporting industries projects in the park.

Echigo Vietnam JSC will pour US$10.6 million into a high precision mold manufacturing project. The plant will be built on an area of 7,500 square meters with an annual capacity of 240 molds and 100 million accessories.

THT Precision Engineering Co Ltd was approved to develop precision engineering products for hi-tech engines and machines. The company plans to spend US$12 million manufacturing 600,000 drive shafts a year.

Meanwhile, APC Industry Corporation will invest US$7.5 million in a plant to manufacture hi-tech support equipment such as motors, electric generators, transformers and electricity distribution and control equipment.

Duy Khanh Engineering Co Ltd will develop a precise mold and machinery plant at a total cost of more than US$5.2 million.

The SHTP Authority and HCMC as a whole is encouraging investment in supporting industries and precision engineering.

Le Hoai Quoc, head of the SHTP Authority, said the park had attracted 128 projects with a total investment of nearly US$7 billion as of last month. Among them, ten hi-tech corporations such as Intel, Microsoft, Nidec, Jabil, Sanofi, Datalogic, Samsung and Sonion have created jobs for nearly 40,000 workers.

Notably, SHTP's products annually make up 94% of the total value of hi-tech products in the city. Exports from the park account for 30% of the city's total export revenue and is expected to contribute US$1-1.5 billion a year to the city's budget from 2020 onwards.

The HCMC government has assigned the hi-tech park authority to develop a 197-hectare science and technology park as the second hi-tech park in the city. The project to be built next to the current SHTP will be introduced to investors in the third quarter of next year.

SHTP Labs promotes cooperation in sensor production

In related news, the Research Laboratories of Saigon High-Tech Park (SHTP Labs) last Thursday signed cooperation agreements with Chienowa Vietnam and HeloLife on developing and manufacturing pressure sensors in Vietnam.

This signings took place on the sidelines of an international conference on micro-electro-mechanical system (MEMS) and sensor technology organized in HCMC by the management board of SHTP.

SHTP Labs in coordination with HeloLife will manufacture 1,000 pressure sensors and test the products. If the pilot run is successful, they will produce such products en masse for U.S. automakers.

Meanwhile, Chienowa Vietnam will transfer technology to SHTP Labs, with an aim to foster cooperation in producing pressure sensors for Japanese automakers.

SHTP Labs has researched, designed and manufactured its own pressure sensors, and got the HCMC government's permission to install the devices in 15 flooded areas of the city for test run.

According to SHTP Labs, the devices will automatically measure the water levels in areas flooded by downpours or flood tides, and send data to the servers.  The servers will then deliver flood warnings through a mobile app, and suggest appropriate routes that help the users avoid flooded areas.

Cooperation with Chienowa Vietnam and HeloLife is expected to help SHTP Labs develop its pressure sensor products to supply automakers.

SHTP Labs also signed agreements with Nhan Luat Steel JSC, Microlux Group and MTEX Co Ltd in developing MEMS technology and MEMS packaging.

Up to now, SHTP Labs has been the only unit in Vietnam whose pressure sensor products are tested under real operating conditions.

Speaking at the conference, vice chairman of HCMC Tran Vinh Tuyen said MEMS and sensor technology are important to the city's economy as it is boosting restructuring.

The conference has offered a chance for researchers, experts and manufacturers in the field, and policy makers to promote cooperation, seek partnership and share experience.

"The city will create favorable conditions for domestic and foreign businesses to invest in the MEMS and sensor industry, especially the application of MEMS and sensor technology in healthcare, education, transport, flood prevention, environmental protection, food safety and hi-tech agriculture," Tuyen said.

Doing away with 'barter trade'

The good news now is that the HCMC government has decided to do away with the so-called barter trade in infrastructure development. The weird form of barter trade – which is not the preferable non-cash transaction, but the absence of money as a means of payment in modern-day business – has for quite a long time prevailed in not only the city but other parts of the country, under which an investor will develop a certain infrastructure project and is allocated land in return.

For many years, there have been concerns about such an investment form, officially known as the Build-Transfer (BT) format as part of a wider public-private partnership that also includes the Build-Operate-Transfer (BT) format.

In 2013, the Ministry of Planning and Investment voiced its concerns about the BT format, saying there remained many loopholes in regulations governing this form. Ever since, many State agencies have also complained about the waste of the country's land resources, as vast areas of land have been offered to investors at low prices in exchange for roads and bridges.

Most recently, Ho Duc Phoc, head of the State Audit of Vietnam, told a conference in Hanoi three weeks ago that flaws are awash in the BT format, as it is fertile ground for interest groups due to the lack of transparency. Investors in BT projects have for the most part been appointed by local authorities instead of having to go through a tight screening process or a competition.

In an effort to remedy the situation, the HCMC government has just decided to put on hold all those BT projects still under negotiation, pending a new set of procedures governing this investment format. The key aim, said HCMC Vice Chairman Tran Vinh Tuyen at a seminar last week, is to make the whole process transparent and to ward off all possible irregularities. A report at the seminar shows that as many as 130 investors have submitted schemes to develop infrastructure projects in the city under either BT or BOT, with total estimated capital of VND350 trillion, or roughly US$15 billion.

The city government does not mean to shun the BT format, which is said to have helped the city mobilize over VND20 trillion in 2015-2017 for infrastructure projects. However, land instead of being handed over to investors will be put up for auction, and the money will be used to reimburse such investors. Investors for infrastructure projects will also be chosen via competitive bidding.

Such a move apparently will help enhance transparency in capital construction, and is seen a farewell to the old-fashioned barter trade in this field.

However, more efforts need to be taken to do away with the weird barter trade still rampant in other areas of the economy. Donating a social housing building to get land for a commercial condo project, or building a school or a medical center in a certain region to gain similar privileges are just a few examples of barter trade that should be removed, if real transparency is to be achieved.

Vietnam Foodexpo 2017 to take place in November

International Food Industry Exhibition (Vietnam Foodexpo 2017) is scheduled to open at Saigon Exhibition and Convention Center (SECC) in district 7, Ho Chi Minh City from November 15- 18.

The exhibition is expected to attract 600 booths of 450 domestic and foreign enterprises from 31 nationwide provinces and cities and more than 20 countries and territories; especially enterprises winning the title of the National Brand Name and the large- scale firms in the food industry will aslo introduce their products at the exhibition.

Fresh vegetable, desiccated, processed and frozen food and drink, beverages such as ...will be displayed at the event. 

Vietnam Azalea Fund fully divests from Traphaco

Mekong Capital has announced that its Vietnam Azalea Fund (VAF) has successfully divested its 24.99 per cent holding in the Traphaco JSC at VND141,500 ($6.2) per share, for a total consideration of more than $64.5 million, generating a gross return multiple of 6.3x in USD.

VAF initially acquired a 5 per cent stake in Traphaco in 2007 through a pre-IPO investment, becoming the first foreign shareholder in the company. It subsequently increased its stake through several on- and off-market transactions to establish itself as a meaningful minority investor.

"We have truly valued the opportunity to be an active partner of Traphaco over the past ten years," said Mr. Chad Ovel, Partner at Mekong Capital. "Throughout, Ms. Vu Thi Thuan, Chairwoman, and Mr. Tran Tuc Ma, CEO, have provided visionary leadership driving the company's rapid but sustainable growth. Together with the rest of the stable and loyal senior leadership team at Traphaco, they have built a company with excellent brand integrity, products of unquestionable quality, and a first-class distribution system to reach consumers in all 63 cities and provinces of Vietnam. Traphaco is now a role model for all other pharmaceutical companies in Vietnam."

When VAF invested in Traphaco in 2007, the company was ranked among the Top 20 pharmaceutical companies in Vietnam, with revenue and net profit of VND533 billion ($23.4 million) and VND38 billion ($1.67 million), respectively. During the lifecycle of its investment in Traphaco, VAF guided the company to develop into the second largest pharmaceutical company in the country.

As an active and value-adding shareholder to its investee companies, VAF initially focused on supporting Traphaco to build its distribution network by growing from two branches at the time of its investment to the current 24.

A second focus of VAF was to support the dramatic conversion from previously selling nearly 80 per cent of its products via wholesalers to a direct sales model reaching 26,000 retail pharmacies nationwide. In the last phase of its investment, VAF triggered a major enhancement in corporate governance by building one of the most independent and non-executive Boards of Directors among listed companies in Vietnam.  

Traphaco is a vertically-integrated pharmaceutical company specializing in the development, marketing, and distribution of traditional Vietnamese medicines.
The company is the clear leader in sector and the second-largest pharmaceuticals manufacturer in Vietnam in terms of revenue and net profit. It possesses a strong brand, two GMP-WHO manufacturing factories, and a nationwide distribution network with 24 distribution branches.

The Vietnam Azalea Fund was launched in June 2007 to focus on pre-IPO investments. It made seven investments, in PNJ, FPT Corp., Intresco, Nam Long, Masan Consumer, Loc Troi, and Traphaco. Traphaco was its last remaining investment, and with the exit the fund has now fully divested from its portfolio companies.

OPIC to support AES in energy project

President and CEO of the Overseas Private Investment Corporation (OPIC), Mr. Ray W. Washburne, presented a letter of intent on November 12 to the Virginia-based energy company AES, expressing its support for the construction of a liquefied natural gas (LNG) terminal and 2,250 MW combined cycle power plant in Vietnam.

The presentation took place at the Presidential Palace in Hanoi in the presence of State President Tran Dai Quang and US President Donald Trump, who paid a State visit to Vietnam on November 11 and 12.

The power plant will provide around 5 per cent of Vietnam's power generation capacity and support its continued economic development, OPIC said in a press release.

"This project is in line with OPIC's initiative to promote the expansion of LNG markets in the Indo-Pacific region," said Mr. Washburne. "We are excited about the opportunity to support AES and look forward to facilitating critical investment in Vietnam's energy infrastructure and supply."

"With this project, AES plans to leverage from our experience and replicate the success of our LNG businesses in Central America and the Caribbean," said Mr. Mark Green, President of AES's Eurasia Strategic Business Unit. "AES has been partnering with OPIC on various state-of-the-art power generation projects around the world and is grateful for the agency's expertise and support with this new project in Vietnam."

The project will help bring sustainable and cost-effective energy to Vietnam while at the same time satisfying growing demand for electricity and the need for natural gas in Asia. Creating sustainable energy solutions, including renewables and natural gas, contributes to economic and social development. The integration of multiple sources of energy will help ensure reliability of energy supply as Vietnam continues to grow.

Established in 1971, OPIC is a self-sustaining US Government agency that helps American businesses invest in emerging markets. It provides businesses with the tools to manage the risks associated with foreign direct investment, fosters economic development in emerging market countries, and advances US foreign policy and national security priorities.

AES Corp. provides affordable, sustainable energy to 16 countries through its diverse portfolio of distribution businesses as well as thermal and renewable generation facilities. 2016 revenues were $14 billion and it owns and manages $36 billion in total assets.

Unisto & Blue Dragon to open security seals factory

 in Asia, has recently signed a memorandum of understanding (MoU) with Vietnam's Blue Dragon Consulting Ltd to set up a joint venture company manufacturing high quality security seals. The deal aims to boost the current supply of high quality security seals in the domestic market by building a factory to manufacture such seals in southern Ba Ria Vung Tau province.

Ms. Nguyen Thi Bich Thao, Managing Director of Blue Dragon, affirmed that with the current close cooperation with Unisto, the company is proud to be the leading company in Vietnam in supplying international-standard security seals and ensuring they are delivered safely and securely.

"The trust of esteemed customers such as Vietnam Airlines, INSEE, Vinamilk, SASCO, DHL, Brink Vietnam, APL and many others is evidence of the efficiency and high quality seals Blue Dragon brings to customers," she said.

"The partnership with Blue Dragon aims to bring innovative security solutions into high quality security seals in Vietnam," said Mr. Alex Tai from Uniss Manufacturing. "The cooperation plan for the factory's construction is part of bringing Swiss technology closer to Vietnamese customers and expanding in overseas markets."

"We hope to bring our expertise and original security solutions through this joint venture, with a strong commitment that our security solutions will help customers from various industries such as transport and distribution, chemicals and pharmaceuticals, banking and cash-in-transit, and courier services to maximize their profit from our security solutions."

Blue Dragon and Unisto were selected last year as the trusted supplier of security seals for the "Pork Traceability Project" of the Ho Chi Minh City Department of Industry and Trade. "We are proud to contribute a small part in the supply chain to ensure that Ho Chi Minh City's populace are using pork products that can be traced from the source, to ensure public health and safety," Ms. Thao said.

The selection of Unisto as joint venture partner helps Blue Dragon bring Swiss quality products to Vietnam and neighboring countries like Laos and Cambodia at the most competitive price.

This is also a turning point in educating the general public and address counterfeit goods and low quality cheap seals, which are prevalent in Vietnam.

Unisto AG is an international corporation established in 1926, with more than 90 years of experience in the fields of security seals and brand identification. It is headquartered in Switzerland and has manufacturing plants in Germany, France, India, and Malaysia.

After eight years of establishment, Blue Dragon is now a leading company in providing high-quality products of international standard to Vietnam, ensuring goods safety in the process of transportation. In addition to supplying security seals for the TE FOOD project in Ho Chi Minh City, it also supplies security seals to Vietnam Airlines, Coop Mart, Holcim, True Milk, Vinamilk, Gemadept, Vietsun, and Brink Vietnam, among others.

The scheme for pork origin traceability employing security seals is being implemented by the Ho Chi Minh City Department of Industry and Trade, with seal supplies from many enterprises, including Blue Dragon, a long-time partner of Unisto AG in Vietnam. Unisto's products were selected under stringent requirements on technology as well as the assurance of safe delivery.

As part of the smart urban construction plan to help Ho Chi Minh City become a more civilized and modern society and also adhere to the trend of international integration, the food safety project was launched in December 2016.

Through the application of security seals, information originating from authorized piggeries are captured digitally, which includes origin, place of slaughter, and slaughter time, are displayed for consumer's knowledge. "What is the source of nutritious food for the family?" is no longer an issue. This creates an atmosphere of consumer confidence in food supply countrywide.

Navistar signs MoU with local distributor

The Navistar International Corporation has signed an MoU with Hoang Huy, its distributor in Vietnam, that paves the way for the import of up to $1.8 billion in International trucks into the country over the next ten years.

The MoU represents the next phase of an already successful relationship between Navistar and Hoang Huy to grow its business in Vietnam over the next decade through the sale of new trucks, used trucks, and service parts.

The signing took place at the Presidential Palace in Hanoi on November 12 and was witnessed by State President Tran Dai Quang and US President Donald Trump.

"Navistar is bullish about the Vietnamese market and we have established a strong and successful relationship with our partner, Hoang Huy," said Mr. Persio Lisboa, Navistar's Executive Vice President and Chief Operating Officer. "Working together, our exports of International brand trucks to Vietnam over the past two years have been phenomenal. We are poised to reach new heights in the months and years ahead as a result of this agreement. We could not have been in this position without the strong support of the US State Department and the US Department of Commerce."

Navistar was introduced to Hoang Huy in 2015 via a Gold Key partner search conducted by the US Department of Commerce. The Gold Key service provides US firms seeking foreign business partners with introductions to pre-screened candidates. Hoang Huy has sold more than 7,000 International ProStar trucks to trucking and logistics companies, capturing 50 per cent of the heavy truck market in Vietnam. The trucks are used to transport merchandise between Vietnam's largest cities and carry export products to neighboring countries.

Navistar also exported 21 new International DuraStar trucks to Vietnam earlier this fall. The medium-duty trucks, which were manufactured at the company's Springfield, Ohio plant, were purchased by the Vietnamese Government. The sale marked the company's first sale of new trucks in Vietnam.
"I am encouraged by the flexibility and performance of the new trucks and am confident they will be enthusiastically received by customers," said Mr. Do Huu Ha, Hoang Huy's Chairman.

The Navistar International Corporation (NYSE: NAV) is a holding company whose subsidiaries and affiliates produce International brand commercial and military trucks, proprietary diesel engines, and IC Bus brand school and commercial buses. An affiliate also provides truck and diesel engine service parts. Another affiliate offers financing services.

Hoang Huy is currently the leading truck distributor in Vietnam and is listed on Ho Chi Minh Stock Exchange (HoSE) under stock code TCH.

PVGAS signs Alaskan LNG MoU

The Alaska Gasline Development Corporation (AGDC) and PetroVietnam Gas (PVGAS) have signed a memorandum of understanding (MoU) setting forth the basic principles for collaboration on potential opportunities in liquefied natural gas (LNG) supply from AGDC to serve LNG import projects in Vietnam and to evaluate the possibility of upstream resource investment in Alaska.

The agreement was signed in Hanoi on November 12 by executives of AGDC and PVGAS in the presence of State President Tran Dai Quang and US President Donald Trump.

"The agreement with Vietnam fits very well with AGDC's broader marketing program and recently announced deal with Sinopec, which leaves a portion of the Alaska LNG production capacity with AGDC for sale to regional Asian markets such as Vietnam," said Mr. Keith Meyer, President of AGDC. "Vietnam is a new entrant to the LNG industry but has the potential to be a rapidly growing customer of LNG and we look forward to participating in the growth of Vietnam's economy by providing reliable and stable natural gas supply."

"Alaska's market proximity and enormous resource base present an attractive opportunity for PVGAS to provide stable and secure gas supplies to Vietnamese industrial users and citizens, and upstream investment opportunities for a bright long-term future," said Mr. Duong Manh Son, President and CEO of PVGAS.

PVGAS is a subsidiary of the State-owned PetroVietnam. It is developing LNG receiving and regasification terminals in Vietnam - Thi Vai LNG Terminal and Son My LNG Terminal - in order to supply natural gas to newly-built and proposed power plants and existing gas users.

Alaska LNG is an integrated gas pipeline and LNG infrastructure project that will provide a direct and reliable link between the vast proven and conventional natural gas resources on Alaska's North Slope with growing LNG markets across the Asia-Pacific region.

VSMCamp 2017 seizes the digital flow

More than 40 inspirational speakers will be gathering at Vietnam Sales & Marketing Camp (VSMCamp) and CSMOSummit 2017, which will take place on November 17-18 at Him Lam Palace in Tan Son Nhat Golf Course, to discuss the latest sales, marketing, and communication trends in the course of digital revolution.

Organised by Vietnam Sales & Marketing Officers Club (CSMO Vietnam) and Le Bros, VSMCamp was first launched in 2016 to offer participants the chance to update on the latest trends and expertise as well as to broaden their networks for further career development.

Coming back this year with the topic "Digital Transformation," VSMCamp 2017 features two separate events: VSMCamp taking place on November 17, where every seller and marketer is welcome, and CSMOSummit on the next day, which was especially designed for C-level leaders.

In-depth presentations and discussions at VSMCamp and CSMOSummit will be given by a wide range of influential industrialists from the UK, China/Hong Kong, Singapore, India, Thailand, and Vietnam, representing a mixture of marketing agencies and enterprises from different industries.

VSMCamp focuses on updating on the latest digital trends and technology advancements of Industry 4.0, and providing an expert overview and assessment of all the opportunities and challenges this digital revolution brings to the sales and marketing industry.

Meanwhile, CSMOSummit provides a deeper analysis into the restructuring of human resources management systems for better adaption to the digital revolution; exploiting effective digital campaigns to address untapped demand; and seeking solutions to strengthen internal-external relationships in the digital ecosystem.

There will be also special topics that introduce digital adtech and martech trends, such as sensory technology, virtual reality, augmented reality, artificial intelligence, automation marketing, and SaaS (sales as a service).

The rapid growth of social networking and the formation of technology advancements like artificial intelligence and virtual reality have paved the way for Industry 4.0, which is transforming our lives tremendously. Like a fast-flowing stream, digital trends penetrate every aspect of life and strongly affect the way we work, communicate, and interact with each other.

With this substantial impact, it is inevitable that the sales and marketing industry is changing constantly in order to not only keep pace with current trends, but also set new ones in the digital era. Being agile and innovative to incorporate digital achievements into each sales and marketing activity is essential for enterprises to survive, to thrive, and to let their brands reach customers' heart and mind.

All of these contents will be thoroughly discussed at VSMCamp 2017.

Businesses encouraged to seek trade opportunities in Middle East, Africa

The Middle East and Africa have become a potential market for Vietnamese exporters with an import value of US$480 billion last year.

The Ministry of Industry and Trade (MOIT) will hold a seminar in Hanoi on November 21 to update domestic businesses with market information, trade policies, trading habits and import demands of Middle East and African countries.

Main speakers will be representatives from the MOIT, and embassies of the UAE and South Africa in Hanoi.

The Middle East and Africa are considered a potential market with high import demands without strict requirements on the quality of products, said a MOIT representative. Import value of the Middle East hit US$807 billion last year and is expected to rise to US$1,500 billion by 2020.

Vietnam has potential to export rice, tea, coffee, pepper, natural rubber, cashew nuts, fruits, seafood, garment, footwear and handicraft products to the Middle East.

According to MOIT's statistics, import-export values between Vietnam and the Middle East have constantly increased in recent years, reaching US$10.887 billion last year, up 100% against 2011, of which Vietnam's exports to the Middle East were valued at US$8.059 billion and imports were at US$2.828 billion.

Meanwhile, trade turnover between Vietnam and African countries reached US$5.364 billion last year, including Vietnam's exports of US$2.762 billion and imports of US$2.602 billion.

Vietnam holds big potentials for software industry: Siemens manager

Vietnam holds potential to develop its software industry thanks to having many young IT-savvy workers, according to Cedrik Neike, Member of the Managing Board of Siemens AG, Europe's leading industrial manufacturer based in Germany.

He made the comment at a meeting with Deputy Prime Minister Trinh Dinh Dung on November 13 while visiting Vietnam.

In his remarks at the event, Deputy PM Dung affirmed economic ties are the backbone of Vietnam – Germany relations, and the two countries have much potential for further cooperation in the future. 

Dung hoped that Siemens, as one of Germany's largest groups, will continue to help boost bilateral relations, particularly in trade, economics, and investment.

The Deputy PM noted that Vietnam needs to develop its power infrastructure to keep up with economic growth and at the same time, must renovate and develop its power transmission network and enhance technology-based management and operation of the network to ensure safety and cost efficiency.

Siemens has been working in many energy projects with a focus on thermal electricity, providing technical solutions in power network operation and control, Neike said. 

He said that the group is looking to expand into the software industry and transportation infrastructure development through offering solutions for smart traffic and smart city management.

Welcoming the plan, Dung added that Vietnam will facilitate investment in machine building, energy, medical equipment and railway.

During the meeting, the Siemens manager hailed Vietnam as a dynamic economy in the region and as a promising market for Siemens' products with all the hallmarks for the company to expand production for export.

Violations at South Korean-invested 300-hectare golf course

The Government Inspectorate has pointed out violations at a 300-hectare golf course project in the northern province of Hoa Binh.

According to the Government Inspectorate, Hoa Binh Province licensed the Phuong Hoang golf course project although it does not belong to the local land planning approved by the prime minister.
   
The provincial people's committee acquired land to hand over to the project investor, South Korea's CharmVit Group. The committee and the investor negotiated the land rental by themselves before signing the agreement, but failed to conform to the government's regulations.

The land lease agreement was inked on January 31, 2009, but it was only a year later that the investor paid, violating government decrees and causing financial waste for the state budget.

The investor and local authorities did not set up a detailed planning of the project at the rate of 1/500 as regulated. Many elements of the projects have been built without being licensed.

The project investor has been requested to propose measures on re-defining its financial duties for the submission to the prime minister.

Mai Linh to introduce app-based motorbike taxi service

The soon-to-be-introduced Mai Linh Bike, known as M.Bike, will provide more options for app-based motorbike transport services and join UberMoto and GrabBike.

The new service has been tested for a month, according to the Mai Linh Group. M.Bike and M.Bike Premium apps are now available on smartphones at app stores. M.Bike Premium will offer higher quality vehicles at double the cost. Drivers can also register via the apps.

M.Bike is expected to allow customers to book rides from November 20, at VND11,000 ($0.48) for the first two kilometers and VND3,800 (0.167) for every subsequent kilometer. UberMoto charges a minimum of VND10,000 ($0.44) for the first two kilometers then VND3,700 (0.162) per kilometer and GrabBike charges VND11,000 for the first two kilometers and a flexible charge for every subsequent kilometer, depending on the time and demand.

M.Bike will be available in Hanoi, Da Nang and Ho Chi Minh City before expanding to other localities, according to the Mai Linh Group.

The Mai Linh Taxi booking app was launched a few months ago and there are plans to introduce more functions for searching, travel, shopping, and online payments.

At the end of 2014, Grab began to develop "technology motorbike taxis" in Ho Chi Minh City, which found success and created fierce competition. Many traditional taxi businesses then considered the development of similar system to increase competitiveness. 

The Mai Linh Group, one of the major taxi operators in Vietnam, is the latest brand to offer the app-based service. In its financial report for the first half of this year, net revenues were estimated at VND1.72 trillion ($77.2 million), down 5 per cent year-on-year. The report also noted that up to 6,000 staff had resigned during the period, with the majority being drivers. The group currently employs 24,000 people. Many drivers have started working for app-based taxi services like Uber and Grab. The group announced it will recruit an additional 2,600 staff members, including 2,500 drivers.

Piaggio Vietnam recalls more than 3,000 Medley scooters
     
Piaggio Vietnam is recalling 3,335 Medley 125/150 ABS units to check and fix a problem related to a fault in the main frame, which can be seriously damaged if it carries goods heavily.

The recall campaign for vehicles manufactured from February to August 2016 was launched after the Italian producer found a fault during periodic inspections of Piaggio Group's quality control system.

According to a representative from Piaggio Vietnam, no damage has been recorded in the Vietnamese market. The check of Medley vehicles under the recall will be free and an upgrade will enhance the rigidity of the main body.

Piaggio Medley has invested in advanced technology with the anti-lock braking system; however, sales of this model are not as expected. Since its launch in Viet Nam in March 2016, the firm has witnessed only a few months of impressive sales. Numbers have declined dramatically since the beginning of this year.

Piaggio Vietnam does not announce the sales figures for each specific model, however, retail sales figures from the Vietnam Automobile Manufacturers Association showed that the firm sold more than 23,000 units in the first nine months of this year. Medley is currently the lowest selling car of Piaggio Vietnam. 

OPPO F5 orders hit record at Mobile World
     
Giant mobilephone retailer The Gioi Di Dong (Mobile World) has announced that it has started selling the new OPPO F5 mobilephone to customers.

Mobile World said that before the phone officially hit the market, they had received nearly 14,000 orders, of which 11,000 had made a deposit.

"This is a record," the company said, comparing it to the previous record of 10,039 orders for OPPO F1s mobilephones in August 2016.

The company began receiving orders for the F5 mobilephone on November 4 and within only four days, they had received 6,000 deposits.

Sixty per cent of the orders were placed for the gold-coloured phone and 40 per cent for black.

F5 is a new mobile phone released by OPPO with many new functions including a full HD 6-inch screen and 3,200mAH battery at the price of VND6.999 million (US$306). 

Firms to buy back their shares in bid to raise value
     
Seeing share prices tumbling, some companies have decided to buy back their shares in an effort to increase their value.

Lam Son Sugar Joint Stock Corporation (LSS) decided to repurchase six million of the company's shares, equivalent to 8.6 per cent of outstanding shares, on the HCM Stock Exchange, after its shares lost over 33 per cent of their value in the last four months.

The transactions are expected to happen from December 1-31.

LSS shares have fallen below the par value of VND10,000 a share since early this month, a loss of 33.2 per cent from the peak of VND15,000 on June 26, and a loss of 15 per cent since the start of 2017. At this price, the company will likely spend about VND54 billion for the repurchase.

The performance of sugar makers has slid this year after a strong showing in 2016. Revenues of Lam Son Sugar declined 53 per cent year-on-year to VND214 billion (US$9.4 million) in the first quarter of the fiscal year 2017-18. Its net profit, at just over VND12 billion, was just one third of its profits over the same period in 2016.

In 2016, the company's revenues and pre-tax profits increased 18 per cent and 38 per cent, respectively.

The poor result could be blamed on falling sugar prices on the world market, currently being traded around $15 per pound of sugar, down sharply from $24 per pound at the end of September 2016.

Another sugar company, Thanh Thanh Cong Tay Ninh JSC (SBT) is also considering a repurchase of 83.5 million shares, or 15 per cent of outstanding shares, after its shares plummeted 50 per cent in the last three months, from over VND41,000 per share in early August to just over VND21,000 on Monday.

The company will seek shareholders' approval for the repurchase programme, which is expected to take place during daily trading on the stock exchange in the shareholders' meeting on November 20.

Earlier, the company's trade union registered to buy five million shares of the company for long-term investment purposes from November 15 to December 14.

After the merger with Bien Hoa Sugar (BHS) on September 6 this year, the total assets of SBT increased from VND7.8 trillion to VND19.4 trillion, of which equity capital is more than VND6.9 trillion and liabilities were nearly VND12.5 trillion. The company holds about 30 per cent of the domestic sugar market share.

Besides sugar firms, garment manufacturer Everpia JSC (EVE) has also announced a repurchase programme of three million shares, equivalent to 7.1 per cent of its capital. The company's shares have lost about 32 per cent of their value this year after it reported gloomy business results in the first nine months: the company posted VND79.7 billion in net revenues and VND32.4 billion in net profit, down 62 per cent and 50 per cent year-on-year, respectively.

Hoang Quan Consulting-Trading-Service Real Estate Corporation (HQC) has decided to buy back a maximum of 10 million shares, equal to 2 per cent of outstanding shares, to maintain the share value after it plummeted 50 per cent this year to around VND2,600 per share.

Companies may buy back their own shares from the marketplace when the shares have declined sharply and are undervalued to push up the price and protect shareholders' interests. This solution seems to be effective so far: shares of all these companies have begun rising again in recent sessions, indicating that investors believe share prices will rise on the companies' buy-backs. 

New regulations on use of credit cards
     
Credit cardholders will not be allowed to withdraw cash worth of more than VND5 million for domestic transactions and no more than VND30 million for foreign currency.

The State Bank of Viet Nam (SBV) recently released a draft circular amending and supplementing Circular No 19/2016/TT-NHNN on bank card operation.

Accordingly, for the withdrawal of cash by cards abroad, to limit the use of cash as foreign currency spent for improper purposes that are not permitted by the law, the draft stipulates that cash withdrawal transactions will be subject to a daily cap limit.

For a withdrawal of foreign currency cash in a foreign country, a card holder can withdraw maximum amount of cash in foreign currency equivalent to VND30 million (US$1,300) per day.

For cash withdrawal at domestic card accepting units, each card holder can withdraw maximum VND5 million in one day.

The draft also stipulates that in case of issuance of credit card with security assets, the credit limit granted to the cardholder shall not exceed 80 per cent of the value of the security assets, which is valued at a maximum of VND1 billion.

In case of credit card issuance without security assets, the credit limit granted to a cardholder is VND500 million.

These stipulations have no precedent, therefore credit institutions should review them carefully.

The draft also supplements regulations on the issuance of cards to foreigners to prevent the case where foreigners enter the country for a short period and then exit the country to carry out criminal activities by using the credit cards issued by institutions in Viet Nam. 

RCEP negotiating nations now aim to conclude agreement in 2018+
     
The 16 nations involved in negotiating a free trade bloc in East Asia including China and India have now agreed to push to conclude an agreement in 2018, having missed deadlines for three years.

 "We have agreed that RCEP should complete negotiations in 2018," Indonesian Minister of Trade Enggartiasto Lukita told Kyodo News after a meeting in Manila among trade ministers from the countries involved in pursuing the Regional Comprehensive Economic Partnership free trade agreement.

They include the 10 members of the Association of Southeast Asian Nations (ASEAN), plus Japan, China, India, South Korea, Australia and New Zealand. Together the group encompasses a population of 3.4 billion people, and a combined gross domestic product of US$49.5 trillion, or approximately 39 per cent of the global economy.

Lukita said he urged countries with excessively high standards to reduce their expectations and be "more realistic and flexible."

"The principle of flexibility is important," another source said. "We are so diverse, we have developed countries, developing countries, we have emerging economies, so we have to be realistic."

"This is the only game in town," Lukita said in an apparent reference to the Trans-Pacific Partnership, another massive free trade pact which at one point seemed doomed when newly elected US President Donald Trump ordered the US to withdraw from it.

However, the TPP now appears to have renewed prospects for adoption after its 11 remaining signatories agreed on Saturday to keep pursuing its implementation despite the US withdrawal.

It is also not clear if the RCEP countries' leaders will in fact set a new target date for completing negotiations in 2018 when they meet Tuesday in Manila, as India is against doing so, one ASEAN source said.

Other differences also continue to stymie concluding negotiations that began five years ago.

"RCEP is not going to be settled (soon) as China and India cannot agree on respective coverage of tariff reduction. Also Australia wants more concessions from ASEAN countries on services," the source said.

"I would assume that would be the message from the leaders. They have been negotiating this for five years, missed two time targets, but now we have a new mandate with the understanding that we have to be more flexible to each other," said an Indonesian official involved in RCEP.

RCEP had already missed 2015 and 2016 deadlines before officials conceded in recent months the group would not meet its 2017 deadline.

So far "all the parties have submitted their improved offers for goods and services, improved reservations list, so we are moving, although in terms of the value put on the table it is not as high as we would expect. Now the issue for us is how to improve the quality of offers on the table," the Indonesian official said. 

HCMC promotes trade with S Korea's Daegu city
     
Viet Nam plans to eliminate tariffs on raw materials and spare parts and lower tariffs on small appliances and cosmetics imported from South Korea, according to Le Thanh Liem, vice chairman of the city People's Committee.

Speaking at the HCM City – Daegu Business Forum held on Monday in HCM City, Liem said in return Viet Nam would have opportunities to expand exports to South Korea of key products such as farm produce, seafood and textiles.

"The South Korea-Viet Nam Free Trade Agreement (FTA), which came into effect at the end of 2015, opened new economic cooperative opportunities and is expected to bring two-way turnover at US$70 billion by 2020," he said.

South Korea is one of the three biggest trade partners of Viet Nam. "The country is HCM City's fourth investor with 1,417 projects and total investment capital of $4.6 billion," he said.

Big Korean groups like Samsung, Lotte, CJ and GS have been successful investors in the city, he said.

As for tourism, the city welcomed more than 423,000 Korean visitors last year, a surge of 35 per cent compared to 2015, according to Liem.

"In the coming time, HCM City aims to achieve sustainable development and become a smart city," Liem said. "The city will focus on improving the quality of human resources, quality of growth and competitiveness of the economy, giving priority to reducing traffic congestion and accidents and flooding as well as reducing environmental pollution."

The city will create the most favourable conditions and protect the rights and benefits for foreign investors, particularly Korean enterprises, to invest in Viet Nam, he pledged.

"The country and the city will continue creating cooperation and exchange programmes through practical projects between the two countries," he noted.

Pham Thiet Hoa, director of the HCM City Investment and Trade Promotion Centre (ITPC), said HCM City was the largest economic and financial centre in Viet Nam and one of the most dynamic cities in the ASEAN region.

The city is calling for investment in nine priority sectors, including finance - credit - banking - insurance, commerce, tourism, logistics, science and technology, post and telecommunication, real estate, healthcare and education.

In addition, the city has offered many policies and incentives for four industries with high added value such as mechanical manufacturing, electronics - information technology, chemicals - plastic - rubber, and food processing.

Kwon Young Jin, mayor of Daegu, said that the city, well known as a hub for thread industry, tourist, health and culture, would welcome businesses from HCM City and Viet Nam to invest in the city, and that Korean businesses, especially from Daegu, look forward to more opportunities for cooperation in investment in the city.

South Korea also plans to open direct flights from Daegu to HCM City, he said.

Korean banks and the Daegu Chamber of Commerce and Industry will open branches and representative offices in HCM City to facilitate trade and share information for business cooperation between the two sides, he added.

More than 7, 000 Vietnamese people live and work in Daegu. There are 250 Daegu city's businesses investing in Viet Nam.

The HCM City – Daegu Business Forum was organised by Department of Planning and Investment and ITPC as part of the HCM City – Gyeongju World Culture Expo 2017 being held in the city.