VietNamNet Bridge – Too many regulations, too much paper work, too many rules and a lack of capital are among difficulties startups in the Asia-Pacific region are facing, said a US delegate to the Vietnam Business Forum (VBS).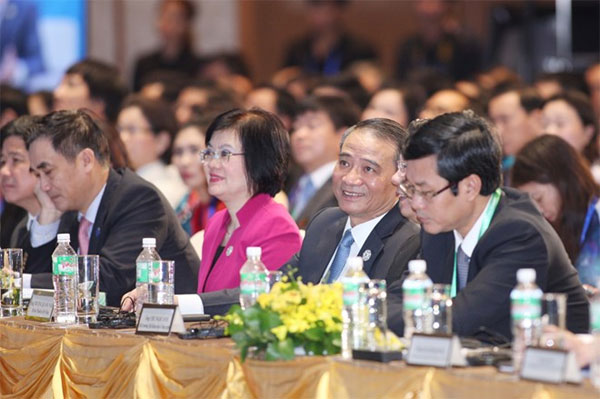 Delegates to the Vietnam Business Summit (Photo : VNA)
Talking to a Vietnam News Agency reporter on the sidelines of the event, which took place in the central city of Da Nang on November 7, Virginia B. Foote, President and CEO of Bay Global Strategies, emphasised the importance of startups to any economy, adding that it is necessary to set up a regulatory regime to facilitate their activities. 
"Part of what we are working on is to help get smaller sums of capital available to startups or groups of startups working together and help each other to get access to loans and capital," she shared.
According to her, it's hard for the government to help startups because they know better what they want than the government does. 
"To mostly not regulate them, the government needs to sometimes get out of the way," said Virginia. 
She also suggested set up an environment where startups are free to experiment. 
Virginia, who used to be the chair of the American Chamber of Commerce in Vietnam, appreciated the VBS' theme "Vietnam: We Mean Business."
"With this theme, Vietnam sends a message that Vietnam opens for businesses, welcomes businesses, is working to grow the economy and bring in international standards and open the door to the world," she said. 
Regarding Vietnam's investment potential, she said most foreign investors in Vietnam, which has attracted foreign investment for 20 years, have done very well. 
"Vietnam reputation is quite good," she said, adding that the country has joined trade agreements and continually raised standards for doing business.
It not only attracts foreign investment but also helps domestic investors, according to her.
Initiated by Vietnam, the VBS was part of the ongoing APEC 2017 Economic Leaders' Week in Da Nang city from November 6-11.
Established in 1989, APEC comprises Australia, Brunei, Canada, Chile, China, Hong Kong (China), Indonesia, Japan, the Republic of Korea, Malaysia, Mexico, New Zealand, Papua New Guinea, Peru, the Philippines, Russia, Singapore, Chinese Taipei, Thailand, the US, and Vietnam.
It represents 39 percent of the world population, 57 percent of the world GDP and 47 percent of the total trade.
Source: VNA