Construction Ministry: HCMC should approve mini-apartments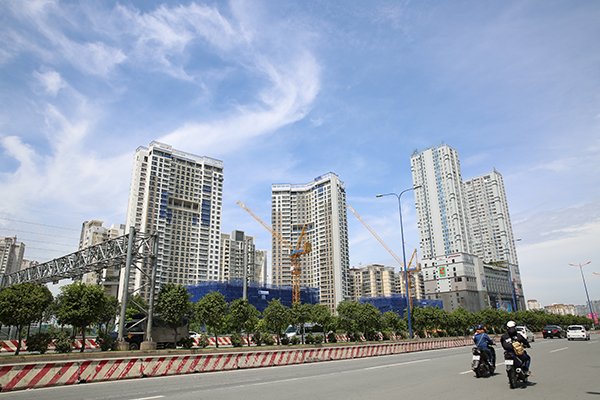 The Construction Ministry has proposed the HCMC government permit the development of commercial apartment units measuring 25 to 45 square meters each, an issue which has remained controversial.
The city wants to curb the minimum area of a commercial apartment at 45 square meters and that of a low-cost social home at 25 square meters given insufficient infrastructure in densely populated areas and severe traffic congestion.
The ministry reasons that the management of planning, and urban order and aesthetics depends on a variety of factors, not just apartment size. The planning criteria for housing projects are intended to deal with population, building density, and residential block height issues.
Countries such as Thailand, South Korea and France allow for mini-apartments measuring 14 to 20 square meters each. But their authorities can well manage population and planning issues in major cities, according to the ministry.
The ministry underscored the need to create favorable conditions for residents and companies to build affordable condos to meet the demand for housing of low-income people, especially factory workers at industrial parks.
Therefore, the ministry proposed the city limit the proportion of commercial apartments measuring 25 to 45 square meters in a housing project at 20-25% in the city center that has high population density and insufficient technical infrastructure.
Housing projects outside the city center can have a higher proportion of mini-apartments if there are a lot of factory workers there, said the ministry.
The ministry is crafting a set of national technical criteria for apartments, including the minimum area for commercial apartments.
Earlier, the city said apartments of less than 45 square meters would speed up urbanization, increase the population, and put more pressure on its already-overstretched technical and social infrastructure.
Construction of Mövenpick Hotel & Residences kicked off in Da Nang

The construction of Movenpick Hotels & Residences - Risemount Apartment Da Nang has been kicked off on November 4, as part of activities marking the 2017 APEC Summit.
The VND 1,800-billion property covering on an area of 5,000 square meters in Hai Chau District includes two 31-storey towers. Movenpick Hotels & Residences has 151 hotel room and 259 suites, and 300 apartments. 
Leisure facilities include a swimming pool, fitness centre, spa and kids' club, as well as a ballroom and state-of-the-art meeting rooms.
Located in on the banks of the Han River within Danang's commercial heart, just six kilometres from Danang International Airport, the hotel will offer a range of contemporary amenities to support its well-appointed riverside rooms, including a signature rooftop bar and restaurant, lobby lounge, Café and wine bar, pool bar and speciality restaurant.
     
Extra of 76 Japanese products present in Vietnam

Japan External Trade Organization (JETRO) said that Japanese businesses have exported in Vietnam an extra of 76 new products comprising confectionary, beverages, ice-cream and comic books.

The new products are shelved at 254 convenient stores and trade centers FamilyMart and Ministop.
Mr. Takimoto Koji, Jetro's representative head in HCMC, said that previously the organization had taken 70 Japanese products to Vietnam. After pilot sale period, over 40 percent of the products have been accepted by Vietnamese consumers.
Basing on that, Japan's Ministry of Economy, Trade and Industry has established a cooperation council between Jetro and convenient stores to boost trade of Japanese food and agro-aqua-seafood products to foreign markets including Vietnam.

Boom of mobile payment in Vietnam: Deputy PM

Speaking at the opening of Vietnam E-Payment Forum (VEPF) in Hanoi this morning, Deputy Prime Minister Vuong Dinh Hue said that he believed mobile payments would boom in Vietnam like mobile using ten years ago.
 
The event with the themed "Mobile Payment - Mobile payment driving cashless payment" is an annual reputable forum where participants can discuss and agree on solutions to promote electronic payment/non-cash payment for the whole market.
It will have three sesions including the global explosion of mobile payment and the current trend in Vietnam, How to develop an ecosystem for mobile payment in Vietnam, and Discussion with Jack Ma – Chairman of Alibaba Group.
During ten years, the appearance of smart phones has changed human communications resulting in changes in distribution networks, design networks and banks' service designs.
Statistically, Vietnam is one of leading countries in the number of smart mobile users connected with internet. This facilitates mobile payments to create breakthroughs in promoting non-cash payment and financial services in the country.
Deputy Prime Minister Hue said that new payment generates opportunity to get access to financial services conveniently with reasonable costs for millions of low- income people.
The mobile payment helps the low-income community to join in and to directly benefit from the Fourth Industrial Revolution, or Industry 4.0.
In Vietnam, telecommunication firms, banks and Fintech also began providing the service to locals in disadvantaged districts, industrial parks so that laborers can get access to financial services.
The government also wanted to have a boom of mobile payment aiming to reduce the rate of payment in cash lower than 10 percent by 2020.
At present, Vietnam has 140 mobile subscribers over 100 residents and nearly 60 million 3G, 4G subscribers in most districts nationwide. SmartPhone broadband subscribers is scheduled to rise to 80 million by 2020. 
All are ideal condition to push up mobile payment as well as financial services, electronic commercial services in all regions benefiting firms and groups of people in Vietnam. It is hoped to change Vietnamese people's habit of paying in cash.
Accordingly, the government has adopted many policies and projects to beef up non-cash payment generally and mobile payment particularly.
Deputy PM Hue stressed that the government pledged to create favorable condition to promote mobile payment in Vietnam by frequently organizing dialogues with providers and users, local and foreign financial organizations to solve difficulties during the process.

Moreover, problems will be solved soon to ensure benefit of residents and firms.
Furthermore, the government will update mechanism to facilitate action programs aiming to advertise mobile payment and financial and commercial services.
In the framework of the event, Jack Ma– Chairman of Alibaba - will talk about experience in promoting e-commerce, mobile payment and suggestions for Vietnam
As per the Department of Payment under the central State Bank of Vietnam, 41 commercial banks have implemented mobile payment service with rising deals. In the first nine months, the number of mobile payment reached 90 million with value of over VND423 trillion.
     
HCMC tries to boost exports, reduce trade deficit

HCMC Department of Industry and Trade has synchronously implemented solutions to boost cargo export to major markets and reduce trade deficit.
 
The department is expected to submit to the city People's Committee an export development project in the phase of 2017-2020 in February next year.
The project will determine city's export dominance in every specific market and apply suitable export promotion policies.
In addition, the department has also focused on raising trade promotion efficiency toward major markets with the turnover of over US$1 billion such as China, Singapore, Taiwan, Thailand and South Korea.
Moreover, the city will closely work with the southern provinces in logistics service development to reduce costs and improve Vietnamese goods' competitive ability in domestic and export markets.
The agency has attempted to lessen dependence on import materials and develop brand names for key industrial products of the city.
According to the Department, HCMC saw a trade deficit of US$6.02 billion during the first ten months this year, accounting for 20.7 percent of total export import turnover.
Major import items have been computers, electronic items and components, machines and equipment, tools and accessories and cloth to serve production of businesses in the city.
HCMC is also the export import gateway of southern provinces and cities. So goods have been imported and transported to neighboring provinces such as Dong Nai, Binh Duong and Long An to serve production there.
     
Opening door for export of livestock products

The livestock export sector has recorded optimistic signals in the past two months, amidst the bleak context of the domestic husbandry industry.

In early September, the poultry sector exported the first consignment of chicken (approx. 300-400 tonnes) to the Japanese market; until the end of the year, pork products are expected to receive a "visa" into the fastidious market in the Netherlands, with approximately 10,000 tonnes per year.

The export of chickens leading the way for pigs to enter into fastidious markets marks a significant milestone for the domestic livestock sector. However, in a comprehensive manner, these figures remain too small for a country with a large livestock potential such as Vietnam, with total pig heads of 27.5-28 million a year, more than 300 million poultries and 500,000 dairy cows.

Moreover, each year, agro-forestry and fishery export turnover reaches more than US$30 billion, of which ten main items gain a value of over US$1 billion. However, the products of the livestock sector only make up a negligible proportion, especially live weight pigs and products processed from pork, which for many years have not made any breakthroughs.

Vietnam has just stopped exporting live weight pigs to the Chinese market through border routes, while exporting suckling pigs and non-fully-grown pigs to Hong Kong (China) and Malaysia via official channels, with an estimated output of 20,000 tonnes per year.

The cause leading to no way out for pork products in both domestic and export markets is that Vietnam has just ensured the very first stage of the whole chain that is production organisation, while processing and market activities have not been concerned yet. The situation led to difficult consumption in the domestic market, while exports are just "dripping" in small volume and value.

However, from the lesson of chicken being exported to the fastidious Japanese market, Vietnam's husbandry industry has the right to hope that pork will also make breakthrough.

It is necessary to reorganise this sector under the chain link model at all levels, in which, the large scale production by enterprises must be concentrated to exporting pork, while the medium and small scale production ensures the supply to the domestic market. It is also important to develop specialty pigs associated with organic livestock in order to meet the needs of demanding consumers who require high quality products.

In addition, investment should be paid in terms of livestock area planning and the veterinary service from the central to grassroots levels, ensuring the fulfillment of the national programmes on epidemics prevention and combat, especially for dangerous animal diseases, such as foot-mouth disease and pork cholera, as these diseases are under very strict quarantine subjects by foreign markets.

Furthermore, the livestock sector should closely coordinate with the Ministry of Industry and Trade, as well as the trade representative offices of Vietnam in foreign countries, in order to promote contacts and exchanges between Vietnam and the markets in huge need, such as Japan, the Republic of Korea and the European Union to grasp the demand, promote its products and timely resolve any technical barriers and disputes arising in trading activities with each importing country.

Hopefully, synchronous solutions would help, not only with regards to chickens and pigs, but many other products in Vietnam's breeding industry to sustainably develop both the domestic and foreign markets, contributing to improving the status and image of Vietnamese agricultural products within the international community.

Hanoi Sales Promotion Month 2017 attracts nearly 1,000 enterprises

The Hanoi Sales Promotion Month 2017 was launched in Hanoi on November 4, receiving confirmation from nearly 1,000 enterprises operating in the city.

Held jointly by the Hanoi municipal People's Committee and the Standing Committee of the 'Vietnamese PrioritiseUse of Vietnamese Goods' campaign, this is the ninth consecutive year that the Hanoi Sales Promotion Month has been held as one of the largest commercial events in Hanoi.

A string of activities will be organised during the marketing month with over 1,000 locations offering promotions.

Deputy Chairman of the Hanoi People's Committee Nguyen Doan Toan said the Sales Promotion Month will create opportunities for consumers to buy discounted goods, particularly goods made in Vietnam and have the opportunity to take advantage of sales promotion offered by an array of businesses.

The event is also one of a number of substantial activities in response to the campaign "Vietnamese people prioritiseusing Vietnamese goods", he added.

He noted that the Sales Promotion Month also offers an opportunity for enterprises to promote and sell their products, contributing to the fostering of production.

Also at the opening ceremony, 69 enterprises with 115 products were recognised as the favourite amongstVietnamese brand names.

More Japanese products enter Vietnam

Seventy-six new products of Japan have recently been brought into the Vietnamese market, according to the Japan External Trade Organisation (JETRO).

The products are in four groups, namely confectionery, beverage, ice cream and comic books.

They will be sold at 254 convenience stores and trade centres of FamilyMart and Ministop.

Takimoto Koji, JETRO Chief Representative in Ho Chi Minh City, said 70 other products had been previously introduced to Vietnam, with more than 40 percent welcomed by local consumers during a trial period.

Therefore, the Japanese Ministry of Economic, Trade and Industry has established a cooperation council between JETRO and convenience stores to bring more Japanese agro-forestry-fisheries products abroad, including Vietnam.

Policy dialogue seeks to support poor households in production

The Department of Cooperatives and Rural Development under the Ministry of Agriculture and Rural Development (MARD) recently held a policy dialogue in the Mekong Delta province of Soc Trang to support poor households to develop production.

Participants discussed policies designed to help poor families in ethnic minority-inhabited and disadvantaged areas escape poverty.

Director of the provincial Department of Agriculture and Rural Development Luong Minh Quyet said the locality has mobilised all capital resources to reduce the rate of poor households to below 15 percent, down almost 10 percent from five years ago.

He highlighted effective models to reduce poverty such as rotational cultivation of rice and shrimp, aquaculture, raising cows, and growing vegetables and fruits.

Ta Huu Nghia, head of the poverty reduction and rural social security division under MARD, said the national target programme on rural poverty reduction has support policies to develop climate change adaptive production, diversify livelihoods, and expand poverty reduction models in disadvantaged communes.

The delegates also shared difficulties and shortcomings in policies and exchanged experiences to implement them more effectively.-

EU & Da Nang launch solar energy development project

The European Union and the Da Nang Energy Conservation Center (DEEC) launched a project entitled "Development of Solar Energy in Da Nang" (DSED) on November 3.

Co-funded by the EU and the DECC, the $517,000 project will run for 40 months, from July this year until October 2020. The EU's contribution represents more than 85 per cent of the overall budget.

The project aims to promote the development of solar energy in the central city through data collection, information sharing, awareness raising, and training, targeting policy makers, small and medium-sized enterprises, and households. Pilot projects for a limited number of households and five public facilities will also be installed and the DECC showroom upgraded.

At the moment, the showroom only displays renewable energy and energy efficiency equipment that are not in operation. The project will allow the DECC to acquire more recent equipment and install it, to demonstrate how solar photo-voltaic panels produce electricity from capturing energy from the sun and how net metering connects production to the national distribution grid.

Solar photo-voltaic panels are good for economic development, as jobs are created in production, installation, and maintenance. They are also good for electricity consumers, as it reduces monthly electricity bills, and the climate also benefits, as they do not emit greenhouse gases.

The DECC will also cooperate with the Electricity Regulatory Authority of Vietnam, the Vietnam Standards and Quality Institute, the World Bank, and GiZ, who are also working on improving the overall framework to drive more investment into the solar energy sector.

Mr. Alejandro Montalban, Head of Cooperation at the EU Delegation, stressed that renewable energy and energy efficiency play an important role in the sustainable development of energy. They are a smart and suitable solution, especially in the context of the depletion of natural resources.

Vietnam has huge potential in renewable resources, he added. "Limitations on knowledge and awareness of the benefits and the importance of renewable energy and energy efficiency is a barrier to the sector's development," he said. "Therefore, we hope that the cooperation with the DECC will hasten the dissemination of solar technology knowledge in Da Nang."

Argentine Week to introduce cuisine, seek co-operation
     
The Argentine Embassy to Viet Nam will host a series of activities to promote Argentine food and culture in Ha Noi and HCM City.

Argentine Week will be held on November 2-4 at Ha Noi's International West Lake Hotel and on November 9-12 in HCM City's Caravelle Saigon Hotel. The event will introduce traditional Argentine cuisine by Argentine chefs. Guests will be able to enjoy tango performances on site.

A workshop on Argentine fish and seafood will be organised for the first time in HCM City on November 9 to introduce the Argentine fishery sector. The workshop will also connect enterprises of the two countries and seek further co-operation between the two countries. 

Crossknowledge partners to provide training to Vietnamese businesses
     
France-based Crossknowledge, with 17 years of delivering digital learning solutions to businesses globally, is partnering with MVV Coaching to provide solution-based training to Vietnamese firms.

"Viet Nam is a promising market for us, given the country's large population and number of businesses," Alexandre Giry-Deloison, Crossknowlege's channel sales manager for Asia Pacific, Middle Ease and North Africa, said at a media briefing on Thursday.

Not different from businesses worldwide, Vietnamese firms also face challenges such as talent retention, sale performance or cost reduction. Deloison said Crossknowledge's solution-based approach would help solve corporate challenges and drive business.

"What makes Crossknowledge's e-learning programe different is that it is tailor-made to the demand of each company," Deloison said, adding that Crossknowldge's e-learning solutions were engaging, customisable and adaptive to different cultures and different businesses.

E-learning was now an increasing trend in the world which could be easily accessed by the firms' entire workforce although there were many employees and they were in different places. In addition, e-learning solutions would help firms save costs and time, while enabling them to track progression and manage training quality, he said.

Crossknowlege, which three years ago was acquired by US-based Wiley, one of the most prestigious publishers in the world, in a deal worth around $175 million, is now growing at a rate of around 20-25 per cent per year.

The company has around 350 corporate clients worldwide, many of whom were in the Fortune 500 list.

MVV Coaching is a business administration capacity training programme – an initiative to promote corporate university of MVV Education, a member of the MVV Group. 

ROS plans $21m dividend payout, defends profit tally
     
FLC Faros Construction Joint Stock Company (ROS) expects to beat its 2017 profit target soon and will pay a dividend rate of 10-12 per cent for this year, the company has announced.

At this rate, the company is forecast to spend about VND473-568 billion (US$21-25 million) for the dividend payout on a total 473 million outstanding shares in the market.

ROS posted an after-tax profit of VND208 billion ($9.2 million) in the nine months through September, approximately 36 per cent of its yearly target of VND580 billion ($25.6 million).

However, the company's CEO Do Quang Lam said the accounting of revenue and profit of a construction company can be irregular and depends on the implementation process of individual projects.

With the breakthroughs ROS has made in Engineering Procurement Construction (EPC) activities and its newly begun projects, the executive believes the company will meet its profit target ahead of schedule.

The value of contracts and projects that the company has signed and carried out has reached VND20.1 trillion, including large-scale deals such as the Quang Binh golf, villa and high-end entertainment project worth VND5.6 trillion and the second phase of the FLC Vinh Phuc project worth VND1.4 trillion.

It expects to record combined revenue of VND3.5 trillion from 12 major projects. It is also speeding up the implementation for handover in the 2017-18 period at a wide range of projects such as FLC Garden City, FLC Twin Towers and FLC Ha Long complex.

The price of ROS shares has more than doubled this year, rising from VND104,000 per share to over VND214,000 each. It has become one of the top three most expensive stocks on the HCM Stock Exchange in over one year since its debut on September 1, 2016.

Together with brewer Sabeco (SAB), ROS is seen as the main push behind the expansion by 27 per cent of the benchmark VN-Index since the beginning of this year.

ROS and SAB are two of the top 10 biggest stocks by market value on the HCM Stock Exchange and their movements heavily influence the index.

According to SSI Research, the growth of these two stocks accounted for over 50 per cent of the VN-Index's gains. Without the two stocks, the VN-Index may have increased by only 11.8 per cent.

According to analysts, the large impact of the two stocks on the market may affect investors' evaluation about the overall market outlook. 

Commerce chamber hoped to boost Vietnam-Malaysia trade

Trade and investment ties between Vietnam and Malaysia are expected to enjoy a new driving force created by the recently established Malaysia-Vietnam Chamber of Commerce (MVCC).

Key leaders of the MVCC officially made debut in Malaysia on November 2 at an event attended by representatives of the Embassy and trade office of Vietnam, some major Vietnamese businesses, and many Malaysian firms that have business partnerships with Vietnam.

In his speech, Vietnamese Ambassador Le Quy Quynh reviewed bilateral trade and investment relations, elaborating that Vietnam is currently the fourth biggest ASEAN trade partner of Malaysia. Bilateral trade surpassed 10 billion USD in 2016.

Meanwhile, Malaysia is the seventh largest foreign investor in Vietnam with total FDI of 914 million USD as of December 2016. Big Malaysian enterprises like Petronas, SP Setia, Emivest, Berjaya Land and Gamuda have been operating in Vietnam.

Quynh stressed that the MVCC will be a bridge linking Malaysian businesses with Vietnamese partners, thus creating more business and investment opportunities and contributing to each country's prosperity.

He added the Vietnamese Embassy will coordinate closely with the MVCC to strengthen trade-investment ties, including raising bilateral trade to 15 billion USD in 2020 as targeted by the two countries' leaders.

With a view to boosting trade, the MVCC will help develop joint ventures between Vietnamese and Malaysian private companies, organise trade delegations' visits to Vietnam and hold forums to discuss issues of shared concern, according to MVCC Chairman Howard Choo.

Malaysia's Minister of International Trade and Industry Mustapa Mohamed expressed his interest in the MVCC's foundation and asked the chamber to organise trade forums between the two countries annually.-

Can Tho city woos Japanese investors

Japan Desk, which serves as a bridge between Japanese businesses in the Mekong Delta city of Can Tho and local authorities, made its debut at the 59th Asia Business Conference in the city on November 4.

Established in September 2017, the working group comprises 14 members with Vice Chairman of the Can Tho city People's Committee Truong Quang Hoai Nam as its head and Kyoshiro Ichikawa, Director of I.B.C Vietnam Co., Ltd as its advisor. 

The group will collect information about Japanese enterprises operating in Can Tho and partner with the local authorities to roll out solutions to support them, while introducing cooperation and investment opportunities of Can Tho and the Mekong Delta to Japanese firms. 

According to Nguyen Khanh Tung, Director of the Can Tho Investment-Trade Promotion and Exhibition Centre, by the end of September 2017, Japan had been Vietnam's second largest foreign investor. 

In Can Tho alone, four projects funded by Japanese ODA to the tune of over 7 billion VND (308,000 USD) have been completed since 2013, he said, adding that in the first eight months of 2017, Can Tho exported 59.4 million USD worth of products to Japan while importing 11.2 million USD from the country. 

Vice Chairman of the Can Tho city People's Committee Truong Quang Hoai Nam said Can Tho is calling for investments in a number of projects, with priority given to Japanese partners. They include a high-tech agriculture project with estimated capital of 26 million USD in Co Do district, an industrial infrastructure project for Japanese firms in O Mon district, a centralised IT area and a logistics centre, both in Cai Rang district. 

Japanese businesses investing in these projects will receive the best support from the city, he promised.

The 59th Asia Business Conference took place within the framework of the third Vietnam-Japan Cultural Festival.

Discounted air tickets, tours offered at Hanoi tourism festival

Special offers are being given by airlines and tour operators to visitors to a tourism promotion festival which is underway in Hanoi on November 3-5 to boost tourism until the year end.

The event, part of the 2017 Hanoi Promotion Month, was launched by the city's Department of Industry and Trade and the Hanoi Centre for Investment, Trade and Tourism Promotion.

Vietnam Airlines is giving 1001 bonus miles to new Lotusmiles members and a 20 percent discount for online bookings on both domestic and international flights while low-cost carrier Jetstar is offering 200 tickets at 0VND through its Wheel of Fortune at the festival.

The airlines and travel agencies have also shaken hands to introduce to customers domestic and international tours with discounts of up to 50 percent. 

Highlights are Vietnam Airline holiday tours to popular destinations like Quy Nhon, Da Lat, Nha Trang, Can Tho and Phu Quoc which are sold from 5.299 million VND (over 233 USD); four-day tours to Da Nang that only cost about 4 million VND (176 USD) and five-day tours to Thailand offered at 5 million VND (220 USD).

Tour operators are also giving away 4,000 E-vouchers, worth from 100,000 VND to 6 million VND (4.4-264 USD) to visitors to the website www.thangkhuyenmaihaoi.vn.

HCM City promotes trade, investment, tourism in New Zealand

A workshop and business networking programme was recently held in Auckland city of New Zealand to promote Ho Chi Minh City's investment, trade and tourism.

The event, co-organised by the HCM City Investment and Trade Promotion Centre (ITPC), the municipal Department of Tourism and the Vietnam Trade Office in New Zealand, drew the participation of representatives from 20 companies and officials of HCM City and 40 businesses of New Zealand.

Nguyen Kim Phuong, Commercial Counsellor of the Vietnamese Embassy in New Zealand, briefed the participants on trade cooperation between Vietnam and New Zealand over the past years.

She stressed that the cooperation activities have been enhanced through Government to Government (G2G), Businesses to Businesses (B2B) and People to People (P2P) relations, which showed comprehensive development in not only in trade but also in education-training, agriculture, labour, aviation and tourism.

These cooperation achievements have contributed to the annual growth of 20 percent, bringing two-way trade to 1.5 billion NZD (nearly 1.04 billion USD). Vietnam had become the 16th biggest trade partner of New Zealand by the end of the financial year which ended in June.

At the event, representatives from HCM City's Department of Tourism introduced the city's economic advantages and tourism potentials, as well as its plans to attract more visitors and businesses in the coming time.

Meanwhile, enterprises from New Zealand voiced their hope to expand business operations in Vietnam and HCM City in particular. They also suggested launching a frequent direct flight between HCM City and Auckland, as currently there are only seasonal flights operated by Air New Zealand.

Gov't talks development mechanisms for HCM City: press conference

The Government's monthly meeting featured discussions on pilot development mechanisms for Ho Chi Minh City, with a plan to be submitted to the National Assembly during its ongoing fourth session for review.

The information was made by Chairman of the Office of the Government Mai Tien Dung during a press conference in Hanoi held following the meeting on November 3.

The mechanisms for the southern economic hub will concern four main areas: urban planning and land management, finance and investment management, authorisation mechanisms, and the income of the city's public servants.

According to the chairman, the issuance of a resolution on these mechanisms is "a necessity" as HCM City is the 'economic locomotive' of the country and contributes the most to the State budget.

Regarding the country's economy situation, also according to Dung, Vietnam's macroeconomy remains stable and in line government's monetary and credit plans.

Foreign direct investment (FDI) reached a record of 28.2 billion USD in the first 10 months, up 37.4 percent from the same period in 2016. Import and export of goods also posted positive results, increasing by 22 percent over the same period, and the trade surplus reached 1.2 billion USD.

In terms of tourism, international arrivals reached 10.4 million by the end of October against the the year-end target of 13 million.

Regarding slow the equitisation of State-owned enterprises, Deputy Minister of Planning and Investment Nguyen The Phuong said this even though this process must be done quickly, but "in order to achieve effective equitisation, thorough asset evaluation must be carried out, otherwise, serious losses of State assets could occur."

On the controversial draft law on cyber security, whereby foreign technology corporations like Facebook and Google could be asked to relocate servers holding Vietnamese users' information to Vietnam, the chairman of the Government Office said the fact remains that overseas servers make State management much more difficult especially with hostile organisations and individuals having used social media to spread anti-State propaganda.

Vietnam-China trade fair opens in Lang Son

The Vietnam-China Trade Fair 2017 opened at the Lang Son Trade Fair Centre in the northern province of Lang Son on the night of November 3.

The event, which was jointly held by the People's Committee of Lang Son province and the Ministry of Industry and Trade, is the largest-ever trade fair in Lang Son province, attracting thousands of visitors.

The fair themed 'Connectivity, Cooperation, Mutual Development' features products and services in various areas from enterprises at home and abroad at more than 300 pavilions, including over 30 ones from Chinese enterprises. 

The event, which runs until November 8, provides enterprises with a chance to seek cooperation opportunities and expand market to domestic provinces and localities in China, contributing to the strengthening of relationships between enterprises and peoples of the two countries.

Nguyen Cong Truong, Vice Chairman of the provincial People's Committee and head of the organising board, said that the trade fair is one of the activities within the framework of the national trade promotion programme in 2017.

This is the fourth fair of its kind held in Lang Son under a cooperation agreement on rotationally organising the annual trade fair in Vietnam's Lang Son province and China's Guangxi province.

Petrol price up 271 VND per litre

The Ministries of Industry and Trade, and Finance decided to increase the retail price of RON 92 petrol by 271 VND to a maximum of 18,146 VND (79.8 US cents) per litre from 3pm of November 4.

The price of E5 bio-fuel rose by 224 VND to maximum 17,858 VND per litre, while the prices of diesel and kerosene up 201 VND and 199 VND to 14,611 VND a litre and 13,198 VND a litre, respectively.

This is the 21th adjustment of fuel prices this year, with nine falls and eight increases.

The two ministries also decided to keep using the price stabilisation fund for RON92 petrol and E5 biofuel at 300 VND per litre.

Meanwhile, the use of the fund for diesel was 250 VND per litre .

HCM City pledges to support Cuba's reform, development efforts

Vice Secretary of the Ho Chi Minh City Party Committee Vo Thi Dung met on November 3 with Orestes Llnanes Mestre, deputy head of Cuba's Committee for the Defence of the Revolution, who is on a working visit to the city.

The local official congratulated Cuba on the attainments during the five years of updating its socio-economic development model. She stressed that Vietnamese people always keep in mind the solidarity and precious support that Cuba has given to Vietnam throughout history.

HCM City hopes for stronger cooperation with Cuba in biotechnology, health care, education and tourism. It also wants to increase exchanging experience in economic management and market mechanism with the Latin American nation, she added.

The authorities and people of HCM City pledge to support Cuba's reform and development efforts, she said, adding that they will do their best to help reinforce the faithful friendship between the two countries.

At the meeting, Orestes Llnanes Mestre said despite geographical distance, Cuban and Vietnamese people share a number of similarities in terms of the revolutionary fighting spirit. He described Cuba as a Vietnam in Latin America and Vietnam as a Cuba in Asia.

The revolutionary spirit of former generations and the special friendship between the two Parties, States and peoples need to be popularised among young Cuban and Vietnamese people, thereby contributing to bilateral relations, he added.

APEC 2017: APEC Business Advisory Council convenes fourth meeting

The fourth meeting of the APEC Business Advisory Council (ABAC) is taking place in the central city of Da Nang on November 4-6 with the participation of its members from 21 APEC member economies.

On the day, delegates are gathering for meetings of the Asia-Pacific Financial Forum (APFF) and the Advisory Group on APEC Financial System Capacity Building.

The ABAC is the private sector arm of the Asia-Pacific Economic Cooperation. APEC economic leaders established ABAC in November 1995 to advise them and other APEC officials on issues relating to business activities in the region. 

ABAC also responds to requests from various APEC sub-groups for information about the business perspective of specific areas of cooperation.

ABAC meets four times per year to make proposals to be submitted to APEC Economic Leaders' Week.

The three previous meetings took place in Bangkok, Thailand on February 19-23, Seoul, the Republic of Korea on April 26-29, and Toronto, Canada on July 24-28.

The fourth meeting, scheduled to last until November 6, is one of the main activities of the APEC Economic Leaders' Week, which will take place in Da Nang city from November 6-11.

Established in 1989, the Asia-Pacific Economic Cooperation (APEC) forum comprises 21 economies, including Australia, Brunei, Canada, Chile, China, Hong Kong (China), Indonesia, Japan, the Republic of Korea, Malaysia, Mexico, New Zealand, Papua New Guinea, Peru, the Philippines, Russia, Singapore, Chinese Taipei, Thailand, the US, and Vietnam.

APEC represents about 39 percent of the world's population and contributes 57 percent to global GDP and 49 percent of international trade.

Phu Quoc to host international cashew conference

The 9th Vinacas Golden Cashew Rendezvous will be held from November 13-15 in Phu Quoc island of southern Kien Giang province, organisers announced at a press conference in Ho Chi Minh City on November 3.

The event, co-organised by the Vietnam Cashew Association (Vinacas) and the Vietnam Trade Promotion Agency (Vietrade), is expected to draw about 400 domestic and international delegates from 40 countries and territories across the world.

A number of activities will take place during the event, including a networking programme, dialogues between domestic and foreign cashew businesses, conferences on international cashew cooperation and women's role in the cashew sector.

Vinacas Vice President and General Secretary Dang Hoang Giang said the event aims to promote trade and expand markets for cashew products, helping cashew growers and processing firms raise their incomes.

Statistics released by Vinacas showed that Vietnam earned 2.98 billion USD from exporting 294,000 tonnes of cashew nuts in the first 10 months of 2017, year-on-year rises of 0.4 percent and 25.6 percent, respectively.

The sector is expected to ship abroad 330,000 tonnes of cashew nuts this year, raking in 3.3 billion USD – the highest amount so far.

With the figure, Vietnam will continue retain a lion share of the global cashew nut market which is estimated at 5.5 billion USD.

Workshop seeks to enhance exports of Vietnam agri-products

A workshop was held in Ho Chi Minh City on November 2 to seek to increase the export of Vietnamese agri-products.

Deputy head of the Plant Protection Department under the Ministry of Agriculture and Rural Development Le Van Thiet said Vietnam exported over 14.3 billion USD worth of agri-products in the first nine months of 2017, a year-on-year rise of 17.7 percent.

Despite high growth over the past five years, the sector is still meeting some difficulties and challenges, including global fiercer competition and stricter quarantine regulations of plants, food safety and quality.

Le Thi Thu Huong, a senior consultant from Fresh Studio company, said many countries tend to make use of technical measures to limit the imports of goods and protect domestic production, while others request pest risk analysis with complicated procedures and long duration. 

For example, such major markets as the US, Japan and the Republic of Korea want to send their experts to inspect the growing areas, packaging facilities and phytosanitary.

Director of the Southern Pesticide Control Centre (SPCC) Tran Thanh Tung said Vietnamese farmers still apply old production customs and make unreasonable use of pesticides. Furthermore, they are unaware of the maximum residue level (MRL) regulated in different markets, resulting in violation of import regulations, causing economic losses and affecting national brand names.

Experts said quality is key to enhancing the export capacity for Vietnamese agri-products.
Thiet recommended selecting good varieties and developing post-harvest, preserving, and processing technologies to increase the values of farm produce while enhancing connectivity between farmers, scientists, businesses and State management agencies to develop large-scale production models and ensure the quality of agri-products in the long run.

He called on the State to support farmers and businesses to promote trade of farm produce and prevent trade fraud and unhealthy competition.

According to Huong, it is necessary to encourage farmers and businesses to develop the production chain to control the quality of agri-products effectively.

She urged relevant agencies to build a set of criteria on food safety and phytosanitary in addition to enhancing negotiations with exporters to have appropriate technical standards.

Seminar talks aquaponics industry in Vietnam, Australia

If 3 percent of 26.9 million Vietnamese farming households engage in aquaponics model, they will together make it a potential market valued at more than 403 million AUD.

The figure is based on the assumption that each household makes an investment of 500 AUD (385.6 USD), Dr Wilson Lennard, head of the international consulting firm Aquaponic Solutions, made the calculation at a seminar in Sydney on November 2. 

The seminar was held by the Australia Vietnam Business Council (AVBC), discussing aquaponics potentials in Australia and Vietnam. 

Lennard said Australia, beginning its study of the model in early 2000s, has developed plans to build commercial aquaponics systems, while Vietnam and many APEC member economies are yet to pay attention to it.

He said the model holds potential to become a key industry in Vietnam, as it will create jobs, boost growth, and ensure food security and safety.

AVBC President Laurence Strano said the Vietnamese and Australian economies have supplemented each other to propel bilateral trade over the past 26 years. 

The AVBC and Vietnamese Government have sealed a number of agreements in aquaponics and large-scale aquatic farming, he added.

Strano expressed his hope to host Prime Minister Nguyen Xuan Phuc at a Vietnam – Australia business forum during his trip to Australia to attend the ASEAN-Australia Special Summit in March 2018.

Formed in 1996, the AVBC aims to promote the development of trade, commerce and investment between Australia and Vietnam and to facilitate communications and co-operation among its members, friends and governments.

Conference looks to promote online exports in digital era

Overall solutions to bolster online exports were introduced for the first time in Vietnam at a conference held in Hanoi on November 2.

The conference was jointly held by Novaon Internet Group and E-commerce Giant Alibaba to support the programme "1,000 pioneers in online exports".

Experts at the conference said that although e-commerce has been well developing in Vietnam, many exporters hesitate to use e-commerce websites to sell their products overseas.

Vietnam's export revenue captured the lion's share of national gross domestic product, 93.6 percent as compared with the world's average of 30 percent. This shows exports' crucial role to the economic development.

However, only 1 percent of exporters know how to utilise e-commerce tools to attract online orders.

As online export serves as a useful channel to provide information on foreign markets while helping local firms save time and reduce transaction costs, experts encourage local businesses to boost shipments through online sales.

Tran Thanh Hai, deputy head of the Foreign Trade Agency under the Ministry of Industry and Trade, said that Novaon's considerable experience and power of global basis like Google, LinkedIn and Alibaba, Vietnamese exporters can access to efficient overall online export solutions.

Through the "1,000 pioneers in online exports" programme, Vietnamese businesses will receive supports to take advantage of e-commerce to promote exports, said Tran Xuan Thuy, Country Manager of Alibaba to Vietnam.

Meanwhile, Novaon Chairman Nguyen Minh Quy pledged his efforts to help exporters apply online export solutions to create explosive growth.

Nearly 1.18 billion VND worth of G-bonds mobilised

The Hanoi Stock Exchange (HNX) raised nearly 1.18 trillion VND (51.9 million USD) by selling Government bonds issued by the State Treasury at an auction on November 1.

The bonds were offered for four tenures: five years valued at 1 trillion VND, seven years at 500 billion VND, 10 years at 1 trillion VND, and 30 years at 500 billion VND.

The five-year bonds did not see a winning volume.

Meanwhile, the seven-year bonds were sold at a total value of 500 billion VND, with a winning yield of 4.85 percent a year, 0.02 percent higher than bonds of the same term sold at the previous auction on October 25.

The 10-year bonds brought in only 295 billion VND with a winning yield of 5.42 percent, equal to the sale during the October 25 session.

Some 350 billion VND worth of 30-year bonds sold at the auction had an interest rate of 6.1 percent per annum, equal to the previous sale on September 27.

Since the beginning of this year, the Vietnam State Treasury has mobilised nearly 156.26 trillion VND (6.87 billion USD) through Government bonds issued on the HNX.

Japanese daily Nikkei hails Vietnam's economic development

Vietnam's economic achievements after over three decades of Doi moi (reform) were highlighted in an article published by Japanese daily newspaper Nikkei on November 1.

Vietnam has enjoyed better economic performance after Doi Moi, the article noted, making a review of Vietnamese gross domestic product (GDP) growth in the past 30 years. GDP per capita also inched up, from 471 USD in 2003 to 2,300 USD in 2016.

It gave a positive outlook to the Vietnamese economy with improved business climate, resulting in more foreign investment flows, and two-digit growth of export revenue. Key economic zones and industrial areas have been well developed so far.

The article also stated that Vietnam has pulled off rosy achievements in mechanism completion, which bolster the sound development of all economic sectors like industry and construction, agriculture, and services.

State-owned enterprises have undergone sweeping restructuring while the number of private businesses has grown up significantly and foreign direct investment (FDI) capital is prioritised.

Vietnam has shown its deeper integration into the global economy as it has set up strategic partnership relations with many foreign countries. The country has proactively contributed to the construction of the ASEAN Community and worked to accomplish domestic market mechanisms as committed to the World Trade Organisation (WTO).

The article stated that 59 countries, including large trade partners, have recognised Vietnam as a market-oriented economy. The country has inked ten regional and bilateral free trade agreements and completed negotiations of the free trade deal with the EU, and is working to negotiate three other pacts.

It has joined three global value chains with the increasingly important role to global economy, including the food value and security chain, the energy value and security chain, and the garment and footwear value chain.

VNA/VNS/VOV/SGT/SGGP/TT/TN/Dantri/VNEVET