Military Bank transfers equity in MCredit to Shinsei

Military Bank (MBB) has completed procedures to sell 49 per cent stake in its consumer finance arm MCredit Finance Company to Japan's Shinsei Bank and changed it into a two-member company.
The inauguration of MB Shinsei Finance Limited Liability Company took place on Thursday. Military Bank holds 50 per cent stake, Shinsei Bank owns 49 per cent and Xuân Thành Investment Development & Construction Co has 1 per cent.
The two sides in November 2016 signed an agreement on equity transfer, facilitating the Japanese bank's entry into Việt Nam's consumer finance market.
The value of the deal has not been disclosed.
Military Bank is the second bank after HDBank that has sold half its capital to Japanese partners.
According to Lưu Trung Thái, vice chairman-cum-general director of MB Shinsei Finance, the two most successful companies in Việt Nam needed more than five years, or even 6-8 years, to attain the current position, but MB Shinsei Finance hopes to achieve success in less time.
"We have a goal of advancing into the top three in five years, which means we want to go faster than our rivals and we chose to join hands with a partner rather than going alone," Thái was quoted as saying on cafef.vn.
Established in December 2016, MCredit turned profitable following just six months of operation, with total outstanding loans reaching over VNĐ1 trillion (US$44 million) ending October. The company has a big pool of customers from the military and defence sectors.
It aims to serve five million customers by 2021, with total assets of over VNĐ14.8 trillion and networks extending nationwide.
In Việt Nam, the four largest financial companies -- FE Credit of VPBank, HD Saison, Home Credit from Czech Republic and Prudential Finance -- hold a majority of the consumer finance market share.
New regulation puts the squeeze on Vietnamese car importers
While erecting technical barriers to hinder the flow of imported cars, Vietnam plans to cut taxes imposed on locally-made vehicles to boost its auto industry.
Nguyen Dinh Thanh, the owner of a car dealership in Hanoi's Long Bien District, is in danger of going out of business when a new decree regulating automobile imports takes effect next year.
The decree stipulates that traders will only be permitted to import automobiles if they can provide valid vehicle registration certificates issued by authorities from the countries of origin.
Original quality control certificates for each vehicle and letters of authorization regarding recalls of defective vehicles from the manufacturers will also be required, along with copies of quality assurance certificates provided by the countries of origin.
"The requirements are too strict for car dealerships to meet," Thanh said, worrying that the dealership that has fed his family and dozens of workers over the last 10 years will have to close.
"We will import 40 more units before the decree takes effect (January 1, 2018). When they are sold out, maybe in two months, we will have to shut down the business."
Thanh is not the only car dealer concerned about the new regulations.
Nguyen Tuan, director of auto dealership Thien Phuc An, said: "It is very difficult to get copies of quality assurance certificates for imported cars from foreign authorities. Only official distributors and subsidiaries of manufacturers in Vietnam can get them."
"Small traders who import cars through sub-agents or a third country are unable to do this," he added.
Another requirement that requires enterprises to have one car from each batch of imports technically accredited in Vietnam will cost importers more time and money, he said. "Businesses may have to spend weeks and up to VND100 million (US$4,340) to complete the accreditation procedure."
Under current regulations, only one certificate is required for each model of car, regardless of how many batches are imported.
Pham Anh Tuan, head of the strategic planning department at Toyota Vietnam, said foreign authorities only provide quality assurance certificates for cars sold in their own countries, not for those that are exported. This is the same in Vietnam.
In some countries, authorities do not issue these certificates at all. In the United States, for example, car manufacturers are responsible for quality control, and government agencies only take over after the assembly line, he said.
Thanh urged the government to change the policy so that car dealerships can survive. He said it would be a waste of money if car dealers had to shut down after making huge investments. Thousands of employees would also lose their jobs, he added.
Đắk Lắk starts to go solar

Đắk Lắk Province's People's Committee has approved the construction of a solar power plant with a capacity of 50MW in Ea Súp District's Ia Lap Commune.
Long Thành Ia Lốp Co.Ltd has been selected to carry out the project.
The plant will be built over 65 hetares situated on 500ha set aside for a solar power complex by Long Thành Đắk Lắk Investment Joint Stock Company.
In addition, the provincial committee has approved a proposal to increase capacity of the complex from 50MW to 400MW.
The committee asked the Ea Súp District People's Committee and related departments to create conditions for investors to implement the project.It said investors should contact the provincial Department of Foreign Affairs for guidance if foreign experts were hired..
According to the province's clean energy development plan, between four and seven solar plants with the total capacity of 800 to 1,000 MW will be built by 2020.
By 2030, the province plans to increase the capacity of existing solar power plants and build other plants with the total capacity of 3,500 to 4,000 MW.
Đắk Lắk has approved the construction project of solar plants in Ea Súp and Buôn Đôn districts, including Xuân Thiện Solar plant with a capacity of 2,000 MW and total estimated investment capital of US$2.2 billion, the Green Power plant with a capacity of 1,117 MW and investment capital of $1.2 billion, and Long Thành plant with a capacity of 250 MW and total investment of $320 million. 
State treasury raises $133.3 million from bond auction

The State Treasury of Việt Nam on Wednesday raised VNĐ3 trillion (US$133.3 million) from Government bond auctions, raising the total value of bond issuance to VNĐ156.2 trillion since the beginning of the year.
Four tenures were offered for auction at the Hà Nội Stock Exchange - five-year and 10-year-term bonds valued at VNĐ1 trillion each, and seven-year and 30-year-term bonds valued at VNĐ500 billion each.
Of the four types, the auction of seven-year bonds drew the attention of 12 market members. The bonds were sold at the average yield rate of 4.85 per cent per year, slightly higher than the rate during the previous auction on October 25.
Auction of 10-year and 30-year bonds attracted nine and seven market members, respectively. The bonds were sold at average yield rates of 5.42 per cent and 6.1 per cent per year, respectively. The rates were the same as those on October 25.
In October, the Hà Nội Stock Exchange held 15 Government bond auctions, raising total VNĐ7.51 trillion for the State treasury – a monthly increase of 45.5 per cent.
The annual yield rates were 4.5-4.65 per cent for five-year bonds, 4.83 per cent for seven-year bonds, 5.42-5.9 per cent for 10-year bonds and 6.2 per cent for 15-year bonds.
Compared with September, five-year and seven-year bonds saw their yield rates down, while the figure for 10-year bonds was up.
Also in October, the secondary Government bond market saw total outright trading volume reach over 952 million bonds, worth VNĐ104.6 trillion – a monthly decrease of 10.9 per cent.
Total bonds that were traded through repurchase agreement (repo) trading reached nearly 1.05 billion, worth VNĐ106.1 trillion – an increase of 17.7 per cent month-on-month.
Foreign investors purchased bonds worth a total of VNĐ4.5 trillion through outright trading and bought none through repo trading. They sold more bonds worth more than VNĐ4.8 trillion through outright trades and VNĐ345 billion through repo trades.
Petrolimex's post-tax profit down 16%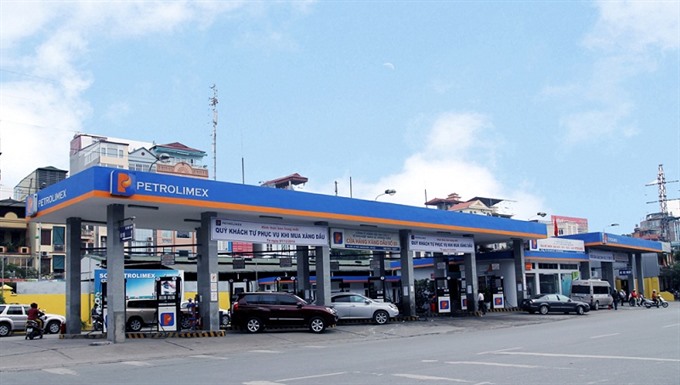 Việt Nam National Petroleum Group (Petrolimex) reported a post-tax profit of VNĐ895 billion (US$39.3 million) in the third quarter of this year, 16 per cent less, year-on-year.

Deputy General Director of Petrolimex, Trần Ngọc Năm, attributed the decline to the reduction in post-tax profit of Castrol BP Petco, a lubricant and grease marketing and production joint venture between BP and Petrolimex, during the period. 

As a result, the prorated post-tax profit that Petrolimex received from Petco reduced by 25 per cent, compared to the same period last year.

The group's business performance was also affected by other factors such as rising social insurance costs and outsourcing costs.

According to the company's financial report, Petrolimex earned VNĐ38.3 trillion in revenue during the third quarter, up 31 per cent year-on-year.

In the first nine months of this year, the total revenue of Petrolimex reached VNĐ112.4 trillion, up 27.7 per cent over the same period of last year, mainly due to the 5 per cent increase in global crude oil's average over the same period of 2016.

Petrolimex post-tax profit during nine months was VNĐ2.9 trillion, down 13 per cent year-on-year.

In the period, the petroleum business activities brought the highest profit for the group with VNĐ1.8 trillion, accounting for over 51 per cent of the total profit, while profit earned by non-petroleum business activities totaled VNĐ1.7 trillion.

Vietcombank to improve internet banking security

To improve security in online banking, Vietcombank on Thursday asked customers to change their password structure.

Accordingly, from November 1, 2017, passwords for internet banking accounts must have seven to 20 characters, including a number, caps lock, normal letter and special characters.

Customers are required to change their password within 12 months. Transactions via internet banking will be automatically stopped if customers do not implement any transaction within five minutes.

In addition, the effective time for using a one-time-password (OTP) for online transactions will be five minutes if being received via SMS and two minutes if being received via EMV-OTP and eToken.

All individual customers and organisations using VCB internet banking services will be subject to the changes.

Users can access the website, www.vietcombank.com.vn, or call the 24-hour hotline, 1900545413, for any support.

Read more at http://vietnamnews.vn/bizhub/416825/vietcombank-to-improve-internet-banking-security.html#lHiGlL18VZpqY3zF.99

VN, Argentina to raise trade value to US$3.5 bln in 2017

Head of the Party Central Committee's Commission for Information and Education Vo Van Thuong proposed Viet Nam and Argentina make efforts to raise their two-way trade turnover to US$3.5 billion in 2017. 

Mr. Thuong made that statement at his meetings with Argentinean Vice President Gabriela Michetti, Vice President of the Chamber of Deputies of Argentine National Congress Patricia Giménez and Minister of Information Hermán Lombardi during his working visit to Argentina from October 29-November 1. 

At these meetings, Mr. Thuong exchanged measures to enhance cooperative relations between the two nations through Party, National Assembly and Government channels, especially by 2018 when the two sides celebrate the 45th founding anniversary of diplomatic ties. 

He hailed the two-way trade value which increased 10 times over the decade from US$300 million in 2006 to more than US$3 billion in 2016. 

The Argentinean leaders consented to promote the bilateral relationship, especially in such areas as economics, trade, investment as well as discussed ways to strengthen cooperation with the Viet Nam Communist Party in the upcoming time.   

Few local enterprises eligible as Samsung's tier-1 vendors

Minister of Industry and Trade Tran Tuan Anh, speaking at a discussion on socio-economic development at the National Assembly on November 1, said there are 25 Vietnamese tier-1 vendors supplying Samsung to make electronics products.

To promote the participation of domestic enterprises in the Samsung supply chain, his ministry and Samsung Vietnam have jointly launched a training program on production and quality management for local companies in supporting industries.

Samsung plans to provide training courses for 1,000 local enterprises in 2018-2020 at a total cost of US$800,000 to help them meet international production and quality management standards. The participating enterprises will be assessed before they can become tier-1 or tier-2 vendors for Samsung Vietnam.

Shim Won Hwan, general director of Samsung Vietnam Complex, said at an exhibition at the Samsung Electronics HCMC Complex (SEHC) on October 19 that Samsung Vietnam looks to double the number of its tier-1 suppliers in Vietnam to 50 by 2020.

There were 24 Vietnamese suppliers taking part in the exhibition. They specialize in motors for air-conditioners and washing machines, printed circuit boards for TVs and other home appliances, as well as signal decoders, and other automatic equipment.

VCCI, ILO help SMEs join global supply chains

Many small and medium-sized enterprises (SMEs) attended a forum themed "Increasing labor productivity - Participating in global supply chains" jointly held on October 27 by the HCMC branch of the Vietnam Chamber of Commerce and Industry (VCCI-HCM) and the International Labor Organization (ILO).

The forum, part of the Sustaining Competitive and Responsible Enterprises (SCORE) program implemented since June 2011, also attracted representatives of VCCI, ILO, the Embassy of Norway in Vietnam, the Consulate General of Switzerland in HCMC, the World Bank Group, the Ministry of Labor, Invalids and Social Affairs, the Vietnam General Confederation of Labor, and relevant departments of Binh Duong, Dong Nai, Long An and HCMC.

Enterprises and the SCORE program organizers talked about benefits of the program and proposed solutions to improve its effectiveness. The program aims to help SMEs overcome shortcomings, increase labor productivity, improve administration capacity and develop high-quality products for global supply chains and integrate deeply into the global economy.

"
Representing Switzerland at the Workshop, Mr. Othmar Hardegger, Swiss Consul General to Vietnam, congratulated VCCI, ILO and their partners for the successful implementation of Phase II. He expected that through phase III "the core values that Switzerland has embraced to develop SMEs include social dialogue, solidarity, human working conditions and integration into the world economy will be further shared with more Vietnamese SMEs in other sectors". "The experience from Switzerland shows that strong social dialogue is essential for the prosperity of a country. Together, workers' and employers' organizations find tailored solutions to improve working conditions, increase productivity and assure the competitiveness of the economy", emphasised Mr. Hardegger. 
Mr. Vo Tan Thanh, Vice President of VCCI and Director General of VCCI HCM, said increasing labor productivity is the key to sustainable development at SMEs, thereby improving incomes and working conditions for workers.
Over the years, VCCI and its partners have sought measures to help enterprises grow business in a sustainable way. The SCORE program includes training and consulting services for SMEs. In the initial stage, the program focuses on wood processing companies in Binh Duong, Binh Dinh, Dong Nai, Long An and HCMC and will be expanded to other key sectors such as supporting industries and textile.
Thanks to the program, many companies can save costs and improve the environment, thus enhancing their competitiveness. Tan Thanh JSC in Binh Duong Province has saved VND200 million a year and Chutex International Co Ltd has reduced 33% of water use and 60% of gas emissions.
More than 110 wood processing firms and 30 mechanical and textile enterprises have got support from the program. Some 91% of participating companies can cut production costs and 61% of companies can apply solutions to improve communication skills. In addition, errors in production lines have decreased by 29% and the number of employees quitting their jobs has dropped by 42%.
Michael Elkin, chief technical advisor of the SCORE program, said the program has benefited over 300,000 employees, with 30% of them being women, at 1,400 enterprises in Bolivia, China, Colombia, Ghana, Vietnam and Peru. The program has gained a global satisfaction rate of 88%, helped 70% of businesses save US$500-50,000 in production costs and increase labor productivity by 30% on average.
The program is expected to support SMEs in supporting industries, textile, footwear, food processing and electricity-electronics so that they can effectively take part in global supply chains.
Japanese tourism promoted in Can Tho

The Japan National Tourism Organization (JNTO) on November 2 organized a seminar in Can Tho City in a bid to promote tourism exchanges between Japan and Vietnam's Mekong Delta.
This was the first time the Japanese tourism promotion agency has held such an event in the Mekong Delta city of Can Tho to promote travel to Japan.
Takahashi Ayumi, chief representative of JNTO in Vietnam, said at the Visit Japan seminar that there has been an upsurge in Vietnamese tourists to Japan since the Vietnam office of JNTO was opened in March this year. Japan welcomed 230,000 tourists from Vietnam in all of 2016, but in the first nine months of this year, the same number of Vietnamese visitors came to Japan, up 30% year-on-year, the highest growth rate ever, he noted.
As for this year, Japan looks to attract up to 300,000 Vietnamese tourists, Takahashi Ayumi said.
Among around 20 travel firms showing up at the seminar on November 2 were JTB-TNT, Song Han Tourist and Tagger Travel. 
"As Can Tho is the biggest city in the Mekong Delta and a fast-growing market, we hope both sides need more specific information about each other to boost tourism," he noted.
Can Tho City vice chairman Truong Quang Hoai Nam said at the seminar that more than 740,000 Japanese visited Vietnam last year. "However, the number of Japanese arrivals to Can Tho is still small due to a shortage of information for tourists and poor traffic infrastructure in the region."
Nam added the Visit Japan seminar and the Vietnam-Japan culture and trade event which is set to take place in Can Tho this weekend are expected to help both sides attract more tourists.
Draft cyber security law mismatches WTO rules

The Vietnam Chamber of Commerce and Industry (VCCI) has pointed out discrepancies between some provisions of the draft Law on Cyber Security and the nation's commitments to the World Trade Organization (WTO) and the Vietnam-EU Free Trade Agreement (EVFTA).
VCCI has written to the National Assembly Security and Defense Committee detailing the incompatibility between the draft law and Vietnam's commitments to WTO and EVFTA. The draft law, crafted by the Ministry of Public Security, is now on the table of the National Assembly (NA) for discussion.
VCCI said Article 34 of the draft law specifies: "Foreign firms providing telecommunication and Internet services in Vietnam shall comply with Vietnamese regulations, respect national sovereignty, interests and security, user interests, obtain licenses, locate their representative offices and servers in Vietnam, and secure user data and accounts..."
However, according to Vietnam's WTO and EVFTA commitments, foreign telecommunication and Internet service providers are not required to locate their representative offices in Vietnam.
Besides, Article 14.13 of the Trans-Pacific Partnership (TPP) agreement which Vietnam signed in February 2016 says: "The Parties agreed not to require the use of computing facilities within their territories as a condition for doing business."
Although the NA has not approved the TPP, Vietnam and 10 other Pacific Rim countries are still conducting negotiations to finalize a deal without the United States. Therefore, VCCI said the draft law should run counter to the TPP.
VCCI said the country's Cyber Information Security Law crafted by the Ministry of Information and Communications came into effect on July 1, 2016, so there is no need to issue a law on cyber security.
Article 11 of the draft law states the Ministry of Public Security is responsible assessing providers of cyber information security services. However, Article 44 of the Cyber Information Security Law regulates the Ministry of Information and Communications is in charge of coordinating with relevant ministries and agencies to issue licenses for those entities providing cyber information security products and services.
This is a clear indication that the Draft Law on Cyber Security and the Cyber Information Security Law overlap to some extent.
VCCI noted some requirements in the Ministry of Public Security's draft law would make life difficult for businesses and push up the cost of doing business in the cyber security domain.
VCCI suggested the Ministry of Public Security eliminate Article 49 of the draft law that requires enterprises to ask the ministry for permission before finalizing their contracts because the draft law does not provide the procedures for doing so.
Construction Ministry: HCMC should approve mini-apartments

The Construction Ministry has proposed the HCMC government permit the development of commercial apartment units measuring 25 to 45 square meters each, an issue which has remained controversial.
The city wants to curb the minimum area of a commercial apartment at 45 square meters and that of a low-cost social home at 25 square meters given insufficient infrastructure in densely populated areas and severe traffic congestion.
The ministry reasons that the management of planning, and urban order and aesthetics depends on a variety of factors, not just apartment size. The planning criteria for housing projects are intended to deal with population, building density, and residential block height issues.
Countries such as Thailand, South Korea and France allow for mini-apartments measuring 14 to 20 square meters each. But their authorities can well manage population and planning issues in major cities, according to the ministry.
The ministry underscored the need to create favorable conditions for residents and companies to build affordable condos to meet the demand for housing of low-income people, especially factory workers at industrial parks.
Therefore, the ministry proposed the city limit the proportion of commercial apartments measuring 25 to 45 square meters in a housing project at 20-25% in the city center that has high population density and insufficient technical infrastructure.
Housing projects outside the city center can have a higher proportion of mini-apartments if there are a lot of factory workers there, said the ministry.
The ministry is crafting a set of national technical criteria for apartments, including the minimum area for commercial apartments.
Earlier, the city said apartments of less than 45 square meters would speed up urbanization, increase the population, and put more pressure on its already-overstretched technical and social infrastructure.
Toyota Vietnam lowers auto prices

oyota Vietnam has cut prices of domestically assembled autos by 3% to 9% since Wednesday this week, according to a report on Vietnamnet news website.
The Japanese automaker has adjusted down prices of Vios, Innova and Corolla vehicles, except for the Camry, said the report.
Toyota Vios TRD has declined by VND58 million (US$2,553) to VND586 million (US$25,820), said Vietnamnet. Other models of the four-door subcompact car like Toyota Vios G, E CVT and MT have marked down by VND48-53 million to VND484-586 million per unit.
Toyota Corolla subcompact and compact cars have seen their prices falling by VND24-31 million to VND678-936 million per unit. Notably, Toyota Innova retail prices have dipped by VND42-50 million to VND817-995 million per unit.
The special consumption tax for autos with engine capacity of two liters or below is set to be slashed by 5% next year. Vietnam will also reduce import tariffs on auto parts from the Association of Southeast Asian Nations (ASEAN) to 0%, said the Vietnamnet report.
Therefore, the average tax on auto parts will be around 5% next year, down from the current 15%, which might result in the automaker revising down its retail prices.
Some dealers of Toyota Vietnam in Hanoi were quoted by Vietnamnet as saying that the firm's selling prices are now equivalent to those of other dealers. This has prompted many customers to buy its vehicles since Wednesday.
In a related development, some foreign-invested companies have decided to cancel their import orders for completely-built-up (CBU) autos next January as they have yet to meet the new requirements provided in Government Decree 116/2017/ND-CP on manufacturing, assembly and import of autos, and auto warranty and maintenance services that came into force on October 17.
Specifically, they are required to provide the scanned copies of quality certificates for their imported autos issued by competent authorities in exporting countries.
Vietnam should prepare for challenges from EU trade pact

Vietnamese exporters are advised to be prepared to deal with stringent regulations if they want to maximise the benefits of the EU-Vietnam Free Trade Agreement (EVFTA), which is expected to come into effect soon.
Experts, at conference on November 2, stated that the trade pact will eliminate tariffs on 99.2% of Vietnamese exports but warned that domestic enterprises may fail to enjoy such preferential treatment if they do not take the necessary steps immediately.
Expert Phan Duc Hieu from the Central Institute of Economic Management said that the EVFTA is anticipated to boost investment and technological innovations, thereby helping to improve productivity across many sectors, thanks to its broad scope of commitments.
The trade pact was concluded in 2015 and is currently in the process of ratification.
According to Claudio Dordi, leader of the EU's trade assistance project in Vietnam, the EU has a strict consumer protection policy with high technical barriers on foreign imports, therefore Vietnam should be prepared to deal with these barriers, especially with regards to the rules of origin, before the trade agreement comes into effect.
Former Trade Minister Truong Dinh Tuyen said that Vietnam also faces difficulty in complying with the regulations on intellectual property rights, labour and the environment as, while Vietnamese enterprises are quite apathetic concerning intellectual property rights, this is one of the EU's top requirements.
In addition, Vietnam's agricultural products will face hurdles due to food safety regulations as pesticide residues remain high and the quality of exports is inconsistent due to poor harvest and storage practices.
According to experts at the conference, Vietnam, given its limited resources, should concentrate on a number of sectors that the country is strong in, such as garments, footwear and the assembly of electronic devices.
Moreover, Vietnam needs to continue fine-tuning its legal frameworks in order to meet the regulations on labour, intellectual property rights and the environment.
Meanwhile, measures are needed to enhance the quality of the workforce and step up trade promotion activities to further expand the EU market.
Proposal on establishment of Phu Quoc administrative-economic zone approved

The People's Council of the Mekong Delta province of Kien Giang on November 2 approved the proposal on the establishment of the Phu Quoc special administrative-economic zone and Ha Tien city.
The Phu Quoc Special Administrative - Economic Zone, known as the Phu Quoc Special Zone in short, will have an area of over 57,532 hectares, a population of 117,460, and nine administrative divisions that are transformed from two townships and seven communes.
The establishment of the Phu Quoc Special Administrative - Economic Zone is expected to make the best use of local advantages and attract investment, high technology and new advanced management to build a high-growth region and speed up economic restructuring and development.
Ha Tien city is established on the basis of Ha Tien town, with an area of more than 10,048 hectares and a population of 81,576 people. The city consists of seven administrative units at the commune level, including five wards and two communes.
The Standing Committee of the provincial People's Council emphasised the necessity of the establishment of Ha Tien city, meeting the aspiration of people of Ha Tien town in particular and Kien Giang in general, contributing to the local socio-economic development, improving both material and spiritual life of the locals, as well as firmly defending the seas and islands of the country.
In addition to Phu Quoc, the Government has decided to initially develop two other special administrative-economic units - Van Don in northern Quang Ninh province and Bac Van Phong in central Khanh Hoa.
Special administrative-economic units are magnet for investment, high technology and advanced management mode for the formation of a high growth area that generates more resources and accelerates local economic restructuring and development.
Ba Na Hills Golf Club picks up national award

The Ba Na Hills Golf Club won "Best New Course 2016-2017" at the annual Vietnam Golf Magazine Awards in Hanoi on October 31.
Based on the results of an online survey and input from a panel of golf course design experts, the award is the third of its kind to come the club's way in less than a year. 
"While it's possible those accolades may have paved the way for this honor, you just never know," said Mr. Tim Haddon, Ba Na Hills Golf Club's General Manager. 
"Our No. 1 goal is to make the experience here better every single day. If you can do that, the awards should come."
Last November, Ba Na Hills was named "World's Best New Course" at the World Golf Awards in Portugal and "Best New Course in Asia Pacific" at the Asia Pacific Golf Summit in Thailand.
Since opening in March 2016 on the outskirts of Da Nang, Ba Na Hills has made a name for itself by offering a golf product unlike any other in Vietnam.
Among the course's standout features are its flexibility - it can play long, short, or anywhere in between, thanks to five sets of tee boxes - its comprehensive lighting system, and its views.
The most breathtaking vantage point comes at the par 3 12th, which plays downhill to a bunker-guarded green backdropped by a dense forest stretching as far as the eye can see.
Ba Na Hills Golf Club is managed by IMG and owned by the Sun Group, one of the leading investors in Vietnam and with The InterContinental Danang Sun Peninsula Resort, Novotel Danang Premier Han River Hotel, and Ba Na Hills Mountain Resort counting among its other properties.

Standard Chartered & VCCI support SMEs in international trade

Standard Chartered Bank Vietnam, in collaboration with the Vietnam Chamber of Commerce and Industry (VCCI), announced its support of small and medium-sized enterprises (SMEs) in international trade and business at a workshop held in Hanoi on October 31 that attracted over 100 businesses from diverse industries.
The workshop discussed key issues for local SMEs, including the latest government support policies, the outlook for the economy and foreign exchange next year, and how international banks can support SMEs in their international trade needs.
Standard Chartered announced a campaign to offer a 50 per cent cash back on commission fees for the first ten overseas transactions made before the end of the year. 
The campaign is applicable for new customers that open business banking current accounts at the bank using the 50 per cent cash back coupon obtained from VCCI or at the workshop.
"Given the SME sector is a key contributor to trade, employment, and economic growth in Vietnam, it is critical that the sector receive adequate support to grow strongly and sustainably," said Ms. Pham Thu Hang, General Secretary of VCCI. 
"We appreciate the opportunity to work with Standard Chartered Bank to host this meaningful workshop, which provides SMEs with useful knowledge and experience to succeed in international trade. This is particularly important in the context of Vietnam's increasing integration into the regional and global economies."
"For the last two decades, Vietnam has benefited greatly from the expansion of trade and investment links with various countries around the globe and SMEs play a crucial role in that process," Mr. Nirukt Sapru, CEO of Standard Chartered Vietnam and ASA Cluster Markets, told the workshop. 
"As Vietnam continues to expand trade with the rest of the world, SMEs will be a key part of this growth. They will be critical to further integrating Vietnam into global supply chains. As one of the oldest international banks in Vietnam, Standard Chartered Bank offers a wealth of experience and expertise to help Vietnamese businesses navigate the global economy and expand their business."
Standard Chartered Bank Vietnam in June was named Best Bank for Treasury and Working Capital in Vietnam for major customer segments, including multinational companies, large local companies, financial institutions, and non-bank financial institutions, as well as Best Service Provider in Vietnam in various categories at The Asset Triple A Treasury, Trade, Supply Chain and Risk Management Awards 2017, held by global financial magazine The Asset.

HSBC Vietnam facilitates overseas education

With growing demand for banking services to facilitate overseas education, HSBC Vietnam has introduced an Overseas Education proposition with a variety of services and benefits for Premier clients: overseas account opening from Vietnam, free fund transfers, and preferential foreign exchange rates. 
As HSBC Premier clients, Vietnamese nationals who have children going to study overseas can gain support from HSBC Vietnam to open an overseas account prior to departure. 
By holding premier accounts in multiple countries, the children can monitor their balances and transactions all in one place with HSBC's Global View, and when required can transfer money free of charge with HSBC's Global Transfer.
To do so, the bank requires the following documents: (i) A passport with accompanying documentation from the foreign State as evidence that the customer (or customer's child) is permitted to move abroad for study purposes (such as a Student Visa), and (ii) A confirmation letter issued by the relevant school or university overseas confirming the child has been accepted to study there (i.e. an acceptance letter).
Besides educational purposes, HSBC Premier clients will also be eligible to open an account overseas if they move abroad for resettlement or embark on a business trip / assignment for at least 12 months.
Vietnamese nationals can enjoy transfer benefits for educational purposes, including free transfers of tuition fees and living expenses. Funds of up to $25,000 per year can be proceeded to cover living expenses during the period of education. Preferential foreign exchange rates are also available.
And to give parents peace of mind, HSBC offers Global Safety Net, which provides the children of Premier customers with emergency cash provisions when they need it most.
According to HSBC's latest report, released as part of the bank's global series on "The Value of Education", 41 per cent of over 8,400 parents in 15 countries and territories surveyed said that they are considering university education abroad for their children.
Parents recognize the main benefits of an international university education for their child's future, which are foreign language skills, gaining international work experience, and exposure to new experiences, ideas and cultures.
"Similarly, Vietnamese parents place great importance on their child's education and more and more now consider overseas education to improve the quality of education for their child," said Mr. Sabbir Ahmed, Head of Retail Banking and Wealth Management at HSBC Vietnam. 
"It is vital to seek professional help to plan for a child's education, choose the bank that best suits your needs, and review your plans regularly."
According to the education ministry, the countries with the highest number of Vietnamese students are Japan, Australia, the US, China, and the UK. With its immense network of around 3,900 offices in 67 countries and territories in Europe, Asia, North and Latin America, and the Middle East and North Africa, HSBC is in an ideal position to support its clients to actualize their ambitions for the next generation in an increasingly mobile world. 
HSBC's flagship Premier proposition is a unique service offering available to the high net-worth individuals. Launched in 2010, HSBC Premier offers international recognition and comprehensive wealth solutions to bring maximum support for customers' needs in education, insurance, retirement, legacy as well as wealth growth and management.

Leading seafood export to sell golden goose

Vietnam's leading seafood processor and exporter, the Hung Vuong Corporation (HVG), has decided to sell its entire holding in its most efficient company, Sao Ta Foods.
HVG's Board of Directors has approved the sale of 21,128,000 shares, equal to 54.28 per cent of Sao Ta's capital. The decision was unexpected, as Hung Vuong said at a meeting of shareholders at the beginning of the year that it had shelved plans to sell the holding to a Japanese partner.
The company's recent business results revealed a net loss of VND132 billion ($5.8 million) for the financial year from October 1, 2016 to September 30. HVG's total debt is over VND7.9 trillion ($347.6 million), with interest payments of more than VND600 billion ($26.4 million) bringing about the $5.8 million loss.
HVG is famous as the "Tra Fish King" after conducting a series of M&A deals in the seafood industry in a short period of time. The Sao Ta sale would have been a difficult decision for HVG's leaders as it is one of the leading shrimp exporters in Vietnam and has earned major profits for HVG in recent years.
HVG also recently decided to sell some plots of lands in District 6, Ho Chi Minh City, to recover capital.
In the first nine months of this year, Sao Ta recorded its highest profits to date, with finished shrimp product output estimated at 15,441 tons worth $144 million. Pre-tax profit is estimated at VND125 billion ($5.5 million), exceeding the plan by 25 per cent increasing 60 per cent year-on-year.
Sao Ta Foods was originally a State-owned enterprise in the Mekong Delta province of Soc Trang, which started in 1996. It was equitized in 2003, and the State holding has fallen to 10.6 per cent since.
The company has generated continual profits over the years. It managed to recover its initial investment within the second year of operations and has been one of Vietnam's five leading shrimp exporters. 
According to the General Department of Vietnam Customs, seafood exports in October were estimated at $733 million, bringing the volume of seafood exports in the first ten months to $6.73 billion, up 17.6 per cent over the same period of 2016.

Vietnam National Aviation Insurance Corporation lauches major promotion

Vietnam National Aviation Insurance Corporation (VNI) has announced it is implementing a promotional program called "Messaging and Big Win" for customers nationwide purchasing motor vehicle insurance.
Customers have the opportunity to win one First Prize of Honda Airblade 2017 (magnetic paint version) and three consolation prizes: Apple iPhone 6s with 32GB.
To participate in the promotion, customers who buy auto insurance from VNI can enter the security code printed on the VNI certificate with: VNI*Security code* Car number plate then send to 8069 (For example: VNI * 123456 * 30E54589).
VNI will pick a random security code on January 1, 2018 to determine the winners.
Winners will be published within 30 days at the headquarters of VNI and announced in the media. They will be notified directly by VNI via email or phone and their names can be viewed on VNI's website and at VNI outlets nationwide or heard by calling 1900 969 690.
According to VNI, demand for renewing motor vehicle insurance increases at the end of the year. As VNI is looking forward to its 10th anniversary, the promotional program is being held to express its gratitude to customers who trusted in the company over the years. 
Digiworld acquires stake in FMCG company

The Digiworld Venture Company Limited, a subsidiary of the Digiworld Corporation, has recently completed a merger & acquisition (M&A) deal to purchase a 50.3 per cent stake in the CL Company Ltd., a fast-moving consumer goods (FMCG) concern in Vietnam.
According to its third quarter business report, consolidated after-tax profit for the third quarter was $1.2 million on net revenues of $50.4 million, up 14.2 per cent and 10 per cent quarter-on-quarter, respectively.
Revenue was $118.7 million in the first nine months and after-tax profit $2.5 million.
The third quarter saw robust earnings growth thanks to the exploitation of market expansion services (MES), bringing in more added value to new product lines, Digiworld noted in a statement. It acquired the 50.3 per cent of CL via its subsidiary, Digiworld Venture.
Founded in 1998, CL specializes in distributing high-end FMCG products from Japan such as Kodomo toothpaste, Zact Lion whitening toothpaste, Systema toothbrushes, Essense detergent liquid, Bio Zip detergent powder, and Bubbi King dishwashing liquid. Its distribution network covers all 63 cities and provinces in Vietnam, including traditional channels and major supermarket chains.
CL is also known as the exclusive partner of the Lion Corporation, the leading Japanese corporation in FMCG with annual revenues of more than $3.4 billion and a staff of nearly 6,900. Lion's portfolio includes oral care, body care, clothing care, home care, kitchen care, and other healthcare and beauty care products. Lion's toothpaste is renowned for being the top selling product in Japan.
With its distribution network and Lion's diversified and reputable product portfolio, this will be the ultimate platform for Digiworld to quickly penetrate, expand, and exploit the promising industry in the future.
Digiworld also announced in August its entry into the local healthcare industry with the debut of its first product, Kingsmen, a supplement for men exclusively distributed by the company. 
Along with developing its distribution network, Digiworld has set a revenue target for the product line of more than $3.5 million this year, $17.6 million next year, and $44 million in 2019. 

Dulux Professional sponsors Vietnam Property Award 2018

Dulux Professional, a consolidated paints and coatings solution for professional customers by leading global paints and coating company AkzoNobel, officially became the "Silver Sponsor" of Vietnam Property Awards 2018.

Under the auspices of this award, Dulux Professional will cooperate with Vietnamese companies to create an interesting playground for high-quality and prestigious real estate projects.

Leading decorative paints brand Dulux works to grow and strengthen its relations with urban development experts, architects, and investors as well as introduce new outstanding products of the Dulux professional portfolio to customers interested in an environmentally certified product with improved and innovative features, such as easy application, high durability, optimal protection in all weather conditions. A leader in sustainability, Dulux Professional is a prominent name in the green architecture scene sweeping across Vietnam.

Nguyen Cong Hai, head of marketing at AkzoNobel Paints Vietnam, said that the company always focuses on the sustainable development of Vietnamese enterprises because sustainability is the reason behind AkzoNobel's success.

Equipped with an extensive knowledge of sector specifications and regulations, AkzoNobel is proud to support construction and real estate developments in Vietnam by offering a one-stop paints and coatings contact point for industry professionals.

"Vietnam Property Awards 2018 is a bridge to connect Dulux Professional with businesses as well as the public, giving an opportunity for Dulux Professional to affirm and strengthen its position in the market with optimal, sustainable, and efficient solutions for products and services for the project channel," Hai added.

Vietnam Property Awards is a part of the regional Asia Property Awards programme established in 2005. The aim of the awards is to honor the highest quality projects in interior design and creative architecture as well as to recognise the efforts of real estate developers in their commitment to the market.

AkzoNobel creates everyday essentials to make people's lives more livable and inspiring. As a leading global paints and coatings company and a major producer of specialty chemicals, the company supplies essential ingredients, essential protection and essential colour to industries and consumers worldwide.

Backed by a pioneering heritage, the company's innovative products and sustainable technologies are designed to meet the growing demands of our fast-changing planet, while at the same time striving to make life easier.

Headquartered in Amsterdam, the Netherlands, it has approximately 45,000 employees in around 80 countries, while its portfolio includes well-known brands, such as Dulux, Sikkens, International, Interpon, and Eka. Consistently ranked as a leader in sustainability, AkzoNobel is dedicated to energising cities and communities while creating a protected, colourful world where life is improved by what the company does. 

Cashew nut exports expected to exceed US$3 billion

Việt Nam's cashew nut exports are forecast to surpass the US$3 billion benchmark for the first time in 2017 thanks to increasing shipments in the first ten months of the year.

According to the Ministry of Agriculture and Rural Development, cashew nuts raked in $2.87 billion from 289,000 tonnes, down 0.4 per cent in volume but up 23.1 per cent in value.

With this growth, the country's export revenue of cashew nuts is likely to hit some $3.4-3.5 billion in 2017.

The result is spurred by a surge in both prices and demands. Việt Nam experienced a poor cashew crop during 2016-17 with productivity of 250,000 tonnes, thus cashew nuts has been sold at higher prices, average $9,909 per tonnes in nine-month period ending in September, an increase of 25.1 per cent year on year.

Vietnam Cashew Association (Vinacash) Chairman Nguyễn Đức Thành said that export prices of cashew nuts in the nine months reached a record high, resulting in significant growth in export revenue from key markets like the US (34.7 per cent), the Netherlands (45.2 per cent), China (9.1 per cent) and the UK (4.6 per cent).

Notably, Vietnamese cashew nuts have captured a lion's share of the US market with 73.7 per cent and the Netherlands with 65.2 per cent, he noted.

Despite a considerable increase in cashew nut prices, demands for the product are growing. The International Nut and Dried Fruit Council (INC) said that global cashew nut demands rose 6.1 per cent per year while cashew productivity only picked up 3.5 per cent per year.

Thành said that it is crucial to develop a national brand for Vietnamese cashew nuts, given that although Vietnamese cashew exports occupied half of the world's volume and value, foreign consumers believed that all cashew products are originated from India. 

Retail loan profits drive bank stocks

Vietnamese lenders are heading towards high earnings in 2017 and 2018, resulting in a positive outlook for their stocks and capital raising plans. 

Things have been going quite well for Vietnamese lenders this year, after long periods of struggle and internal restructuring. In the first half of 2017, credit expanded by 9.12 per cent compared to the beginning of the year, driven by retail loans. Lending in foreign currencies went up by 11.5 per cent during the same period, 10 times higher than the growth pace of 2016. Deposits grew modestly, but were offset by the VND160 trillion ($7 billion) parked in the system by the State Treasury of Vietnam.

Reports from the National Financial Supervision Council (NSFC) show that after-tax profits of the entire banking sector reached VND40 trillion ($1.7 billion) in the first seven months of 2017, up 60 per cent year-on-year. The system's net interest margin, which is the difference between lending and deposit rates, stepped up to 2.9 per cent. A switch to retail lending is the main reason for this higher spread in net interest, the reports pointed out.

Another major update is Resolution No.42/2017/QH14, which is expected to accelerate the process of solving non-performing loans. According to Saigon Securities Incorporation (SSI), banks are making bolder moves to address this chronic problem, including using reserves to write off sour loans and speeding up their sale to Vietnam Asset Management Company.

"Overall, we expect strong growth for banks in the second half of 2017 and in 2018, thanks to prolonged credit expansion, aggressive measures to tackle bad debt, and stronger corporate governance to follow Basel II," read the NSFC report.

Analysts from Viet Dragon Securities believe that some commercial banks like Military Bank or Asia Commercial Bank have almost fulfilled their obligations for special bonds, paving the way for strong growth in earnings in 2017 and 2018.

These positive prospects are already reflected on the banks' stock prices this year. The share prices of most commercial banks have grown by rates between 30 and 80 per cent year-on-year, and trading volume was high. The market also welcomed newcomers such as Vietnam International Bank, Kienlongbank, LienVietPost Bank and, most notably, Vietnam Prosperity Bank, which raised $1.2 billion from 78 foreign investors before the listing.

Vinh Tuan Ngo, head of investment banking at Viet Capital Securities, told VIR that the upcoming listing of Techcombank will be the biggest ever in the Vietnamese financial sector. The bank is slated to make its public debut in the second quarter of 2018, and has locked in its foreign ownership limit to seek strategic investors from abroad.

"Banking will be among the most attractive sectors in Vietnam next year. Previously, bank stocks in Vietnam traded below their book value as investors were concerned about various issues in the sector. However, after the recent wave of listings and a more positive earnings outlook, bank shares have been doing much better. It will be easier for the banks to find foreign investors," said Ngo.

Researchers from SSI believe that stricter capital requirements from Basel II will force Vietnamese banks to increase their funding, which includes issuing more bonds and searching for strategic investors. Most recently, Bank of Investment and Development of Vietnam, one of the state-owned lenders, was in negotiations with a potential partner, while LienVietPost Bank is seeking strategic investors from overseas.

That said, the 30 per cent cap on foreign-owned shares remains a major drawback for Vietnamese banks when seeking foreign capital, according to Ngo. This rule has been relaxed for smaller, indebted lenders but not for profitable banks, which are usually the targets for overseas investors.

For state-owned lenders, analysts at SSI emphasise that the government plans to own more than 50 per cent of outstanding shares, but also 65 per cent of voting shares. This implies that there might be some form of non-voting shares in these banks, giving hope to foreign investors who are restricted by the banks' small amount of free-floating shares.

Vietnamese goods favoured in RoK

Made-in-Vietnam goods are more competitive than those of other Asian countries in the Republic of Korea (RoK) thanks to the effective implementation of the Vietnam-RoK and ASEAN-RoK free trade agreements, experts said at a workshop in Ho Chi Minh City on November 2.

Apart from making use of preferential tariffs, Vietnamese businesses are aware of the significance of studying the market and investing in designs to create high-quality products.

Notably, Vietnam's southern economic hub of Ho Chi Minh City has many opportunities to expand its presence in the RoK.

According to the municipal Department of Industry and Trade, the RoK is the fifth biggest importer of the city, making up nearly five percent of its total export turnover. 
HCM City mainly exports garment-textile, footwear, electronic products and spare parts, computers, wood and timber products.

In the first ten months of 2017, the city exported 29.15 billion USD worth of goods through the country's border gates, a year-on-year rise of 13.3 percent.

Deputy Director of the department Nguyen Huynh Trang said Vietnam has signed 12 free trade agreements, including 10 effective ones. 

To promote exports to the RoK, Vietnamese firms should address shortcomings in packaging and papers declaration and map out a proper strategy to increase competitiveness in the market, she suggested.

Cashew nut exports expected to exceed 3 billion USD

Vietnam's cashew nut exports are forecast to surpass the 3 billion USD benchmark for the first time in 2017 thanks to increasing shipments in the first ten months of the year.

According to the Ministry of Agriculture and Rural Development, cashew nuts raked in 2.87 billion USD from 289,000 tonnes, down 0.4 percent in volume but up 23.1 percent in value.

With this growth, the country's export revenue of cashew nuts is likely to hit some 3.4-3.5 billion USD in 2017.

The result is spurred by a surge in both prices and demands. Vietnam experienced a poor cashew crop during 2016-2017 with productivity of 250,000 tonnes, thus cashew nuts has been sold at higher prices, average 9,909 USD per tonnes in nine-month period ending in September, an increase of 25.1 percent year on year.

Vietnam Cashew Association (Vinacash) Chairman Nguyen Duc Thanh said that export prices of cashew nuts in the nine months reached a record high, resulting in significant growth in export revenue from key markets like the US (34.7 percent), the Netherlands (45.2 percent), China (9.1 percent) and the UK (4.6 percent).

Notably, Vietnamese cashew nuts have captured a lion's share of the US market with 73.7 percent and the Netherlands with 65.2 percent, he noted.

Despite a considerable increase in cashew nut prices, demands for the product are growing. The International Nut and Dried Fruit Council (INC) said that global cashew nut demands rose 6.1 percent per year while cashew productivity only picked up 3.5 percent per year.

Thanh said that it is crucial to develop a national brand for Vietnamese cashew nuts, given that although Vietnamese cashew exports occupied half of the world's volume and value, foreign consumers believed that all cashew products are originated from India.

Vietnam – Potential market for foreign food firms

Vietnam has been considered as a "fertile land" for foreign food firms as many trademarks from the Republic of Korea (RoK), Japan and Thailand are seeking ways to penetrate the 93 million-strong market.

Statistics from the Vietnam Retailers' Association (VRA) showed that the country's food consumption in the 2011-2016 period reached about 30 billion USD with two-digit growth predicted in the future.

Han Kyung Joon, Vice Director of the Korea Trade and Investment Promotion Agency (KOTRA), said that after with the Korea-Vietnam Free Trade Agreement (KVFTA) became effective in 2015, Korean enterprises have switched their focus from the Chinese market to Vietnam in an effort to boost the export of consumer goods.

Along with merging and acquisition deals with high value, a strong wave of Korean investments has been seen in Vietnam's food and beverage market.

On October 31, a delegation of businesses operating in the food and beverage industry from the RoK's Jeju visited Ho Chi Minh City to seek Vietnamese distributors. The Ho Chi Minh City Branch of the Vietnam Chamber of Commerce and Industry (VCCI) said that the visit was a success.

At the beginning of the second quarter, RoK's K-FOORAND ZONE opened its shop in Lotte Mart in Ho Chi Minh City, marking an expansion of Korean food coverage in Vietnam.

On November 8, the second Food and Beverage Exhibition 2017 will be held in Hanoi after the first one in August in Ho Chi Minh City where the RoK took the lead in the number of participating enterprises.

Japanese food brands are also deploying plans to bring their products into the Vietnamese market. Takimoto Koji, head of the Japan External Trade Organisation (JETRO) in Ho Chi Minh City, said Vietnam is the first country chosen by Japan in its campaign to export more food to the world.

Since late 2016, JETRO has cooperated with some distributors of Ministop, FamilyMart and Aeon in Vietnam to sell Japanese food. JETRO plans to increase food exports by 30 percent next year from the current amount of 10 million USD.

A report released by StoxPlus in 2016 showed that in 2015-2016, the majority of merging and acquisition deals in the processed food market of Vietnam came from Asian investors, including those from Japan, Thailand and the RoK.
 
Vietnam takes 2nd place to no one in organising APEC 2017: diplomat

Vietnam takes second place to no one in the organisation of the Asia-Pacific Economic Cooperation (APEC) forum, former Canadian Ambassador to Vietnam David Devine has told the Ottawa-based Vietnam News Agency correspondent.

He said hosting APEC 2017 is a great honour but also big responsibility for Vietnam. The country expects to welcome representatives from the 21 member economies and leading businesses in the region to discuss important issues in the Asian-Pacific region.

The diplomat highlighted APEC objectives, including the connection of member economies for mutual benefits. 

He also anticipated difficulties, including trade protectionism, which need to be addressed.

For Vietnam, the country has gained achievements thanks to the implementation of the "Doi moi" (reform) policy since 1986, he said, adding that Vietnam has the strongest growth pace than any other country around the world.

He also called on APEC leaders to reiterate their commitments to fulfilling the Bogor goals for realising free and open trade in Asia-Pacific by 2020.

Established in 1989, APEC comprises Australia, Brunei, Canada, Chile, China, Hong Kong (China), Indonesia, Japan, the Republic of Korea, Malaysia, Mexico, New Zealand, Papua New Guinea, Peru, the Philippines, Russia, Singapore, Chinese Taipei, Thailand, the US, and Vietnam.

The year 2017 sees the second time Vietnam has played host to the Asia-Pacific Economic Cooperation (APEC) forum after 19 years of being a member of the forum. 

Themed "Creating New Dynamism, Fostering a Shared Future", the APEC Year 2017 aims to seek dynamism for integration, connectivity, and economic growth and realise the long-term goals of "fostering a shared future" of peace, stability, development and prosperity.

The APEC Economic Leaders' Week, the most important external event in Vietnam, is scheduled to take place in the central city of Da Nang from November 4-11 with the participation of leaders from the 21 member economies along with over 2,000 leading corporate executives and nearly 3,000 reporters in the region and around the world.
 
Vietnamese exhibitors take part in Havana Int'l Fair

Some 20 Vietnamese exhibitors are participating in the 35th Havana International Fair (FIHAV 2017) in the capital city of Cuba from October 30 to November 3.

The businesses bring to the fair a wide range of made-in-Vietnam products including farm produce, processed foods, dairy products, clothing, sports instrument, building materials, bathroom fixtures, traditional handicrafts, beauty products and others.

According to the Vietnam Trade Promotion Agency (Vietrade), the event, the largest ever in the region, hosts a 300-sqm Vietnam Pavilion of 30 booths which has been visited by a number of businesses from Central America, Caribbean, Africa and the Middle East to look for partnership opportunity.

The fair witnessed the signing of a memorandum of understanding between the Thai Binh Investment and Trading Corporation (Thai Binh) from Vietnam and TRD Group from Cuba, facilitating the opening of a showroom for building materials in Cuba and the launch of the Vietnam-La Sortija House selling imported goods from Vietnam.

The FIHAV attracted about 3,400 exhibitors from 70 countries and territories this year.

VNA/VNS/VOV/SGT/SGGP/TT/TN/Dantri/VNEVET