Foreign investors eye golden land plot of unfinished Vung Tau-Paradise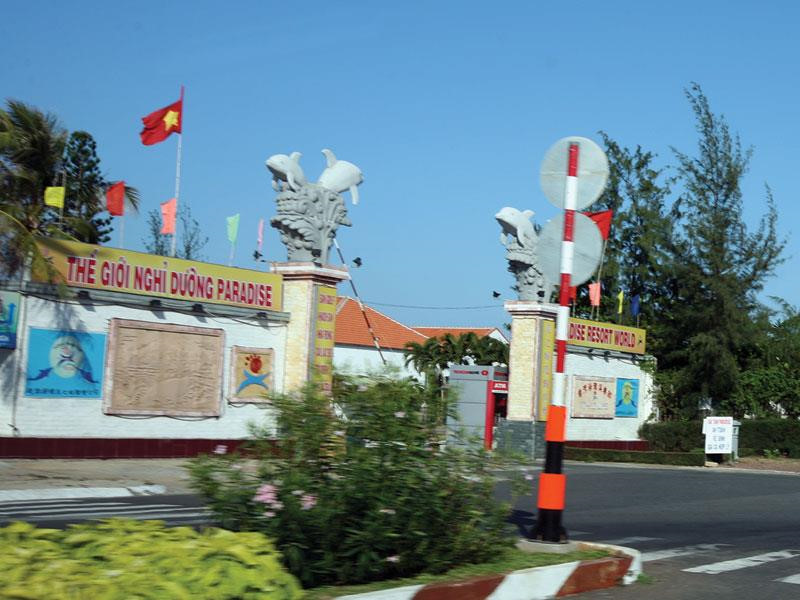 Numerous domestic and foreign investors have expressed their ambition to take over the golden land plot of the unfinished Vung Tau-Paradise project.

In 1991, Paradise Development & Investment Company from Taiwan was granted the investment certificate to develop the 220-hectare Vung Tau-Paradise project with a total investment capital of US$97 million, 75% of which would come from Paradise Development & Investment, while the remaining 25% from Ba Ria-Vung Tau International Tourism Service JSC.

However, since then only the 27-hole golf course, a 38-room hotel, and water sport area have come into use, and the construction of the remaining stages has yet to be implemented.

In April 2016, when the project's investment certificate expired, the Taiwanese investor proposed the province to extend the licence so that it could complete the unfinished stages. But, the province decided to revoke the project's licence and only agreed to extend the time for the investor to complete the procedures to liquidate the project.

Simultaneously, the province has called for other investors to pour money into the project. At the time, the province issued criteria to select investors.

Accordingly, investors have to confirm to invest at least US$2 billion in the project, at least 25% of which comes from the investors' equity. Besides, the investors have to complete the construction within three years and confirm that the project will create a connection with Bau Trung area.

At present, numerous domestic and foreign investors eye the project because the 220-hectare area is considered the only golden land plot left at the Bai Sau area of the province.

The first potential investor is Sebrina Holdings Pte., Ltd. from Singapore. Sebrina Holdings has 20 years of experience in the energy, property, and logistics sectors in Singapore. It currently has a representative office in Ho Chi Minh City. 

In 2015, representatives of Sebrina Holdings arrived to Vietnam to find investment opportunities in the seaport sector. In early 2016, it became the strategic investor of Hanel One Member Limited Liability Company.

Sebrina Holdings was expected to revive the unfinished Vung Tau-Paradise project. However, numerous other heavyweights are in line to take over.

These include VinaCapital Investment Management Ltd., Novaland, and Vingroup. Previously, Hanoi General Export Import JSC (Geleximco) held a working session with the provincial leaders and relevant authorities to learn about the procedure of developing an urban area, tourism, and sports complex on the land plot. 

Furthermore, Geleximco expressed interest in investing in Cai Mep Ha area in Tan Thuan district.

Meanwhile, Housing Development and Trading JSC (HDTC) proposed the province two investment plans on the land fund.

The winner of the race to seize the golden land plot under Vung Tau-Paradise project will be disclosed after the Taiwanese investor completes the procedure to liquidate the project.

Vietnam boosts Agriculture 4.0

Vietnam has made great strides in boosting agricultural development. Its agricultural production value, added values, product volume, and exports have grown.

Vietnam is taking advantage of the 4.0 industrial revolution to develop clean, smart, and effective agriculture.

The term Agriculture 4.0 was first used in Germany. Analogous to Industrial Revolution 4.0, Agriculture 4.0 stands for the integrated internal and external networking of farming husbandry, fisheries, and forestry.

Agriculture 4.0 has boosted agricultural growth in many countries. Smart digital technology has been applied widely in Vietnam's agriculture sector.

For example, remote sensing technology has been employed to forecast storms and droughts. Digital technology is used in forest protection and forest fire warning systems. 

Gene technology and remote sensing technology are used in high-tech agriculture, greenhouse, and livestock production projects. 

Tran Van Khoi, Acting Director of the National Agricultural Extension Center, said, "It's necessary to apply high technology in agricultural production, particularly biotechnology, new materials technology, automation and mechanization technology, and information technology. Those four technologies are the key to agricultural development."

At a recent Vietnam Farmers' Forum themed "Farmers ready for Agriculture 4.0", Deputy Prime Minister Vuong Dinh Hue said that the 4.0 Industrial Revolution is an irreversible trend. 

He said Vietnam will approach Agriculture 4.0 in a smart way based on selecting effective and profitable sectors and ensuring safety for the environment and people's health.

"We need to mobilize the combined strength of all sectors at all levels and the close coordination between management agencies, scientists, enterprises, and farmers. We also need to strengthen communications to create consensus and increase social awareness about implementing this important policy," he said.

The Deputy Prime Minister asked state management agencies, scientists, enterprises, and farmers to identify priority technologies and areas for short, medium, and long-term development. He stressed the need to focus on human resource training to boost Agriculture 4.0.      

Khanh Hoa nets VND13,000 bil tourism revenue in nine months

The south central coastal province of Khanh Hoa grossed over VND12,800 billion in tourism revenue over the first nine months of the year, an increase of over 28.7% against the same period last year, according to the provincial People's Committee.
 
The province welcomed more than 4.3 million visitors (up nearly 19%), including over 1.5 million foreign arrivals (up over 72%) in the reviewed period.

At a recent meeting with representatives from the tourism sector, Tran Son Hai, vice chair of Khanh Hoa People's Committee requested that the local tourism sector launch Nha Trang-Khanh Hoa special tours increase service quality, and work out solutions to attract traditional international visitors.

At present, traditional foreign arrivals coming from the US and Europe have decreased 20-30% compared to the same time last year. The numbers of arrivals from the US, Australia, France, and Germany dropped 30%, 20%, 22% and 26%, respectively.

Nguyen Van Thanh, vice chairman of Nha Trang-Khanh Hoa Tourism Association, predicted a stable rise in the number of foreign arrivals from now to the end of the year, that is the peak season for international visitors.

Chinese and Russian visitors have accounted for more than 80% of foreign arrivals to Nha Trang-Khanh Hoa.     

Households in Bac Lieu rushing to raise swiftlets

Many households in the southern province of Bac Lieu have been rushing to raise swiftlets, but only a small number of them have been licensed.

Over the past five years, breeding swiftlets has become a trend in Bac Lieu Province, particularly in the city. Many houses for swiftlets have been built in the city without receiving permission from local authorities. Some families even expand their homes to have more space for raising the bird. 
   
According to people who live near households which raise the bird, every day they have to suffer from the sound used to attract swiftlets. 
They have informed local authorities of this problem as well as environmental pollution issues; however, the situation has not improved.
The provincial veterinary authorities have reported that by mid-2017, the province would have 340 houses for raising swiftlets with a total number of 215,000 birds, compared to just 107 houses in 2013. The number of the bird may reach 400,000 by 2030.
However, many households have raised the birth without being licensed as regulated by the Ministry of Agriculture and Rural Development.

Every month, households in Bac Lieu Province provide a total around 120 kilos of edible bird's nest to the market. Each kilo is priced at around VND20 million (USD909).
Despite high profits, raising swiftlets also poses potential risks. Many people do not understand clearly the techniques but have poured billions of VND into building swiftlet houses; but they failed to successfully raise the bird.
Meanwhile, specific regulations on the swiftlet breeding have not yet been issued, causing difficulties for the management. Many households use loud sounds to attract the bird, however, there are no legal foundations for local authorities to fine them.
Nguyen Duy Hung, deputy head of the Bac Lieu Veterinary Board said that the management agencies should early issue regulations.

Vietnamese firms join Mega Show Hong Kong 2017

Some 80 booths of 40 Vietnamese handicraft and gift firms are showcasing environmentally-friendly products at the Mega Show Hong Kong 2017 held in Hong Kong, China, from October 20-23.

Vietnamese handicraft and household goods are made of environmentally-friendly materials such as rattan, bamboo, wood, sedge and shells. Vietnamese craftsmen are also producing products right at their booths.

The Mega Show Hong Kong is among the largest trade fairs in Asia for gifts, household appliances and toys, said Nguyen Duy Kien, Deputy Consul-General (in charge of economic-commercial affairs) of the Consulate General of Vietnam in Hong Kong and Macau.

He added that the four-day fair offered opportunities for businesses to introduce and promote their products to international markets, and many Vietnamese firms have secured big export contracts and orders on the first day of the event.

The Mega Show Hong Kong 2017 features 4,200 businesses from 33 countries and territories. It is expected to receive more than 50,000 visitors this year.-

METALEX Vietnam attracts record number of industrial visitors
     
The recently concluded METALEX Vietnam in HCM City received more than 12,500 professional visitors who came to source new technologies and seek business opportunities.

It showcased advanced metalworking solutions, the latest electronics assembly technologies and high-quality industrial grade parts from 500 brands from 25 countries.

Suttisak Wilanan, deputy managing director of Reed Tradex, the organiser, said: "After three informative trade fair days, Vietnam's international metalworking trade exhibition METALEX Vietnam 2017 reported record new visitor numbers of 12,565.

"Group visitor numbers rose by 7 per cent to 275 groups underlining the trade fair's status as one of the most important industry events for the manufacturing community in Việt Nam.

"More and more trade visitors are also coming from abroad (34 countries), predominantly from Japan, China, Singapore, Korea, and Thailand."

Taiki Hasuka, regional manager of AIDA (Thailand) Co., Ltd, said Metalex Vietnam was a good place to "meet and discuss with many people from our industry."

Toshimichi Kuronuma, director of Mitsumi Vietnam Co., Ltd, said: "This time we proudly introduced latest products such as injection items and electronic components and our new project to customers.

"Thanks to METALEX Vietnam, we could expand our business network as well as connect with many potential clients and partners. Moreover, I found it a good opportunity to directly meet customer's demands."

A representative of one of the international pavilions, Lam Joon Khoi, secretary-general of the Singapore Manufacturing Federation, said: "The Singapore Manufacturing Federation understands the importance of technology and regards Viet Nam as a manufacturer with strong potential. Therefore, we always encourage our local companies to explore business opportunities and collaborations in Viet Nam."

Ji Taik Chung, chairman of the Korea Association of Machinery Industry, said: "METALEX Vietnam provides a great opportunity for our members to demonstrate the potential of Korean technologies to Vietnamese manufacturers."

The annual expo was held concurrently with two others, Electronics Assembly and Industrial Components & Subcontracting Vietnam, from October 12 to 14 at the Saigon Exhibition and Convention Centre. 

Deputy PM promotes investment in Quang Ngai province
     
Deputy Prime Minister Trinh Dinh Dung spoke at a conference on Friday in Quang Ngai Province on investment and development cooperation, intended to introduce investors to the area in hopes of attracting further socio-economic development.

Addressing local agencies and businesses representatives at the conference, Dung praised their work towards trade and investment progress, and asked provincial leadership to develop policies to assist investors in future projects.

In the period of 2017 to 2020, Quang Ngai aims to attract more than US$4.2 billion in investment in prioritised sectors and industries, such as industrial and supporting industrial production, logistics, urban infrastructure construction, seaports and maritime services, tourism and high-tech agriculture.

In response, Tran Ngoc Cang, Chairman of Quang Ngai Provincial People's Committee announced the commencement of 14 new industrial projects in the region's key economic zones. The projects include a Vinamilk dairy farm, a facility for OFB Mo Duc organic agriculture chain and Phuc Ha- Dung Quat plastic production plant.

Cang also expressed the province's hopes to increase links with other provinces in the Central Highland to strengthen regional development.

The province hopes to channel between $2.5 to 3.5 billion into Dung Quat Economic Zone and other key provincial industrial parks, in order to speed up the implementation of big projects such as the Hoa Phat - Dung Quat Iron and Steel Complex, the VSIP Quang Ngai Industrial-Urban-Service Complex and the expansion of the Dung Quat oil refinery.

Other incoming projects include collaboration with Singapore's Sembcorp Marine Limited on a potential gas power plant, as well as the development of a gas distribution system from the Blue Whale oil field with PVN Group to supply nearby industrial zones.

In order to achieve its goals, the province has issued preferential mechanisms and policies to support investors, with financial incentives including discounts on land purchases and rebates for infrastructure investments.

The province has also identified three key tasks of agricultural development, rural construction and sustainable poverty reduction, by prioritising service, tourism and marine economy development.

As of October 2017, Quang Ngai is home to four industrial parks, 15 industrial clusters and craft villages, 45 FDI projects with total registered capital of $1.4 billion and 392 domestic investment projects with total registered capital of over $9.17 billion.

Provincial breakthrough missions until 2020 include industrial development, transport and urban infrastructure construction, and human resource quality improvement.

The Deputy PM also shared in the difficulties that Quang Ngai is facing, including low product quality and a declining ranking on the Provincial Competitiveness Index (CPI).

Quang Ngai Province is strategically located in the Central Highland key economic region, with a population of nearly 1.3 million people, across 14 districts and cities over an area of more than 5,000 square kilometers. The province features diverse natural ecosystems, suitable for the development of agriculture, industry, tourism, service and marine economy.

The conference in Quang Ngai Province was attended by more than 400 representatives from domestic and international businesses, together with officials from central and local administrative agencies. 

Electronics group to focus on social responsibility
     
A coalition of electronics companies organised to promote socially responsible labour practices launched in Ha Noi on Friday.

The coalition is backed by the Viet Nam Chamber of Commerce and Industry (VCCI) and the International Labour Organisation (ILO).

"In the context of international integration, besides standards on quality and price, social responsibility of enterprises in general and electronic enterprises in particular is an important criterion for global integration," said Vu Tien Loc, VCCI's chairman, at the ceremony.

The coalition will enable participants to experiences and strengthen training, said Loc.

"The establishment of an electronic corporate network which focuses on social responsibility is a form that VCCI will pay special attention in the upcoming time," he added.

In the past, VCCI has cooperated with the ILO and the Viet Nam Electronic Industries Association (VEIA) to help electronic enterprises apply socially responsible labour practices.

Viet Nam's electronics industry has been growing rapidly in recent years. There were only 256 enterprises in 2005, while the number has increased to 1,021 enterprises in 2014.

The total number of employees in the industry has also increased seven times in eight years, from 46,000 employees in 2005 to more than 327,000 in 2013 and about 500,000 today.

The expansion of the multinational electronics firms' cross-border production network has had a positive impact on the economies of developing countries such as Viet Nam, facilitating growth and the adoption of new technologies, but concerns related to labour and employment persist.

"The right implementation of the standards and legal regulations on social responsibility in general and labor relations in particular is a very important requirement," Loc said. "By investing in labourers and fulfilling social responsibilities in labour relations, businesses can recruit, train, and promote the creativity and responsibility of the workers themselves".

Multinational companies are influential wherever they invest and operate. Therefore, their practices for managing human resources have a tremendous impact not only on their individual workplaces, but also through the global supply chain, said ILO Viet Nam Director Chang-Hee Lee. 

Work towards a stable financial system, PM tells APEC
     
Prime Minister Nguyen Xuan Phuc has called for stronger co-operation and coordination in policymaking among APEC's member economies towards establishing a stable financial system and achieving sustainable development.

Speaking at the opening ceremony of the 24th APEC Finance Ministers' Meeting (FMM) in ancient city of Hoi An, Quang Nam Province, on Saturday, he noted that the meeting was the most important event under the APEC Finance Ministers' Process (FMP).

FMP is a forum for APEC member economies to address regional macroeconomic and financial issues as well as domestic and regional financial policy priorities.

Phuc said the FMM was taking place in the context of global economic recovery as well as improvement in trade, investment and finance. However, the region faced many challenges, given the slowing trade, increasing trend of protectionism and use of non-tariff barriers as forecast by the Asian Development Bank (ADB), he said.

The Asia-Pacific region, which has several of the world's leading and dynamic economies, continues to be a driver of global growth, but economic growth and productivity in some economies was still low, Phuc said.

"Practically, not all members of society benefit from globalisation and trade liberalisation and investment," he added.

The PM also stressed the negative impacts of climate change on economic development.

Besides, the region is seeing some hotspots that may threaten peace, security and stable development of the region, he said.

"I hope that the ministers will continue their efforts to coordinate policy and provide practical solutions for implementing policy priorities and addressing difficulties and challenges in achieving the goals of a stable financial system and sustainable development," the PM said.

Four financial cooperation priorities have been set for APEC 2017: long-term investment in infrastructure, base erosion and profit shifting (BEPS), disaster risk financing and insurance, and financial inclusion.

Through the year, APEC Finance Ministers have actively cooperated to promote deeper economic integration, creative and inclusive growth and enhancing the competitiveness of small and medium enterprises (SMEs).

The PM said that Viet Nam has made great strides in the last 30 years of its economic renovation process. From an under-developed economy, it has advanced to become a middle-income country in 2010, according to the World Bank.

Viet Nam has set a gross domestic product (GDP) target of 6.7 per cent for 2017, higher than 2016's 6.21 per cent. Inflation will likely be kept at below 5 per cent, budget deficit below 4 per cent, and public debt below 65 per cent of GDP by the year-end.

Exports are expected to top US$200 billion, up 15 per cent year-on-year, while disbursement of foreign direct investment is estimated at over $15 billion, up 18 per cent year-on-year. By the end of September, stock market capitalisation had reached 93 per cent of GDP, a record since the markets' establishment in 2000.

The GDP growth set for the period of 2016-20 is at 6.5-7 per cent per year.

PM Phuc said the public finance sector as well as development of the financial market have contributed significantly to these positive results. He affirmed that Viet Nam will continue to renovate it economy, especially the financial sector, towards improving efficiency and competitiveness, and ensuring sustainable growth.

Top APEC finance officials on Saturday issued a joint ministerial statement on regional financial co-operation and implementation of priority tasks through the year.

Vietnam, Australia sign MoU on financial cooperation

Vietnam's Ministry of Finance (MoF) and The Treasury of Australia will step up financial cooperation as per stipulated in a Memorandum of Understanding (MoU) inked by Minister Dinh Tien Dung and Treasurer Scott John Morrison.

The MoU was signed on October 20 on the sidelines of the APEC 2017 Finance Ministers' Meeting (FMM) which is being held in the central province of Quang Nam from October 19-21.

Accordingly, the MoU will create a framework for the two sides to carry out cooperation between the two agencies. It will help them review and evaluate cooperation so as to make adjustments and further enhance the efficiency of collaboration.

During a bilateral meeting with the Australian official before signing the MoU, Minister Dung thanked Australian experts for assisting the MoF in preparing contents for the FMM. 

He described the signing of the MoU as a milestone in bilateral cooperative ties, in which the MoF's staff will have opportunities to learn state management experience from Australia and seek consultancy in building financial policies and implementing new legal documents in Vietnam.

The MoF's staff will also have chances to take part in further training programmes organised by Australia as well. 

Dung voiced his hope that Morrison will support Vietnam in issues of mutual concern and benefit at regional and international forums.

The two ministers also exchanged views on the ASEAN-Australia Special Summit slated for March 2018 in Sydney. 

Dung lauded the initiative to organise the summit, affirming that this is a significant progress step to diversify cooperation channels between Australia and ASEAN member states, including Vietnam.

Through the summit, Australia and ASEAN nations will tighten cooperation in the fields of mutual interests, especially regional and global issues, Dung added.

Vietjet offers discounted tickets to Taiwan

Vietjet is offering 40,000 discounted tickets starting at zero dollars, from now until October 22.

This is being done to celebrate Vietjet's participation in the Kaohsiung International Travel Fair 2017 in Taiwan.

The promotional airfares, available from noon to 2pm at vietjetair.com, will be applicable on all international routes to Kaohsiung, Taipei, Taichung and Tainan (Taiwan) from November 1, 2017 to March 31, 2018.

At the fair and Vietjet's pavilion, visitors can participate in a lucky draw, take part in games to win interesting gifts and take photos with flight attendants.

"Taiwan is in the process of changing seasons, which is the best time of the year for travelling and discovering. This is also the ideal season for giving love to your dear ones because the weather makes international destinations appear more interesting and attractive," Vietjet said in its statement.

Annual HCM City furniture design contest launched

Registration is now open for the 2017-18 Hoa Mai (Apricot Blossom) furniture design competition organised by the Handicraft and Wood Industry Association of HCM City.

Sponsored by the American Hardwood Export Council, the competition aims to identify and nurture talented designers and connect them with the wood furniture industry and international designers.

The 15th annual contest is open to all designers and students interested in wood furniture design, Nguyen Chanh Phuong, Hawa deputy chairman, said.

There will be two rounds: "Design idea" and "Making samples". The 20 best ideas in the first round will go through to the second round. From then the jury will choose eight designers whose entries meet the contest criteria in terms of applicability and environment-friendliness and commercial, creative and aesthetic values.

The deadline for submitting entries is December 15 and the award ceremony will be held at the 2018 VIFA-EXPO.

Many winning entries from past competition have been bought by woodworking firms and made into products. 

HCM City to help SMEs, start-ups
     
The HCM City Centre for Supporting Enterprise Development (CSED) on Wednesday signed a Memorandum of Understanding (MoU) with 30 organisations to provide support to small- and medium-sized enterprises (SMEs), including start-ups.

The organisations include universities, educational institutions, business associations at the district level, industry associations, and state agencies.

The signing was part of a conference organised by CSED under the city's Department of Industry and Trade in co-operation with Gia Thinh Company and Sai Gon Biz Corporation.

The conference discussed ways to help startups and small- and medium-sized enterprises (SMEs) build confidence and access world markets.

The meeting will be held annually by CSED under the direction of the Department of Industry and Trade.

Pham Thanh Kien, director of the Department of Industry and Trade, said: "Through the meeting and MOU signing, the department is committed to asking local and foreign agencies to propose solutions to support companies."

He said that agencies should work together to provide assistance for SMEs and start-ups so they can improve competitiveness.

In addition to private investment, public-private partnerships will be the emphasis of the city as part of the effort to support start-ups.

The city will also focus on activities to develop a start-up ecosystem under a programme to improve startups' competitiveness and global integration, according to Kien.

The programme's main purpose is to encourage innovative startups through research, he added.

He also pledged to reform administrative procedures, revoke illegal permits, and fight counterfeit products and trade fraud.

Le Minh Trung, director of CSED, said the centre would continue to work with agencies to organise similar meetings to support workers and help SMEs access capital.

"The centre will propose policies to support startups which will help them innovate, apply technology and reform their management models through investment incentive programmes and bank-to-enterprise programmes," he said.

SMEs, the engine of growth and innovation in the Asia-Pacific region, account for over 97 per cent of all enterprises and employ over half of the workforce across the region. 

Improve policy framework to promote consumer finance
     
Consumer finance has significant room for growth in Viet Nam, however it is essential to improve the policy framework to ensure efficiency, transparency and sound operation of the financial system and the whole economy, heard a conference in Ha Noi on Thursday.

The International Conference on Consumer Finance in Viet Nam was organised by StoxPlus, a leading financial and business information corporation in Viet Nam, with support from Nikkei Inc, from Japan and International Finance Corporation (IFC), a member of the World Bank Group.

Experts agreed that the consumer lending market has high potential in Viet Nam, given the low penetration and significant size of the population that remained unbanked and unserved despite increasing income.

However, the policy framework for consumer finance needed to be improved amid rapid development of financial technology (fintech), which was enabling disruption, so as to enhance access to credit, decrease the unofficial credit sector and develop financial inclusion.

Statistics of the State Bank of Viet Nam revealed that total outstanding consumer loans were at VND960 trillion (US$42.1 billion), or 15.7 per cent of the total outstanding loans in the economy, in 2016, of which VND74 trillion was provided by finance companies.

Nguyen Thi Hien, deputy director of the Banking Strategy Institute, said at the conference that Viet Nam had significant room for consumer finance.

She cited the World Bank's statistics according to which the population with loans accounted for 46.84 per cent in Viet Nam, but the percentage of population with loan at financial institutions was much smaller at 18.45 per cent.

Nguyen Quynh Lan, the Business Information Unit's managing director, StoxPlus, cited findings of the StockPlus' Viet Nam Consumer Finance Report, which stated that the "real" consumer finance market – actually provided by consumer finance companies – was still very small at $3.3 billion.

Given the market potential, the market was becoming increasingly competitive for seven current players - FE Credit, Home Credit, HD Saison and Prudential Finance, as well as Toyota Finance, JACCS Vietnam and Mirae Asset Finance - due to new entrants, including Mcredit, Lotte Card, and upcoming players with a new business model.

According to Lan, fintech enabled the emergence of a disruptive business model for consumer finance companies, which would introduce opportunities to lower interest rates - the top concern of consumers – and reach wider market coverage.

The consumer finance market was also moving away fast from the offline channel, including physical point-of-sale (POS) and direct sales agents, to online and mobile, such as e-commerce website, social media (Facebook, Zalo, Wechat) and mobile apps.

Lan said Viet Nam needed a clear framework for financial intermediary, fintech and peer-to-peer lending, as well as customer protection in the digital area of consumer finance, adding that current regulations were only applicable for finance companies.

In addition, consumer finance companies should leverage the application of Big Data and omni-channel for targeted customer offers, Lan said.

Nimish Vinaykant Dwivedi, director of FE Credit's Credit Card Business Centre, said: "Digital transformation – an exciting journey has just begun. To increase reach to the masses and unbanked customers, leveraging technology is the key."

He added that technology would help ensure not only convenience but also security.

According to Reet Chaudhuri, financial and banking expert of McKinsey & Company, Viet Nam's fintech entrants were relatively new and primarily focused on payments, with only a few players focusing on lending.

He pointed out that the fintech ecosystem was still small with 48 players, of which only four offered direct lending and four crowd-funding.

"Viet Nam should accelerate development of the fintech ecosystem in a controlled fashion and increase customer choice," he said. For peer-to-peer, it should be encouraged in Viet Nam but a clear regulatory framework with safeguards needs to be put in place, he added.

Experts at the conference also said it was essential to develop a customer database for credit organisations to access at reasonable cost while leveraging the application of modern technology in service delivery, management and promoting service quality.

Nguyen Tu Anh, deputy director of the central bank's Monetary Policy Department, said Viet Nam would study to develop a harmonised and reliable policy framework for the development of consumer finance and inclusive finance.

StockPlus projected the consumer finance market growth would return to the normal rate of 20-30 per cent after posting 44 per cent growth during the past three years.

National Citizen Bank appoints new general director

The National Citizen Joint Stock Commercial Bank (NCB) has appointed Le Hong Phuong as the new general director of the bank, starting October 18.

Prior to this, Phuong was NCB's deputy general director.

He has 15 years of experience in the field of economics, finance and banking.

He has been working for NCB since 2015 and is responsible for the strategic management, system development and general operations of the bank.

In addition to this, Phuong was assigned by the Board of Directors to undertake international co-operation and directly manage the project to select foreign strategic partners that the NCB had signed with its international consultant partner since the beginning of 2017.

According to the NCB, the appointment of Le Hong Phuong as the general director was a strategic step for a new development phase of the bank, realising the goal of making NCB the leading retail bank in terms of effectiveness, as well as digital applications, and bringing in the changes by using a professional financial advisor model. 

Khanh Hoa beverage firm to join UPCoM
     
The Ha Noi Stock Exchange has approved the listing of Khanh Hoa Sanest Beverage Company on the Unlisted Public Company Market (UPCoM).

Khanh Hoa Sanest Beverage Company, subsidiary of Khanh Hoa Salanganes Nest Company, will become the first company to trade shares on the stock market while it remains a limited-liability company that has not fully transformed into a joint-stock firm.

The company, with VND330 billion in charter capital, will trade nearly eight million shares on UPCoM under code SKH. The shares will start trading at VND27,800 (US$1.23) per share on October 25.

The company earned VND222.7 billion ($9.8 million) from the IPO.

The amount of shares Khanh Hoa Sanest Beverage Co will trade on UPCoM is equal to the number of shares the company offered at its initial public offering (IPO) in mid-September: eight million shares or 24 per cent of its capital.

At the IPO, the company's shares were sold at the starting price of VND23,000 per share and bought for an average price of VND27,937 per share.

The IPO drew the participation of eight institutional investors and 285 individuals, who signed up to purchase a total of more than 20.6 million shares.

After the IPO, Khanh Hoa Sanest Beverage plans to sell around 6.93 million shares or 21 per cent of its capital to an unidentified strategic investor at VND23,000 per share.

Another 1.24 million shares, equal to a 3.8 per cent stake, will be sold to the company's employees and the Government will hold 51 per cent of the company's charter capital.

The company will be renamed Khanh Hoa Sanest Beverage Joint Stock Company after the equitisation plan is completed.

The company became the second subordinate unit of Khanh Hoa Salanganes Nest Co to hold an IPO after Dien Khanh Sanest Co had its IPO on June 29, 2016. 

Tien Phong Plastic plans to lift foreign ownership cap
     
Tien Phong Plastic Joint Stock Company (Tien Phong Plastic) may allow total foreign ownership of its capital instead of the current 49 per cent.

The final decision will be made at the company's extraordinary shareholders meeting, scheduled for November 30. The management board will need to obtain approval of 65 per cent of shareholders for the change.

The plan came after the company announced the Thai plastic producer Nawaplastic Industries (Saraburi) Co Ltd offloaded its 21.27 million shares or 23.84 per cent ownership in the Vietnamese plastic firm on the stock market (traded under the code NTP) between September 25 and October 12.

Tien Phong Plastic is trading its 89.2 million shares on the Ha Noi Stock Exchange for VND69,000 (US$3.06) to VND71,900 per share during the September 25-October 12 period.

That means the Thai-based plastic producer sold its share for VND1.46 trillion (roughly $65 million), triple its initial investment in 2012.

The State Capital Investment Corporation (SCIC), which represents the Government to monitor the State's capital in Tien Phong Plastic, remains the biggest shareholder with a 37.1 per cent stake.

During the 14-trading-day period, there were many put-through trading transactions for Tien Phong Plastic's shares with volume ranging from one to nine million and share price varying between VND69,300 to VND71,800 per share.

The identity of the largest buyer has remained confidential, however, it is believed that a foreign investor is buying up the shares.

NTP closed Thursday at VND73,000 per share, having increased by a quarter since its one-year low of VND57,600 per share in early March.

During the five-year investment period, Saraburi received around VND173 billion worth of dividend payouts from the Vietnamese firm. After Saraburi completed withdrawing from Tien Phong Plastic, the two representatives of the Thai company on October 17 asked for the resignation of the Vietnamese firm's management and supervisory boards.

Tien Phong Plastic will also discuss the restructuring of the firm's management and supervisory boards at the upcoming shareholder meeting. The company also plans to make a 15 per cent advance dividend payout for 2017 performance on November 29.

In the third quarter of 2017, Tien Phong Plastic recorded nearly VND161 billion in its pre-tax profit, a yearly increase of 83.3 per cent.

In nine months, the company earned total VND363 billion in pre-tax profit, an annual rise of 27.6 per cent.

KDC exceeds full-year target in 9 months
     
Food producer Kido Group (KDC) reported on Wednesday that it had achieved its full-year profit target by the end of the third quarter.

It said profit before tax was 9 per cent above the annual target of VND535 billion ($23.6 million) on revenues of VND5 trillion ($178 million), a 251 per cent increase.

Frozen foods contributed 24 per cent of the revenues, the company said.

KDC's foray into the food industry two years ago has been successful, and it now has a nation-wide distribution system with 450,000 outlets selling canned foods and 70,000 others selling frozen food.

Efforts to expand the business and increase the frozen food range are under way, it said.

In the last quarter of this year it plans to bring a number of new products including new cooking oils, canned foods and sauces, it said.

It plans to tie up with Dabaco to produce new products like processed foods and sausage, it added.

Its other main product is instant noodles. 

VRC Real Estate sells 35.3 million shares
     
VRC Real Estate and Investment Joint Stock Company sold 35.5 million shares to 581 investors, increasing the company's charter capital to VND500 billion (US$22 million).

These shares were offered at a 70 per cent discount, with the price at VND11,000 per share, on September 12.

The custody and listing of the recently-issued shares is scheduled to be implemented from October 2017.

Recently, VRC approved a list of 19 strategic investors to issue 25.34 million shares for sale at a price of VND11,000 per share. The only investor is currently VRC shareholder Nguyen Phuong Vi, who owns 602,810 shares of VRC, equivalent to 4.16 per cent stake.

This year, VRC targets to achieve VND394 billion in revenue and VND120.5 billion in after-tax profit, a year-on-year increase of 526 per cent.

The company expects to earn revenue of VND430 billion and after-tax profit of VND132 billion by 2018. 

Hoa Phat reaches 93% of annual profit target
     
Hoa Phat Group hit a revenue of VND33.8 trillion (US$1.5 billion) in the first nine months of 2017, a year-on-year increase of 43 per cent.

The group's after-tax profit was VND5.6 trillion, a year-on-year increase of 21 per cent.

This year, the group targeted VND40 trillion in revenue and VND6 trillion in after-tax profit. Therefore, with the results achieved in nine months, Hoa Phat has fulfilled 85 per cent of its revenue target and 93 per cent of its annual profit target, approved at the shareholder's meeting.

According to the group's business report, over the past nine months, Hoa Phat has manufactured nearly 1.6 million tonnes of construction steel, an increase of 31 per cent over the same period last year, and achieved nearly 80 per cent of the year's plan.

As regards the export market, the company exported about 127,000 tonnes of construction steel and wire drawing steel, and 35,000 tonnes of steel billets in the reviewed period.

Steel pipe products continue to dominate the market with nine-month sales of nearly 425,900 tonnes accounting for more than a quarter of the total steel pipe consumption in Viet Nam, and exporting about 8,000 tonnes of all types.

In terms of the Hoa Phat Dung Quat iron and steel production complex, the company has selected construction contractors and technology equipment suppliers. All major machinery and equipment such as blast furnaces, steel furnaces, steel rolling and industrial gas are imported from G7 countries such as Italy and Germany. In particular, the hot rolled steel production line of the project is evaluated at the most modern level in the world till date.

In the field of real estate, Hoa Phat is speeding up the completion of the Mandarin Garden 2 project to begin handing over apartments to customers from the end of this year. At the same time, the group has started other housing projects in Ha Noi and Hung Yen Province.

The group is also actively implementing the colour coated steel project and the steel wire drawing factory in Hung Yen's Pho Noi A Industrial Zone, expected to run the chain at the end of this year.

Vietnamobile offers heavy web usage deal

Vietnamobile is providing a data plan designed for users with heavy daily internet usage.

The monthly fee for the vEasy package is VND50,000 (US$2.2) for 30GB of usage.

Recently, the network completed its 3G super-fast nationwide coverage. All new subscribers will receive 3G as a free trial.

The company also has a vFlex 3G package with a price of VND15,000 ($0.66) for 1GB 3G data. The target audience is young people who use social media like Facebook and Zaloon and online newspapers.

The Vietnamobile Telecommunication JSC in Ha Noi is operated by the Hanoi Telecom Corporate and Hutchison Asia Telecom Group.

BMW recalls bikes in VN
     
BMW has recalled all 80 of its Motorrad RnineT motorcycles sold through Euro Auto, BMW's official distributor in Viet Nam, due to an issue where the right-side swingarm pivot pin bolts may loosen.

These bolts are used to direct the rear of the vehicle, as well as the fulcrum for the rear suspension system. Therefore, if the bolts that connect the right-side swingarm pivot pin to the frame are loose, they will seriously affect safety when the vehicle enters a corner, drives on rugged terrain or decelerates.

In order to ensure the safety of users and the benefits of consumers, Euro Auto decided to recall the motorcycles, which was produced from August 2014 to November 2016, to test and tighten the bolt bearings.

The recall programme will end on September 27, 2018.

The time to check and fix errors on each vehicle takes about one hour.

In September 2017, BMW had also recalled all 79 of its Motorrad line R1200GS and R1200GS Adventure motorcycles due to a faulty suspension system. 

SME Vietnam Network to connect and support SMEs

A network to connect and support Vietnamese small and medium- sized enterprises (SMEs) on Saturday was launched in HCM City in order to drive the country's economy.

Speaking at the launching ceremony, Nguyễn Văn Cường, deputy head of bureau of administration and management II under Government Office, said that SME Vietnam Network is being established following the guidance of the Vietnamese Entrepreneur Development Center under the Việt Nam Association of Small and Medium-seized Enterprises.

The network's members will exchange business opportunities within the country and other countries in the world.

In the network, many activities will help its members improve their brand names, products and services.

Under the special support from Vietnam Chamber of Commerce (VietCham Singapore) and United Overseas Bank Limited, the network's members also will have a chance to access exclusive lending and funding schemes.

Việt Nam has more than 600,000 SMEs, accounting for 97.5 per cent of the country's companies, contributing more than 40 per cent of the GDP and using 51 per cent of the labour force.

Each year, SMEs create more than half a million new jobs.

According to Đinh Thị Phượng, director of the Vietnamese Entrepreneur Development Center and SME Vietnam Network, SMEs are still facing many difficulties and challenges such as a shortage of updated technologies and limited access to financial support, which is barrier for expanding their production.

At the launching ceremony, SME Vietnam Network signed an agreement with United Overseas Bank Limited.

Hanwha Life Vietnam reports outstanding third quarter results

The Korean life insurer posted strong growth in business results and market expansion in the third quarter of 2017.

For the first nine months of 2017, Hanwha Life Vietnam achieved VND478 billion ($21 million) in first-year premium, up by a whopping 47 per cent from the same period last year.

This impressive growth helped Hanwha Life's market share grow by 0.4 per cent year-on-year. In the same period, the Korean insurer has hired 19,000 new advisors.

To achieve these business results, Hanwha Life Vietnam has constantly expanded its network across Vietnam. By mid-August, the firm has opened 100 points of transaction nationwide, four months earlier than the expected.

Not stopping there, Hanwha Life has sped up its expansion efforts: in September alone, they have launched six agencies in the northern region (Hau Loc, Thach Thanh, and Ha Tinh 2) and the Central area (Thanh Khe, Cam Lo, and northern Quang Binh). As of October, the network included 108 points of transaction.

Hanwha Life revealed that it would continue to open new agencies in more provinces around Vietnam to better serve customers, increase brand presence, and support business growth.

Besides its impressive pace of network expansion, Hanwha Life also focuses on diversifying its distribution channels. The firm has partnered with two leading Korean banks in Vietnam—Shinhan Bank and Woori Bank—in a bancassurance deal, through which Hanwha Life can distribute their products via the networks of these two lenders.

Back Jong Kook, chairman and CEO of Hanwha Life, said that the positive performance during the third quarter was the result of the firm's bigger network, better service quality, and a greater number of professional advisors.

"As part of our customer-centric culture, we always strive to satisfy the strictest requirements of our customers. We want our advisors to be professional, knowledgeable, and helpful to customers, and our ultimate goal is to become a leading life insurer in Vietnam, with sustainable long-term growth," said Kook.

Founded in 1946, the $84-billion Hanwha Life is a member of Hanwha Group, one of the ten largest conglomerates in South Korea and among the 500 biggest firms worldwide. Hanwha operates in various businesses, ranging from chemicals, construction, and finance to solar energy.

Hanwha Life has been in Vietnam since 2009, employing 35,000 staff members and servicing 200,000 clients across the country. 

Vietcombank has strongest balance sheet in Vietnam: Asian Banker

The Joint Stock Commercial Bank for Foreign Trade of Vietnam (Vietcombank) was named as the bank with the strongest balance sheet in Vietnam by The Asian Banker, a finance and banking magazine.

This is the second consecutive year that the bank has received the title, which was awarded in a ceremony to honour the 500 largest banks in the region.

The ranking was based on a detailed and transparent scorecard that ranks commercial banks on six areas of balance sheet financial performance; the ability to scale, balance sheet growth, risk profile, profitability, asset quality and liquidity.

Vietcombank was also named Vietnam's best bank, best trade finance bank, best FX bank for corporates & financial institution in 2014, and Vietnam's best bank in 2015.

In 2016, the bank's total assets reached VND787.9 trillion (US$34.7 billion), up 16.8% year-on-year, with pre-tax profits of VND8.52 trillion (US$375 million).

China intensifies import of Vietnamese farm produce

China has allowed Vietnamese agricultural and aquatic products to be exported through Mong Cai border gate in the northern province of Quang Ninh, according to the Ministry of Industry and Trade.

The ministry requested Mong Cai city to get well-prepared to facilitate exports of the products to China.

The ministry said it will invite leading Chinese enterprises involved in agricultural and aquatic products to visit mango orchards in the southern province of An Giang and dragon fruit orchards in central provinces in late October.

Trade between Vietnam and China reached US$71.9 billion in 2016, a rise of 7.9% from the previous year.

Exports of top 10 commodity groups surpass US$111 billion

Exports of ten key groups of products made up over US$111 billion out of the two country's total export value of US$154.3 billion in the first three quarters of this year, according to the General Department of Vietnam Customs.

Telephones and components topped among export products with US$31.54 billion, trailed by garment (US$19.21 billion), computers, electronics and components (US$18.54 billion), footwear (US$10.64 billion), machines, equipment and tools (US$9.31 billion), seafood (US$5.99 billion), wood and timber products (US$5.54 billion), means of transport and tools (US$5.1 billion), fibres (US$2.63 billion) and fruit and vegetables (US$2.63 billion).

The Ministry of Industry and Trade forecast a bright prospect for export growth of the ten commodity groups in the coming time.  Telephone and component exports will continue to grow as world manufacturers are operating stably in Vietnam.

Exports of computers, electronics and components rose by 40% in the period and continue to increase in the next months as businesses have successfully expanding markets and boosting exports to regional countries including the Republic of Korea, Canada, China, Taiwan and Russia and maintaining growth in traditional markets such as the US, Japan and China. These products have also many opportunities to conquer new markets, especially small markets where famous brands do not exist.

Vietnam, US seek stronger financial cooperation

Vietnam expects the US to accelerate the ratification of an agreement on double taxation avoidance and facilitate negotiations for a governmental agreement on cooperation and assistance between customs agencies, said a high-ranking official.

Vietnamese Minister of Finance Dinh Tien Dung made the suggestion during a meeting with David Malpass, Under-Secretary for International Affairs at the US Department of the Treasury, on the sidelines of the APEC 2017 Finance Ministers' Meeting (FMM) in the central province of Quang Nam on October 20.

While briefing the US official on Vietnam's economic situation, Dung said Vietnam has made concerted efforts to rise from a low-income economy to a middle-income nation in the region. 

The country achieved a 6.41% economic growth rate in the first nine months of the year and the figure is forecast to reach 6.7% for the whole year, while the inflation rate is kept below at 5%, he said.

However, Dung noted that the Vietnamese economy has been still facing challenges like unsustainable growth, poor quality of public investment and budget collection failing to meet spending needs.

Regarding future orientations, Vietnam will improve financial legal regulations, fine-tune tax laws such as corporate tax, special consumption tax and individual income tax while promote restructuring and ensure state budget balance, he said.

Enhancing public debt restructuring and management, and ensuring the synchronism of financial and insurance markets, and accounting and auditing services will be other tasks, Dung said, adding that Vietnam will also step up the equitisation and increase supervision of state-owned enterprises.

At the meeting, Dung and Malpass discussed cooperative relations between the two countries, including cooperation in the fields of tax, insurance, securities, capital market, accounting and auditing. 

Malpass said that the US Department of the Treasury will further boost cooperation with Vietnamese Ministry of Finance for mutual benefit and development.

Talking with Vietnam News Agency reporters after the meeting, Malpass said: "Relationship of the US and Southeast Asia is always one of the top priority discussions. Trade imbalance between the US and Vietnam can be improved and we discussed the trade relationship that does not damage US enterprises and workers. We also welcome Vietnamese enterprises in the US and we are looking forward to promoting trade in the future."

PM lays out tasks for FTA implementation

Prime Minister Nguyen Xuan Phuc has set facilitating business and export activities as an urgent task to realise free trade agreements (FTAs) Vietnam has signed.

In Directive 38/CT-TTg, PM Phuc, also head of the National Steering Committee on International Integration, assigned ministries and ministerial-level and Government agencies to channel resources into effectuating the FTAs. 

It is also necessary to simplify administrative procedures and develop the "one-stop-shop" mechanism to shorten licensing duration, cut export costs and accelerate customs clearance, he said. 

Apart from amending and scrapping regulations unsuitable with commitments of the FTAs, ministries and agencies should propose measures to the Ministry of Industry and Trade (MoIT) to protect Vietnam's rights and interests in case the FTAs are violated. 

The regulations of the FTAs should also be made clear to different sectors to avoid misunderstandings, the leader said, adding that intellectuals and experts should be helped to assess the impacts of international integration on Vietnam. 

The competitiveness of sectors should be evaluated to devise plans aiming to promote those with a competitive edge and adjust production of less competitive sectors and businesses, thus maximising benefits generated by the FTAs, the PM said. 

The MoIT was also assigned to work with other ministries, agencies, institutes, associations and the Vietnam Chamber of Commerce and Industry (VCCI) to make the best use of incentives offered by FTAs in each sector. The outcomes will serve as a basis to roll out activities helping Vietnamese enterprises take deeper steps into regional value chains. 

PM Phuc also asked the ministry to work on non-tariff measures like technical barriers and trade protection measures allowed in the World Trade Organisation and FTAs to protect the rights of domestic firms in the face of fierce competition with foreign rivals. 

He also suggested the ministry intensify, renovate and diversify trade promotion activities, update product and market information, and expand distribution channels, with attention paid to FTA members. 

The Ministry of Foreign Affairs was urged to monitor regional and international political, security and economic developments, as well as Vietnam's foreign relations to forecast and propose measures for issues that may affect trade ties between Vietnam and its FTAs partners. 

PM Phuc requested the Ministry of Planning and Investment to partner with other ministries and agencies to review domestic business conditions, making them suitable with relevant international treaties. 

Meanwhile, the Ministry of Science and Technology was asked to increase international scientific and technological studies to apply advances in production, while paying attention to intellectual property protection. 

People's Committees of cities and provinces need to raise awareness of local firms about international economic integration in general and FTAs in particular. 

The VCCI should strengthen integration capacity and competitiveness of its member businesses, promote ties with foreign counterparts to help its members seek promising partners and expand business networks, and exchange information and experience in FTA implementation with its foreign counterparts, PM Phuc said.

Pork prices set to rise as year-end supply dwindles

As the number of pig breeding households continues to drop, a shortage of live pigs could result in high pork prices later this year, according to the Ministry of Agriculture and Rural Development (MARD).

The ministry estimates that pig herd numbers have declined by 10% year on year as of September this year. Pork production in the third quarter was 522,000 tonnes, down 2.3% compared with the previous year.

The situation has resulted out of a long-term plunge in pork prices. The foot-and-mouth disease outbreak in a number of northern provinces was also a reason for many farmers deciding to stop breeding pigs.

According to the MARD's Department of Livestock Production, pig farmers are also not interested in expanding their pig herds due to unstable pork prices.

The department estimates that the number of pig breeding households is predicted to reduce by a third, or between 800,000 and 900,000 by the end of this year.

After nearly 4,000 pigs were found injected with sedatives at the Xuyen A Slaughter House Complex in HCM City recently, pork prices fell to VND25,000-27,000 (about US$1.1) per kilo in Dong Nai, he said.

A similar situation has happened in pig farming areas in Hanoi, with many households going bankrupt or shifting to other businesses.

Tran Van Minh, a breeder in the capital city's outlying Dan Phuong district, is among them.

He was among the bigger breeders in the district, but his farm stands empty now. Over the past two years, the household business has operated at a loss as pork prices continued to fall. They even sold valuable property to continue investing in pig farming. Now they are bankrupt and hundreds of millions of đồng in debt, owing money they spent on feed, veterinary medicines and other things.

"We've lost everything. We are too old to be employed by companies so we look forward to receiving assistance from the government," Minh said.

Nguyen Kim Doan, vice chairman of Dong Nai Poultry Association, warned that the high number of households quitting pig breeding would result in rising unemployment in rural areas, with most of the people affected being those too old to work in companies or enterprises, and incapable of doing hard work.

"About 40% of small scale big breeders, amounting to tens of thousands of households, have gone bankrupt. This has created difficulties for local authorities in generating employment and in ensuring social security and order," Doan told the Nong thon ngay nay (Countryside Today) newspaper.

Nguyen Duc Trong, Deputy Director of Department of Livestock Production, said they haven't got the exact number of households who've quit pig breeding or correct figures from big businesses like the CP (Charoen Pokphand) Group that have large number of sows and pig herds.

He said it was normal that prices go up and down in livestock breeding sector.

For example, pork prices increased constantly from 2011 to early 2016. There was a time it reached VND52,000 (US$2.3) per kilo. The prices started dropping from the end of last year, he said, adding that it has affected a lot of farmers.

"I assume that the pork prices will increase from now until the year-end if the number of pigs herds keeps dropping. However, the increase will not be as steep or sudden as before," said Trong.

Several breeders have turned to exports because of low consumption and prices in the domestic market. Trong said the ministry would try its best to create favourable conditions for exporters.

"At present, we export about 40,000 tonnes of pork per year, via eight enterprises from Hai Duong province and Hai Phong city."

"The ministry plans to establish disease-free zones to reduce production costs and facilitate pork export to markets like Europe. This is an urgent matter so the ministry is determined to do this," he said.

Women - dive into the world of engineering

There is more room for Vietnamese women in engineering and technology, which used to be a traditionally male industry. In fact, female engineers and technicians carry a distinct advantage to pursue a viable career.

Nguyen Hoai Thu is the production manager of electric cabinets at GE Energy Haiphong. Thu is always busy with work and phone calls without fixed working hours.

She said, "Sometimes I don't have time for my children. It is said that engineering is a challenging career for women. However, it is even more difficult for us to fulfill the different roles of engineer, mother, and wife."

Indeed, the engineering industry is challenging for both genders. In today's dynamically changing business environment and stiffly competitive global market, clients' demands become more sophisticated and volatile.

At GE, the company standing in the forefront of digital transformation with exports to markets around the world, investments are being made in continuous learning in order to streamline processes, improve productivity, and apply cutting-edge technology.

Thu went on to say that, "It is crucial that you have aspiration, determination, and perseverance to acquire knowledge. Unless you keep learning, you will be left behind whether you are male or female. I have had the chance to work with several female engineers possessing these characteristics. They are eager to learn and quick to catch up with market trends." 

Working at GE for eight years now and five years in the engineering industry, Thu believes that feminine traits help women to tackle problems smoothly.

According to her, there are a number of favourable incentives for female employees at GE as well as in Vietnam with the on-going push for gender equality. As GE places high values on integrity, honesty, and transparency, female employees are empowered to make the most of their abilities.

This has encouraged Thu and her female colleagues to believe in their abilities. In addition, GE also holds training courses and foreign exchange programmes around the world to help female employees sharpen up their skills and expertise.

Female engineers have competitive traits like meticulousness and attention to detail compared to male engineers. In addition to ensuring the technical quality and customer requirements, GE also puts high importance on price and delivery time to stay competitive in the market.

"The key factor is to strike up long-term contracts at a reasonable price and with timely delivery. Thus, I need to be very careful with every single word and number. Tracking daily data helps me to identify the most competitive price to maximise profit," she shared with VIR.

Moreover, women at the management level can comprehend others' feelings better than male leaders. "Vietnamese people value the skills of listening, sharing, encouraging, and trusting others. At the GE factory, I manage both office and factory workers who are responsible for different tasks. Therefore, it is important to understand their job and characteristics to achieve a better balanced working environment," she said.
Thu often spends time on the factory site to learn about her work and engage in regular exchange with her colleagues about the group's development strategy, which consequently improves their productivity.

However, there is heavy pressure on women to care for their families and children. "I am still a woman. Being raised in a family with an engineering tradition, I was married to an engineer, so I receive much support from my family and my husband."

"Despite being this lucky, I always encourage young women to develop careers in engineering with passion and bravery. When you are enthusiastic about engineering, you will feel more driven in your career. The engineering industry is teeming with bright prospects for employment, learning, and development. You will always find success by making constant efforts," she stated.

Vietnamese, Turkish enterprises seek to boost connectivity

A Vietnam-Turkey trade exchange was held in Ho Chi Minh City on October 19 with the participation of nine Turkish firms in herbal medicine and wooden product production.

The event was jointly organised by the Vietnam Chamber of Commerce and Industry (VCCI) chapter in Ho Chi Minh City and Turkey's Mediterranean Furniture, Paper, Forest Products Exporters' Association (AKIB).

Turkey, the leading trade partner of Vietnam in the Middle East, is the gateway for Vietnamese products, including rice, tea, garment, footwear and electronics, to the Middle East market.

Currently, Turkey has 15 projects in Vietnam worth about US$704 million, ranking 26th among foreign investors in Vietnam.

The two countries have agreed to work together to raise two-way trade to US$4 billion in 2020 through the strengthening of trade and investment cooperation.

Real estate needs more foreign investment: experts

The number of foreigners buying real estate products in Vietnam has increased, but the domestic property market needs policies to attract more foreign investment, according to experts.

Nguyen Trong Ninh, Director of the Housing and Real Estate Market Management Department under the Ministry of Construction, said a policy on licensing foreigners buying and owning houses in Vietnam was issued in 2008.

In 2014, the Ministry of Construction reviewed and evaluated this policy during its study of the amendment of the Law on Housing. 

According to the ministry, from 2008 to 2014, some 126 foreigners owned property products in Vietnam. Therefore, it proposed to add conditions for foreigners to buy houses in Vietnam. The amended Law on Housing 2014 including those proposals was passed in 2014 and came into effect in 2015, Ninh said.

Following two years of implementing the amended Law on Housing, the domestic property market has developed in the positive direction in the segment of selling real estate products to foreign buyers, and foreigners have supported the proposals, according to reports from localities sent to the construction ministry.

From 2015 until now, some 750 foreigners received housing ownership certificates, six times higher than the period from 2008 to 2014.

However, there are not many transactions involving foreigners buying property products in Vietnam due to many reasons, including financial ability of foreigners, their jobs in Vietnam, demand, location and price of houses, according to Ninh.

As a state management agency in the field of housing, the Ministry of Construction said in the current period, regulations on housing and policies related to housing in Vietnam for foreign individuals and organisations had been open, including subject, conditions on ownership and the number of houses that can be owned by foreign buyers.

Meanwhile, regulations on the number of houses that foreign organisations and individuals can own in buildings and housing projects are in accordance with the actual conditions of Vietnam and international regulations.

Nguyen Khanh Duy, Savills Vietnam's HCM City residential sales director, said a limit on the number of apartments owned by foreigners was very important to minimise and prevent negative impact on domestic socio-economic development.

Vietnam's Circular 19/2016/TT-BXD and Decree 99/2015/ND-CP regulate the number of houses owned by foreigners to tighten procedures on re-sale of real estate products and increase transparency in the process of implementing administrative procedures for these property products.

However, Duy said an adjustment that will create suitable quotas for certain kinds of property products, such as resorts or Grade A apartments, should also be considered carefully. The State should have flexible quotas to create a positive dynamic for the local property market because Vietnam has 82,000 foreigners working and living here and more than four million overseas Vietnamese, who have high demand for buying housing products in Vietnam

According to Savills Vietnam, the 2015 amendment of the Law on Housing allowing foreigners to buy houses in Vietnam was considered a positive change in policy. That action has promoted further development of the local real estate market.

It was expected to create more favourable conditions in stimulating development of investment, tourism and service in the real estate sector.

In fact, property projects and products attracting foreigners have been mainly in the high-end segment.

Markets attracting foreign buyers include HCM City, Hanoi and Da Nang, according to Savills Vietnam. However, there are a small number of red books or land use rights certificates that were licensed to foreign organisations and individuals buying houses in Vietnam. 

The number is lower in comparison with the high demand from foreign buyers because foreigners are not yet clear about legal procedures in Vietnam, while State administrative offices in some localities are not familiar with regulation related to foreigners.

For large investors, to find suitable property projects, they often choose to work with an international consulting firm that has a network of offices and branches in many countries to ensure that all questions related to legal and trading procedures will be explained satisfactorily. Sometimes, they do not need to pay more money for consulting services.

The big investors will choose a company with experience, reputation and ability to communicate well in many languages to save time and money.

However, in terms of customers, these investors should have specific requirements on the project to get the most detailed consultation information, Duy said.

Domestic shrimp exporters need to renovate

Despite a recent rebound in shrimp exports to the EU, Vietnam's shrimp sector is facing a fierce competition in the market, requiring domestic exporters to continue improving their product quality and competitiveness, according to the Vietnam Association of Seafood Exporters and Producers.

The country's shrimp enjoyed a surge of 32 percent in exports to the European market in the first nine months of 2017. 

Shrimp exports to the market in June and July came to a standstill due to the supply shortage and price hikes while EU businesses reduced shrimp imports. But from August, exports to the EU have been restored with more supply from domestic businesses, making the EU the top market of Vietnamese shrimp.

According to the VASEP, leading European importers of Vietnamese shrimp were the UK, the Netherlands and Belgium, with growth of 46.5 percent, 47.8 percent and 34.1 percent, respectively.

In the rest of the year, exports to the EU market are predicted to continue rising as the festive season is coming.

Shrimp is a profitable products supplied by many large firms in the Asia-Pacific region. Currently, the major competitors of Vietnam in the EU market are India and Ecuador. 
 
The free trade agreement between Ecuador and the EU, which took effect from January 1, 2017, has offered Ecuador the preferential tax rate of zero percent from 3.6 percent earlier, enhancing the competitiveness of the country's shrimp.


It is forecast that each year, the EU consumes about 40,000 tonnes of white-leg shrimp from Ecuador at zero percent tax. Ecuador is likely to enjoy 7-9 percent growth in 2017 in the market.

Vasep said that to boost exports to the market, businesses should pay more attention to labels and the quality of products to build brand names and expand markets. 

According to Tran Van Pham, Director of Soc Trang seafood company, firms should invest more in technology and equipment for shrimp processing to ensure clean products, while reducing production cost and improving quality.

Vietnam exported US$2.5 billion worth of shrimp to the world in the first nine months of 2017, a rise of 21.9 percent over the same period last years.

Currently, the EU currently consumes about 30 percent of shrimp in the world, with about US$6-8 billion per year. The market's shrimp imports increased to US$6.7 billion in 2016 from US$5.6 billion in 2007.

IT Outsourcing Conference spotlights cutting-edge technologies

As many as 500 delegates from 20 countries and territories and representatives from several leading IT companies on October 19 gathered at the second Vietnam IT Outsourcing (ITO) Conference 2017 that kicked off in Ho Chi Minh City.

During the four-day conference, the biggest of its kind in the country, participants will introduce the capabilities of Vietnamese IT services with new cutting-edge technologies, promote Business Process Outsourcing, and call for more investment in IT. 

In his speech, Vietnam ITO Alliance Chairman, Lam Nguyen Hai Long said the 4.0 Industrial Revolution provides a golden opportunity for Vietnam's software and IT services to further grow in the future.

"Our IT industry growth has not met world demand. That's why we have  suggested solutions to improve Vietnam's software human capacity to promote Vietnam's IT service brand names to the international market," he said.

The event also witnessed the signing of cooperation agreements between the Vietnam ITO Alliance and international organisations, including the US's Silicon Valley Forum, Vietnam IT Development Group and Japan's Shonan Industrial Promotion Foundation.

The first Vietnam IT Outsourcing Conference was held in 2015 in the same venue, attracting more than 400 exhibitors from multi-national and high-tech companies.

Bright prospect for tea exports in final quarter

Vietnam is the world's seventh largest producer of tea, and the fifth biggest exporter. 124,000 hectares are cultivated, harvested and the crops send to 500 processing facilities throughout the country eventually producing 500,000 tons of dried tea each year.

It is forecast that increasing global demand will help spur Vietnam's tea exports in the remaining months of this year. 

According to the Ministry of Industry and Trade, Vietnam earned US$164 million from exporting 103,000 tons of tea during the nine-month period, up 12% in volume and 11.2% in value against the same period last year.

The three biggest importers of Vietnamese tea were Pakistan, Taiwan (China) and Russia, accounting for 51.5% of Vietnam's total tea export value in the first eight months of this year. Pakistan is the biggest importer of Vietnamese tea products, which just made up 2.2% of its total imports. Furthermore, exports to the country dropped in both volume and value last year and in eight months of this year.

The decline was attributable to limited types of products (mainly black tea, green tea and tea materials), the low quality of the products and generally unattractive designs and poor branding, resulting in a lack of competitiveness in the Pakistani market.

Despite being the seventh biggest tea exporters in the world, Vietnamese tea products are primarily exported to easy markets, that is to say markets with lower product quality demands. Not many products are produced in Vietnam which meet the stringent export standards set by demanding markets like the US and the EU. That's why the country's tea exports just make up a small proportion of the global purchasing power.

According to market research, the global tea market was valued at US$24.3 billion last year and is forecast to hit US$37.5 billion by 2025 with an annual average growth rate of 5% in the eight years 2017-2025. This sharp boost in value is largely thanks to a wider awareness of the health benefits associated with drinking tea, as well as lifestyle changes worldwide.

However, excessively hot weather reduces the tea output of big producers and exporters like Kenya and India, leading to the shortage of global supply. Sri Lanka, the world's leading tea exporter was seriously affected by recent devastating floods, which halt exports from the island nation. This will leave a sizeable gap in the market; one that Vietnamese tea is expected to fill. The shortage of global supply will also push up the export price of Vietnamese tea, bringing an added short term bonus to Vietnamese tea producers.

Despite this advantage, the Vietnamese tea industry still has to contend with a number of difficulties. There are no products of sufficient quality penetrate the demanding markets combined with the other challenges such as high production costs, poor processing technology, low quality standards, and the weak branding of Vietnamese producers and it is clear to see that the industry has plenty of room to improve.

Planting and processing procedures have not been followed closely, resulting in low quality products. The situation is not helped by the fiercely competitive nature of producers who, despite enjoying tax incentives, are withstanding pressures from technical barriers, particularly in terms of food hygiene and safety.

In order for the tea industry to develop into a competitive global force and be able to export to demanding markets, changes have to be made from the ground up. Suggested changes are wide ranging, from encouraging planters to join higher quality, sustainable supply chains to businesses improving their product designs and branding.  If Vietnamese tea is ever to penetrate the highly lucrative markets of the US and the EU, significant improvements will need to be made.

Uber debuts support centre for partners

Car-hailing service Uber launched a support centre for partners called Greenlight Hub in the capital city on October 19.

Speaking at the event, Executive Director of Uber Vietnam Tom White said as the largest of its kind in Vietnam, the three-storey centre sprawls over a site of 620 sq.m where Uber will develop support features to improve experiences of drivers and passengers. 

It will also improve service quality by issuing rules for drivers and allowing early reservation for rides. 

White said Uber also increases safety for passengers by providing basic information about their upcoming rides. 

Uber and Grab are the only two foreign firms registering for pilot e-hailing projects apart from local taxi companies, including Vinasun Taxi, Thanh Cong Taxi and Sun Taxi.

Present in Vietnam since 2014, they both accept payment in cash and bank cards.

Product safety and compliance required in global supply chains

Product safety, responsible sourcing, compliance, and transparency are the backbone of successful and respected supply chains and were all discussed at the American Apparel & Footwear Association (AAFA)'s 2017 Product Safety and Compliance Conference.
The conference was organized by the American Chamber of Commerce (AmCham Vietnam), Ho Chi Minh City Chapter, and the AAFA on October 19 in Ho Chi Minh City, following a successful holding last year.
AAFA brings together industry leaders to educate factories and suppliers in Vietnam on the critical components of manufacturing and delivering products that meet global regulations, industry compliance, and consumer demand.
The 2017 conference began with a focus on the trade outlook in Washington D.C. and post-TPP negotiations, and what this means for Vietnam. Mr. Jon Fee, Senior Counsel at Alston & Bird LLP, spoke of the potential opportunities and implications for Vietnamese apparel and footwear exporters in the post-TPP world. He highlighted other deals of interest, including the Regional Comprehensive Economic Partnership (RCEP), the EU-Vietnam Free Trade Agreement (EVFTA), China's Belt and Road Initiative (BRI), and Vietnam's complementary Two Corridors and One Economic Circle Plan.
In the 12 months ending in August, US apparel imports from Vietnam increased 8.74 per cent and footwear imports 11.83 per cent. Vietnam is a robust exporter of apparel and footwear to the US, second only to China in both. Its growth in such exports continues to outpace that of its competitors for the US apparel market, even without the benefit of any trade preference program or free trade agreement. US retailers and consumers continue to recognize Vietnam's strengths in quality, price, and delivery.
Representatives from the Worldwide Responsible Accredited Production (WRAP) discussed how the supply chain is fragmented and increasingly complex. The apparel and footwear supply chain is operating in an environment where reputation and management are global issues with very high stakes. As for social compliance auditing, it is an increasingly important aspect of supply chain management, especially given how today's global value chain operates in an instant communication environment.
The conference also discussed countering human trafficking throughout the supply chain, working conditions to keep workers safe in the factory, and ensuring factory compliance with regards to regulations, chemicals, and sustainability. Speakers discussed detoxing the supply chain and how to proactively prevent the use of restricted chemicals early in manufacturing processes.
AAFA is the national trade association representing apparel, footwear and other sewn product companies and their suppliers competing in the global market.

Related party transaction practices in need of improvement

From regulators to international experts, a range of stakeholders came together to discuss the most effective ways to tackle conflict of interest and related party transactions (RPTs) at the Corporate Governance Forum 2017 in Ho Chi Minh City a few days ago.
This was the first annual event hosted by the Vietnam Corporate Governance Initiative (VCGI), founded in December 2016 by the International Finance Corporation (IFC), the Ho Chi Minh Stock Exchange (HSX), and the Hanoi Stock Exchange (HNX).
RPTs are common in most businesses across industries and sectors in Asia, including Vietnam. Though they do not necessarily affect a company negatively, the risk of shareholder abuse is potentially present in non-arm's length transactions involving the sale or purchase of goods, the transfer of intangible items, and even the establishment of joint ventures.
Abusive RPTs have led to significant corporate failures destroying shareholder value and eroding investors' confidence in the integrity of capital markets. In fact, over the last few years, abusive RPTs have become one of the biggest challenges facing Vietnam's business landscape.
"RPTs are always viewed as situations that are open to possible conflicts of interest and should be subjected to rigorous review," said Mr. Chris Razook, IFC's East Asia Pacific Corporate Governance Lead. "It is a recommended practice that a company outline its RPT policy as part of its governance policy framework and ensure that any conflicts of interest inherent in RPTs are strictly addressed."
The forum this year, entitled "Handling Conflict of Interest and Related Party Transactions", saw the participation of relevant stakeholders, including about 100 regulators' representatives and board members and senior management from large public and listed companies. Given the context of Vietnam's business and corporate governance, the event addressed concerns and issues relating to best practices in governing conflict of interest and RPTs for sustainable performance and growth; the key to raising capital.
"In the absence of a strict RPT policy at the company level, RPTs can be easily abused, significantly weakening the competitive edge of many companies, thus increasingly posing a challenge to the integrity of Vietnam's capital markets," said Mr. Tran Van Dung, Chairman of the State Securities Commission. "Vietnamese public companies, especially listed ones, should adopt clear policies and procedures on RPTs as well as effective oversight mechanisms that comply with local laws and regulations, and follow best international practices."
Ms. Dinh Thi Quynh Van, CEO of PwC Vietnam, pointed out that "independent directors have a central role in assisting the board to fulfil its RPTs oversight function. RPT reviews could fall on a board committee comprising independent members of the board, and others not conflicted in a transaction under discussion or a party to the transaction, or an existing board committee of independent directors, such as the audit committee."
A healthy RPT environment and leadership "at the top" is important and empowers the internal gatekeepers of the company. Strong corporate governance is conveyed through a company's leadership characteristics and its systems of accountability, and thorough fairness, transparency, and responsibility to the institution and its stakeholders.
"Corporate governance reform is a top priority for regulators, institutional investors, and boards of directors," said Mr. Dominic Scriven, Chairman of Dragon Capital. "A good corporate governance function, including attracting qualified independent board directors and the transparency of related party transactions, is absolutely critical."

VEPR: 21% credit growth target a challenge

As at September 20, credit growth had reached 11.02 per cent since December 2016, higher than in the same period in previous years (10.8 per cent in 2015, and 10.5 per cent 2016), according to Vietnam Institute for Economic and Policy Research (VEPR)'s macroeconomic report for the third quarter.
The figure, however, is much lower than the target set by the government for the year.
"This will be a challenge for the realization of the credit growth target in the fourth quarter," a representative from VEPR said.
Mobilization growth reached 10.08 per cent, lower than the 12 per cent recorded in the same period of last year.
The shortage of lending capital created by lower mobilization will be a barrier for the State Bank of Vietnam's monetary policy in the last quarter, especially in reaching the targeted 21 per cent credit growth for the year as a whole.
Interest rates may increase, but it is continually difficult to mobilize deposits. Because the SBV bought a significant amount of foreign currency in the third quarter, of about $3 billion, to increase reserves, liquidity in the banking system remains plentiful, as proven by the decline in interbank interest rates since the second quarter.
Rates rose slightly late in the third quarter, by less than 1 per cent. As reported in September by the National Financial Supervisory Commission, liquidity in the banking system is currently sound, with a credit / system ratio of 87.2 per cent.
Cash demand in late 2017 will also increase pressure on banks' liquidity and affect interest rates, which may cause barriers to lending interest rates falling by 0.5 per cent.
"The SBV should follow the market tightly to provide liquidity support as soon as possible," the representative from VEPR said.

HSBC Vietnam guides enterprises into uncharted digital waters

Themed "Leveraging Technology for Business Transformation", the HSBC Global Liquidity and Cash Management Seminar on October 17 in Ho Chi Minh City aimed to provide corporates with the most up to date analysis from specialists at respected consulting companies.
Keynote speakers from KPMG, a provider of advisory services and industry insight to organizations, and SAP Asia, a provider of business transformation, digital innovation, and enterprise resources planning (ERP) solutions, joined HSBC specialists to focus on how digital technologies are transforming the world of business and how banks can help businesses not only control this transformation but also create a competitive edge through ERP and technology.
While digital technologies create an exciting range of capabilities and possibilities, enterprises today often have more questions than answers. "There is huge demand for knowledge right across the corporate sector," said Mr. Winfield Wong, Country Head of Wholesale Banking at HSBC Vietnam. "Companies wish to better understand the enterprise architecture of this new digital world so they can apply the right solutions in the right way to maximize return on investment and exploit opportunities as they arise."
"The convergence of rising consumer expectations, evolving business models, and a blurring of long-standing industry boundaries has led to an erosion in the relevance and sustainability of traditional operating models," according to Mr. Dhiren Doshi from Industries and Digital Leadership at SAP Asia. "Companies - big and small - are being pushed to re-evaluate their strategies in light of exciting new technologies that can level the playing field while providing disproportionate advantage to disruptors and early movers."
Ms. Hanh Nguyen, Country Head of Global Liquidity and Cash Management at HSBC Vietnam, offered insights into the opportunities and challenges Vietnam now faces, what the implications for corporates in the country are and will be in this digitalization process, and how enterprises can negotiate a rapidly changing payment landscape, during her presentation "A Future Where Cash is Mobile?" 
"In a cash-centric society such as Vietnam, the digitalized future will transform payment systems in a dramatic fashion," she told the gathering. "The payment ecosystem is already evolving with cards and online payments and ultimately we are on a path that will lead us to a cashless economy."
As a partner of businesses, HSBC plays a key advisory role to clients by seeking optimal solutions in ERP and technology. To meet the specific needs of each stage of business operations, HSBC provides a wide range of solutions, from efficient banking instruments, automation functions in ERP, and e-banking platforms, to more sophisticated solutions like SWIFT connectivity and other treasury solutions.
In Vietnam, HSBC has been one of the pioneers in digital solutions and financial technologies. This year, the bank unveiled HSBCnet Touch ID and a digital platform for customs payments. This follows a partnership with the Department of Taxation to launch an online tax payment platform in December 2015.
"We are leading the way for online and mobile banking and in the future we will continue to innovate and introduce more digital solutions for our corporate clients," said Mr. Jason Tan, Regional Head of Client Management, Global Liquidity and Cash Management at HSBC. "HSBC strives to stay ahead of the curve so we can guide our clients as they travel into these uncharted digital waters."
HSBC was named the Best Domestic Cash Manager in Vietnam in the Euromoney Cash Management Survey 2017. This was the eighth year in a row it was voted by clients as being the best cash management bank in Vietnam. 

Savills to manage two new Vimefulland projects

Savills Vietnam has been officially selected by the Vimedimex Group as the property manager of two new Vimefulland projects in Hanoi: Belleville, starting immediately, and The Emerald, when hand-over is ready in 2019. 
Located at Lot B4 in the Nam Trung Yen new urban area in Hanoi's Cau Giay district, Belleville is a commercial shop-house development with classic French architecture. It comprises 66 shop-houses and has convenient access to Ring Road 3, Mac Thai To Street, Thang Long Avenue, and Duong Dinh Nghe Street.
The Emerald will have two 30-story blocks with 1,344 luxury apartments. Conveniently located at Lot CT8 in the center of the My Dinh new urban area in Tu Liem district, Thang Long Avenue and ring roads will enable easy access to all parts of the city. Facilities include the An Sinh International Hospital, Marie Curie School, and a Big C supermarket, among others.
Savills will provide high-quality management services and a dedicated team of specialist staff, adopting specific management solutions to improve project operations, cost efficiencies, and the customer experience.
Mr. Le Tien Dung, CEO of the Vimedimex Group, said that Hanoi is increasingly lacking natural space and with mounting air pollution it's become essential to have more upscale eco-living environments with healthcare options nearby. "We hope that Belleville and The Emerald will become ideal places for people to kick back and relax after a busy day at work," he added. "We believe Savills has the experience and quality to operate and manage these projects in the most efficient way and enhance the enjoyment of residents."
Ms. Vu Kieu Hanh, Head of Savills Property Management of North and Central Vietnam, said it considers property management as a customer-orientated business and its aim is to provide much higher-quality services than the usual. "This is a key reason we have been selected by so many prestigious developers over the years," she said. "With our unmatched experience in the national property market, we are confident in delivering the best quality management services to Belleville and The Emerald."
Savills manages over 2.5 million sq m in Vietnam. Alongside property management, it also offers facilities management, financial management, pre-management consultancy, and resident solutions. In addition to Belleville and The Emerald, Savills management portfolio includes projects such as Richland Southern, BIDV Tower, and Artemis in Hanoi, and Saigon Pearl, The Vista, Avalon, Riviera Point, and Masteri Thao Dien in Ho Chi Minh City.

JLL to manage Sun Grand City Thuy Khue Residence

Internationally-renowned management firm Jones Lang LaSalle (JLL) has signed a partnership with the Sun Group to provide real estate consultancy and property management services for the group's five-star projects in Hanoi's Tay Ho district.
It will provide all management staff at Sun Grand City Thuy Khue Residence and Sun Plaza Thuy Khue , as well as training under JLL's international standards, and will represent Sun Group in handing over apartments at Sun Grand City Thuy Khue Residence and premises at Sun Plaza Thuy Khue Commercial Center.
"The signing ceremony with the prestigious management firm JLL is in preparation to welcome Sun Grand City residents," said Mr. Nguyen Viet Hung, General Director of the Ho Tay Real Estate Development Investment Joint Stock Company, a member of the Sun Group. "At the same time, it is a milestone in the launching of Sun Plaza Mall Thuy Khue, which is expected to open next year. With quality management and operations services in accordance with international standards, Sun Grand City Thuy Khue Residence will give residents a five-star living space with a professional shopping experience at the first commercial center of large scale in the Thuy Khue area."
"We have high quality services and will provide the best in the cooperation between the two parties," said Mr. Stephen Wyatt, General Director of JLL Vietnam.
JLL will also help set up systems for operations, service organization, and operations management of the apartment complex and commercial center, working with agencies and other entities involved in the management and operations process. Together with the Sun Group, JLL will select suppliers and coordinate in managing associated services.
Sun Plaza Thuy Khue will open in the first quarter of 2018 and is expected to meet the needs of nearly 19,000 customers in Tay Ho and Ba Dinh districts. Under the policy of the Hanoi People's Committee on planning for the Buoi - Nghia Do intersection, in the near future, when Hoang Hoa Tham Street is expanded to 50 meters wide with eight lanes, Thuy Khue Street will expand to over 20 meters wide and Sun Plaza Thuy Khue promises to be the ideal venue for holding large scale events, with more than 4,000 sq m of space right near Bach Thao Park and West Lake.
With the presence of premium brands such as CGV cinema and Hai Cang restaurants, as soon as they move in, residents at Sun Grand City Thuy Khue Residence will enjoy high-end services and convenience right on their doorstep.
A luxury apartment development with five-star utilities, Sun Grand City Thuy Khue Residence is deemed a pioneering project that will enrich lifestyles in the center of the city. Backed by the prestigious Sun Group, according to real estate experts, the block will not only create waves in the high-end housing market in 2017 but will continue to dominate the West Lake segment in the time to come.

Tourism activities to be paused on Son Tra Peninsula during APEC Week

All tourism activities will be temporarily suspended on Son Tra Peninsula in the central city of Da Nang during the APEC Summit Week from November 2-11.

Travel agencies and tour guides are not permitted to disclose information on the staying time, schedules, menues and personal images of the delegates and guests attending the summit.

Tourism transport and business units are also not allowed to conduct passenger transport activities and bring tourist facilities to Son Tra Peninsula during the week.

Business households, companies and projects, which operate on the peninsula, must pause all their business activities and construction during this time.

In order to ensure the smooth and convenient traffic for the APEC Week, a number of main streets will be allocated. Notably, trucks will be banned on all streets in the city from November 3-12.

Da Nang city's Department of Tourism asked tourism transport agencies to strictly abide by the Road Traffic Law and not to use means which fail to ensure technical safety as well as park and pick up passengers at the right places and update information on banned streets.

Tourism facilities must pay much attention to their services, as well as strictly comply with regulations related to pricing.

A series of military enterprises to be equitised

The Ministry of Defence said that only 17 military enterprises will have 100% of State-owned capital while 29 others will be equitised and 20 joint-stock military firms will be divested.

Major General Vo Hong Thang, head of the Ministry of Defence's Economic Department announced the information at a meeting held in Hanoi on October 20 to introduce the project on restructuring and improving military enterprises by 2020.

Thang said the ministry will continue to maintain operations of 17 military enterprises wholly owned by the State which are carrying out military and defence tasks along with producing weapons and specialised military equipment.

Meanwhile, the ministry will equitise29 military enterprises in the areas of commerce, construction and services and carry out divestment in 20 joint-stock enterprises. Several small enterprises will be merged and acquired.

The Defence Ministry will hold the ratio of State capital from 51% of chartered capital until 2019 in 12 enterprises after being equitised and the ratio will be adjusted after 2020 in accordance to the law.

The Defence Ministry also asked enterprises under the restructuring project to promote communications so that workers are aware of the restructuring and renewal of military enterprises, thus actively responding to the project.

Nghe An Vissai wharf put into operation

Nghe An provincial People's Committee and Song Lam Cement Joint Stock Company under Vissai Group held a ceremony in Nghi Thiet commune, Nghi Loc district on October 21 to put into operation Nghe An Vissai wharf.

Deputy Prime Minister Vuong Dinh Hue attended the ceremony along with representatives of ministries, branches and leaders of Nghe An province, many local people were also in attendance.

As part of the Nghe An Vissai International Port, the 2,000-metre wharf able to receive bulk carriers of up to 70,000 DWT. The wharf serves mainly for transportation of clinker and cement of Song Lam Cement JSC to domestic and foreign customers.

Especially, at the ceremony, the first international ship of nearly 70,000 tonnes was docked at the wharf to receive clinker and cement.

Speaking at the ceremony, Nguyen Dac Vinh, Secretary of Nghe An Provincial Party Committee said that putting into operation Nghe An Vissai wharf is very important not only for the Vissai Group, but also for Nghe An province's socio-economic development.

In the future, Nghe An Vissai International Port will be an important gateway for trade and transport by sea of Nghe An province in particular and other provinces across the country, as well as additional countries in general, he added.

On the same day, at Dong Hoi Industrial Park, Hoang Mai town, Nghe An province, a groundbreaking ceremony of the second Hai Chau Confectionery Factory was held, with the presence of Deputy PM Vuong Dinh Hue.

According to experts, after beginning operations, the factory will reach the output of nearly 75,000 tons per year and total sales of about 1.700 billion per year. The capital recovery period of the project is 10 years and 3 months. The factory is expected to create jobs for 520 labourers, each person has the potential to earn an income of from VND 4.5 million to VND 10 million per month.

In addition, the project will also contribute to the consumption of domestic materials, such as sugar, salt, rice, pepper, chicken eggs and other foods, and develop local services.