Vietnam is the world's seventh largest producer of tea, and the fifth biggest exporter. 124,000 hectares are cultivated, harvested and the crops send to 500 processing facilities throughout the country eventually producing 500,000 tons of dried tea each year.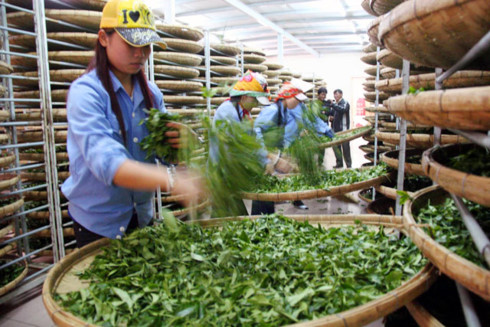 It is forecast that increasing global demand will help spur Vietnam's tea exports in the remaining months of this year. 
According to the Ministry of Industry and Trade, Vietnam earned US$164 million from exporting 103,000 tons of tea during the nine-month period, up 12% in volume and 11.2% in value against the same period last year.
The three biggest importers of Vietnamese tea were Pakistan, Taiwan (China) and Russia, accounting for 51.5% of Vietnam's total tea export value in the first eight months of this year. 
Pakistan is the biggest importer of Vietnamese tea products, which just made up 2.2% of its total imports. 
Furthermore, exports to the country dropped in both volume and value last year and in eight months of this year.
The decline was attributable to limited types of products (mainly black tea, green tea and tea materials), the low quality of the products and generally unattractive designs and poor branding, resulting in a lack of competitiveness in the Pakistani market.
Despite being the seventh biggest tea exporters in the world, Vietnamese tea products are primarily exported to easy markets, that is to say markets with lower product quality demands. 
Not many products are produced in Vietnam which meet the stringent export standards set by demanding markets like the US and the EU. 
That's why the country's tea exports just make up a small proportion of the global purchasing power.
Prospects for remaining months
According to market research, the global tea market was valued at US$24.3 billion last year and is forecast to hit US$37.5 billion by 2025 with an annual average growth rate of 5% in the eight years 2017-2025. 
This sharp boost in value is largely thanks to a wider awareness of the health benefits associated with drinking tea, as well as lifestyle changes worldwide.
However, excessively hot weather reduces the tea output of big producers and exporters like Kenya and India, leading to the shortage of global supply. 
Sri Lanka, the world's leading tea exporter was seriously affected by recent devastating floods, which halt exports from the island nation. 
This will leave a sizeable gap in the market; one that Vietnamese tea is expected to fill. 
The shortage of global supply will also push up the export price of Vietnamese tea, bringing an added short term bonus to Vietnamese tea producers.
Despite this advantage, the Vietnamese tea industry still has to contend with a number of difficulties. 
There are no products of sufficient quality penetrate the demanding markets combined with the other challenges such as high production costs, poor processing technology, low quality standards, and the weak branding of Vietnamese producers and it is clear to see that the industry has plenty of room to improve.
Planting and processing procedures have not been followed closely, resulting in low quality products. 
The situation is not helped by the fiercely competitive nature of producers who, despite enjoying tax incentives, are withstanding pressures from technical barriers, particularly in terms of food hygiene and safety.
In order for the tea industry to develop into a competitive global force and be able to export to demanding markets, changes have to be made from the ground up. 
Suggested changes are wide ranging, from encouraging planters to join higher quality, sustainable supply chains to businesses improving their product designs and branding.  
If Vietnamese tea is ever to penetrate the highly lucrative markets of the US and the EU, significant improvements will need to be made.
VOV