HCM City gets new serviced apartment
Luxury serviced apartment Sherwood Suites in HCM City will rent out units from October 28.
It has 157 units ranging from studio apartments to one- and two-bedroom apartments besides six penthouses.
Managed by Windsor Property Management Group, the property is at 192 Nam Kỳ Khởi Nghĩa Street in District 3.
There are promotions for the opening, according to Kai Speth, deputy president for operations and business performance at WMC Group, said.
WMC Group is a hospitality and property services management company based in HCM City.
Vietnam Int'l Industrial Fair returns Hanoi
The 26th Vietnam International Industrial Fair (VIIF 2017) opened in Hanoi on October 18, bringing together 250 domestic and foreign exhibitors to showcase their latest products and technologies.
The annual event aims to assist local firms in seeking new technologies and business partners towards the industry's sustainable development and in exchanging technologies and expanding markets.
According to the event's organizer, the Vietnam Exhibition Fair Centre, on display are products from well-known brands in Italy, the Republic of Korea, China and more. The products include battery, CNC laser cutters, plasma cutters and those in electrical engineering and automotive support industries.
A series of workshops, forums and business-matching events will also be held on the sidelines of the fair. Highlights are workshops on promoting investment and trade in industrial machinery; Vietnam's mechanical industry; and support industry.
The event will run through October 21. 
Rice exports surpass 2016 volume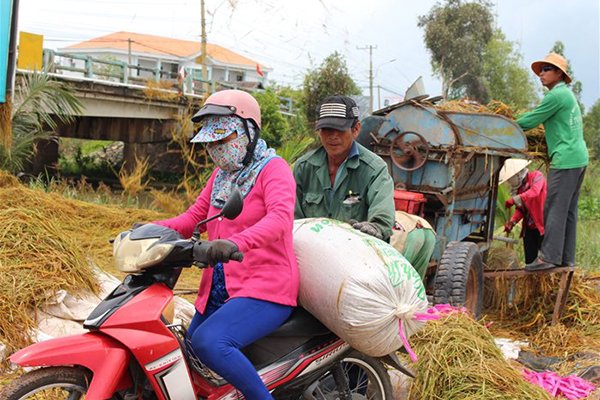 Farmers in a paddy field in the southern province of Long An are seen harvesting rice. The volume of rice exports in the year to early this month had beaten the 2016 figure 
Vietnam's rice exports in the year to early this month had risen by a staggering 41% year-on-year to more than 5.2 million tons, beating last year's volume of around 4.8 million tons, according to the Vietnam Food Association (VFA).
VFA said in a report that Vietnam had achieved the highest rice export growth rate among the world's top five rice exporters, namely Thailand, India, Vietnam, Pakistan and the United States, though Vietnam's rice trade remains smaller than that of Thailand and India.
As of October 3, Thailand had exported more than eight million tons of rice, up 16.5%; India with over 8.3 million tons, up a mere 2.8%; Pakistan with around 1.9 million tons, down 26.8%; and the U.S. with about 2.6 million tons, up 3.2%.
Overall, the five exporters sold around 26.2 million tons, a year-on-year rise of 9.4%.
Pham Thai Binh, director of Trung An Hi-tech Farming JSC, told the Daily that China, Malaysia, the Philippines, Bangladesh and African countries will sustain their high demand for Vietnamese rice in the remainder of the year.
However, he was anxious whether local rice exporters can secure enough rice stocks for their export contracts. He explained the volume of rice is now in short supply, partly due to floods.
As earlier covered in the Daily, former VFA chairman Huynh The Nang said Vietnam is likely to export around 5.6 million tons of rice this year, with about 1.8 million tons set to be shipped in the last quarter.
However, some insiders forecast the figure may exceed 5.6 million tons, given positive results so far.
Luang Prabang calls for HCMC investors
Leaders of Laos' Luang Prabang Province called for support from HCMC authorities so that Vietnamese enterprises could join fact-finding trips and make investments in the locality.
Khamkhanh Chanthavisouk, governor of the province, made the proposal at a meeting with HCMC's leaders last Saturday. Both sides signed the minutes of the meeting to boost comprehensive cooperation in various fields.
Luang Prabang has advantages in tourism, agriculture and forestry. The province's tourism has reported growth from 15% to 20% annually in recent years.
Many destinations in Luang Prabang are popular worldwide and recognized as cultural heritages. The province has used the advantages to speed up socio-economic development, the governor said.
Over the past years, Luang Prabang has been voted as one of the 10 most favorite destinations in the world. It attracted nearly 620,000 visitors last year.
Luang Prabang government plans to strengthen promotions to attract more international tourists to the province.
According to the governor, as 2018 is chosen as the Visit-Laos Year, Luang Prabang will organize many events, focusing on its historical and cultural traits. Leaders and enterprises from HCMC are invited to visit the province on the occasion to learn more about the locality.
HCMC Chairman Nguyen Thanh Phong at the meeting expressed his wish to learn more about Luang Prabang's socio-economic development experiences, especially in tourism and agriculture.
Regarding the guest's proposal, Phong said this is among contents included in the minutes. Aside from encouraging businesses from the two localities to deepen cooperation, the two localities will step up cooperation in various aspects such as health, education, economy, trading and culture, according to the minutes.
T&T Group introduces property project in Long An
T&T Group announced a 20.9-hectare property project in Long An Province last Saturday with investors snapping up 100% of land lots offered at the launching ceremony.
Located in Can Giuoc District, the T&T Long Hau project includes nearly 1,000 land lots from 90 to 200 square meters each. The products are priced at around VND7 million per square meter.
According to the enterprise, property investors accounted for around 70% of buyers at the launching ceremony in HCMC last week.
According to Nguyen Thi Kim Lien, general director of T&T Land, a member of T&T Group, land lots are a safe product with high liquidity. In addition, as T&T Long Hau is located near Long Hau Industrial Zone and well connected to important traffic routes to HCMC, it is attractive to young families and investors.
The project includes villas, shophouses and public facilities such as schools, parks, internal roads and children's playgrounds.
T&T Group is active in many sectors including finance, property, agriculture and education. For the realty segment, it has developed three projects – T&T Riverview in Hanoi, T&T Victoria in Nghe An Province and T&T Long Hau.
U.S. attorney shares immigration information
USIS Group and Lincoln Stone Lawyers are organizing a sharing talk show to support potential investors to gain a profound insight into the EB-5 Immigrant Investor Program as well as the U.S. latest regulation updates.
The workshop titled "Truths about EB-5 – Sharing from a leading immigration attorney in the U.S." took place for the first time in HCMC yesterday. Lawyer Lincoln Stone will share his experience to the audience in Hanoi with an event held at the Melia Hotel on Thursday.
The U.S. attracts hundreds of thousands of visitors going there for travel, overseas studies, job chances, living and settling down. Meanwhile, the EB-5 Immigrant Investor Program is currently regarded as the most attractive immigration program.
With a minimum investment equivalent to US$500,000 per petition and creating at least 10 jobs, investors and family members are granted permanent residence cards in America and obtained enormous benefits of citizenship.
Speaking to the Daily, Lincoln Stone said that over 100 investors have signed up for the seminars and the number continues to increase.
The U.S. immigrant investor program (the EB-5 category of immigration) provides permanent resident status for investors of equity capital in a new commercial enterprise that will create at least ten full-time jobs for U.S. workers.
The investor must demonstrate the funds come from lawful sources and the capital will be at risk throughout the entire period of investment. The process involves a petition with the U.S. immigration agency (USCIS), immigrant visa processing and entry to the U.S., two years of conditional permanent residence, and then a final petition to USCIS to remove the conditions, Lincoln told the Daily via email.
For any investor, a spouse and his/her children who are under 21 when the I-526 petition is filed will generally be included.  If a visa backlog occurs, however, children may "age-out" and become ineligible if the visa is not issued before they reach the age 21.
Besides, a permanent resident must have the intention of "residing" in the U.S.  When permanent residents spend extended periods of time outside the country, they risk losing the permanent resident status.
Notably, there is no mathematical formula that applies to this question. However, if the permanent resident desires to apply for U.S. naturalization, there is the requirement of spending at least half the time in the country.
Since the early 1990s, around 63,000 immigrant visas have been issued to EB-5 investors and their dependent family members.  The majority of those visas have been issued in the past five years.
According to the expert, EB-5 law and policies are evolving over time. Currently, several legislative proposals are pending before the Congress and USCIS have proposed new regulations, all of which would change certain aspects of the EB-5 program. The most likely change is an increase in the minimum investment amount to at least US$800,000 or US$900,000.
Asked about policies for Vietnamese people, Lincoln said no special incentives are provided by the Congress or USCIS for investors from any particular country.
However, if the demand for EB-5 visas from a particular country is extraordinarily high, as there is for investors from China, a backlog could arise and this backlog would delay immigration for successful EB-5 applicants.
For investors facing challenges seeking U.S. immigration in the EB-5 category, Lincoln suggested that at least three considerations stand out as very important: (1) Due diligence or investigation of the investment options, (2) documenting lawful source of funds, and (3) confirming the expertise of the professionals who provide services.
To fix with the obstacles, it is very important to work with highly experienced professionals who will help conduct research about EB-5 investment options, and who will help investors hire U.S. immigration counsels with expertise in immigration law and with EB-5 matters specifically, he added.
Lincoln Stone is recognized as a top-notch expert in the U.S. with more than 25 years of work experience. Lincoln has successfully represented for hundreds of investor clients and entrepreneurs in startups and emerging businesses, helping to qualify for a wide range of visa categories.
He has also successfully processed over 4,000 investor applications in the EB-5 investor visa category. Additionally, in Vietnam, Lincoln is a strategic partner of the USIS Group – a pioneer and leading agent in investment-based immigration industry, specializing in markets of America, Europe, Australia and Canada.
HCM City compromises pork traceability standard upon traders' protest
The management boards of Hoc Mon and Binh Dien wholesale markets on October 16 succumbed to protests by vendors and thus allowed them to sell pork without traceability tags at the markets although the HCMC government had earlier instructed that traceability is a must for all pork on sale there.
The number of traders abiding by the traceability regulation accounted for a small proportion on the first day the ban took effect on October 16.
A representative of the Binh Dien Market Management Company told the Daily that as of 1 a.m. on October 16, among 22 trucks carrying pork to the market, only four vehicles showed as sufficient documents on pork traceability as required.
Others had their products wearing traceability tags, but without sufficient information, such as necessary details about slaughterhouses.
Under the regulation, the management boards shall not allow traders of pork without clear origin to enter the markets. However, due to their fierce opposition, the HCMC Department of Industry and Trade, and the Binh Dien Market Management Company had no way but to let them take their products into the market.
As of 2 a.m. on October 16 at Hoc Mon Market, only 15 out of 150 pork-carrying trucks had secured enough information, including details about both farms and slaughterhouses.
Le Van Tien, deputy director of the Hoc Mon Market Management Company, said 100% of pork products at the market were attached with traceability tags. However, the majority of them contained information about farms only without abattoir details.
He said after HCMC-based Xuyen A slaughterhouse had suspended its operation, the number of pigs from provincial slaughterhouses to the market has risen from around 100-200 to a staggering 3,100 on a daily basis.
Nguyen Ngoc Hoa, deputy director of the municipal Department of Industry and Trade, said the move which allowed traders to sell substandard pork on October 16 was merely a temporary solution.
He stressed traders must obtain business certificates in the coming time. The city government will also ask slaughterhouse operators to process pigs from the licensed traders only.
Singapore registers to invest over $41.38 billion in Vietnam
Singapore has 1,918 valid investment projects in Vietnam with the total registered capital of US$41.38 billion by the end of August, ranking third out of 122 nations and territories investing in the country. 
That was reported according to data from Foreign Investment Agency under the Ministry of Planning and Investment at the 13th ministerial conference on Vietnam-Singapore economic connectivity in Hanoi yesterday.
Vietnam has 93 projects in Singapore with the total capital of $235 million. Singapore ranks 12 out of 72 countries and territories which Vietnam has invested in.
The projects concentrate in fields such as oil and gas, mining, retail, services, information technology and logistics.
Vietnam-Singapore Industrial Park (VSIP) is the highlight in the cooperation relationship between the two countries. VSIP Group has developed a total of eight projects in Vietnam over 8,400 hectares, obtained the export turnover of $32 billion and created jobs for 200,000 workers.
Minister of Planning and Investment Nguyen Chi Dung said that the conference aims to continue exchanging solutions, sharing experiences to intensify the cooperation between Vietnamese and Singaporean authorized agencies. Through these activities, the connectivity between Vietnamese and Singaporean economies will be boosted in all fields.
Within the framework of the conference, the Vietnamese Ministry of Planning and Investment, the Singaporean Ministry of Trade and Industry and the People's Committee of Quang Tri province coordinated together to organize an investment promotion conference in the north central province.
In Vietnam, taking ownership to escape poverty
UN Secretary General Antonio Guterres has emphasised that listening to the views of the people living in poverty and acting together with them is a way of making poverty reduction sustainable on International Day for the Eradication of Poverty. Below is Nguyen Thi Tinh's story on how she escaped poverty with the help of the UNDP and its partners.
Nguyen Thi Tinh lives with her daughter in Na Vuong village in the northern mountain province of Cao Bang. Her husband left when her daughter was very small, and her daughter has to travel more than 10 kilometres to her secondary school. For many years, Tinh received support from various poverty reduction programs and tried very hard to escape from poverty.
"Once I got a ploughing machine which was shared with several other households. With the type of soil here I can only grow one rice crop a year and this is not self-sufficient," Tinh said. "Another time, I received VND5 million (US$230) from a poverty reduction program and spent it repairing my house which was in very bad condition. I even had to borrow more money for the repair and am still paying back the debt."
Tinh is from the Tay ethnic minority group that inhabits this remote mountainous area, and her situation is not uncommon. Across Vietnam, many other ethnic minority households are chronically poor. While overall poverty levels in the country dropped to 14.5 per cent in 2010, ethnic minority groups have experienced a much slower pace of poverty reduction. Progress in reducing poverty among ethnic minority people in dimensions other than income, such as education, health, housing, sanitation and water also lag behind the national average.
The Government of Vietnam recognized the persistence of chronic poverty among ethnic minorities and mountain communities, and has been implementing a series of policies and programs targeting these population groups.
Under the Poverty Reduction Policies Project, co-financed by Irish Aid, UNDP and its partners - including policymakers, government agencies, and grassroots communities – have explored two important questions: How best to meet the needs of the ethnic minority people? How to ensure poverty reduction initiatives effectively help ethnic minority people permanently escape from poverty?
Since 2012, UNDP has promoted community agreement and ownership of poverty reduction models to enable poor people like Tinh to sustainably escape poverty.
Last year, we [villagers] met to discuss livelihood options for our village. With the soil and other conditions here, we agreed that cow breeding would be most feasible," said Tinh. "We also discussed to decide which households were the poorest in the village and should participate in the [UNDP-supported] cow rearing scheme." Tinh was among the seven households selected for the first round. She had the right to select her own cow, and she decided to choose one with its baby. Tinh and fellow villagers took part in training sessions in cow breeding techniques such as improving nutrition for the cows, constructing barns, growing grass, etc. They have been putting the obtained knowledge and skills to use.
After 10 months, the baby cow has grown up and been returned to the project, so that additional villagers can benefit from the project. "The mother cow will deliver soon. I will breed the baby cow and in 10 months I will sell it and get money to clear all debts and buy a motorbike for my daughter to go to school," Tinh looked ahead optimistically. "I hope that my daughter will go to college and get a decent job afterward."
Over 11,500 poor women and men from various ethnic minority groups across eight pilot provinces in Vietnam have actively participated in community meetings, where they discuss problems, define solutions, and plan development of their communities. They also attended training programs equipping them with new skills to improve their livelihoods. Not only have their livelihoods improved through innovative income generation activities, their confidence to take charge of their own development has increased substantially.
This very positive experience of community empowerment in the project's pilot locations is being shared and scaled up in many more provinces under the National Target Program for Sustainable Poverty Reduction. Government agencies at provincial and central levels increasingly recognize poor people's capability to provide sustainable solutions to key development questions. Policy improvements have been made promoting the community-owned initiatives and institutionalizing participatory planning.
Over US$15.5 billion worth of FDI poured into Bac Ninh
Foreign direct investment (FDI) flow into Bac Ninh province has increased from US$177.6 million, invested in four projects in 1997, to over US$15.5 billion on more than 1,080 projects from 32 countries and territories at present, making it one of Vietnam's largest recipients of FDI.
The figures were announced during a conference held on October 17 to review Bac Ninh's FDI attraction over the past three decades.
Following 30 years of implementation, FDI attraction in Bac Ninh has grown forcefully into a dynamic economic sector, with significant achievements, actively contributing to the province's growth and socio-economic development.
The Republic of Korea is the largest FDI investor in the northern Vietnamese province with over US$10 billion. The FDI flow is focused mainly in the processing and manufacturing industry, with a registered capital of more than US$14.6 billion, representing 96% of the province's total FDI attraction.
FDI projects in Bac Ninh has also been highly appreciated in terms of their quality, thanks to the investment of many world renowned brands, namely Canon (Japan), Samsung (Republic of Korea), Nokia (Finland), Pepsico (US), and ABB (Sweden).
The success of FDI businesses has played a key role in Bac Ninh's economic growth, with the contributory rate of the FDI economic sector to the province's gross regional domestic product (GRDP) increasing through the years. From just 0.05% in 1997, the FDI sector's industrial production value rose to 89.9% of the whole province's total industrial production value last year.
FDI businesses in Bac Ninh exported US$22.6 billion worth of commodities in 2016, accounting for over 99% of the province's total export value, whilst contributing more than VND7 trillion (US$308 million) to the State budget last year and VND3.6 trillion (US$158.4 million) in the first half of 2017. They have also contributed to providing employment and raising the income for nearly 200,000 labourers, both within and outside the province.
Addressing the conference, Chairman of the Bac Ninh provincial People's Committee, Nguyen Tu Quynh, spoke highly of the foreign investors' decisive role in developing Bac Ninh from a merely agricultural province to a modernity-oriented industrial province, with many targets among the leading group of the country.
There remains a lot of business potential and opportunities for foreign investors in Bac Ninh, he said, encouraging FDI enterprises to actively renovate themselves and participate effectively in the fourth Industrial Revolution, as well as the global value chain, in addition to exerting continuous efforts to advertise Bac Ninh to the world and supporting the province in investment promotion work.
Quynh pledged stronger administrative reforms and greater efforts to build a safe, attractive, transparent and favourable business climate for investors, affirming that Bac Ninh always works with and considers foreign investors an integral part of the economy.
On the occasion, the Chairman of the provincial People's Committee presented certificates of merit to 23 exemplary collectives with significant achievements during the period of 1987-2017.
EuroCham pharma committee marks successful first year
The EuroCham International Quality Generics Sector Committee (IQGx) under the EuroCham Healthcare Forum has marked its one-year anniversary as a successful platform dedicated to discussing approaches towards an ever-improving business environment for the healthcare industry in Vietnam.
Over the past year, the EuroCham IQGx has been an active partner of key healthcare stakeholders, having been recognized as an important forum working towards better access for patients to affordable and high quality pharmaceutical products in the country. 
"The EuroCham IQGx is the youngest sector committee in EuroCham's Healthcare Forum and has been delivering well in promoting opportunities for international quality generics businesses," said Mr. Jens Ruebbert, EuroCham Chairman. "The sector committee has brought about important efforts to create a platform where companies and Vietnamese authorities can discuss solutions for effective and inclusive policy making. For over one year, the group has been actively working with other healthcare sector committees under EuroCham, which together bring a valuable contribution to the healthcare industry in Vietnam."
The continuous demographic increase in Vietnam as well as a rise in non-communicable diseases have generated intensified demand for healthcare. During this shift, Vietnamese patients have become increasingly overburdened with high out-of-pocket payments and therefore require further affordable treatment options. In this context, universal health coverage surfaces as the most critical healthcare priority to ensure social welfare. In recent years, the government has presented a number of policies to deal with pressing healthcare issues, such as increasing patients' access to healthcare, using the national healthcare budget effectively, increasing tender and procurement, and encouraging high quality generic pharmaceuticals. 
Over the past 12 months, IQGx has employed numerous efforts to deliver on its commitment to improving Vietnamese patients' access to high quality medicines. Moreover, efforts have also gone into contributing to policy making, with the goal of enhancing the business environment. The IQGx has sent many valuable recommendations to the Vietnamese Government through different channels, with those in the EuroCham Whitebook (launched in March 2017) being a good example. Another landmark of its advocacy work was the "Multi-Criteria Decision Analysis (MCDA) Methodology and Applications in Decision-Making for Off-Patent Pharmaceuticals" scientific symposium, co-organized with the Ministry of Health in Hanoi in July. The event gathered key stakeholders to explore the title concept and exchange opinions on the potential application of international best practices in regards to using MCDA for off-patent pharmaceutical reimbursement decisions in Vietnam. 
"For the past year, IQGx has created a new platform where some issues and solutions were discussed among like-minded business professionals in the industry," said Mr. Ngo Van Huy, Chairman of IQGx. "We will continuously look for ways to partner with various healthcare stakeholders and provide recommendations to the government. We aim to deliver an affordable, high quality, and sustainable supply of trusted branded generic medicines and services, ultimately helping patients to obtain better access to healthcare in Vietnam." 
The EuroCham IQGx vows to continue to work as effectively as possible towards the future of healthcare in Vietnam, taking into account the context of the EU-Vietnam Free Trade Agreement, which is scheduled to come into force in 2018. The sector committee will continue to apply the same constructive approaches in its joint activities, bearing in mind the well-being of patients, improving Vietnam's business environment, and the advancement of the country as a whole.
"High quality generics play a critical role in maximizing the efficiency of the public healthcare system through improved accessibility of patients to affordable medical therapies," said Mr. Torben Minko, Vice Chairman of IQGx. "IQGx is committed to advocating for a better outcome in developing effective solutions through a constructive dialogue with the government, protecting and improving the health of patients in Vietnam."
Hanwha Life Vietnam's new premium growth at 47%
Hanwha Life Vietnam has taken in VND478 billion ($21 million) in new premiums this year, an increase of 47 per cent year-on-year and taking its market share up 0.4 per cent. In the first nine months it employed 19,000 new financial consultants and sales capacity per contract remains the highest in the market.
The company had 100 customer service centers across the country by mid-August and continues to expand. It launched six new general agencies, including Hau Loc, Thach Thanh and Ha Tinh 2 in the north, and Thanh Khe, Cam Lo, and North Quang Binh in the central region, raising the number of customer service centers to 108 nationwide.
Its network is expected to spread out around the country to better serve customers and increase its brand identity.
Moreover, it will focus on diversifying its distribution channels, in cooperation with two South Korean banks in Vietnam - Woori Bank and Shinhan Bank.
Mr. Back Jong Kook, Chairman of the Board of Directors and CEO of Hanwha Life Vietnam, said the strong growth in the third quarter of this year was due to the expansion of its distribution network, focusing on improving customer care services and professionalizing its team of financial consultants.
"Hanwha Life Vietnam always considers service quality as a foundation value," he said. "To improve quality, we are ready to meet the strictest of needs among all customers. At the same time, we will improve the quality and professionalism of our financial consultant team so that they operate more and more professionally. Our goal is to become one of the leading life insurance companies in terms of quality and sustainable development in Vietnam."
2016 was the first year the company recorded profit after eight years in Vietnam, of VND12 billion ($527,994).
South Korea trade to reach $100 billion by 2020
Two-way trade between Vietnam and South Korea is expected to rise to $100 billion by 2020, Mr. Park Chun Ho, General Director of the Korea Trade-Investment Promotion Agency (KOTRA) in Hanoi, told a conference held on October 17 as part of the 25th anniversary of Vietnam-South Korea diplomatic relations entitled "Supporting Vietnamese Enterprises in Applying the Vietnam-South Korea Free Trade Agreement".
The relationship between the two countries has flourished in many fields over the 25 years, especially in investment and trade. Two-way trade rose from a mere $500 million in 1992 $43.4 billion in 2016, with South Korea become Vietnam's third-largest trade partner. Vietnam, meanwhile, is South Korea's fourth-largest trading partner.
In 2014, South Korea surpassed Japan to become the largest foreign investor in Vietnam, with 6,324 projects and capital of $55.8 billion as at September 20 this year.
With the free trade agreement officially coming into force, cooperation in investment and trade between the two countries will be further strengthened, according to Mr. Bui Huy Son, Director of the Trade Promotion Agency at the Ministry of Industry and Trade.
Manufacturing and processing, which leads in export growth from Vietnam to South Korea, recorded turnover of $5.4 billion in the first six months this year, up 28.6 per cent year-on-year. Agriculture and aquatic products reached $497.2 million, up 29.3 per cent. Other products South Korea imports from Vietnam, such as machinery, equipment, electronic products, spare parts, textiles and footwear materials, increased by between 16 and 20 per cent.  
Export turnover in September reached $19 billion, up 23.6 per cent over the same period of 2016. The first nine-month figure was $154 billion, up 19.8 per cent year-on-year. Import turnover in the month reached $18.6 billion and $154.5 billion in the first nine months, up 23.1 per cent year-on-year.
Vietnam therefore recorded a trade deficit with South Korea of $442 million in the first nine months of the year. While the domestic sector recorded a deficit $18.08 billion, the foreign-invested sector recorded a surplus of $17.64 billion.
The deficit with South Korea is due to Samsung importing large quantities of machinery and equipment to produce new products such as the Galaxy Note 8. Vietnam's exports to the country have remained stable since the beginning of the year.
UOB partners with Toong to make room for SMEs
United Overseas Bank (UOB) recently signed a memorandum of understanding (MoU) with Toong to provide UOB's small and medium-sized enterprise (SME) customers preferential rentals at any of Toong's five co-working office spaces in Vietnam.
UOB customers will enjoy up to 20 per cent off rentals and have access to Toong's business partners, including legal and accounting firms, who can advise them on such issues as local incorporation.
"According to our research, one in four Asian enterprises is keen to expand into Vietnam," said Mr. Harry Loh, Vietnam Country Manager at UOB's Ho Chi Minh City Branch. "However, managing the costs of cross-border expansion is a key concern of business owners. By partnering with Toong, we are able to offer our customers a convenient and more cost-effective way to set up and manage their operations in Vietnam."
"Unlike a typical office lease in Vietnam, which requires a two to five-year commitment, our co-working space provides companies with the ability to set up their operations in Vietnam quickly and easily," said Mr. Duong Do, Founder and CEO of Toong. "In addition to office space, we will also support these companies in their operational needs, such as registering their company and helping them understand the local business landscape."
As part of the MoU, UOB and Toong will also work together to promote the exchange of knowledge, business, and culture between Vietnam and Singapore.
A focus area of these joint efforts will be in nurturing the development of Vietnamese financial technology (FinTech) startups. Today, about 50 per cent of Toong's clients are in the technology sector, while the remainder are from industries including finance, education, real estate, and logistics.
UOB will share its expertise with Toong's clients and other promising startups in the areas of business development and innovation. It will also facilitate knowledge sharing and networking sessions between Vietnamese startups, potential investors, and industry experts. Toong will open up its office space for these events.
FinTech startups will also be given the opportunity to participate in UOB's accelerator program, The FinLab. The FinLab provides practical guidance, resources, and mentorship to enable startups selected for its 100-day accelerator program to secure investor funding, to sign commercial deals, and to expand into new markets.
Singapore's UOB last month announced it had received licensing from the State Bank of Vietnam as a foreign-owned subsidiary bank. At the same time, it also launched a Business Banking service dedicated to helping small businesses in Vietnam grow.
Toong is the first and largest co-working space chain in Vietnam, providing innovative working environments to SMEs and startups around the country. After more than two years of operations, it now has five locations in Ho Chi Minh City, Hanoi, and Da Nang.
After receiving funds from the Openasia Group and Indochina Capital (ICC), Toong sought partnerships with CapitaLand in developing co-working space innovation centers in Vietnam, and International Enterprise Singapore (IE Singapore) in helping Singaporean SMEs expand into Vietnam.
E-commerce Club established
The Hanoi Small and Medium Enterprises Association (Hanoi SMEs) has established the E-commerce Club, as e-commerce has become a familiar means of communication among large trading companies.
E-commerce is now a global trend and an area of potential for SMEs to grow and develop and also presents opportunities to those who wish to start a new business.
Mr. Mac Quoc Anh, Vice President and General Secretary of Hanoi SMEs, said that rapid integration requires more information technology (IT) and online transactions. "This is a favorable condition for the e-commerce sector to develop further," he said.
Mr. Nguyen Dinh Hung, General Director of the EDX Corporation and Chairman of the E-commerce Club, said there are a huge number of enterprises looking forward to applying e-commerce in their business, especially with the fourth industrial revolution (Industry 4.0) beginning to take hold.
"Enterprises not involved in e-commerce may well fail," he said. "The establishment of the E-commerce Club provides the conditions for businesses to develop."
It's not, however, easy to gain benefits from e-commerce initially. "Enterprises must remain patient and manage and improve their e-commerce system," he suggested.
All ready for E5 biofuel introduction
Vietnamese enterprises and authorities are ready to produce and trade E5 biofuel gasoline.
From January 1, 2018, gasoline enterprises are only allowed to produce and trade E5, under a decision from Prime Minister Nguyen Xuan Phuc.
Enterprises have made careful preparations regarding suppliers and technology for production, with suppliers being a key concern of the Ministry of Industry and Trade (MoIT).
"We can fully meet demand for E5 gasoline given the capacity at existing plants," Deputy Minister of Industry and Trade Hoang Quoc Vuong said. "We also allow enterprises to import ethanol to ensure competition in the market."
Because E5 biofuel is quite new for customers, Mr. Vuong said that enterprises and ministries must promote its advantages. In addition, MoIT and the Ministry of Finance (MoF) will cooperate in introducing tax policies for biofuel, to attract customers.
Authorities have tested the quality as well as the effect of E5 biofuel, finding it protects the environment and lowers harmful gases such as CO2, HC, and SO2, according to Mr. Nguyen Nam Hai, Deputy Director General of the Directorate for Standards Metrology and Quality. E5 gasoline has no negative effect on modern engines.
Mr. Nguyen Duc Nam, Deputy Director of the PetroVietnam Oil Corporation (PV Oil), said it has prepared resources to improve and expand E5 gasoline blending facilities to ensure supply after January 1.
PV Oil has a blending station at Dinh Vu in Hai Phong with a capacity of about 80 cu m per hour, which will increase in line with demand, he said.
Petrolimex also said that they will ensure ethanol supplies and expand E5 gasoline blending stations in provinces around the country. Deputy Director Tran Ngoc Nam emphasized that the group targets introducing distribution chains from December 1.
The requirements on producing E5 are high, including in technology and facilities, so the government should adopt reasonable policies to support small and medium-sized enterprises to take part in the E5 gasoline business, according to Mr. Phan The Rue, Chairman of the Vietnamese Gasoline Association.
E5 is formulated from 95 per cent A92 gasoline and 5 per cent anhydrous ethanol.
HCM City has 24,000 Grab and Uber cars
The HCM City Trasport Department has revealed that by the end of September there were 25,000 under 9-seat cars working in ride share networks, with Grab and Uber, more than double traditional taxis that have just 11,000 vehicles.
As a result, the city has a total of 36,000 ride share and traditional taxis, 2.5 times higher than the number of taxis expected in the 2020 master plan at about 14,500.
This high number of taxis is believed to have made traffic congestion worse.
Recently, the Ministry of Transport has announced that HCM City can limit the number of Uber and Grab vehicles in the city, but in fact, the city hasn't released any decision to limit the ride share taxi.
However, 36 traditional taxi companies were limited to 12,654 vehicles in 2010. Right now, due to fierce competition, there are only 21 traditional taxi companies with 11,000 cars doing business.
Seminar looks to lure more foreign investment
Adjusting preferential policies for investment projects according to development plans in different areas is essential to attract more foreign direct investment (FDI), Chairman of the Vietnam Association of Foreign Invested Enterprises Nguyen Mai said at a seminar held in Hanoi on October 17.
For developed cities such as Hanoi, Ho Chi Minh City, Da Nang, and Hai Phong, it is necessary to promote industry and high-quality services, creating high added value products and increasing competitiveness both domestically and globally, he said.
At the same time, he urged not choosing labour-intensive and environmentally-unfriendly projects, he added.
Deputy head of the Foreign Investment Department under the Ministry of Planning and Investment Dang Xuan Quang noted some major factors to attract more foreign investment such as ensuring sustainable socio-economic and environmental development, developing the private sector, drawing high-quality projects, and grasping opportunities from the fourth industrial revolution.
Experts recommended paying attention to policies connecting FDI enterprises with domestic ones while developing the support industry and joining global value chains.
Since 1991, the foreign economic sector has been a driving force for Vietnam's economy, contributing significantly to the country's industrial productivity, services, import-export, State budget collection, and gross domestic product.
From 1991-2017, Vietnam lured nearly 162 billion USD in FDI. Notably, the presence of more large-scale projects worth at least one billion USD between 2011 and 2016 helped Vietnam become a destination to produce hi-tech products such as smart phones, tablets, and information technology.
As of September 20, 2017, Vietnam had 24,200 active FDI projects with total registered capital exceeding 310 billion USD, with about 167 billion USD disbursed.
Da Nang develops tourism to welcome 9 million visitors by 2020
The central coastal city of Da Nang has become a popular destination for both domestic and foreign tourists in recent years.
The city was honoured last year as "Asia's Leading Festival and Event Destination" at the World Travel Awards Asia & Australasia Gala Ceremony.
Vice Chairman of the municipal People's Committee Ho Ky Minh said the city hopes to forge tourism links with the central and Central Highland regions, prioritising sea-based tourism, MICE (meetings, incentives, conferences and exhibitions) tourism, culture-history tourism, and ecological tourism.
It will regularly host tourism, sport, culture, and festival events at national, regional and international levels to promote Da Nang as a friendly destination, he added.
Da Nang hopes to welcome nine million visitors by 2020, with 30 percent being international holidaymakers, and rake in 31.5 trillion VND (1.38 billion USD) in revenue.
In the fourth quarter of 2017, the city has been completing the amendments to a master plan on tourism development by 2025, with a vision toward 2030, and a project on preferential policies to develop Thua Thien Hue-Da Nang-Quang Nam tourism, and promote tourism in key markets in Asia.
Da Nang is famous for its beautiful destinations, especially beaches. Visitors can admire the natural wonders in Ba Na Hills, explore the jungle in Son Tra Peninsula, and pray at Linh Ung Pagoda with Vietnam's highest Bodhisattva Statue at 67 metres.
In 2017, Da Nang is expected to greet 6.5 million visitors, including more than 2 million foreigners. The city is now home to 83 investment projects in tourism and services worth around 7.3 billion USD.
Advance technologies of water industry at VIETWATER 2017
Vietnam's leading international water supply, sanitation, water resources, and purification event, VIETWATER 2017, will take place at SECC, Ho Chi Minh City between November 8 and 10.
According to the organiser, there will be more than 480 participating companies from 38 countries and regions in this exhibition.
According to Eliane van Doorn, business development director (ASEAN Business) at UBM Asia, the organiser of VIETWATER, the event will continue building an international business platform for 14,000 participants to connect, exchange, and share their industry expertise.
"The exhibition features 14 international pavilions, giving participants the latest technology updates in the water industry. Focusing on sustainable water development, VIETWATER 2017 is carrying out activities to support both businesses and the general community," said Doorn.
To support the Vietnamese community, UBM is working with Vietnam Water Supply and Sewerage Association (VWSA), Australian Water Association (AWA), and SkyJuice Foundation to deliver a safe drinking water project in the rural communities of Khanh Phu and Lien Sang of Khanh Hoa province.
The project provides advanced, low cost, and easy-to-operate membrane filtration systems to two rural schools, providing 20,000  litres of safe drinking water per day to the children and staff.
Apart from these activities, VIETWATER 2017 is introducing the Water Innovation Gallery on the exhibition floor, where the latest innovative technologies and solutions are on display to assist the development of water technologies in Vietnam.
The exhibition also offers free admission, allowing all industry visitors an opportunity to learn about the Vietnamese water market, international technologies, and a number of practical and insightful experiences from technical seminars to an international conference with the theme "Toward Sustainable Water Development—International Experience."
VIETWATER 2017 once again co-located with Vietnam's leading renewable energy and energy efficiency exhibition, RE & EE Vietnam 2017, and brings forth a premier business platform for both the water and the energy industry.
HCM City vows to support RoK firms' long-term investments
HCM City vows to help foreign investors, including those from the Republic of Korea (RoK), to make long-term investments in the city.
Chairman of the municipal People's Committee Nguyen Thanh Phong made the promise at a meeting with Park Soo Kwan, Honorary Consul General of Vietnam in the RoK's Busan region on October 17.
Phong called on Park to continue promoting ties between the two localities and to encourage firms from Busan and the RoK to invest in the city, particularly in building infrastructure, addressing environmental pollution, developing hi-tech agriculture, and in the support industry.
For his part, Park said RoK firms, including those in Busan, consider Vietnam and HCM City as a promising market, adding that they want to help make HCM City a development hub of the region.
Numerous RoK enterprises want to invest in the city in waste treatment, waste-to-energy development, and urban infrastructure, he said.
The RoK is the fourth biggest investor among 92 nations and investing in HCM City.
Vietnam-RoK ties flourishing at 25
A quarter of a century of diplomatic relations between Vietnam and the Republic of Korea (RoK) has yielded substantial progress, especially in investment and trade, said Bui Huy Son, head of the Ministry of Industry and Trade's Vietnam Trade Promotion Department (Vietrade).
Two-way trade increased 86 times from 0.5 billion USD in 1992 to 43.4 billion USD last year, he said at a workshop in Hanoi on October 17. The RoK is Vietnam's third largest trading partner, while Vietnam is the RoK's fourth largest trading partner.
In terms of investment, the RoK surpassed Japan to become the largest foreign investor in Vietnam in November 2014.
Cooperation has been boosted further since the free trade agreement between Vietnam and Korea (VKFTA) went into effect in December, 2015, the director added.
Manufacturing sectors are the leading sector of export growth to the RoK, enjoying preferential FTA conditions. The sector achieved 5.4 billion USD in exports in the first six months this year, an increase of 28.6 percent over the same period last year.
Exports of agricultural and aquatic products reached 497.2 million USD, increasing 29.3 percent over the same period last year.
Under Vietnam's tariff reduction commitments, the import of Korean machinery and electronic products, spare parts and raw materials of textiles, leather and footwear increased by 16-20 percent.
"I believe that besides the efforts of Vietnamese agencies in supporting Vietnamese businesses in applying the VKFTA, the support of the Republic of Korea Embassy in Vietnam and the Korea Trade-Investment Promotion Agency (Kotra) was valuable and notable," Son said.
"With the determination of the two's governments and the proactivity of enterprises, the goal of reaching bilateral trade turnover of 70 billion USD by 2020 is feasible," he emphasised.
"Kotra, Vietrade, the general department of customs and other Vietnamese agencies are doing their best to instruct Vietnamese businesses to apply VKFTA," said Han Kyung Joon, deputy director of Kotra. But, he added, to maximize VKFTA opportunities, businesses themselves need to be proactive to thoroughly study the agreement and grab investment and business opportunities. Vietnamese companies could also ask for support from Kotra's VKFTA support centre in Hanoi.
Park Chul Ho, director general of Kotra, advised Vietnamese exporters to ensure good preparation of papers and procedures, such as certificates of origin (C/Os).
Quang Tri - promising land for investors
A favourable geographical location is one of the central Quang Tri province's advantages in attracting investment, said Chairman of the provincial People's Committee Nguyen Duc Chinh. 
Speaking at a trade promotion seminar in Hanoi on October 17, the official said Quang Tri has good transport conditions in terms of road, railway and waterway, as the province is located at the intersection of the North-South and East-West economic corridors.
Of note, the East-West Economic Corridor, which runs through 13 cities and provinces of Myanmar, Laos, Thailand and Viet Nam, including Quang Tri, is the shortest trans-Asia route, he said. 
Quang Tri is also one of the leading localities nationwide in forestation and timber product processing and export, he said, adding that the coastal province has silica sand deposits which can be used for glass and construction material production. 
The province also has potential for renewable energy and tourism development. 
According to the official, Quang Tri has, so far, attracted 330 projects worth about 69.5 trillion VND (3.05 billion USD), including 14 foreign direct investment projects valued at 1.02 trillion VND (44.9 million USD). 
The businesses have accounted for 47.6 percent of the province's Gross Regional Domestic Product and created about 35,500 jobs. 
Minister of Planning and Investment Nguyen Chi Dung said over the years, Quang Tri has improved its investment climate by raising human resource quality, streamlining administrative procedures and upgrading infrastructure. 
The Ministry of Planning and Investment will work with other ministries and agencies to create optimal conditions for investors in Quang Tri, he pledged. 
Lim Hng Kiang, Singaporean Minister for Trade and Industry, said many Singaporean investors have come to seek investment opportunities in Quang Tri. 
In March 2017, Sembcorp and KinderWorld Groups of Singapore examined the locality in preparation for an industrial and urban complex project, and Pegasus ecotourism project, he said.
More British firms expected to explore Hanoi's opportunities
An increasing number of enterprises from the UK will come to Hanoi to explore investment opportunities in the future, said British Deputy Ambassador to Vietnam Steph Lysaght.
At a recent seminar, Lysaght highlighted improvements in Hanoi's competitiveness over the past 20 years, saying that it has become attractive to foreign investors, including those from the UK.
The UK has strength in the finance-banking, education, economic, construction, transport, logistics and insurance sectors, he said, adding that the country wants to boost cooperation with Hanoi in these fields.
Vietnam is considered an important partner of the UK, for the development and prosperity of both nations, the diplomat said.
Christopher Jeffery, Vice Chairman of the British Business Group Vietnam and Dean of British University Vietnam suggested Hanoi improve administrative procedures and transparency to enhance its competitiveness.
The UK's exit from the European Union will have no impact on the country's investment in Vietnam, he said.
For his part, Vice Chairman of the municipal People's Committee Nguyen Doan Toan pledged that Hanoi will create optimal conditions for British firms to do business in the city.
Toan highlighted the contributions British investors have made to the municipal budget and their major projects.
In 2016, Hanoi earned 524 million USD from shipping goods to the UK, making up 4.9 percent of the city's total export value, mostly garments-textiles, footwear, bags, agricultural products, and handicrafts.
Hanoi also imported 142 million USD worth of commodities from the UK, or 0.6 percent of its total import value, mostly metal, animal food, agricultural products, pharmaceuticals, pesticides, garments-textile materials, and computer spare parts.
Vietnam, Singapore bolster economic connectivity, trade cooperation
The 13th Vietnam-Singapore Connectivity Ministerial Meeting opened in Hanoi on October 17, aiming to strengthen economic connectivity and trade cooperation between the two countries. 
Speaking at the meeting, Minister of Planning and Investment Nguyen Chi Dung said Singapore is a significant trade partner of Vietnam in Asia and Southeast Asia. The meeting offers a chance to review bilateral investment on several fields such as education, information, transportation, finance-banking and tourism services. 
Recently, Vietnam has been more active in improving business and investment climate, and raising the confidence of international businesses, the minister added.
He voiced his hope that the two countries will expand cooperation in the coming time, raising the efficiency of bilateral investment. The two sides will also exchange information and address difficulties of Singapore's firms in Vietnam. 
For his part, Singaporean Minister for Trade and Industry Lim Hng Kiang affirmed that Vietnam is a major economic partner that has attracted the increasing number of foreign investment, including those from Singapore. 
At the meeting, the two sides evaluated the implementation of bilateral cooperation agreements in the six connectivity areas, namely investment, finance, information technology and communications, education and training, transportation, and trade and services. 
To boost economic connectivity and investment cooperation, the two sides proposed both countries' State management agencies bolster cooperation, information exchange and experience sharing on management policies and knowledge in various fields such as communications, education-training, tourism-services, urban transportation planning and management, road transport development and export-import.
Vietnam-Singapore trade has been thriving with an average growth of 12 percent a year. Singapore is the sixth biggest trade partner of Vietnam while Vietnam is currently the 11th largest trade partner of Singapore.
In the first seven months of 2017, two-way trade between Vietnam and Singapore hit five billion USD, up 16.4 percent year-on-year.
Singapore currently has more than 1,910 valid investment projects in Vietnam, with total registered capital of over 41.38 billion USD, making it the third leading foreign investor in Vietnam. 
In the January-August period, Singapore poured 3.93 billion USD of registered capital into Vietnam. Of the sum, 2.84 billion USD came to newly-approved projects, while 718 million USD was added to existing projects.
Vietcombank secures deal with Singapore Manufacturing Federation
The Joint Stock Commercial Bank for Foreign Trade of Vietnam (Vietcombank) inked a cooperation agreement with the Singapore Manufacturing Federation (SMF) on October 17.
Under the pact, the two will work together to capitalise on their respective potentials and bring benefits to their customers.
Vietcombank Deputy Director General Dinh Thi Thai said the deal will help elevate the sides' partnership to new heights.
SMF President Douglas Foo said he believes with a strong partner like Vietcombank, SMF members will be facilitated in payments, cash management, and business finance.
As part of the signing ceremony, Vietcombank and SMF held a networking meeting for loyal Vietcombank customers and Singaporean businesses that plan to invest in Vietnam.
Founded in 1932, the SMF has more than 3,000 members in various fields, such as real estate, electricity, food and beverages, energy, and chemicals.
Vietcombank was the first Vietnamese bank to open a representative office in Singapore, supporting the operations of financial institutions and businesses in the country that wish to invest in Vietnam.
In 2016, the bank's total assets reached 787.9 trillion VND (34.7 billion USD), up 16.8 percent year-on-year, and reported pre-tax profits of 8.52 trillion VND (375 million USD).
Cement, clinker exports set to reach yearly target     
Viet Nam generated US$438 million from exporting 13.6 million tonnes of cement and clinker over the past nine months of this year, fulfilling 90 per cent of the yearly target.
The nine-month exports also marked respective increases of 12.7 per cent in value and 21.4 per cent in volume compared with the same period last year, statistics from the General Department of Customs revealed.
In September alone, the country's cement and clinker exports reached more than 1.53 million, valued at $53.7 million, up 10.6 per cent in volume but down one per cent in value over August, according to the data. During the January-September period, Bangladesh and the Philippines remained the two largest importers of Vietnamese cement and clinker, accounting for 33.8 per cent and 31.8 per cent of the country's total exports, respectively.
Bangladesh imported 5.53 million tonnes of cement and clinker, worth $162.4 million, from Viet Nam during the period, while Philippines spent $153.2 million on importing 3.43 million tonnes of Viet Nam's cement and clinker. Other major consumers included Taiwan, which imported 778,000 tonnes, valued at $23.3 million; Peru (436,000 tonnes, $20.5 million); and Sri Lanka (423,000 tonnes, $12.5 million).
Despite positive export performance in the nine-month period, domestic enterprises are still worried about the cement oversupply in the future as a new production line of the Xuan Thanh cement factory in northern Ha Nam Province has started operations, providing 4.5 million tonnes of cement annually.
The nation's total designed cement production capacity to date is estimated at nearly 100 million tonnes. 
VN rice industry should focus on quality: experts     
Vietnamese rice producers and exporters should focus on quality and supplying products that are in demand to sustain the production and export of the grain and add value to the grain, a meeting heard in HCM City on Thursday.
Speaking at the meeting held to discuss Viet Nam's Rice Market Development Strategy from 2017 to 2020, Phan Van Chinh, head of the Ministry of Industry and Trade's import-export department, said the global rice market had seen changes, with major importing countries increasing domestic production.
"Free trade agreements theoretically create opportunities for Viet Nam to boost exports to these markets, but to do so Vietnamese rice must meet the quality standards set by these markets."
To achieve sustainable production and export, the Government has approved a strategy for the 2017–20 period.
Tran Xuan Long of the import-export department said one of the goals of the strategy was to gradually reduce rice export volume but increase value.
Thus, the annual export volume is expected to be 4.5-5 million tonnes by 2020, earning an average of US$2.2-2.3 billion.
Between 2021 and 2030 the annual volume is expected to be around four million tonnes, earning $2.3-2.5 billion. The make-up of the exports would also be restructured then, with a focus on increasing the export of fragrant, speciality, japonica and high-grade white rice, he said.
Viet Nam would focus on Asian and African markets, with China, Bangladesh and ASEAN members such as the Philippines, Malaysia and Indonesia remaining key markets.
Huynh Minh Hue, general secretary of the Viet Nam Food Association, said the main varieties of rice traded in global markets are basmati, parboil, fragrant, white broken rice, sticky rice, japonica, and white long-grain rice.
Viet Nam is well placed in terms of sticky rice, fragrant, white broken rice, and white long-grain rice, he said.
He said rice traders should "capitalise on their advantages to develop nearby and traditional markets whose demands dovetail with Viet Nam's conditions."
To improve the competitiveness of rice traders, which is one of the measures in the strategy, businesses should focus on improving quality and marketing and cut costs, he said.
Rice traders and exporters should establish links with farmers to ensure supply meets market demand and efficiency, he said.
Pham Thai Binh, general director of Trung An Hi-tech Farming JSC, said rice traders who have contracted farmers that use safe production processes have bagged export orders from the beginning.
The country should have zoning plans for each variety of rice based on soil conditions in different areas and use technology to improve the quality and value, he said.
Delegates at the meeting called on the Government to speed up negotiations and sign agreements on hygiene and food safety standards with importing countries.
The Ministry of Agriculture and Rural Development should decide on and apprise exporters about the process of quality inspection and hygiene and food safety regulations in line with those agreements, they said.
Relevant agencies should review seaport planning and speed up loading and unloading of goods at ports to reduce logistics costs, they said.
They called for co-operation among traders in promoting exports.
According to the VFA, Viet Nam is expected to export 5.6 million tones of rice this year. 
Dau Tieng Rubber Corporation invests in high-tech agriculture     
Dau Tieng Rubber Corporation plans to build a high-tech agriculture zone, on an area of 2,000 hectares to improve efficiency in land use.
This is a part of its development strategy for the period of 2015-20, said Le Thanh Hung, the corporation's general director.
The high-tech agricultural area will be located in Long Hoa and Minh Tan farms and the investment will be developed in three phases during the period of 2018-20.
The corporation plans to intercrop banana trees on a total area of 1,000 hectares, while in the remaining area, it will call on domestic and foreign investors to build joint venture projects on developing cultivation and husbandry.
The policy of intercropping other farming products in rubber plantations was implemented from 2014 on a total area of 1,487ha and the corporation made a profit of VND785 million (US$34,475). This was developed every year, but in 2017, due to the low price of agricultural products, the area for intercropping decreased, as against previous years.
Therefore, the corporation cooperated with the U&I Company with experience in market, plants and technique to develop a joint-venture project on intercropping banana trees in rubber plantations on an area of 1,000ha from 2017 to 2020.
This year, the two firms have invested in an area of 95ha with a total capital of VND345 million. The area is expected to harvest in December and they expect to receive a revenue of VND395 million per hectare, or an average profit of VND52 million per hectare per year. 
BIDV to launch 24 hour e-tax payment service     
The Bank for Investment and Development of Viet Nam (BIDV) will be one of the first commercial banks in Viet Nam to co-operate with the General Department of Customs to provide 24 hour e-tax payment service.
The service will provide support to businesses to directly pay taxes for customs activities any time, including holidays, and any place with an internet connection.
Payments of enterprises will be confirmed by BIDV and customs clearance procedures will then be complete. This is likely to help shorten time and reduce costs for firms in customs clearance. Firms can also find all their tax payment information at customs offices and enjoy preferential offers from the bank.
The co-operation between the General Department of Customs and BIDV follows the e-tax payment service of banks and the 24-hour customs clearance project. This is considered a breakthrough for the customs sector in terms of reform of administrative procedures, facilitating firms in import-export activities.
Since 2010, BIDV has co-operated with the General Department of Customs to connect the e-payment portal and import-export tax guarantee. The co-operation has contributed to accelerating administrative reform in the tax area.
BIDV has co-operated with the State Treasury of Viet Nam and the General Department of Taxation to develop several convenient payment services for the business community and promote non-cash payment in the country.
Vietcombank, SMF promote co-operation     
The Bank for Foreign Trade of Viet Nam (Vietcombank) and Singapore Manufacturing Federation (SMF) on Tuesday signed a comprehensive co-operation agreement in Ha Noi.
Under the agreement, the two sides will co-operate to fully exploit their available potential, thus bringing benefits to SMF's members and Vietcombank's customers.
Speaking at the signing ceremony, Dinh Thi Thai, Vietcombank's deputy general director, said the strategic relationship between Viet Nam and Singapore has been enhanced following the official visit of Lee Hsien Loong in March.
The bilateral trade between the two countries reached US$14 billion last year. Viet Nam has been the Singapore's 12th biggest partner, while the latter has been one of three countries with the highest FDI capital in Viet Nam.
Many Singaporean-invested projects have been operating effectively, contributing to the growth of Viet Nam's economy, increasing export turnover and creating jobs.
Vietcombank is the first bank with representatives in Singapore to supports firms investing in Viet Nam. The bank also established an FDI Customer Division, which has a team to serve Singaporean investors.
Douglas Foo, SMF's chairman, said the co-operation would support SMF in finance, banking and trade activities. Vietcombank, which has been operational since 1963, would help SMF's members in payment, cash management, trade finance and foreign currency services.
The two sides also organised a meeting between Vietcombank's customers and SMF's investors to exchange business opportunities, diversify distribution channels and help develop the market.
SMF, which was established in 1932 in Singapore, includes manufacturing and other related firms. It has more than 3,000 members in many sectors such as property, electricity, food, beverage, energy and chemical.
SMF has been one of two federations operating strongly and it has had the most significant effect in Singapore. 
MBBank continues support to SMEs     
The Military Commercial Joint Stock Bank (MB Bank) provided credit support to more than 1,000 small-and-medium sized enterprises (SMEs) with total capital of VND5 trillion (US$220 million) in the first nine months of the year.
Ha My Hanh, deputy director of MBBank's SMEs department, said the bank would continue to provide loans of total VND20 trillion with preferential interest rate to SMEs while developing new credit products for the firms with flexible guarantee assets in the future.
Hanh said MB had effectively implemented the connecting businesses and bank programme by reducing interest rate by 1-1.5 per cent per year in comparison with the normal interest rate for SMEs. Interest rates have been less than six per cent and eight per cent a year for short-term and mid-term loans.
In addition, the bank has launched preferential products and policies for prioritised sectors, including agriculture, rural development, exports, support industry and startups.The programme has been continuously implemented since 2012. MB has committed to provide maximum supports to SMEs. It will also have solutions to resolve businesses' difficulties in accessing the bank's loans for their production. 
Social media could give SMEs global reach: experts     
Small- and medium-sized enterprises (SMEs), which make up 90 per cent of businesses in Viet Nam, should take advantage of new marketing tools like social media to have access to global value chains, experts said at a meeting held on Tuesday in HCM City.
Speaking at the forum on SMEs, Mai Huynh, a representative of a Facebook team based in Singapore, said there were 53 million active Vietnamese Facebook users on a monthly basis.
Of the figure, 96 per cent use Facebook on their smartphones, while 68 per cent of Vietnamese view pages about enterprises selling products on Facebook, creating a huge potential for online marketing.
Tran Thi Thanh Tam, deputy director of the SMEs Promotion Centre of the Viet Nam Chamber of Commerce and Industry (VCCI), said that SMEs were expected to have great opportunities to enter the global market in the digital economy.
SMEs should take advantage of digital applications and minimise logistics and transaction costs by using the powerful tools of social media, she said.
The fourth industrial revolution, which is digitally based, can help SMEs purchase goods and services in global value chains, opening up market access, attracting foreign investment, and accessing advanced production technology, according to Tam.
However, most SMEs lack international customers and markets. Only 21 per cent of Vietnamese SMEs participate in global value chains.
This challenge results in SMEs being less likely to benefit from the advantages of FDI, which include technology transfer, knowledge transfer and enhanced productivity.
In addition, a major barrier for SMEs is the high cost of technology, while knowledge about e-commerce is still limited, hindering growth.
More than 90 per cent of Vietnamese businesses are SMEs. They often encounter difficulties in accessing capital and technologies and lack management skills and connectivity, all of which are major hindrances when joining supply chains.
Links among producers and distributors in supply chains are weak and have created unhealthy competition, making it more difficult for Vietnamese to join big markets.
Though the Government has stepped up reform of institutions and improved the business environment, experts said it should minimise administrative procedures to help firms join supply chains.
The forum was organised by the Viet Nam Chamber of Commerce and Industry (VCCI) and Facebook.
Ford sales rise slightly this year     
Ford Vietnam sales rose 1 per cent so far this year, reaching 21,532 vehicles and capturing 10.8 per cent market share, the company announced. In September it sold 2,271 vehicles.
The Ranger model saw September retail sales rose 12 per cent year-over-year to 1,259 vehicles. It continued leading Viet Nam's pickup segment for the month and year-to-date, as sales rose 5 per cent to 10,734 vehicles.
The Transit model continued to lead Viet Nam's bus and van segment with September sales of 477 vehicles and year-to-date sales of 4,569 vehicles.
The EcoSport compact SUV saw sales of 267 vehicles, pushing its year-to-date sales up to 2,925 vehicles. The premium Explorer SUV achieved sales of 90 vehicles in September with year-to-date sales reaching 981 vehicles. Each continued to lead their respective segments.
The sporty Focus model's September sales increased 5 per cent to 84 vehicles, with year-to-date sales increasing 24 per cent to 874 vehicles.
Demand continued to rise in September for the Everest mid-size SUV model, with sales of 47 vehicles and year-to-date sales of 883 vehicles.
In another development, Ford Vietnam has opened a new authorised dealer, Ford Binh Thuan, in the south-central province of Binh Thuan at an investment of VND100 billion (US$4.4 million). This is the 34th Ford Vietnam dealership in the country. 
VIMS 2017 show returns with new models     
The number of imported and vintage cars and motorbikes will appear for the first time at the Viet Nam International Motor Show (VIMS) 2017 to be held in HCM City October 25-29.
The organisers said car enthusiasts would be the first to witness the unveiling of the Audi TT and Audi Q3 special editions as well as the launch of new models Volkswagen Passat BlueMotion 2017, Volkswagen Beetle Dune 2017, the New Volvo XC60, Subaru XV 2.0is, SsangYong G4 Rexton, and the Yacht Flyer 7.7. within a 10,000sq.m display area of VIMS 2017.
For the first time in the show's history, besides the featured exhibition, the Stunt show from Subaru with world-famous stunt driver Russ Swift will show off his smooth moves on wheels that should not be missed.
In the outdoors area of the venue, test-drive programmes featuring signature cars of participating brands are expected to bring mind-blowing experiences.
A stand-out activity will be The Art of Performance, a test-drive programme hosted by Jaguar & Land Rover, dedicated to provide users hands-on experiences with impressive performances from these luxury English car brands. 
SMEs get chance to connect with debt investors     
Small and medium-sized enterprises (SMEs) operating in Viet Nam, who contribute towards sustainable development and are seeking debt capital and investment readiness assistance, now have the chance to connect with investors by applying for the inaugural Capital Mobilisation Challenge for the Southeast Asian Region.
The challenge is designed in the event that SMEs in Viet Nam and in the Southeast Asian region (SEA) face an array of sustainable development challenges due to their diverse geographic, economic and cultural attributes. A snapshot of these challenges includes access to clean energy, health services, sustainable economic growth, adequate infrastructure and reliable water and sanitation services.
Therefore, the programme aims at addressing SMEs' financial inclusion by improving their investment readiness level while concurrently mobilising investors.
Local SMEs actively promoting sustainable development in one of the aforementioned thematic areas and in need of US$500,000-$2 million in debt capital are encouraged to apply for the challenge.
The competition was launched in September 2017 and organised by Unkapt Capital, a unit of Australia's Evermore Money Management, in collaboration with Melbourne-based financial advisory service firm Pennam Partners.
Successful candidates at the competition will be eligible for awards worth up to $50,000, which include complimentary investment readiness bootcamp "Demystifying Private Debt," up to $10,000 technical assistance grant, advisory support from Pennam Partners, and/or application for fee waiver and access to the Unkapt platform.
Upon access to Unkapt, successful applicants will also have the opportunity to list and showcase their debt capital raising offer on the Unkapt platform with a view to facilitating introduction to private debt investors.
Unkapt is an alternative lending and cross border capital raising platform for SMEs seeking to raise debt capital through accredited investors. Unkapt offers embedded deal execution, advanced credit analytics and interactive tools that all work to lower the engagement barrier between the investee and investor.
For more information on the Capital Mobilisation Challenge, visit cmc.unkapt.capital for the infopack, application package and FAQs. The challenge application phase closes on October 31, 2017. Interested parties should sign up at the earliest. 
Shrimp exports to EU rebound
Shrimp exports to the EU constantly increased in August and September, making it the biggest consumer of the Vietnamese product, according to the Vietnam Association of Seafood Exporters and Producers (Vasep).
Vasep has reported that shrimp exports to the market in June and July came to a standstill due to the supply shortage and price hikes while EU businesses reduced shrimp imports. However, as from August, exports to the EU have been restored with more supply from domestic businesses.
The country's shrimp export revenue hit US$2.5 billion in the first nine months, up 21.9% against the same period last year. Exports to the EU grew 32% in the period.
High demand for shrimp from the EU pushed raw shrimp prices up. Domestic businesses are accelerating shrimp purchase to meet the EU markets.
Vasep warned that to boost exports to the market, businesses should pay more attention to labels and the quality of products to build brand names and expand markets. They should make proper plans to improve their competitiveness against other exporters such as India.
The EU tends to increase its shrimp imports in the remaining months of this year to serve culture and food festivals, offering a chance for domestic businesses to spur exports.
Vietnam records US$24.1 billion trade surplus with US
Vietnam enjoyed a US$24.1 billion trade surplus with the US during the first nine months of this year, equal to 78% of the country's total exports to the market, according to the General Department of Vietnam Customs.
Vietnam's exports to the US reached US$3.62 billion in September, bringing the total value across the nine months to nearly US$31 billion, a year-on-year rise of 9.4%. 
Eight groups of products had an export revenue of more than US$1 billion each, including clothes and accessories, computers, electronics and components, wooden products, machinery, and seafood.
VNA/VNS/VOV/SGT/SGGP/TT/TN/Dantri/VNEVET