VietNamNet Bridge - More Vietnamese businesses have decided to increase their investments in online sales as e-commerce continues to boom.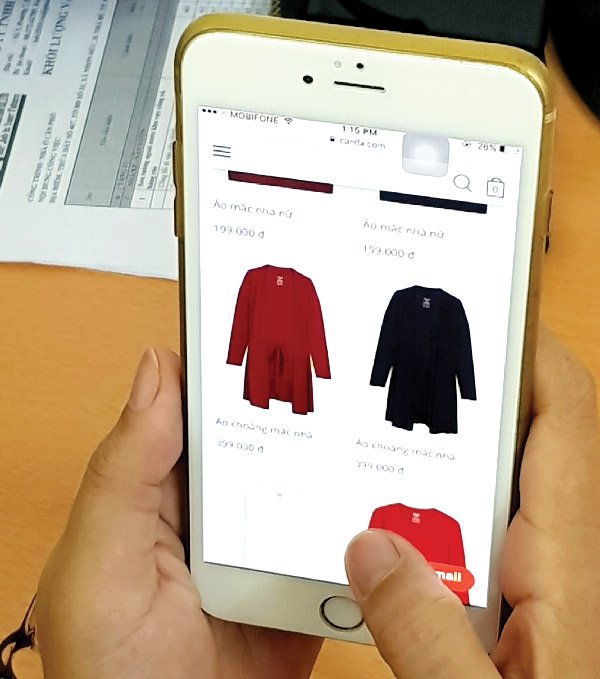 In mid-August, Dinh Anh Huan, who is no stranger to the Vietnamese business community, had a meeting with the local press after several years of absence to introduce Juno, his shoes and handbag brand. 
Huan is now the president of a young company, which had only one shop in 2015, and now has 60 shops in 14 provinces and cities.
Huan said offline and online shops and other sale channels, including Facebook and Zalo, all have helped June sell 25 million pairs of shoes this year, an increase of five times over 2016.
He believes that after three years, Juno will be able to sell shoes to every corner of the market via www.juno.vn. 
More Vietnamese businesses have decided to increase their investments in online sales as e-commerce continues to boom. 
Customers anywhere in the world can make online orders through the website, choose existing models or design shoes for themselves. The job of Juno is to deliver products that satisfy customers' requirements after 15 days.

Huan's plan is too ambitious in the eyes of many businesses as nearly all Vietnamese fashion brands still cannot sell their products to the world market. 

However, Huan, who was CEO of Thegioididong.com and now holds a stake in Giao hang nhanh, an e-commerce logistics firm, has confidence in its plan.

He said in a world where things are changing so rapidly, technology is the key to open important doors. It can even remove the traditional "fortress" which has existed for many years.

K&K Fashion has also been cited as an example which shows the efficiency of online marketing. Criteo, a Singapore-based commerce marketing firm, said after one year of applying the dynamic retargeting solution, K&K Fashion has seen sales increasing significantly with mouse clicks up by 43 percent and successful transactions up by 121 percent. 

In other words, with the method of touting and tracing customers in all their mobile devices to read their demand, payment capability and taste, K&K Fashion has successfully boosted sales.

Juno and K&K are two of many Vietnamese businesses which are making methodical and serious investments in e-commerce.

In Vietnam, a survey by Criteo has found that more than 50 percent of the population  uses the internet, while the revenue from e-commerce has reached $1 billion. The firm predicted a 23 percent growth rate at least from now to 2023.

The survey also found that in 2011-2015, the number of customers buying goods online increased by 129 percent. There will be 10 million online shoppers in the next three years, it said. At least 75 percent of polled people said they like online shopping.
RELATED NEWS
Wealthy Vietnamese shoppers prefer to purchase products online
Will Vietnam's e-commerce be taken over by foreigners?
M. Ha