VietNamNet Bridge – With its advantages fully recognised, the southern "emerald island" of Phu Quoc off of Kien Giang Province is set to live up to its title of a special administrative-economic zone.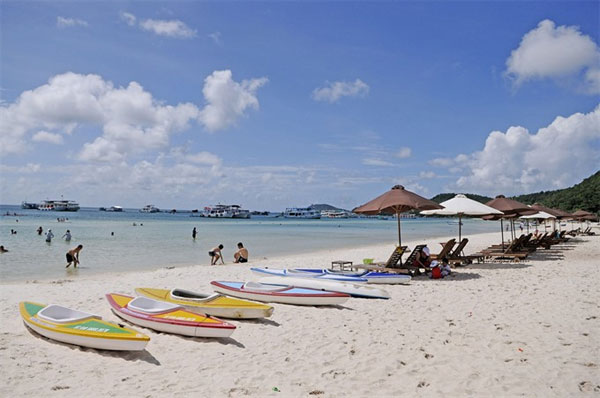 Bai Sao beach, a popular tourist spot on Phu Quoc Island of the southern province Kien Giang. The island district is striving to become a world-class special administrative and economic unit. — VNA/VNS Photo 
Many investors are flocking towards the "promised land," especially since early 2014 when the island was connected to the national electrical grid via submarine cables.
On the sides of the main road from the coastal Duong Dong Town – lying at the midsection of the island – to the southern tip, several hotels, restaurants, apartment complexes and resorts are under construction – the majority of these projects owned by big-name corporations, domestic and foreign. Similarly, to the north, tourist and entertainment complexes with scales ranging from vast to medium-sized have popped up in recent months.
Nguyen Thong Nhat, head of the management board for investment and development of Phu Quoc Island, says that at the moment, 265 projects are underway or set to be operational on the island, covering a total area of 10,500 ha. Of this figure, 197 projects – covering 7,200ha, and with total committed investment of VND218 trillion (US$9.592 billion) have only been granted investment permits, 31 projects have already become operational, 24 are undergoing construction, while the remainder are "finalising investment procedures."
"Among these projects, 26 are foreign direct investment (FDI) with total capital set to reach $290 million," Nhat told the Tien Phong (Vanguard) newspaper.
Aside from the private sector projects, several large-scale public projects are being carried out throughout the island to meet the demands of an economy growing at 25-30 per cent a year, said Huynh Quang Hung, Vice Chairman of Phu Quoc People's Committee. Most notable projects are the Phu Quoc international airport (phase 2) with total investment of VND3 trillion ($132 million); the 51.5km long north-south axis road – with investment of VND2.5 trillion ($110 million) – which has achieved 92 per cent completion; and the 100km island-bound road, with investment of more than VND3 trillion (68 per cent of the workload has been finished). Other projects include upgrading the An Thoi fishing port, breakwater construction and dredging at the Duong Dong river's outfall, as well as an international passenger port in Dong Duong.
Booming growth
Together with the influx of investment, the stream of tourists to the island has also seen a dramatic increase, said Huynh Quang Hung.
The number of tourists coming to Phu Quoc in 2016 rose 63 per cent compared to 2015, and the first six months of 2017 saw a 44 per cent increase compared to the same period in 2016, while the number of international tourists increased by 77 per cent.
The island is also receiving an influx of people from the mainland looking for job opportunities.
Tran Van Phuong, 25, hailing from An Giang Province, came here 2 years ago to work as an ironworker for the numerous construction projects underway on the island.
"I can earn VND300,000 ($13.2) for a day's work, double the amount I get back in my hometown, in addition to free meals," Phuong said.
Despite higher living costs on the island than on the mainland, but offset by higher income, there is an increasing number of people from all over the country arriving here seeking jobs.
A tremendous amount of energy is required to drive the booming development of the island. According to Nguyen Van Minh, head of Phu Quoc Electricity Company, the average year-on-year electricity production growth rate is over 103.48 per cent. Electricity output has increased from 57.4 million kWh in 2013 to an estimated 297 million kWh in 2017.
However, accompanying this bubbling growth are numerous "headaches" that the authorities need to address, especially in terms of environmental protection, said the island's vice chairman Huynh Quang Hung. Waste treatment facilities on the island are still lacking – the waste treatment plant is still being built, a plan for a wastewater treatment system remains on paper due to lack of funds.
The stream of workers coming from other localities also pose an array of public order issues in certain areas.
In addition, Hung said, the number of complaints and lawsuits concerning the land compensation rate is also on the rise.
More robust government
Hopes are high for a special zone unburdened by common constraints and enjoying privileges other localities can only dream of.
Ass. Prof. Dr Tran Dinh Thien, head of the Viet Nam Institute of Economics, in a conference discussing policies for Phu Quoc, said that the competitiveness of the locality must be raised to an "outstanding level, of the highest order."
To fully achieve its full potential and live up to its future status, Chairman of Kien Giang Province People's Committee, Pham Vu Hong, stressed the life-and-death need for a new policy mechanism for Phu Quoc as a special administrative-economic unit.
According to Hong, Phu Quoc "has an economy on a scale equal to that of a full-fledged province, but its governing body remains the same as one governing a district."
Phu Quoc is the island district of Kien Giang Province, with a total area of 59,000ha and a population of 120,000. The provincial authorities' proposal to establish Phu Quoc as a special administrative and economic zone is still being developed, and is scheduled for submission to the government and National Assembly in October. However, according to already approved plans for the island, the focus of development for the island would be eco-tourism and luxury resorts, in addition to entertainment forms such as casinos and safaris.
VNS