Online IP rights discussed in HCM City
Electronic filing of intellectual property applications and its efforts to join the Hague Agreement were the two experiences Việt Nam chose to talk about at the 45th meeting of the Intellectual Property Experts Group (IPEG) which opened in HCM City on Tuesday.
The Hague Agreement Concerning the International Registration of Industrial Designs was adopted in 1925 to govern the international registration of industrial design, and affords protection in multiple countries. Up to date, many APEC members have joined Hague Agreement.
At the two-day meeting, part of the ongoing third SOM 3, 21 APEC member economies discussed their countries' respective efforts to protect IP rights.
Most of them focused on small- and medium-sized enterprises (SMEs).
The Philippines spoke about a project on best practices for brand development and intellectual property protection for micro, small and medium enterprises.
Mexico brought delegates abreast of an ongoing project to build SMEs'capacity in IP strategies while Russia delivered an update on a project for intellectual property commercialisation for SMEs.
Delegates also discussed other issues like trademark infringement determination in a border-enforcement context, promoting innovation through a mechanism for intellectual property valuation, financing and leveraging intellectual property assets.
"We have a number of different areas we exchange information on based on their priority," an official who did not want to be named said.
"So small to medium enterprises are ones where we often have very fruitful exchanges of information."
Takashi Koyama, director of the intellectual property affairs division at the Japanese Ministry of Foreign Affairs' Economic Affairs Bureau, told Việt Nam News: "APEC comprises of many economies whose development levels are different. If all economies adopt harmonised IP systems, companies from other economies, including the US and Japan, can more easily invest.
"We can co-operate with Vietnamese agencies to enhance public awareness of IP rights by adopting several measures upon their request.
"Recently, our Government has focused on public awareness of IP rights in education, not just at the university level but also at elementary, junior high and high school levels for children and students to learn about the importance of intellectual property."
In 1996, APEC's Committee on Trade and Investment established an intellectual property rights get-together (IPR-GT) with the main aim of ensuring adequate and effective protection of intellectual property rights in the region.
TPR-GT was renamed IPEG in 1997.
Speaking to Việt Nam News on the sidelines of the meeting, Lê Ngọc Lâm, deputy director of the National Office of Intellectual Property of Việt Nam, said his office had begun e-filing this year.
"This initiative has been useful as it saves time and cost for both submitter and the intellectual property office."
Every effort would be made to popularise it, he said.
At the meeting, Việt Nam spoke about its efforts to accede to the Hague Agreement.
Việt Nam had spoken about how it reconciled the differences between its laws and the Hague Agreement without having to change the Vietnamese laws.
"The Law on Intellectual Property issued 10 years ago falls short of meeting the Hague Agreement's provisions," Lâm said.
"[But] Việt Nam has studied this agreement for many years. It will create advantageous conditions for Vietnamese companies to register their intellectual properties outside Việt Nam."
French company keen on Rach Chiec sports complex
Bouygues Construction company under the France-based Bouygues Batimet group is interested in the Rach Chiec sports complex in Ho Chi Minh City and is seeking suitable cooperation with the city in the project.
Chief Representative of Bouygues in Vietnam Murli Metharam made the statement during a meeting with Chairman of the municipal People's Committee Nguyen Thanh Phong in the city on August 23.
Bouygues with strengths in construction, finance and real estate, has developed construction projects like buildings, hotels, hospitals and transport systems in over 30 countries worldwide. In addition, the company has considerable experience in building large sports complexes meeting international standards like those in the UK, France and Singapore.
He affirmed that his company has sufficient financial and human resources to carry out projects in a timely manner.
Meanwhile, Phong stressed that Ho Chi Minh City is calling for foreign investors to join in the construction of the Rach Chiec sport complex, which is intended to be a destination for large-scale sport events in the future.
The city is giving a push to land clearance and creates favourable conditions for foreign investors to participate in the project, he highlighted.
The 186-ha Rach Chiec sport complex has various components, including a 50,000-seat stadium that the city wants foreign design and construction for.
Nghi Son receives first crude oil shipment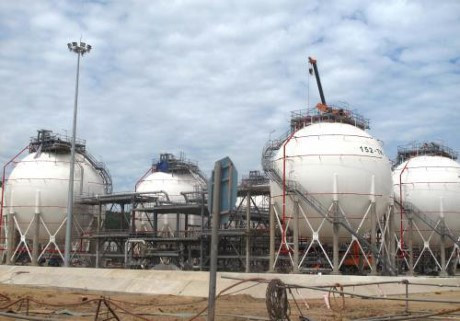 Viet Nam's largest oil project just took a significant step towards providing products for domestic and foreign markets.
On Tuesday, Thanh Hoa Province's Nghi Son petrochemical refinery company received its first batch of crude oil from Kuwait. The 270,000 tonnes of oil will be used to prepare for the refinery's trial run.
According to Nguyen Van Thi, head of the management board of Nghi Son Economic Zone where the refinery is located, the reception of the first batch of crude oil means the factory is closer to being ready to provide petrochemical and refined products for domestic consumption and export.
The Nghi Son Refinery is currently the largest oil project in the country with investment totalling US$9.2 billion. When in operation, it will have a refining capacity of 10 million tonnes of crude oil per year. The refinery is expected to strengthen Viet Nam's national energy security.
The crude oil shipment received Tuesday was to be pumped from the oil tanker Millennium to a facility called Single Point Mooring Buoy. It is then transported through underwater pipes to three of the eight storage tanks, each of which can hold up to 112,000 cubic metres.
With a maximum capacity of 15,000 cubic metres per hour, it will take about 22 to 24 hours to pump the entire 270,000 tonnes of crude oil from the vessel to the refinery's storage facilities.
Receiving the Millennium marked another milestone for the Nghi Son seaport: with a maximum capacity of 300,000 tonnes of crude oil, the ship is the largest crude oil vessel ever to dock in Viet Nam.
The refinery's latest achievements come after mechanical completion was achieved in April. The plant was transferred from the contractor, a consortium of JGC Corporation, Chiyoda Corporation, Technip, SK Group and GS Group, to the operator, Nghi Son Refinery JSC, in May.
According to current plans, the factory will receive oil from three large-range oil tankers every month when it begins commercial operation. 
Eco-resort project commences construction     
Construction of the Con Bap Eco-Resort began in Hoi An's Cam Nam Commune on 27.49ha with total investment of VND950 billion (US$42 million) on Monday.
Chairman of Con Bap eco-tour company, the project owner, Do Anh Tuan told Viet Nam News the resort will include a 142-room hotel, a restaurant, a township residential area and a museum.
He said the company has built a 1.2km concrete dyke on Thu Bon bank and needs to prepare a construction site, equipment and a road for construction trucks.
Tuan said the project, which was delayed due to financial difficulties last year, will provide more accommodation and entertainment services for tourists visiting the UNESCO-recognised world heritage city.
The eco-resort will become operational in the first quarter of 2019.
Earlier this year, the Hoang Gia Hoi An company began construction of the Hoi An Royal Residences project with total investment of $44.2 million in suburban Hoi An.
In the first six months of this year, the city welcomed about 700,000 visitors.
Local made beer products win three gold medals at international competitions     
There's no Olympics for beer, but Viet Nam is nevertheless home to brews that brought home three gold medals this year.
Carlsberg Viet Nam's Huda and Huda Gold beer products have won three gold medals in beer competitions in Europe in 2017.
It's the only beer trademark in Viet Nam that has won gold medals at international beverage competition series, including the Berlin International Beer Competition (BIBC) in Germany; the World Beer Awards (WBA) in the UK and Monde Selection in Belgium.
The company announced the victories in a statement on August 22nd.
The golds come after a few years of steadily-growing recognition for the company's beers. In 2013, the Huda Gold product (a sub-premium brand of Huda) won the silver medal at the World Beer Championships in the US for the first time, a feat it repeated in 2015.
The made-in Hue Huda Gold also won the Superior Taste Award from the Brussels-based International Taste and Quality Institute (iTQi) in Belgium in 2014.
In 2011, Thua Thien-Hue Province sold its 50 per cent stake (worth VND1.875 trillion or US$93 million) in the Hue Brewery Company to Carlsberg, helping the Danish beer giant to acquire full ownership of the brewery.
Since gaining full ownership, Carlsberg increased the brewery's production capacity from 240 million litres of beer to 360 million litres by July 2014.
In 2016, Carlsberg Viet Nam put into operation its new canning line at Hue Brewery, located in Phu Bai Industry Zone in Hue City. The line has a total investment of US$6.93 million and a capacity of 60,000 cans per hour.
The Hue-based factory, which was launched in the 1990s with the modest production of three million litres of beer annually, exports its products to England, France, Spain, Australia, Canada, Japan, Indonesia, Malaysia, Laos and Cambodia. 
Project to aid female entrepeneurs begins     
Tinh Thuong One Member Limited Liability Microfinance Institution (TYM) on Tuesday launched a project aiming to improve management skills for female entrepreneurs running small enterprises.
The project, one among four in Viet Nam receiving funding from Citi Foundation this year, will train some 200 women running small businesses in agriculture, handicraft and trading in five provinces, namely Nam Dinh, Vinh Phuc, Thanh Hoa, Nghe An and Hung Yen.
The training programme will be developed by the Viet Nam Women's Academy to cover skills such as marketing, human resource management, group work, decision making, financial management and business planning as well as case studies and real-life experience sharing.
Duong Thi Ngoc Linh, general director of TYM, said improving corporate management skills for rural female entrepreneurs was important to help them start or expand their business.
TYM expected that the project would help not only improve the economic power of women entrepreneurs but also generate jobs.
TYM provides microfinance for low-income households, especially poor and vulnerable women. TYM's outstanding loans totaled more than VND1 trillion (US$43.85 million) in 2016.
The New York – based Citi Foundation, a member of global bank Citi, works to promote economic progress and improve the lives of people in low-income communities around the world.
US delays antidumping investigation on VN's tool chests
The US Department of Commerce (DOC) on Monday announced the postponement of preliminary determinations of antidumping duty investigations on tool chests and cabinets imported from Viet Nam and China from October 1, 2016 through March 31, 2017.
The DOC may postpone a preliminary determination no later than 190 days after the an investigation begins.
On August 9, 2017, the firm that called for the investigation, Waterloo Industries Inc., requested a 50-day postponement of the preliminary determinations, stating more time was needed to analyse responses from firms being investigated.
The DOC decided to postpone the preliminary determinations to November 7, 2017, with the deadline for the final determination of the investigations 75 days after the preliminary determinations.
At the beginning of May this year, the DOC initiated the investigations on some tool chests and cabinets from China and Viet Nam.
Waterloo Industries Inc alleged a dumping margin of 159.99 per cent for China and a dumping margin of 21.85 per cent for Viet Nam.
Minister urges Japan to increase investment in VN     
 Indirect investment from Japan into Viet Nam remain relatively modest compared to the potential of Japan and the ability to absorb investment capital sources of Vietnamese market, finance minister Dinh Tien Dung said.
Dung made the statement on Monday at a conference in Tokyo co-hosted by the Viet Nam's Ministry of Finance and Daiwa Corporation of Japan to promote financial investment in Viet Nam. Around 200 Japanese firms attended the event.
There remains a huge room for bilateral cooperation in the financial market, Dung said, adding that Viet Nam's economy has recorded an annual average growth rate of 6 per cent over the past three decades.
The country's gross domestic product (GDP) has expanded by an estimated 5.73 per cent in the first half of 2017, while its Purchasing Managers' Index (PMI), announced by the Nikkei, has peaked in the past 22 months and is now the highest in the ASEAN, the minister said.
Dung told participants that the Vietnamese Government has identified human resources development, improvement of market economy institutions, and infrastructure development as three breakthrough areas, so the country's demand for capital is huge, especially for investment sources accompanied with expertise and development experience.
Speaking about the equitisation of State-owned enterprises (SOEs), Dung said 44 SOEs have been equitised in 2017, and the figure will touch 64 in 2018. The Vietnamese Government has also made a debut in the derivatives market, with the VN30 Index futures contract set for launch.
Dung expressed hope that financial corporations in Japan will invest indirectly in Viet Nam, become strategic investors, and bring capital and technologies into the country.
In an interview with Vietnam News Agency's (VNA) reporters in Tokyo, Keiko Tashiro, a member of Board of Directors of Daiwa Securities Group, said Daiwa would continue investing in Saigon Securities Incorporation (SSI) and expects more support.
Later in the day, Dung met Japanese finance vice-minister Imaeda Soichiro and lauded Japan's role in helping develop infrastructure in Viet Nam through official development assistance (ODA) capital.
The two ministers also discussed measures to enhance mutual support within the APEC and ASEAN+3 financial cooperation frameworks. 
Hoa Binh construction company wins bids for big projects     
Hoa Binh Construction & Real Estate Corp (HBC) has won bids to construct five projects with a contract value of VND2.5 trillion (US$110 million) in HCM City and Phu Quoc Island in the southern province of Kien Giang.
Of the five projects, HBC will become General Contractor of Design and Build (D&B) of two projects in HCM City. One, the Lim Tower III Project, is supported by investments from the An Khang Investment and Trading Co., Ltd. Lim Tower III is a 25-storey Grade-A office building with three basements. The total contract value is estimated at over VND940 billion.
HBC will also become the D&B General Contractor for South Gate housing and commercial complex in HCM City's Phu My Hung Urban Area, financed by Hong Ha Investment and Trading Joint Stock Company, with a total contract value of over VND610 billion.
The company will be the main contractor for the civil works of 356 villas of the Sun Premier Village Kem Beach Resort project on Phu Quoc Island. The project is backed by Phu Quoc Civil Construction Limited Liability Company with a contact value of more than VND505 billion.
HBC has also won a bid to construct and complete the No1 Executive Management Center Building in Saigon Hi-Tech Park, invested in by Viet Nam Land SSG Services Company Limited, with contract value of VND228 billion.
Finally, HBC will become the main contractor of the Z756 Residential Apartment belonging to the Hado Centrosa Garden project in HCM City, funded by Ha Do Group, with contract value worth over VND225 billion.
Quang Binh hires int'l consultant for developing its master plan     
Quang Binh Province signed a consultancy contract with the McKinsey & Company Viet Nam for developing its socio-economic development master plan by 2030 with vision to 2050 on Monday.
The provincial People's Committee has assigned its Department of Planning and Investment to be the investor for the VND35.68 billion (US$1.6 million) consultancy package.
The duration of the package lasts from the date the contract is signed until the master plan is approved by the Prime Minister.
The planning stage of the package is 70 working days from the contract signing day.
Chairmain of the committee Nguyen Huu Hoai said this master plan was very significant for achieving the province's socio-economic development objectives and is expected to have a major impact on attracting investors.
Hoai said the consultant has also been asked to prepare a detailed plan quickly, and arrange human resources to implement it in a timely manner.
He said the consultant has been hired to ensure high quality and achieve breakthroughs for the province's development.
He said that after it is approved, the master plan would help attract investors into Quang Binh. As such, the plan would be an important document for the central province when it organises an investment promotion conference by the end of 2017, Hoai added. 
McKinsey & Company describes itself on its website as a "global management consulting firm that serves leading businesses, governments, non governmental organisations, and not-for-profits."
In Viet Nam, the company has consulted for more than 23 strategic business projects, supporting reforms and corporate finance, including the socio-economic development master plans for the provinces of Quang Ninh, Ha Giang, Tay Ninh, and the Mong Cai Border Gate Economic Zone. 
VAMC makes first seizure of mortgaged asset     
Viet Nam Asset Management Company (VAMC) on Monday conducted its first confiscation of an asset mortgaged for a non-performing loan based on a newly-issued resolution.
The mortgaged asset is the Sai Gon M&C high-rise building project at 34 Ton Duc Thang, District 1, HCM City. It belonged to the Sai Gon One Tower Joint Stock Company.
According to a statement released on the State Bank of Viet Nam's website, the confiscation was aimed to settle and recover the debt in accordance with the legal regulations stated in Resolution No 42/2017/QH14, which has just taken into effect since August 15 this year and is designed to quickly and definitely settle bad debts and mortgaged assets for bad debts.
Earlier, VAMC signed a debt purchase agreement with several credit institutions for debts of a group of customers, including Sai Gon One Tower Joint Stock Company (formerly Saigon M&C Real Estate Joint Stock Company), Lien Phat Investment Joint Stock Company, Minh Quan Investment and Construction Joint Stock Company, New Superdeck M&C Joint Stock Company. The total outstanding debt, including principal and interest, is more than VND7 trillion (US$307 million).
VAMC repeatedly required the group of customers to fulfil their debt repayment obligations; however, the customers did not pay the debt nor had a feasible repayment plan.
VAMC then asked Sai Gon One Tower Joint Stock Company to hand over the mortgaged asset to fulfil its debt repayment obligations, but until now, the company did not hand over the asset. Therefore, VAMC seized the mortgaged asset to recover the debt. The process of capturing the mortgaged asset took place smoothly and in accordance with the law.
VAMC expected that the seizure of the asset, which is a big debt, would contribute effectively to the implementation of Resolution No 42.
The seizure is also a warning to borrowers of bad debt to repay to VAMC, as well as credit institutions on time. 
Improved regulatory expertise will enhance trade: experts     
Improving the ability of regulators to conform to the Technical Barriers to Trade (TBT) agreement of the World Trade Organisation (WTO) will help APEC economies avoid trade impediments and have better access to international markets, experts said at a workshop held on Monday in HCM City.
Ninety delegates from 21 APEC-member economies met to discuss ways to improve regulatory expertise and skills in developing technical regulations. The workshop was held within the framework of the third Senior Officials Meeting (SOM 3) now being held in the city.
Nguyen Van Khoi, deputy director general of Viet Nam's Department of Standards, Standardisation, Metrology and Quality under the Ministry of Science and Technology, said: "We hope that economies will be able to use the information provided by the workshop to produce higher quality regulations and reduce the chances that proposed measures could impede trade."
The TBT Agreement aims to ensure that regulations, standards, testing and certification procedures do not create unnecessary obstacles to businesses, especially small- and medium-sized enterprises (SMEs)
SMEs in Viet Nam face many challenges in applying the TBT Agreement, according to Khôi, who chaired the workshop.
"The workshop is expected to have benefits for all APEC economies and for the multilateral trading system as a whole," Khoi told Viet Nam News.
Speaking on the sidelines of the meeting, Devin McDaniels, economic affairs officer at WTO's Trade and Environment Division, said: "APEC members at the workshop are sharing different experiences in applying the TBT agreement and the use of good regulatory practices."
Participants discussed how trade rules created by regulators, particularly from larger economies, affected other less developed economies who must follow them.
"Regulators can learn from one another and the different approaches they use to develop rules that are business-friendly and don't impact trade too much," he said.
The challenge is the varying level of capacity and experience that exist among APEC economies, according to McDaniel.
"Some economies have a long experience in applying the TBT agreement, using good regulatory practices and following standards, while some are newer and are still learning," he said.
Not every economy has the same priorities in protecting health and safety of the environment for their citizens, for example, so each economy decides how they want to achieve those objectives, he added.
"I think one challenge for Viet Nam is applying international standards. For smaller economies or less developed economies, one of the challenges is the capacity and resources to apply the standards and to enforce them," he told Viet Nam News.
Because some standards are inappropriate for some economies because of different development levels, each economy has to take into account the benefits of international standards that would allow easier access to markets for their exports, according to McDaniels.
The project, "Enhancing Regulator Expertise on the WTO Agreement on Technical Barriers to Trade" aims to identify the best practices to implement necessary and effective regulations as well as the best approaches for regulatory cooperation.
The workshop will hold a panel discussion on August 22 on the private sector's perspective on development, adoption and implementation of technical regulations, and conformity-assessment procedures. 
Ratio of short-term funds for long-term loans to be revised     
The State Bank of Viet Nam (SBV) is adjusting for the second time the roadmap to apply the maximum ratio of short-term funds used for medium- and long-term loans.
According to a new draft circular to revise Circular No 36/2014/TT-NHNN on regulating prudential ratios for credit institutions and foreign bank branches, the maximum ratio of short-term funds used for medium- and long-term loans will be at 45 per cent in 2018 and 40 per cent in 2019.
This is the second time the roadmap for the ratio is being revised.
The first amendments to the circular were made in May last year with the ratio reduced from 60 per cent in 2016 to 50 per cent from January 1, 2017 to December 31, 2017. It will drop to 40 per cent from the beginning of 2018.
SBV said the second adjustment is based on its assessment and scrutiny of the country's economic indicators in the first months of 2017 as well as the Government's macroeconomic regulation direction in the last months of the year.
The new draft circular has been made public on the SBV's website for recommendations.
Earlier, during a regular Government meeting in May, Prime Minister Nguyen Xuan Phuc issued a resolution in which he directed the SBV to consider and adjust expansion of the credit limit for medium- and long-term loans of credit institutions.
The Government has also affirmed that the capital adequacy ratios applied for credit institutions and foreign bank branches that participate in programmes and projects under the Government's instruction will be different from the average ratio. For example, for the lending programme on encouraging development of the hi-tech agriculture industry, Deputy Prime Minister Vuong Dinh Hue has asked the SBV to consider the proposal of commercial banks to not include medium- and long-term loans for the programme in the maximum ratio of short-term funds used for medium- and long-term loans mentioned above.
According to the SBV, the medium and long-term capital source should be supplied via the securities channel, but in Việt Nam, this source of capital is still mainly mobilised via the banking channel.
SBV's statistics revealed that medium and long-term loans still account for 53-55 per cent of the total loans, while medium- and long-term mobilised capital is only 13-15 per cent of total mobilised capital.
SBV is concerned it is a risk for the banking industry if there is an imbalance in the ratio of short-term capital for medium- and long-term loans. 
Agribank offers money transfer service from South Korea     
Now, customers of Agribank can also enjoy fast money transfer services from South Korea to Viet Nam.
The services have been successfully implemented by the National Payment Corporation of Viet Nam (NAPAS) and South Korea Financial Telecommunications and Clearings Institute (KFTC).
Customers who have Vietnamese dong accounts in Agribank can receive deposits transferred from 10 South Korean banks that are KFTC members, including KBKookmin, KEBHana, Woori, NongHyup, Deagu, Busan, Kyoungnam, Jeonbuk, Gwangju and Jeru.
Agribank is now the NAPAS' fourth member bank – the others are Vietinbank, ABBank and GPBank – that can provide fast money transfers from South Korea to Việt Nam via the switching system between NAPAS and KFTC.
Customers based in South Korea can visit any of the transaction counters of the 10 KFTC member banks to transfer money to recipients in Viet Nam who have Dong accounts in Agribank, Vietinbank, ABBank and GPBank. The recipient will receive the money as soon as the sender completes the transaction.
A direct international money transfer service, its fees are reasonable, and the service is secured and supported by the Korean government. Customers can save up to 28,000 Won (US$25) compared to other forms of direct international money transfers.
The transfer limit for international money transfers is $2,000 per transaction for beneficiaries of Agribank, and $5,000 per transaction for Vietinbank, ABBank and GPBank beneficiaries. 
SBV approves LienVietPostBank's convertible bonds issuance plan     
The State Bank of Viet Nam (SBV) has ratified LienVietPostBank's proposal of convertible bonds issuance in 2017.
According to the plan, the maximum total face value of the bonds is worth VNĐ2 trillion (US$87.7 million).
The bonds' interest rate is determined by LienVietPostBank in accordance with market interest rates and SBV regulations on interest rates in each period, besides ensuring the bank's business efficiency and operational safety.
Lien Viet Post Bank will have to implement the 2017 convertible bonds issuance in compliance with the current regulations approved by the SBV Governor regarding promissory notes, treasury bills, certificates of deposits, domestic bonds issued by the credit institutions and other provisions of the Law on Securities.
Capital collected from the issue must be used for proper purposes, ensuring the efficiency and safety of business operations.
The issuance of convertible bonds for foreign investors must comply with Decree No 01/2014/ND-CP, dated January 3, 2014, on foreign investors' purchase of shares of Vietnamese credit institutions.
In case the foreign investor owns more than 5 per cent of charter capital, Lien Viet Post Bank is responsible for completing the procedures and dossiers as stipulated in Decree 01/2014/ND-CP and Circular 38/2014/TT-NHNN, dated December 8, 2014, on dossier, order and procedures for approving the foreign investor's purchase of Vietnamese credit institution's shares, and submit to the State Bank of Vietnam for approval before issuing convertible bonds.
In case existing domestic investors and shareholders become a major shareholder of Lien Viet Post Bank as the result of convertible bonds issuance, the bank must also submit to SBV for review and assessment prior to the issuance.
The bank will also have to complete all required procedures and dossiers according to current regulations and submit to SBV for consideration and approval in case of raising charter capital from the source of issued convertible bonds, to ensure the share ownership ratio of shareholders and other individuals after converting bonds into shares is in compliance with the law.
Banks hedge bets, loosen purse strings for small firms     
Instead of lending to large companies, more and more banks have started to lend to small businesses to hedge their risks.
At several conferences on credit for enterprises, experts have said that helping small and medium-sized enterprises (SMEs) access bank loans is very important.
However, according to a report by the Viet Nam Chamber of Commerce and Industry, 85-90 per cent of Vietnamese enterprises are small and micro businesses that face great difficulty in obtaining credit. Only 40 per cent of them have in fact managed to do so. Banks are cautious about lending money to SMEs due to a lack of trust in their ability to repay.
Hoang Thu Huong of HCM City's Binh Thanh District runs an online shop selling sweet dessert and bubble tea and two other drinks and fast food shops. She wants to expand her business but has been unable to borrow from banks, who told her that her business is small and she has no assets to mortgage.
She has been forced to borrow from other sources at high interest rates.
Small businesses like Huong's are caught in a vicious circle: they are too small for banks to lend, but they cannot get any bigger without bank loans.
Top executives of several banks do not deny this fact, but explained that though banks are making big profits, their non-performing loan rates are still high. This was the reason for their reluctance to lend to SMEs, they said.
They said that small and micro businesses cannot seek loans based on their business performance or financial reports or secure their loans with assets.
Dao Gia Hung, deputy director of the Viet Nam Prosperity Bank's SMEs Division, said: "Small businesses are often new in the market, and banks only want to lend to big businesses which have been around for several years. However, whether or not the banks lend money to those businesses depends much on their appetite for risk."
Recently the State Bank of Viet Nam urged credit institutions and banks to lend to SMEs. More and more lenders have announced credit packages for SMEs and micro businesses.
An Binh Commercial Joint Stock Bank (ABBank) allows businesses to borrow up to VND3 billion (US$132,000) or 10 per cent of their annual revenue without collateral.
Nguyen Quynh Nga, deputy director of the bank's SMEs Division, said only big companies can meet the "traditional requirements" like collateral, high growth, and good products to get bank loans.
She said with the new package ABBank would offer unsecured loans to businesses that have expanded from household businesses to small enterprises within one year, adding that it would practically appraise their business performance rather than by looking at their books.
One of the bank's reasons for giving more unsecured loans to SMEs is to reduce the big bets it makes on large companies, she added.
PVComBank has also announced a VND1.5 trillion package with an interest rate of 7.5 per cent.
But enterprises have to secure the loans with personal assets such as property, savings accounts or cars. 
First real estate market opens in Ha Noi     
An Quy Hung Land Joint Stock Company has inaugurated the first real estate market in Ha Noi's Cau Giay District.
Nguyen Thi Hue, the company's director, said the market would benefit home buyers who have to deal with poor-quality constructions, legal problems and with issues such as not getting possession of their house despite payment. The market has been set up to help home buyers avoid these problems. "This is the first closed estate trading model in Viet Nam, which has been built to connect investors, distributors and customers," Hue said.
The 1,000sqm market will provide free office space and free billboard advertisements. It has its own website, chobatdongsan.com.vn.
Customers can look for all types of property, from low-income to high-end segments, here.
According to the company, the market will assess the legality of real estate projects, including their licences, construction progress and disputes, if any.
Gemadept divests in full from Hoa Sen port     
Gemadept Corporation (Gemadept) announced on Wednesday its complete divestment from the Hoa Sen - Gemadept Logistics and International Port Corporation.
It finalised the sale of its 51 per cent stake in the company to an undisclosed South Korean buyer a day earlier, on Tuesday. The transaction's value, also not disclosed, has been estimated at VND100 billion (US$4.4 million).
In 2008, Gemadapt and the Hoa Sen Group signed a deal to establish the company, aimed to develop a logistics and port project in Ba Ria - Vung Tau Province. Gemadept held 51 per cent of shares while the Hoa Sen Group held 45 per cent.
Gemadept is a Vietnamese company with interests in ports, logistics, forestry and real estate. The port it is divesting from is one of six ports that it operates.
The stated reason for Gemadept's divestment is that the project is of small value offering little return on investment. The 55ha Hoa Sen - Gemadept International Port is located on a 300m long coast line, and has neither high productivity nor high revenues.
After divesting from the project, Gemadept plans to channel investment into the Gemalink deep water port in the Cai Mep – Thi Vai area. Work on this port, which has a total area of 72ha, a 1,150m main berth and 370m feeder berth, has been suspended for many years, citing the global economic downturn.
The capital from divesting in the project will be used on logistics and transportation, the company said.
Answering shareholders' questions at the annual 2017 General Meeting of the Board back in May on revenues from the divestment, Gemadept had said that they had already signed an agreement with the undisclosed Korean partner to sell its shares.
It said the Korean buyer plans to turn it into a port for carriers transporting liquefied petroleum gas (cooking gas).
In May this year, the Taekwang Group, a large South Korean chaebol producing clothing, apparel, chemical, industry, and financial services products, had expressed interest in purchasing Gemadept's shares in the project.
Gemadept also said the divestment is part of their business restructuring plans. It said they would divest from other projects and pick other strategic shareholders to continue growing out in the logistics industry.
The value of 45 per cent shares in the project owned by the Hoa Sen Group, the other project investor, has dropped from VND25 billion ($1.1 million) last year to about VND18.3 billion ($815,144) as of July 2017.
Gemadept listed on the Ho Chi Minh City Stock Exchange (HOSE) in 2002 with stock code GMD, which has a total of 675,390 shares currently trading at VND41,300 ($1.83) per share with a preferential price of VND40,950 ($1.82 ).
For the second quarter of 2017, Gemadept recorded around VND1 trillion in net income ($44.5 million), up 9 per cent year on year, though its post-tax income was down 9 per cent to VND123 billion ($5.4 million).
The Hoa Sen Group's port project was set up in 2006 with an initial charter capital of VND39 billion ($1.7 million). The port stands next to the Tan Cang-Cai Mep International Terminal in Ba Ria – Vung Tau Province.     
VTVCab to keep previous value     
Deputy Prime Minister Vuong Dinh Hue has allowed the Viet Nam Television Cable Corporation (VTVCab) to set its deadline for an initial public offering (IPO) on September 30.
Hue also asked VTVCab to keep its corporate value at nearly VND4 trillion (US$177.78 million), which was reported by VTVCab at the end of 2015, and the cable television provider is not required to adjust its value as per the report of the State Audit of Viet Nam (SAV).
In May 2017, the SAV reported that the corporate value of VTVCab might have been undervalued and suggested the accurate number was VND4.27 trillion.
According to the auditors, the value of the State capital in VTVCab also rose by VND278 billion to VND2.68 trillion compared to the previously reported number of VND2.4 trillion by VTVCab.
The cable television provider was founded in 2012 under direct management of the Vietnam Television. The company mainly provides pay-TV services, advertisements and wired telecommunication services.
In 2016, the company recorded VND2 trillion in net revenue and VND68.5 billion in post-tax profit.
Five firms to sell stake in A Vuong Hydropower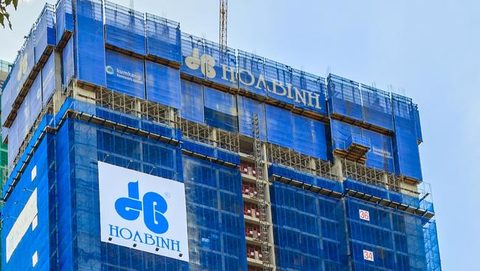 Five companies sold their stakes in A Vuong Hydropower Joint Stock Company via a share auction at the Ha Noi Stock Exchange on August 22.
The shareholders are the Central Power Corporation, the Power Generation Corporation 1, EVN Ha Noi, Hai Phong Power Company Limited and Da Nang Power Company Ltd.
The companies offloaded more than 5.66 million shares in A Vuong Hydropower JSC, worth VND56.6 billion (US$2.5 million), at a starting price of VND17,000 (75 US cents) per share.
A Vuong Hydropower JSC was founded in 2007 with VND1.12 trillion in charter capital. The company is headquartered in the central province of Quang Nam.
A Vuong runs several hydropower projects such as the A Vuong Hydropower Plant and the Song Bung Hydropower Plant, which generate 815 million kWh and 199 million kWh of electricity each year.
In addition, the company provides testing machines for industrial factories and oil-filtering devices for hydropower plants.
A Vuong hopes to earn VND573.8 billion in net revenue in 2017, VND124.3 billion in pre-tax profit and provide a dividend payout rate of 9 per cent. 
VPBank lists over 1.3 billion shares on HoSE     
Viet Nam Prosperity Joint Stock Commercial Bank (VPBank) on Thursday officially listed more than 1.33 billion shares on the HCM Stock Exchange (HoSE).
The shares were listed at a reference price of VND39,000 (US$1.72) per share.
In the first minutes of the at-the-opening-order (ATO) session, VPBank matched a total of 46 million shares with a reference price of VND39,000.
This price helped VPBank earn a record of nearly VND1.8 trillion, of which, foreigners spent VND1.45 trillion on purchasing more than 37 million out of 46 million shares during the ATO session.
Subsequently, the shares fluctuated from VND33,000 to VND36,000 per share.
At the end of the morning session, VPBank shares were at VND36,000, down 7.7 per cent from the reference price. The trading volume of this stock reached VND1.9 trillion, accounting for 53 per cent of the total market liquidity in the morning session.
VPBank is the 10th bank to list on the stock exchange and is the 423rd member of HoSE. It is also the private bank with the largest market capitalisation value of nearly VND52 trillion.
Bank chairman Ngo Chi Dung said VPBank marked the return of banking stocks to the stock market after nearly three years. Share listing was also a challenge in ensuring sustainable growth and business performance, he said. Besides this, VPBank was responsible for ensuring transparency of information in accordance with national and international standards, he added.
In the first seven months of 2017, VPBank posted some VND4.1 trillion in pre-tax profit.
The bank has targeted pre-tax profit of VND6.8 trillion for the whole year.
Next year, VPBank expects to earn net profit of nearly VND8.53 trillion, an increase of over 48 per cent against 2017 and dividend will be some 15 per cent, to be paid on priority through shares.
In the next five years, VPBank plans to concentrate on four key pillars -- consumer finance, retail banking, small business credit, and small and medium enterprise credit.
In addition, VPBank will focus on the retail sector, targeting the potential market of 95 million Vietnamese people with increasing incomes. 
Minh Phu Seafood sees profit up 34 times     
Minh Phu Seafood Corporation (MPC) recorded a post-tax profit of VND101.4 billion (US$4.54 million) in the second quarter of this year, 34 times higher than the same period last year and the highest level in the last eight quarters, online newspaper Infonet.vn reported.
During the reviewed period, MPC's net revenue reached VND3.6 trillion, up 37.3 per cent year-on-year. The company's cost of goods sold (COGS) on net revenue dropped sharply from nearly 93 per cent to 89 per cent, bringing gross profit to VND398.2 billion, double the same period last year.
Thanks to a 26.4 per cent decrease in loan interest, financial expenses were lower than the same period last year. Corporate governance cost also declined sharply by 41 per cent to over VND40 billion. Sales costs increased by 29 per cent to nearly VND182 billion, resulting in a pre-tax profit of VND134.4 billion.
Earning per share (EPS) reached VND1,480, much higher than last year's figure of VND469.
In the first six months of 2017, MPC's net revenue reached VND6.34 billion, up 34.5 per cent year-on-year while its post-tax profit totalled VND144 billion, seven times higher than the same period last year. EPS reached VND2,104.
In 2017, MPC targets consolidated net profit of VND841.28 billion. With the results achieved in the second quarter, the company has just completed about 17 per cent of the target.
At the end of Q2, MPC's total assets reached VND8.3 trillion, of which inventories accounted for nearly VND4.4 trillion.
The company's liabilities at the end of Q2 amounted to VND5.9 trillion, accounting for 71 per cent of total capital. Of the estimated amount, short-term loans touched VND3.3 trillion, up nearly two times compared to the beginning of this year, while long-term loans were over VND2 trillion, down 41.3 per cent from the beginning of this year.
MPC recently approved the plan of its subsidiary Minh Phu Import and Export of Food Co Ltd to reduce its charter capital from a registered VND40.8 billion down to the actual capital of VND2 billion.
In addition, the Board of Directors approved additional investment into two shrimp farming areas for MPC's shrimp farming development strategy.
Accordingly, it will add some VND70 billion to increase charter capital of Minh Phu - KG Seafood Co Ltd to VND220 billion, investing more VND30 billion in Minh Phu–Loc An Aquaculture Co to raise its chartered capital to VND180 billion.
Metalex Viet Nam Exhibition to open in HCM City     
The 2017 Metalex Viet Nam, an international exhibition on machine tools and metalworking on solution for production upgrade, will return at the Sài Gòn Exhibition and Convention Center (SECC) in HCM City's District 7 from October 12-14.
The exhibition is not only an opportunity for local manufacturers to approach the latest machine tools from 500 brands but also expanding their business networks.
Speaking at the Press conference hold on August 24, deputy managing director of Reed Tradex, the exhibition's organiser Suttisak Wilanan said: "Viet Nam's manufacturing industry is not only facing challenges but also more opportunities, especially those relevant to the auto sector"
According to the BMI Research reported that Viet Nam will become the second fastest-growing production hub for cars in Southeast Asia after the Philippines between 2017 and 2021, he added.
"Business opportunities will flow towards industrialists when investment projects are pouring into Viet Nam. The metalworking will become more important to the manufacturing and supporting industries, as metal and steel are essential materials for industrial products".
It is hard to achieve these positive projections without advanced metalworking technologies, solutions and know-hows, he said.
Therefore, the exhibition will include "Engineer Master Class", which is a training program, will help engineers enlarge technical knowledge, skills and technology that is necessary to be equipped to operate smart technologies integrated with Internet, he said.
Pham Ngoc Tuan, deputy chairman of HCM City Association of Mechanical Engineering (HAME), said: "This program will help to promote the development of manufacturing and supporting industries, as well as overcome any challenges and uncertainties that the Industry 4.0 era may bring".
In addition the Koma Taisen competition will be organised, which is a convergence of high precision spin tops, purposes to encourage all of manufacturers to show their ability in producing the high precision products to the world.
Hirate Yosuke, President of Orient Machine Ltd., said "In recently, the Viet Nam's manufacturing industry market is active attracting investment from many foreign companies of Japan and Korea".
According to the 2016 global manufacturing competitiveness index (GMCI) report from Deloitte Touche Tohmatsu Limited Viet Nam is one of the "Mighty Five" which is expected be included into the top 15 nations on manufacturing competitiveness over the next five years.