The development of high-tech agriculture in Vietnam remains sluggish due to unplanned and small-scale production, and is not commensurate with the country's comparative advantages and efforts.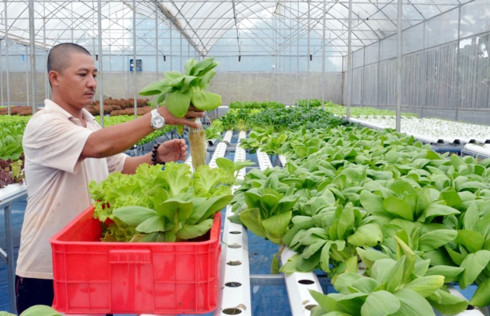 So far, only 28 enterprises nationwide have been recognised by the Ministry of Agriculture and Rural Development (MARD) as high-tech businesses.
At a conference held yesterday by the (MARD) in the Central Highlands province of Lam Dong's Da Lat City, participants agreed that development of technology-based agriculture is essential for Vietnam's agriculture sector to achieve greater value-added for export products, global competitiveness and consistently high quality.
Speaking at the event, Deputy Minister of Agriculture and Rural Development Le Quoc Doanh said over the past three decades of renovation, Vietnam has become self-sufficient in food with an annual export of US$30 billion, providing livelihoods for 10 million rural households and contributing nearly 22% of the gross domestic product and 23-35% of exports. 
However, the agricultural sector tends to grow slowly due to spontaneous and small-scale production, limited technological application in agro-forestry-fisheries enterprises, and impacts of climate change, environmental pollution and food hygiene, he said.
The Government has adopted various policies to promote the development of high-tech agriculture. In 2012, for example, the Prime Minister issued Decision 1895 approving implementation of an agricultural development programme using high-tech applications.
The programme aims to promote the development and effective application of high technology in the agricultural sector, contributing to the development of a large-scale, modern, and highly competitive and comprehensive agriculture model.
It also targets an annual growth rate of over 3.5% in the agricultural sector while ensuring national food security.
In 2015, the PM signed another decision approving the master plan to build 10 high-tech agricultural zones by 2020.
But in fact, by mid-2017, the whole country has only two high-tech agriculture zones, established in the southern provinces of Hau Giang and Phu Yen.
During the conference, participants hailed Lam Dong Province for being on the way to becoming a model of high-tech farming.
The province has tremendous potential to attract more foreign investment in high-tech agriculture due to its climate, land and proximity to the southern economic region.
By applying technology in cultivation, the average value of hydroponic vegetables grown in the province has reached VND500 million per hectare per year, and the value of flowers touches VND1.2 billion per hectare per year. The figures for tea and coffee are respectively VND250 million and 240 million per hectare per year.
Many farm produce of the province have been exported.
However, according to Nguyen Van Son, director of the provincial Department of Agriculture and Rural Development, farmers and businesses engaged in high-tech agriculture in the province still face many difficulties relating to land funds, shortage of investment, and access to investment capital.
A representative from the Ministry of Natural Resources and Environment's General Department of Land Management underscored the need to refine regulations on the rights of land users and issue policies to encourage the rent of land use rights.
According to the State Bank of Vietnam (SBV), outstanding loans for high-tech farming amount to VND177.4 billion (US$7.71 million), but farmers are hard pressed to pay them back due to lack of information about domestic and foreign consumption markets. 
The SBV directed commercial banks to offer more loans and pledged all possible support throughout the process.
At the conference, the MARD presented certificates recognising DaLat Hasfarm and An Phu companies operating in Lam Dong as high-tech agricultural firms, and recognised Thai Phien high-tech agricultural zone in the province.
VNS