After working in HCM City for three years Mr X, a Japanese national, wanted to settle down in the city and decided to buy a house.
Thanks to an acquaintance, he knew that a residential project in District 7 was handing over apartments to buyers and granting them ownership titles.
He decided to buy an apartment in that project. But he was told that while the developer could sign a sales contract with him, he could not get the title deeds until authorities gave approval for selling the apartments to foreigners.
Mr X gave up his plan to buy a house in HCM City.
He said: "I decided not to buy a house because the project owner himself is not sure if his apartments would be allowed to be sold to foreigners. If the project is not in a list to be sold to foreigners I would probably lose."
Some market observers said not only foreigners but also property developers do not know which projects can be sold to foreign nationals.
This has curtailed foreigners' property ownership in the country, they said.
According to the city Department of Construction, as of May the city had issued property title deeds to only 15 overseas Vietnamese and foreigners.
Analysts were unhappy with this, saying that the Law on Housing has adequate provisions on the responsibilities of related agencies in specifying areas where foreigners can own commercial housing.
Government Decree No 99/2015/ND-CP issued in 2015 to guide the Law on Housing says "Foreign entities may only own houses (including apartments and detached houses) in commercial housing construction projects, except in areas having national defence and security implications prescribed by Viet Nam's housing law."
The Ministries of Defence and Public Security have the responsibility of identifying areas having national defence and security implications in each province and send a written notification to the local People's Committee as the basis for compiling a list of commercial housing projects where foreign entities can and cannot own units.
According to a notification sent by the two ministries and direction given by the People's Committee of provinces, provincial construction departments shall make the necessary information publicly available on its web portal.
These show clearly that the obstacles to foreigners' housing ownership are not the law's making.
Experts said that the biggest hurdle is foreigners wanting to buy houses in areas not yet cleared by the two ministries as permissible to sell to them.
With local authorities and project developers not paying enough attention to this aspect, it leaves everyone confused, they said.
They also blamed the agencies under the two ministries in charge of notifying locations for doing their job tardily.
Experts said to facilitate buying of houses by foreigners, project developers must work with local agencies in charge of granting land use rights, and the latter have to co-ordinate with local construction departments to provide the former with necessary information in time.
If the local agencies cannot clarify a project owner's petition they have to seek guidance from city or provincial people's committees to provide timely replies.
A spokesman for the Ministry of Construction said the ministry would continue to issue documents to ensure compliance with legal provisions related to foreign organisations and individuals'right to own houses in Viet Nam.
Since the Law on Housing came into effect in 2014 house ownership certificates have been granted to 549 foreign organisations and individuals.
'Premature death'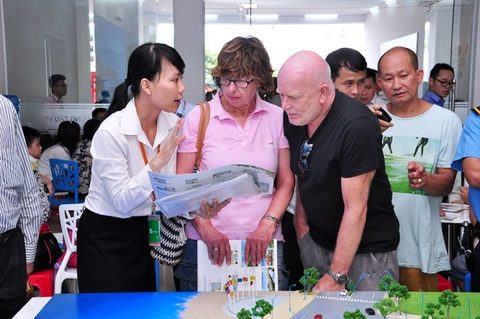 Data from the General Statistics Office shows that in the first seven months of this year nearly 50,000 enterprises were dissolved or suspended operations, a year-on-year increase of 19.5 per cent.
In July alone 6,600 companies completed procedures for dissolution, up 2.9 per cent.
The automotive and motorbike industry saw the highest number going under — 17,000, for a 14 per cent increase.
The construction sector ranked second with 6,100 enterprises, and in third place was the processing and manufacturing industry.
This increasing phenomenon goes contrary to the Government's great efforts to foster the development of the private sector.
Analysts pointed to several reasons that fledgling companies are going under.
In the auto and motorbike industry, for instance, companies face huge pressure since Viet Nam has to abolish import duties on thousands of items including automobiles and motorcycles by 2018 because of its commitments under the ASEAN Trade in Goods Agreement (ATIGA).
Meanwhile, the industry continues to face many limitations like high production costs, underdeveloped supporting industry, low competitiveness and low rate of use of local parts.
Auto manufacturers and traders have also met difficulties in implementing the road map for emission standards, assembled and imported cars and motorbikes under a Government decision which came into effect this year.
Changes in the emission standards have severely affected production, distribution and imports of autos especially passenger cars, trucks, and special purpose vehicles.
The inability of many Vietnamese enterprises to continue doing business is also due to their limited financial capability.
Some 92 per cent of the companies that have closed permanently or temporarily have a capital of less than VND10 billion (US$440,530).
Other experts said the complex administrative procedures are the biggest reason for the premature demise of many enterprises.
The most time-consuming procedures are those related to taxation, land use rights, land acquisition, and employees'social insurance.
Due to the plethora of regulations, many enterprises have to resort to bribery to complete the paperwork quickly.
While capital is a central factor, new enterprises almost always find it very difficult to get bank loans due to cumbersome procedures, some of which are beyond their ability to fulfill.
It is estimated that 45-65 per cent of small enterprises said they have to struggle with paperwork and bank employees when borrowing from banks. At large businesses this rate is 30-32 per cent.
The result is that many small companies are forced to borrow from outside the banking sector at very high interest rates.
To save young enterprises from demise, analysts said the Government should cut costs related to infrastructure investment and bad debt settlement for them and help them get easier access to bank loans.
They also stressed the need to continue simplifying administrative procedures to help small companies cut costs and time so that they can focus their resources on developing their business. 
VNS