Viet Nam imported more than 6,900 cars worth US$171 million in July, recording a drop of 11.2 per cent in volume and 2.6 per cent in value compared with the previous month.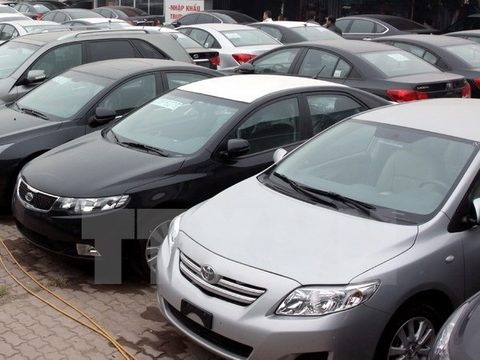 The Viet Nam's localisation rate is still low, causing the price of local cars to be higher than those imported from Thailand and Indonesia. 
According to a report from the General Department of Vietnam Customs, the volume of cars imported from Thailand, which is the largest exporter of cars to Viet Nam, was sharply down to 2,688 units worth $46.7 million, compared with June's 3,270 units worth $59 million.
The number of cars imported from South Korea was 519 units, down 123 units. The import of Indian cars was 64 units, down 36 units.
Meanwhile, there was an increase in the volume of cars imported from Indonesia last month, with 2,108 units imported to Viet Nam, more than 300 units higher than the previous month.
In the January-July period, the country spent more than $1.2 billion to import more than 57,800 units from foreign countries, a year-on-year decrease of 28,000 units.
In another development, the increasing import of cars and methods to enhance the capacity of the local auto manufacturing industry was highlighted at a seminar on the global automobile industry and lessons for Viet Nam, which was held in Ha Noi on August 10.
Deputy Director of the Central Institute for Economic Management (CIEM) Nguyen Thi Tue Anh said the country had been issuing targets to the automobile industry for a long time; however, it was currently underdeveloped and not as efficient as expected.
"There are many reasons — objective and subjective — but the key factor is that the market capacity is still small with low purchasing power, and it lacks proper policies and mechanism to inspire development," Tue Anh said.
The Ministry of Industry and Trade is building a package of policies to support the automobile industry's development, in which it targets to minimise costs for businesses to raise production efficiency and competition.
Learning from the experiences of other countries, experts said Viet Nam needed to take the initiative in mobilising human resources, especially grey matter, capital and technology, to set up concentrated automobile industry complexes, where part suppliers are a key force. With that it can establish a production chain supplying auto parts and components.
Pham Anh Tuan, head of the Vietnam Automobile Manufacturers' Association's Policy Subcommittee, said a car had more than 30,000 devices. However, automakers focused only on the key parts, therefore they needed contribution from part suppliers.
"The establishment of concentrated automobile industry complexes is very important as it will create conditions for the industry's development in Viet Nam," Tuan said.
Nguyen Thi Xuan Thuy from the MoIT's Policy and Strategy Institute said Viet Nam's automobile market was a potential market, thanks to its population and high GDP growth rate. However, it would face fierce competition from regional countries from January 1, 2018, when the tariff for car imports within ASEAN nations would become zero.
Meanwhile, the localisation rate is still low, as the locally-assembled auto businesses and domestic automakers are still suffering from import tax on parts and components, causing the price of local cars to be higher than those imported from Thailand and Indonesia. This has reduced the industry's competition capacity and threatened its development in the context of an open market, where the customers have the right to buy cars from various suppliers. 
VNS