Vietnam can obtain total export revenue of US$200 billion this year, up 13% versus last year, said Nguyen Phu Hoa, deputy head of the Export-Import Department under the Ministry of Industry and Trade.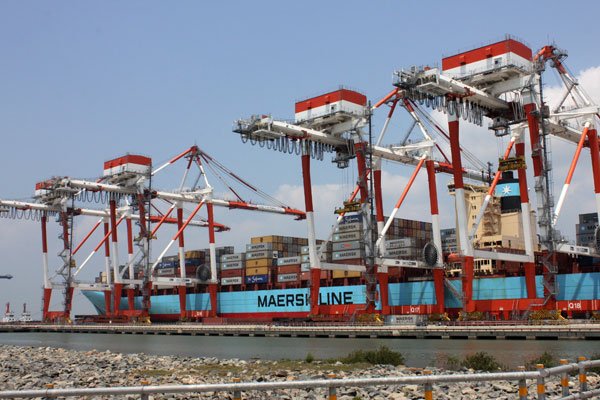 A container ship loads cargo at a Vietnam port. Vietnam can obtain total export revenue of US$200 billion this year
But the nation's import bill may amount to US$205 billion, a year-on-year increase of 17%, he told the Export Forum 2017 held on August 9 by the Trade and Investment Promotion Center of HCMC (ITPC).
This means trade would swing back into deficit, US$5 billion, this year after the country recorded a trade surplus of US$2.7 billion last year.
According to data of the General Department of Vietnam Customs, January-July export revenue totaled over US$115 billion, increasing nearly 19% over the year-ago period. There were 20 commodities with export revenue exceeding US$1 billion, and in particular, eight of them obtained export revenue of more than US$3 billion.
Industry associations have forecast a surge in exports of key items including farm produce, seafood and forestry products in the remaining months of the year as enterprises are shifting to exporting goods of higher value.
Meanwhile, Vietnam's imports in the first seven months of the year rose 24% to more than US$118 billion. As a result, the period saw a trade deficit of over US$3 billion.
According to the Ministry of Industry and Trade, Vietnam's economy will remain export-dependent in the years to come. Early this month, the Prime Minister approved a project to shore up the competitiveness of Vietnam's key export items by 2020 with a vision towards 2030 and obtain higher export revenue from key products.
To achieve these targets, the Government should have to tackle the difficulties faced by businesses, such as lengthy customs procedures at ports.
The Government will speed up the equitization of State-owned enterprises to raise capital for huge infrastructure projects as a way to support the corporate sector, the ministry added.
According to ITPC, HCMC reported exports of US$17 billion in the first half of 2017, up 17% against the same period last year, with shipments through the city's ports totaling US$15.7 billion, an increase of 17.5%. Domestic enterprises accounted for 38% of the total while foreign-invested enterprises made up 62%, 2.2% and 35% year-on-year respectively.
Regarding export items, processed products posted growth of 22.7%. Shipments of computers, electronics and components surged 59% and those of textiles and footwear grew 2.1% and 8.5%.
SGT