Unlicensed buildings could be revaluated and might not be demolished, provided they can meet the required standards with further planning and development, said Le Quang Hung, deputy construction minister.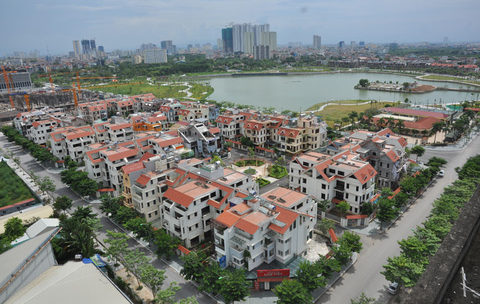 Viet Nam has around 60,000 types of licences for both small and large-scale real estate projects.
Hung also stressed, at a press meeting in Ha Noi on Thursday, that the country is estimated to have around 60,000 types of licences for both small and large-scale real estate projects, and the number of construction projects that violate regulations on licensing permissions have decreased annually. In the past five years, this rate went down by around 10 to 20 per cent, he added.
"However, cases of construction projects without permissions and violations of business licences have been seen nationwide. The plan is to suspend all illegal constructions," he stated, adding that unlicensed buildings will be demolished.
The legal framework for construction management and licensing has been gradually improved, he further added.
Bui Trung Dung, director of the ministry's Construction Department, said that the law on building and architectural planning management is the legal basis for licensing in the sector.
Nguyen Ngoc Tuan, chief inspector at the ministry, said that potentially illegal construction projects must ensure that they do not violate the boundaries of private land, and there must not be any legal disputes or people still living on the site if they want to continue.
The owners of illegal buildings will also be fined up to 50 per cent of the value of their building, he added.
He further added that in 2010-2011, the legal framework for licensing construction projects has not been formalised, which resulted in an "ask-and-give" policy at provincial level.
Therefore, the ministry has acted to resolve these violations, he concluded.
Controlling property market reports
While answering the issue of too many property reports with different market figures, Nguyen Trong Ninh, director of the ministry's Department of Housing and Real Estate Management, said that their information system has become extremely important, as it assists government agencies to review the requirements of businesses in terms of purchasing.
Ninh added that current regulations do not forbid businesses from exchanging information. Companies and individuals should therefore look at relevant information, as the available reports are not the same and are not exact, he further added.
The ministry receives official information from communes, wards, cities and provinces, as well as departments of construction. Other information from associations and consulting firms should be considered as reference only.
"The ministry has directed our information centre to create a property database, with a total investment of VND10 billion. It will take a long time to process the real estate information of all 63 localities, but we will establish teams to do the work at these localities," he said.
The ministry has also completed a draft decree on building, managing and using information systems on housing and the real estate market, to submit to the government for review. The information will include all projects, real estate transactions and yearly inventories. 
VNS