Construction of the Long Son Petrochemicals (LSP) complex in southern Ba Ria Vung Tau province is scheduled to take four and half years and commercial operations will begin in the first half of 2022, Mr. Roongrote Rangsiyopash, President and CEO of SCG, told a meeting releasing the company's unaudited operating results for the second quarter and first half of 2017, in Bangkok on July 26.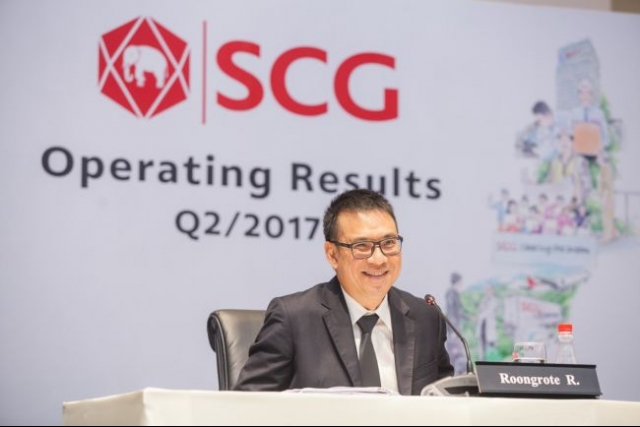 "SCG has recently approved investment in the first petrochemicals complex in Vietnam, Long Son Petrochemicals, with a 71 per cent stake and investment of $5.4 billion, with the Vietnam Oil and Gas Group (PetroVietnam)," he said.  
The project consists of state-of-the-art technology to support Vietnam in reducing imports and meeting demand. "Production accommodates a flexible feedstock with an Olefin production capacity of 1.6 million tons per year," he said.
He committed that SCG will continue to expand its business in ASEAN. In Vietnam, SCG's second quarter revenue from sales totaled $289 million, including sales from both operations in the country and imports from the Thai operations. This represents an increase of 17 per cent year-on-year, mainly from the packaging business.
In the first half, SCG's operations in Vietnam recorded revenue from sales of $532 million, a 17 per cent increase year-on-year. Revenue from the sales of high value added products and services was $2.486 billion, up 5 per cent from the previous year, and accounting for 38 per cent of total revenue from sales.
It recently unveiled its "Open Innovation Center", which enhances science and technology collaboration from research institutions and corporates around the world, in an attempt to combine ideas and introduce innovative products and services to the market as well as to unlock the ability to tackle consumer needs with speed and precision.
SCG is also seeking to invest in startups, with the recent launch of AddVentures, a corporate venture capital fund. AddVentures highlights investments in digital technology and innovation to support digital transformation. Investments are considered both as direct investments and venture capital. Moreover, an internal startup program has been established for SCG employees to learn from startup business models. SCG also plans to invest in innovation development, at around $144 million in 2017.
VN Economic Times