The Ministry of Finance has proposed increasing import duty on coal instead of reducing it for the Vietnam National Coal - Mineral Industries Group (Vinacomin) to cope with difficulties, Vietnamnet news website reports.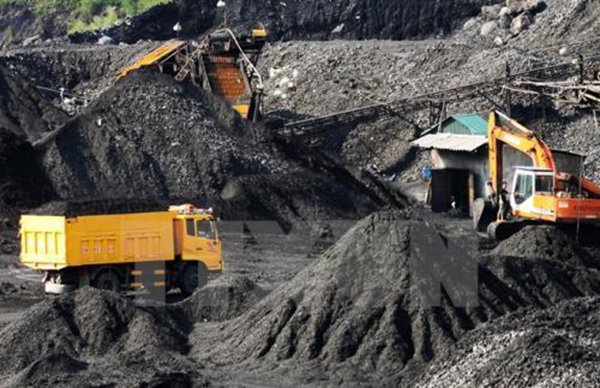 Coal mining in northern Vietnam. The Ministry of Finance has proposed increasing import duty on coal instead of reducing it 
The ministry has proposed the Government increase import duty on coal to 3% or 5% from the current 0%. The volume of coal inventories of the group had reached 9.5 million tons by May.
In a report on solutions to cut taxes for coal submitted to the Prime Minister, the ministry said the current tax range is 10-45%. Coal exports are subject to 10-15% tax, the lowest rate regulated by the National Assembly. In addition, adjusting mineral tariffs is under the jurisdiction of the National Assembly.
According to Resolution 1269 on environmental protection tariffs of the Standing Committee of the National Assembly, tax rates for lignite, anthracite coal and fat coal are VND10,000, VND20,000 and VND10,000 respectively, a very low rate compared to other countries.
Coal is subject to a tax of 10-12% compared to the maximum 20% as stipulated in the Natural Resource Tax Law. The tax rate is appropriate to help protect coal resources and ensure electricity production.
According to a coal development plan approved by the Prime Minister, the industry would reduce coal exports and focus on export of coal for which the nation has little demand. Two million tons of coal is expected to be shipped overseas in 2017-2020.
According to the General Department of Vietnam Customs, Vinacomin and Dong Bac Co Ltd imported about 2.6 million tons of coal in 2016 and more than 55 other enterprises bought 13.3 million tons worth over US$900 million from Australia, Russia and Indonesia, among others. However, coal prices have increased again and demand for imported coal has fallen since early this year.
The ministry has forecast high demand for imported coal in the coming time with 11.7 million tons in 2017, 40.2 million tons in 2020, 70.3 million tons in 2025 and 102 million tons in 2030.
A report of Vinacomin reveals that 2016 was the most difficult year of the group when the industry had to import 12.6 million tons of coal. The group said that tariffs on coal exports in recent years have gone up to 10%.
In 2012-2016, the group had to continuously reduce selling prices of coal. The volume of coal in stock was 8.45 million tons by June 30, down nearly one million tons versus 2016.
SGT