Regional trade pacts and business climate improvements have made Vietnam become a manufacturing hub for ASEAN investors and firms.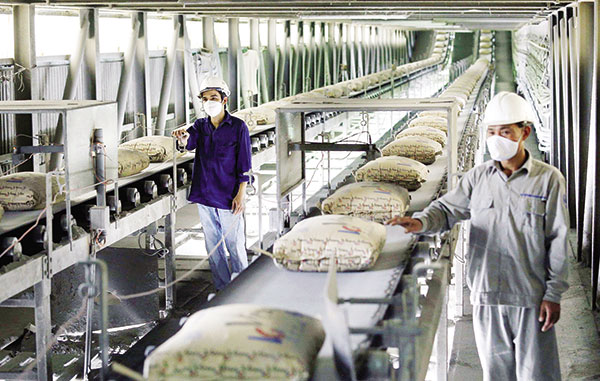 Vietnam's cement sector has allured ASEAN investors with some big acquisition deals
Rebecca Fatima Sta Maria, senior policy researcher from the Economic Research Institute for ASEAN and East Asia (ERIA), said that under the institute's latest survey about the ASEAN investment situation, Vietnam has been considered by ASEAN as "a regional special investment destination".
"Investment from ASEAN has been strongly flowing into Vietnam, focusing in many sectors, especially in the industrial manufacturing and processing sector," Maria said at last week's Hanoi-based conference on the 50-year anniversary of ASEAN, organised by Vietnam's Ministry of Foreign Affairs (MoFA) and ERIA.
ERIA statistics showed that by late 2016, the total registered investment capital inflows into Vietnam from ASEAN (Cambodia, Brunei, Indonesia, Laos, Malaysia, the Philippines, Singapore, and Thailand) reached almost $60 billion for 3,127 valid investment projects. About half of that is concentrated into the manufacturing and processing industry.
"The fact that foreign direct investment (FDI) from ASEAN went into the manufacturing and processing industry the most demonstrates Vietnam is emerging as an important industrial manufacturing hub of ASEAN, also thanks to its improved business and investment climate," Maria said.
Nguyen Quoc Dung, MoFA Deputy Minister and Vietnam's ASEAN SOM leader, said that ASEAN total registered capital into Vietnam has so far hit over $64 billion, the majority of which [about 60 per cent] is focused on the manufacturing and processing industry.
"ASEAN investors and groups are building Vietnam as a hub of their manufacturing and processing projects," Dung said.
Recently, about 200 Indonesian medium- and large-sized firms, which had been doing business successfully in Indonesia and abroad, came to Vietnam to seek partners to set up joint ventures in many sectors, to produce such products as iron and steel sandpaper, coal, cotton, gloves, industrial cables, tyres, organic fertiliser, hand tractors, and power tillers.
The Indonesian firms include Gunung Steel Group, Pantheon Energie, Sinar Deli, Trias Indra Saputra, Sumberdaya Sewatama, Karya Hidup Sentosa, Citra Westlake City Development, Infrastruktur Asia, and Excellence Qualities Yarn, among others.
Indonesia's state-owned Semen Indonesia Group is seeking more opportunities to acquire construction material-making companies in Vietnam. Semen acquired part of Vietnam's Thang Long Cement JSC in 2013.
Japfa Comfeed Vietnam, which began operating in Vietnam in 1996, said that it will expand production in Vietnam to raise its annual capacity to one million tonnes. Currently it has five animal feed mills and 12 chicken breeding farms in Vietnam. Two years ago, it established a joint venture with the Netherlands' Hypor B.V. Company to produce global swine genetics in Vietnam.
In another case, Thailand's SCG Cement and Building Materials spent $440 million buying out the domestic Vietnam Building Materials JSC. After this transaction, SCG's total annual cement capacity in ASEAN, excluding Thailand, rose to 10.5 million tonnes. In Thailand, the firm's production has an annual capacity of 23 million tonnes.
ERIA's executive director Hidetoshi Nishimura validated the FDI inflow in saying, "Vietnam is a rising star in the region and the world."
"Many regional and global firms have been well operating in Vietnam, such as Samsung, Canon, SCG, Central Group, IREKA, and Tan Chong. Vietnam is enhancing its competitive advantages in the global value chains. ASEAN, with its own free trade agreement (FTAs) and others with its partners, is offering numerous opportunities to Vietnam in luring more FDI, " added Nishimura.
For example, the ASEAN Trade in Goods Agreement (ATIGA), which took effect on May 17, 2010, is focused on ameliorating non-tariff barriers as well as erasing tariffs. This includes enhancing customs co-operation, sanitation standards, and the process for quarantines.
Under the ATIGA, Vietnam will have to reduce all import tariffs to 0 per cent by 2018 for goods imported from the ASEAN Economic Community. Vietnam has so far reduced the tariffs to 0 per cent for almost of its product lines.
Currently, ASEAN has FTAs in place with China, Japan, Korea, India, Australia, and New Zealand.
VIR