Le Ha of Hanoi, who has been selling clothes on Facebook, is stressed and worried after receiving a message from tax authorities inviting her to come and declare her income.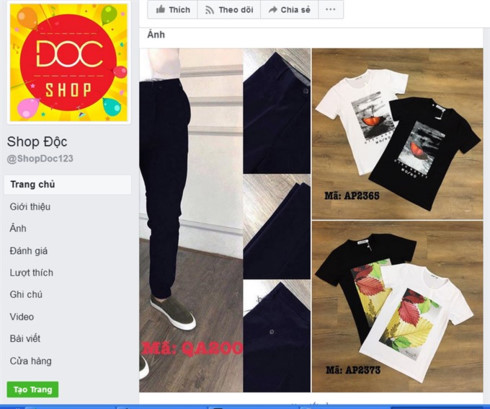 Ha is one of over 13,400 Facebook account holders in Hanoi who've been identified by the Hanoi Taxation Department as online traders.
"I have been selling clothes through Facebook for years, getting about 10 orders each day with maximum daily sales of around VND5 million (US$220)," Ha told Vietnam News, admitting that unlike other shop owners, she doesn't have to declare her business or pay taxes.
She was satisfied with her earnings and not having to bother about any intervention from State management agencies.
The promise of attractive profits has prompted many people to jump on the bandwagon, catching the attention of authorities trying to reduce tax losses from State budget collection.
A tax administration project for e-commerce business has been drawn up, with the two taxation departments of Hanoi and HCM City functioning as pioneers in bringing business owners selling merchandise on social media, especially Facebook, into the tax bracket.
Vien Viet Hung, deputy director of Hanoi Taxation Department, told Vietnam News that the department had collected information on the identity and telephone numbers of the 13,422 Facebook traders.
Since late June, the department has been sending SMS messages to these traders, encouraging and instructing them to voluntarily register their operations, declare income and pay taxes.
However, after sending messages twice, only 1,000 of the 13,422 phone numbers have replied, and only around 500 have approached the department on their own to register to pay taxes, Hung said.
In a recent interview with the Vietnam News Agency, Chairwoman of the Vietnam Tax Consultant Association, Nguyen Thi Cuc, said that under current laws, all institutions and individuals that are doing businesses, whether through traditional channels or via e-commerce platforms, are required to declare income and pay taxes.
However, she also conceded that in the current situation, the tax collection was totally based on the willingness of traders, their authenticity, honesty and integrity.
Income bracket
According to the law, only online sellers with revenues over VND100 million a year will be subject to taxation.
However, many Facebook merchants are afraid that the taxation process will be fair.
"If paying tax is an obligation, we are ready to fulfill it, as long as it is fair to everyone. What if I tell the truth, while other Facebook sellers lie about their revenue? They will pay less or no tax, which is unfair," Le Ha told Vietnam News.
Regarding income declaration, many argue that was very difficult to determine the exact revenue of those who do business on internet, so it is not possible to ensure fair treatment of honest sellers and those who deliberately evade taxes.
But Ta Thi Phuong Lan, deputy head of the division in charge of personal income tax under the General Department of Taxation, said tax authorities can assess Facebook sellers' revenue by checking their sources of goods, post offices, delivery companies, and bank payments.
One of the most difficulties in determining Facebook traders' income is the low rate of non-cash transactions in Vietnam, said Truong Thanh Duc, chairman of the Basico Law Firm.
In other countries, buyers make payments via banks, so it is not difficult to identify the revenue from online business. Therefore, it is necessary to apply measures to encourage Vietnamese to use non-cash payment methods for online transactions, Duc said.
Recently, the General Department of Taxation issued Document No. 2623/TCT-CS, asking local taxation departments to co-ordinate with network operators to gather information on online sellers, including identity and bank number accounts, so that they can monitor all online transactions.
However, in response to the Vietnam News Agency, CMC Telecommunication Infrastructure Joint Stock Co (CMC Telecom) said they haven't received any communication from tax authorities.
The company said that if needed, they can explain and persuade customers to provide them with necessary and detailed information, but they can't ensure that all the customers will agree to supply this.
Step by step
Transactions on the Internet are difficult to control and tax collection procedures can't be comprehensively introduced in a short time, it should be done step by step, said Nguyen Huu Tuan, Head of the E-commerce Management Division of the E-commerce and Information Technology Department under the Ministry of Industry and Trade.
To collect taxes, authorities should understand each business as they have their own specific characteristics, Tuan said.
With millions of Facebook accounts, tax authorities should classify them based on the nature of their operations and key products, he said.
In the first phase, the tax authority should target large and professional businesses. It is easy to identify these account holders as they will have popular Facebook pages with a large numbers of followers, likes, posts and comments, he said.
The rest are likely to be individuals selling things online as a side job or even seasonal business. They do not sell goods regularly, so tax departments should carefully review the list before inviting them to their offices, Tuấn said.
"There are petty traders with modest monthly incomes. If we try to control all Facebook sellers, we will use up significant resources and end up being inefficient," he said.
Sharing the same idea, Vien Viet Hung, deputy director of Hanoi Taxation Department, said to obtain necessary information on online businesses, tax departments nationwide should have enough staff who are well versed with social media networks.
The Hanoi Taxation Department will seek co-operation and support from many concerned agencies like commercial banks, post offices, especially social networks like Facebook, to provide information about account holders, Hung said.
Late last month, reporters of the Vietnam News Agency contacted the Facebook representative office in Vietnam with questions about the tax collection issue, but hadn't  received any response at the time of going to print.
VNS