According a report from the Ministry of Industry and Trade, demand for automobiles will likely reach  between 800,000-900,000 units by 2025 and 1.5-1.8 million by 2030.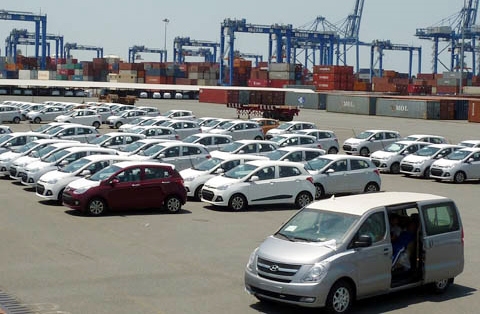 The report said in recent years the automobile market growth has been much higher than expected though prices in Viet Nam remain very high (car prices in Viet Nam are double those in neighbouring countries like Thailand and Indonesia).
For instance, the below-nine-seat market segment has grown by 20-30 per cent a year in recent years.
The problem here is that Vietnamese automakers are not developed enough to take the advantage of this growth, and so the market is dominated by foreign cars.
Most cars sold in Viet Nam now are foreign brands produced locally through joint ventures with multinationals or fully imported.
The average use of locally made parts in the auto industry is way lower than the targets of 40 per cent for 2020 and 60 per cent for 2025.
At present the rate for cars with less than nine seats is only between 7 and 10 per cent depending on the type of the vehicles, much lower than those of between 65 and 76 per cent in regional countries.
Auto manufacturing and assembling enterprises in the country import auto parts from various sources such as ASEAN, Japan, China, South Korea, and Europe.
The imports raise the production costs due to import tax and others such as transportation.
The automotive parts industry is facing hardship partly because they have to rely mainly – to the tune of 60-70 per cent -- on imported feedstock.
For instance, some part suppliers have to import steel and iron because most of the local production is snapped up by the construction industry.
This makes locally-assembled cars cost 20 percent more than imports from neighbouring countries such as Thailand and Indonesia, especially from 2018 when tariffs on car imports into Việt Nam from ASEAN member countries will be cut to zero from the current 50 percent.
Another reason is that the size of the Vietnamese auto market is not large enough to attract foreign auto parts manufacturers. Automobile is an industry that often banks on advantages created by market size.
The size of the Vietnamese market is much smaller than those of other countries' in the region at one-third of Thailand's and one-fourth of Indonesia's.
Experts from the Ministry of Industry and Trade warn that if the auto industry does not develop soon the market would see all sedans imported and 50 per cent of buses and trucks imported by 2025. 
If Viet Nam does not continue producing or assembling vehicles, this will also result in lost opportunities to develop other related sectors such as mechanical engineering, rubber, plastics, and electronics.
It would be ironic because the Vietnamese auto market is potentially very promising, whichever metric one chooses to look at: population, affluence, current car ownership ratio or infrastructure.
The country has over 90 million inhabitants, with the middle class growing and per capita income estimated to reach the threshold of nearly US$3,000 by 2020.
The auto ownership rate will only reach 50 vehicles per 1,000 inhabitants by 2025.
Road networks, including inter-city links through a network of highways, are growing strongly, creating favourable conditions for travelling by private vehicles.
With the presence of many of the world's large auto brands, such as Toyota, Honda, Ford, GM and Mecedes-Benz, it will be unfortunate if Việt Nam does not take advantage to build its automotive industry and foster the growth of the auto parts sector.
Việt Nam has a vast network of motorbike parts suppliers, which is a basis for the development of the auto parts industry.
But analysts said to develop the industry it is necessary to have greater co-operation between the various sections of the Government.
The Government should make policies more focused and effective and related ministries should seek common ground on the issue, they said.
Often they work at cross purposes: for instance, the Ministry of Industry and Trade wants to expand the auto market while the Ministry of Transport faces pressure on infrastructure and the Ministry of Finance tends to limit the purchase of personal cars by slapping more fees.
The analysts also stressed the need for the auto industry to cope with competition after 2018, when ASEAN import tariffs are cut to zero, by reducing costs and unnecessary fees.
To do this, they suggested taking advantage of free trade agreements to increase exports of spare parts and participate in the global supply chains.
As for the Government, they said it should have proper measures such as anti-fraud provisions to ensure transparent and healthy development of the auto market.
Policies to ensure fair competition between domestically manufactured cars and imports are vital, they said. 
VNS