The Vietnam International Bank (VIB) and Commonwealth Bank of Australia (CBA) announced on Monday that CBA's HCM City branch would be sold to VIB.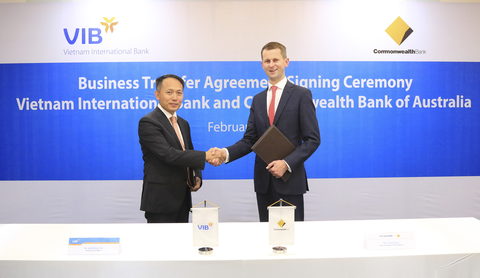 Representatives of the two banks at the announcement event.
The sale was approved by the State Bank of Viet Nam last week, the two sides said.
They however refused to disclose the value of the transaction.
VIB has a network of 160 branches and more than 400 ATMs across Viet Nam.
CBA said its HCM City branch has around 20,000 customers.
"This decision signifies our commitment to the Vietnamese market as we strengthen our partnership with VIB," Steve Ellis, general manager of CBA in Viet Nam, said.
"It demonstrates the confidence CBA has in VIB to continue to provide high-quality service to our customers."
CBA said it would retain the representative office in Hà Nội, which it had opened in 1995, to liaise with Government agencies, financial institutions and corporations.
Han Ngoc Vu, chief executive officer, VIB, said: "We value our partnership with CBA and have always looked to strengthen our partnership to bring the capabilities of CBA's HCM City branch together with VIB's."
He added that the two banks will be working closely with customers in the coming weeks to ensure a smooth transition of their banking relationship to VIB.
The two banks expect the sale to be completed in the third quarter of this year.
CBA had opened the branch in 2008.
It has a 20 per cent share in VIB, which it had bought in 2009-10.
VNS