China is importing 46.5% of Vietnam's rice, a huge increase from the previous 35-36% seen in previous years.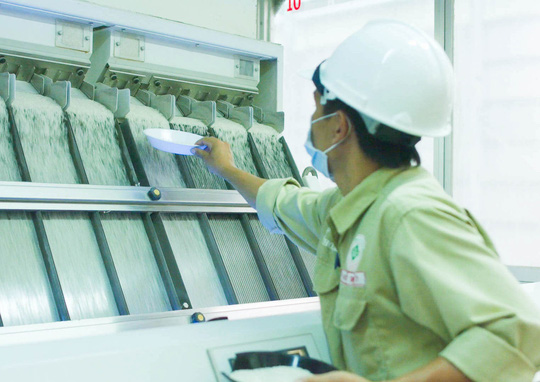 Worker looks over the rice
According to the Ministry of Agriculture and Rural Development, Vietnam exported 2.8 million tonnes of rice valued USD1.2bn in the first six months of 2017. Both the volume and value increased by 6.3% and 4.9% respectively compared to last year. 
However, average prices in the first five months decreased by 0.9% to USD445.5 per tonne compared to last year.
China continues to be Vietnam's top importer. In the first five months, Vietnam exported 1.1 million tonnes of rice to China for USD488m as demands from China is huge. Chinese traders often buy rice directly from the firms' storage and then imported into China via border gates or commissioned another importer. They also re-export the rice to other countries.
Pham Thai Binh, director of Trung An Hi-tech Farming JSC, said requirements from Chinese traders were getting tighter, similar to other markets like the US and Japan. Not only the rice must be safe but their origin could also be tracked. Currently, only 22 out of 150 Vietnamese firms were able to export to China. 
Despite exporting huge volumes of rice to China, Vietnam is still unable to build a recognisable brand name there as most of the rice is repackaged by Chinese traders.
Loc Troi Group is the only firm that have a contract with Hunan Leading Science and Technology Development Co Ltd to officially distribute rice and other agriculture products in an attempt to build a Vietnamese rice brand in China.
Dtinews