Most foreign fast food chains in Vietnam have failed to realise their initial expansion plans made upon entering the market. Recently, some have suggested that international brands have failed to defeat local Vietnamese food stalls.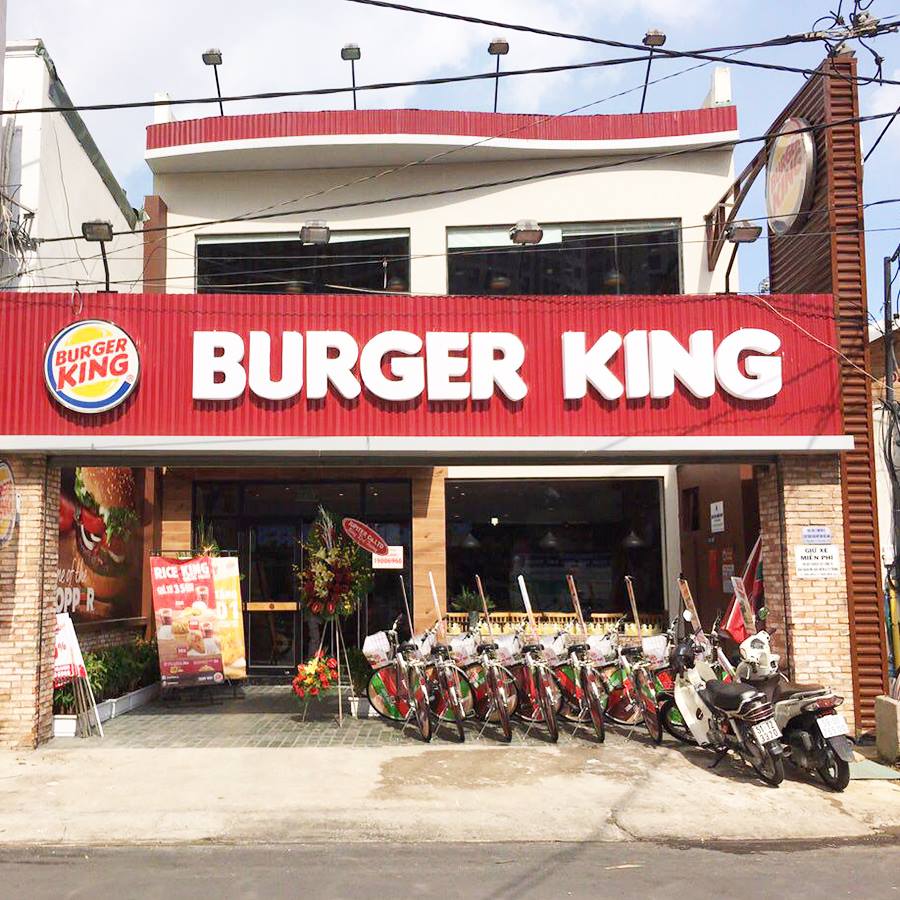 Experts say there are several challenges: intense competition from the increasing number of domestic and foreign food companies, high prices (a burger goes for "four times a bowl of Pho"), and the fact that hamburgers and French fries are just not for Vietnamese people.
Below are some major chains and their progress in Vietnam compared to other markets in Asia.
Burger King
Burger King has closed five restaurants in Ho Chi Minh City, Hanoi, and Danang in recent years, citing sub-optimal location, according to news reports, despite an ambitious $40-million investment plan upon its entry in 2012.
At the time, Burger King expected to open 60 restaurants nationwide, as consumers were excited to try the famous hamburger from the west. However, five years later, the fast food chain has only reached a quarter of this target with 15 restaurants: seven in Hanoi and eight in Ho Chi Minh City.
The reasons Burger King missed its original goal, according to experts, could be tough competition, high operating costs, and a misunderstanding of Vietnamese taste buds.
"In the short term, hamburgers cannot become a popular choice for Vietnamese consumers," said Nguyen Manh Tu, business development director of Blue Kite Food and Beverage Services Company Limited, which has the franchise rights to Burger King in Vietnam, in an exchange with the broadcaster VTV.
Such an initial drawback would require fast food chains to adjust their menus or strategies. In the case of Burger King, after re-negotiating the franchising terms to reduce the projected store count to 15 and refining its menu, its sales has increased by 50 per cent each year for the last two years, according to VTV. Good customer service and the quality of ingredients, with beef imported from Australia, will continue to be Burger King's advantage in the eyes of Vietnamese customers.
Tu added that the future of Burger King will depend largely on the restructuring of Restaurant Brands International, the multinational company that owns several fast food brands, including Burger King.
Other markets in Southeast Asia have welcomed Burger King long before Vietnam. It entered Malaysia in 1997 and now has more than 50 Burger King restaurants in the country. In the Philippines, Burger King was acquired by local fast food giant Jollibee Foods Corporation, which in 2011 bought a 54-per cent stake in BK Titans Inc., the holder of franchise rights to Burger King in the Philippines.
McDonald's
Originally from the United States, the golden arch logo of McDonald's is now recognisable everywhere in the world.
In 1992, McDonald's opened its largest restaurant in the world at the time in Beijing, and 40,000 customers came to taste a bite of American culture on the first day of business, according to James Watson's book "Golden Arches East: McDonald's in East Asia."
Four years later, by the end of 1996, McDonald's had 29 outlets in Beijing, according to Associated Press. Generally perceived by Chinese consumers as a symbol of status and western modernity, McDonald's grew rapidly in China, a country where its well-trained staff and clean restaurants were a novelty in the 1990s, according to the New York Times.
Ten years on, in 2006, McDonald's had 784 restaurants in China, opening 75 new restaurants a year on average, according to company data. The company also had more than 150 restaurants in Hong Kong during this period, and at one point served half a million fast food fans per day, according to BBC News. (Hong Kong's population was 7.3 million in 2015.)
Fast forward five years to 2011, and the fast-food chain had 1,464 outlets in China, meaning it opened 136 new outlets each year during the five-year period.
Today, there are more than 2,400 restaurants in mainland China, according to the New York Times. However, McDonald's will sell 80 per cent of its businesses in China and Hong Kong to the state-owned conglomerate Citic and private equity firm Carlyle Group, granting these firms franchise rights. This is part of McDonald's newfound plan to turn 95 per cent of its restaurants into franchises, thereby saving money and passing the hefty cost of modernising the stores on to franchisees, analysts said.
Last year, McDonald's also sold the franchise rights to its restaurants in Malaysia and Singapore to Saudi Arabian Lionhorn Private Limited, according to Reuters.
With a network of 262 restaurants, McDonald's recorded a year-on-year revenue growth of 16 per cent in 2016 in Malaysia and is looking to repeat this with a double digit growth in revenue and profit this year, according to the company website.
Meanwhile, almost four decades after entering Singapore in 1979, McDonald's 120 restaurants claims to serve 1.2 million customers each week. (The island had a population of 5.5 million as of 2015.)
Another country in the region where McDonald's has a long history is the Philippines. The first McDonald's restaurant opened in 1981 in central Manila. More than 36 years later, the Philippines is one of its biggest markets in Asia in terms of store count, only behind China, Japan, and Taiwan, according to company data. The company has always reported double-digit annual growth in revenue in the past 10 years, and in 2016 sales increased by 14 per cent. It opened 45 new outlets last year and is targeting 45 more this year.
In Vietnam, McDonald's is seen to be growing slowly. Three years ago, as customers queued up to try the first Vietnamese restaurant in Ho Chi Minh City, McDonald's planned to open 100 restaurants within the decade (average 10 new restaurants each year). However, the chain now has only 15 restaurants, falling rather short of the target, according to Zing.vn news website.
Jollibee
Jollibee is the Philippines's home-grown fast-food chain. Filipino-Chinese founder Tony Tan Caktiong started Jollibee selling ice cream in 1978, but eventually shifted to hamburgers to meet market demand. After many years of competing with McDonald's, Jollibee's more than 2,000 restaurants controlled 18 per cent of the Metro Manila market, compared to the 10 per cent of McDonald's, according to Forbes Asia's 2013 data.
In a few sentences, Tan explained this feat to Forbes Asia, saying "We found that they excelled over us in all aspects—except taste. It suited Americans, but not really Filipinos. Ours (food) tends to be sweeter, spicier, and more salty. We were lucky as it was not easy for them to change their product because of their global image."
Jollibee also wanted to become a global player, as there are large Filipino diasporas in many countries longing for the familiar taste of their hometown food. The company entered the US in the 1980s and Saudi Arabia, Qatar, and the United Arab Emirates in 2008, according to Forbes Asia. New locations were planned in countries, such as Britain, Italy, and Canada, according to Business Insider.
In addition to developing its own brand, the company also bought already-popular brands and works to improve them. For example, in China, Jollibee bought the noodle and rice chain Yonghe King in 2014, the congee brand Hong Zhuang Yuan back in 2008, and the beef noodle chain San Pin Wang in 2012, according to Forbes Asia.
Jollibee bought Burger King's 23 restaurants in the Philippines in 2011. More recently, it also purchased 40 per cent of American burger chain Smashburger and made plans to open at least 1,400 Dunkin' Donuts locations in China in the next 20 years.
Jollibee Foods is now the biggest restaurant chain in Asia, boasting about 3,290 outlets worldwide under various brands, according to the Philippine Daily Inquirer.
In Vietnam, Jollibee opened its first restaurant in 1996 and now boasts 80 outlets nationwide. Jollibee is successful among foreign brands on the Vietnamese fast food market. It has been growing rapidly in recent years, with two thirds of its restaurants having been opened in the last five years, according to numbers from dantri.com.vn. The company began granting franchise rights in late 2015.
At the end of 2016, Jollibee Foods went into a joint venture with Viet Thai International to create SuperFoods Group, thereby gaining ownership of several other brands, such as Highlands Coffee, Pho 24, and Hard Rock Café.
Jollibee is expected to take the company public via an Initial Public Offering in 2019, an indication of Jollibee's success as well as ambition to imitate its success in other countries: buying and growing major local brands.
Thanks to this strategy, Highlands Coffee doubled the number of coffee shops from 60 in 2014 to 130 in 2016, according to news site Soha.
Subway
Claiming to be a healthier alternative, Subway is a little bit different. Entering Vietnam six years ago, the world's biggest fast food brand has set a goal of 50 restaurants in Vietnam by 2015. However, at present, there are only six of them in Ho Chi Minh City, as previously reported by VIR.
"Like other fast food brands, Subway entered Vietnam late. Initially, we had to adjust our strategies to fit the culture as well as market trends. It takes time for us to adapt to the differences in the Vietnamese market to get the desired foothold here," Mark Mason McGrath, general director of Subway Vietnam, explained to VIR in February.
In Southeast Asia, Subway has opened 200 restaurants in Singapore, 100 in Thailand, and 40 in the Philippines. However, Subway has not reached its expected goals in Vietnam.
Pressure to conform
In conclusion, most fast food brands entered Vietnam with big promises, probably due to their success in other markets, such as the Philippines, Malaysia or China. However, several brands, such as McDonald's, Burger King or Subway, set foot in Vietnam much later than other markets, which seemed to be a big disadvantage, while chains that opened long before, such as Jollibee, Lotteria, and KFC, seem to be doing better.
News reports and expert opinion seem to agree that foreign fast food chains have not been able to win the heart of Vietnamese consumers because they lack that local taste that could entice them to return time and again. There are signs of change, such as rice being added to the menu (the rice and fried chicken combination is unheard of in the west) or Jollibee beginning to use traditional Vietnamese fish sauce to marinate its fried chicken, as the company announced recently.
According to Jollibee's data, 90 per cent of customers liked the fried chicken seasoned with fish sauce and would eat it again. Such an adjustment is something other fast food chains should take notice of.
VIR