A number of commercial banks have been increasing promotional rates for long-term deposits by 0.1 to 0.2 per cent per annum, along with issuing additional certificates of deposit, in an attempt to safely restructure their reserves, said Vuong Duy Lam of the National Institute for Vietnam Finance under the Ministry of Finance.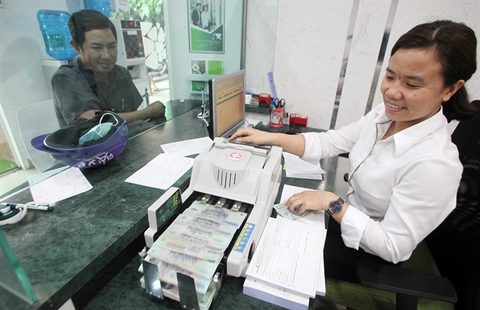 Customer at a Vietcombank branch in Khanh Hoa Province.
The Saigon Thuong Tin Commercial Joint Stock Bank (Sacombank) increased annual deposit rates for 15 to 36 month terms by 0.1 to 0.2 per cent to around 6.9 to 7 per cent starting June 7. 
The Vietnam Export Import Commercial Joint Stock Bank (Eximbank) also announced a slight increase of 0.1 to 0.2 per cent per annum for a number of deposit terms. 
The bank now offers a maximum eight per cent rate per year for 24-month and 36-month deposits, and 7.5 per cent for 13-month deposits.
Bac A Bank has increased slightly the deposit rates for six to 36 months by 0.1 to 0.15 per cent per year, making its highest rate 7.75 per cent. 
Deposit rates at the National Citizen Bank have also increased by 0.6 per cent annually to 7.3 per cent.
In accordance with the State Bank of Vietnam (SBV)'s Circular 06/2016, commercial banks are set to lower their ratio of short-term funds used for medium and long-term loans from 60 per cent last year to 50 per cent this year.
This will not adversely effect the national financial system as the banking system's abundant liquidity coupled with open market operations (OMO) should barely put pressure on interest rates, Lam added.
According to the SBV, credit institutions have reported stable deposit and lending rates for first five months this year. 
At present, annual lending interest averages 6 to 9 per cent for short-term loans and 9 to 11 per cent for medium and long-term loans, while short-term lending rates for premium customers clock in at 4 to 5 per cent per annum.
These balanced rates are the result of the SBV's management in supporting financial organisations to stabilise interest rates through appropriate liquidity adjustment to enhance business efficiency. 
Lam said that when commercial banks finish balancing their capital, lower lending rates will be more accessible by the end of 2017. 
VNS