Many shop owners in Hanoi are hiring topless male waiters or hairdressers as a PR stunt to attract customers.
A restaurant on Thai Ha Street hired topless waiters to attract customers
The trend started at a restaurant on Thai Ha Street. The images of young men without a shirt on and hot body made many curious and went to the restaurant to see for themselves.
Tran Thai Linh, a local in Dong Da District, said she also went to the restaurant out of curiosity but then she was disappointed after discovering that the men only appeared for two minutes when the restaurant introduce new dishes.
Linh said the restaurant definitely hit the nail on the head as everybody liked beautiful things. The images were shared by women are those who came to the restaurant at that moment.
"I wasn't there personally but it looked like both adults and children were at the restaurants while the topless waiters appeared. This may not be good for children as they are too young and people of different age groups also come here to eat and may find it offensive," Linh said.
After the images and the video clip were shared widely on the internet, many people commented that the PR stunt was crude and that they prefer waiters in ties and shirts.
Nguyen Minh Hoang, head of the marketing department of the restaurants, said, "This is a private event to introduce new dishes. All 120 guests we invited are students and office workers age 18 to 35. However, some people who couldn't attend gave their tickets to their relatives and acquaintances. That's why there are elderly people and children."
Hoang said the restaurants couldn't exactly tell the guests to leave then. He said such private event had been held in many countries before but the restaurant failed to predict the unexpected outcome.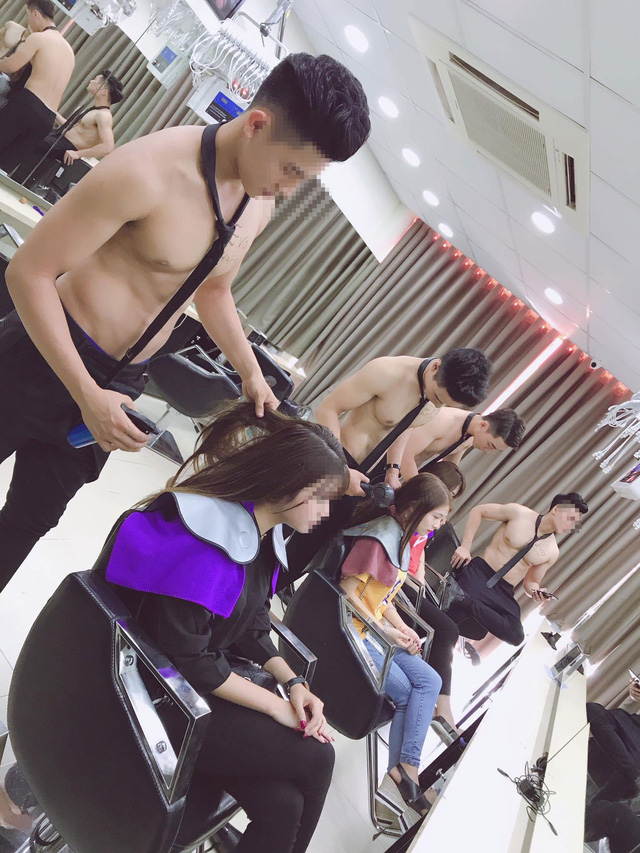 Topless hairdressers hired for special event
Not long after, another clip was quickly shared on Facebook, showing hairdressers in only trousers and ties serving customers. Many said they would ask their friends to go to the salon.
Trinh Minh Hang from Quang Ninh Province said, "I needed my hair done and wanted to experience the service by those muscular and handsome men so I called the salon. However, they said the men were there for a special event and they only washed and dried your hair."
Kim Anh, an office worker in Thanh Tri District, said at first she wanted to try too but then was persuaded by her friends that it was not very appropriate.   
Hanoi Department of Culture, Sports and Tourism fined the Tran Anh Company which runs electronic goods stores VND40 million (USD1,920) fast year for employing promotional girls wearing bikinis to greet customers last year. The company claimed that they just co-operated with a partner to make a sex education video series, and it was not a marketing campaign.
In 2012, VietJet Air was also fined VND20m for in-flight bikini show to celebrate its first flight between Ho Chi Minh City and Nha Trang.
dtinews