A major cause of land price bubbles in Viet Nam, known as "fever", is the lack of transparent information about the master plan, infrastructure works and new projects.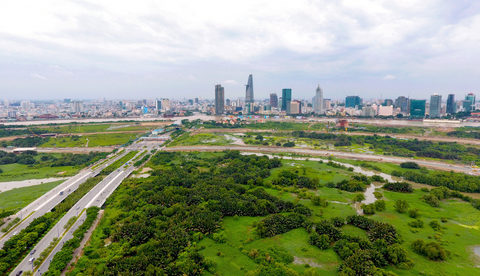 The lack of transparent information about the master plan, infrastructure works is attributable to the current "fever" of land prices in HCM City. 
To address this problem, the HCM City People's Committee has instructed relevant authorities to develop software that will allow the public to obtain land-use plans on their mobile phones.
"We must publicly announce all detail land-use planning's from commune to district levels and they should be accessible by mobile phone to avoid the land 'fever' that occurs periodically," Le Van Khoa, deputy chairman of the People's Committee, told a meeting held middle of last month to try and quell rumours that were giving rise to property price bubbles in outlying districts like Cu Chi, Hoc Mon, Binh Chanh, Nha Be, and Can Gio in the last few months.
At the meeting, authorities denied rumours that the city plans to upgrade Nha Be, Binh Chanh and Hoc Mon into downtown districts and carry out new works and projects in these districts.
The People's Committee has instructed all districts to improve land administration and called on the State Bank of Viet Nam (SBV)'s HCM City office to instruct banks to tighten lending to the property sector.
From now on relevant authorities will respond immediately and publicly to rumours that threaten to cause a price bubble.
"City spokespersons should make official announcements immediately if any problems crop up and not wait for meetings because if we provide accurate information the media will help the public know about them," Tat Thanh Cang, deputy secretary of the city Party Committee, said.
After the authorities indicated they were determined to forestall land price bubbles, prices immediately fell by 15–30 per cent, even 50 per cent in some places, and, importantly, trading has ground to a halt.
Bubbles began to build last year after landowners in outlying districts like 9, 12, Thu Duc, Binh Tan, Nha Be, Binh Chanh, Hoc Mon, Cu Chi, and Can Gio began to carve up their lands into plots following the city's issuance of Decision No 33/2014/QD-UBND, which allows this.
Prices increased by 30 – 70 per cent, going up to VND20 million (US$900) per square meter in some places.
Bubble reasons
"Speculators and land brokers are the reason for the current land fever because they get the most benefit from it," Le Hoang Chau, chairman of the HCM City Real Estate Association (HoREA), said.
"The land fever is very dangerous. It badly impacts and threatens the healthy development of the city's real estate market."
He listed four main reasons for the current land price upsurge.
Firstly, major urban traffic infrastructure projects like metro lines, highways, beltways, roads and bridges had ignited an appetite for residential lands near them.
Secondly, authorities had not been quick enough to quell real estate-related rumors like the ones about outlying districts becoming part of downtown and new urban areas being developed in the east, west and south of the city.
Thirdly, some property companies had announced grandiose plans. Vingroup, for instance, said it would build a 400-hectare safari in Cu Chi District and a 2,000ha residential area by reclaiming land from the sea in Can Gio District.
Tuan Chau Group had said it would build a 60-kilometre road along the Sai Gon River between District 1 and Cu Chi, a 15,000ha town in Cu Chi and a 1,000ha urban area in Can Gio.
Fourthly, land brokers and speculators had taken advantage of Decision No 33/2014/QD-UBND to divide land into smaller lots and hike their prices in suburban districts.
HoREA said the city should release information in time about real estate projects and rescind Decision No. 33/2014 to stop land division.
According to the 2014 Law on Real Estate Business, individuals and organisations must have licences to engage in land transactions.
"Therefore, the city should enforce this regulation to prevent fraud and speculation," he added.
"In fact, there is no real estate bubble because the market bubble only occurs when businesses invest in segments that are not their strength while secondary investors purchase a number of apartments in the hope of making big profits when prices soar,"
"Such phenomena are not happening now," Chau said.
Nguyen Dang Quynh, general director of Hien Vinh Group, said, "I fully agree with Chau about the fact there is no real estate market bubble.
"Real estate bubbles occur when the economy is hot, monetary management is loose, one segment is getting a lot of investment but not others, speculation is increasing, and authorities fail to manage things.
"But right now, there are no signs of a real estate bubble."
Downturn worry
Economist Dinh The Hien predicted a downturn in the city property market starting at the end of this year.
"Around 40,000 units will be launched in 2017 and 2018. This will create an oversupply and cause a price fall."
In the last quarter of 2016 HoREA warned about an oversupply of high-end apartments in the market.
High-end apartments used to be primarily in districts 2 and 7. In 2016 they were centred on either side of the Sai Gon River.
It is estimated that more than 20,000 units are being built on the road from Nguyen Huu Canh to Ben Van Don along a section of the Sai Gon River.
On the other hand, experts said, 2017 would become a milestone year in the growth of mid-priced and affordable housing.
The mid-level and affordable segments has attracted many major developers such as Vingroup and Muong Thanh. Thousands of affordable units are expected to enter the market in the next three years.
Many developers who have not benefited from the high-end segment -- Him Lam, Nam Long, Hung Thinh, Dream Home, to name a few, and several foreign developers and investors -- have moved to the affordable segment.
According to figures from the Ministry of Construction, in 2011-15 there was an unsold inventory of more than 200,000 units.
The country now has more than 4,000 projects which will provide more than three million units.
Many investors and buyers have taken loans to buy properties, and plan to re-sell.
According to CBRE Viet Nam, more than 40 per cent of buyers now are speculators. This figure was 70 per cent in 2007, when the last housing bubble occurred.
At a HCM City People's Committee meeting on Monday, deputy chairman Le Van Khoa admitted that while there were many reasons for the "imaginary real estate bubble" the main one was the poor management by relevant authorities.
"The bubble is an important lesson for the city that there must be transparency in land-use planning." 
VNS