Vietnamese wood companies will not exploit, transport, process, produce or trade in illegal wood and wooden products, according to the Viet Nam Wood and Forest Association (VIFORES).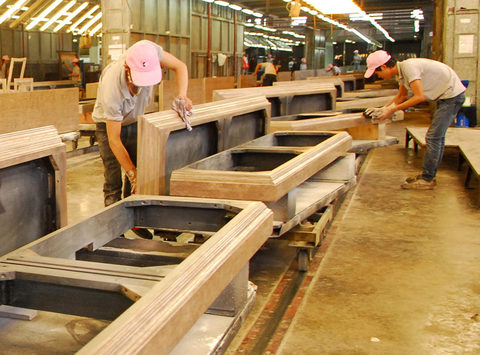 High quality wooden furniture production at the KAISER Furniture Vietnam Jsc. in Binh Duong Province.
With a view to achieve sustainable development of its exports, the wood industry has committed to refrain from illegal trading at a conference in Ha Noi late Friday, VIFORES chairman Nguyen Ton Quyen said.
Member companies of the VIFORES, Handicraft and Wood Industry Association of HCM City (HAWA), Forest Products Association of Binh Dinh (FPA Binh Dinh) and Binh Duong Forest Products Association of Binh Duong (BFPA) have all agreed to support the Government and management offices of the central and local administration in building, completing and implementing suitable policies and mechanism, in accordance with the Voluntary Partnership Agreement on Forest Law Enforcement, Governance and Trade (VPA/FLEGT) signed between Viet Nam and the European Union (EU).
This action aims to promote competition of Viet Nam's wood and wooden products enterprises in the world market, developing a mechanism to manage wood in natural forests, and encourage sustainable development of planted forests.
The enterprises will promote the use, processing and trading of wood and wooden products that are made from trees of planted forests in Viet Nam and from legally-imported wooden material.
They will also commit to co-operation in building and developing comprehensive and transparent information system and database on local wood processing industry, Quyen said.
These commitments will encourage local enterprises, organisations and individuals to produce, process and trade only legal wood and wooden products, and promote plantation of forests in the nation to create active and legal wood material for local wood processing industry, he said.
The commitments will also provide solutions to building a brand for Viet Nam's wooden products, and developing legal wood trading relationships with countries supplying wood material to Viet Nam and countries importing Vietnamese wooden products.
To Xuan Phuc, an expert from NGO Forest Trends, said wood material imported to Viet Nam has played an important role in the production and processing of Viet Nam's wooden products for export and the home market.
Viet Nam has annually exported four million to 4.5 million cubic metres of wood, earning US$1.8 to $2 billion, so there are risks of illegal wood being exported, he said.
Quyen said the United States, European Union and Australia have strict rules to regulate imported wood material. Thus, it is difficult for local enterprises to export their wooden products to these markets.
The Ministry of Agriculture and Rural Development said that in the first four months, Viet Nam had earned $2.4 billion, a year-on-year increase of 12.7 per cent in the export value of wood and wooden products. The US, China and Japan were the three largest export markets for local wooden products. 
VNS