Australian-owned Gloria Jean's Coffees recently decided to close its last store in Viet Nam, ending a 10-year stint in Ho Chi Minh City and Ha Noi due to slow expansion, high rents and an unsuitable business model.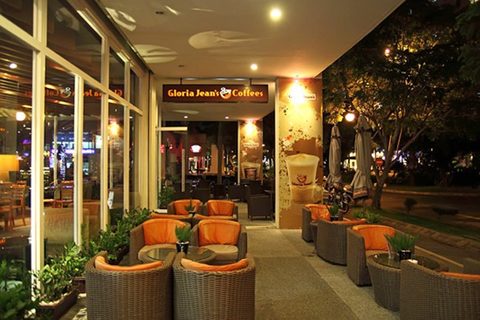 An Australian-owned Gloria Jean's Coffees store in HCM City. 
Gloria Jean's Coffees arrived in the country in 2006 after a local firm signed a franchise contract with it expecting the business would develop well like it did in Thailand and Malaysia.
This was based on the fact that the chain served Arabica coffee, a relative novelty in Viet Nam where the robusta bean rules.
Viet Nam, the world's number two coffee producer after Brazil, is known to have one of the fastest growing coffee retail markets, along with Indonesia, Turkey and India.
However, the Australian coffeehouse chain was only able to open six outlets in Ho Chi Minh and one in Ha Noi in the first six years.
Nguyen Phi Van, the first franchisee of Gloria Jean's Coffee in Viet Nam, told Vnexpress that the demise was due to the adoption of a business model that had been developed in Australia for the local and regional markets.
Later on, even after Gloria Jean's Coffees International allowed its franchise in Viet Nam to make some changes to its products to adapt to local people's tastes, the going remained really tough due to many reasons including fiercer competition from both foreign and domestic rivals like Starbucks, The Coffee House, Phuc Long, Urban Station, and Trung Nguyen.
Gloria Jean's Coffees is not the only foreign cafe whose business has failed in Viet Nam.
Last year New York Dessert Cafe (NYDC) said goodbye to its customers in Viet Nam via its Facebook page, promising to "return someday."
Brought to Viet Nam in 2009 by a Singapore Group, NYDC used to be one of the most popular foreign coffee chains in HCM City. It had expected to open 20 outlets in Viet Nam.
What when wrong for the foreign cafes?
Many coffee industry insiders said in the food and drink sector, the coffee area in particular, it is not easy for foreign players in Viet Nam even if when they have famous brands.
Some foreign coffee chains serve normal customers in their native countries but only affluent ones in Viet Nam.
Because of this they often choose prime locations in major cities for their shops, meaning very high rents and skyrocketing overheads.
Not surprisingly, their prices are often two or three times the prices at local cafes.
The attractiveness of foreign coffee products is also affected by their localisation: some beverages are made under foreign formulas but with domestic materials, meaning they do not seem "authentic" and put off foreign customers in Viet Nam.
However, locals too do not enjoy coffee made using foreign formulas and prefer local cafes.
The increasingly fiercer competition is another important factor contributing to the foreign coffee chains' failure.
Market observers pointed to the increasing dominance of affordable local coffee chains like Passio Coffee, The Coffee House, Phuc Long, Highlands Coffee, Urban Station, and Trung Nguyen.
These have also intensified investment in design and decor to give foreign cafes a run for their money in terms of looks.
Besides, customers there can get comfort foods that foreign cafes do not have such as pho (pho), bun (vermicelli soup), bread, hu tieu (rice noodle soup), and rice.
But according to analysts, international coffee brands continue to be interested in the Vietnamese market.
US chain PJ's Coffee opened its first outlet in HCM City recently and a second within two months. It hopes to have at least 10 additional stores in the next five years.
A spokesperson for TRG International, the franchisee of PJ's in Viet Nam, said each shop would be different and are based on lessons from the former.
This is also seen at Starbucks, where each shop has its own style with a specific group of customers in mind.
VNS