VietNamNet Bridge – I was at this year's travel and tourism Global Summit, which took place last month in Bangkok. One question I asked of all my Thai colleagues was what they think of the Thai government's decision to stamp out the so-called "zero dollar tours".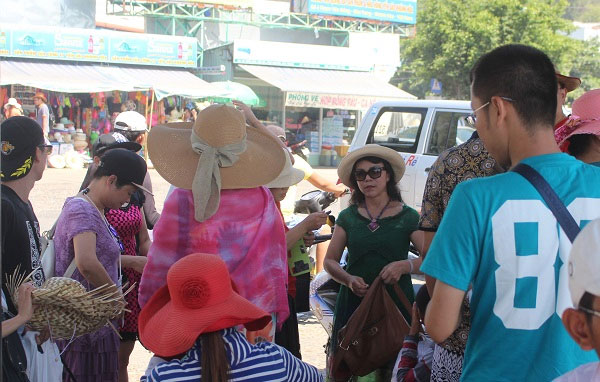 Chinese tourists in Nha Trang City  – File photo
As incredible as it may sound, "zero dollar tours" mean exactly that: a tour that costs nothing except for the airfare. These tours, while not exclusively made up of Chinese travellers, often include a significant number of them.
As they say, there's no such thing as a free lunch, and "zero dollar tours" are no exception. Tourists, instead of seeing beautiful places and enjoying luxurious hotels, are taken to shopping malls and gifts shops. There the visitors are persuaded, or sometimes forced, to buy items at inflated prices.
The tour companies get kickbacks from the shops, and in doing so can afford to keep running the tours. Worse still, the shops are often Chinese-owned and will almost always take cash exclusively. The whole business revolving around the "zero dollar tour" concept leaves little room for local firms, while local government loses out on massive tax revenue.
The businesses and government aren't the only losers in this game. The biggest losers are the tourists. Everyone joining in is doing so to save money. However, to their horror, the unwitting victims end up shelling out more on overpriced than they would have spent on a regular package tour.
For many tourists the scam leaves painful memories, and some vow never to return. A shame really, because they didn't have a chance to see the sights, forced to go from shop to shop, treated as cash-cows. Every once in a while stories surface of tourists abandoned on the street by their guides, the result of being unwilling to spend "enough".
A recent article in Los Angeles Times tells the tale of some unfortunate tourists, who were held hostage by the very tour companies they entrusted their holidays with.
Many said they were taken to shopping malls instead of going out for promised sight-seeing; some were even threatened by their tour guides. They were told if they didn't spend enough money on gifts they wouldn't have a place to sleep.
In September 2013, 43 Chinese tourists were held for three hours in a jewelry shop in Hong Kong. They all purchased a "zero dollar tour" from a company in China. For the entire duration of the tour, they were taken to eight different shopping malls and forced to spend hundreds of dollars on gifts and other unwanted goods.
By the Thai government's estimation, "zero dollar tours" cost the country US$9 billion a year. Most tourism experts will tell you the poison runs even deeper, as the damage caused to a country's image is, sometimes, irreversible.
It was perhaps no coincidence that right after the Thai government shut down the shady tours the number of Chinese visitors entering Viet Nam surged.
Statistics provided by the Viet Nam National Administration for Tourism show a record number of Chinese tourists during the first three months of 2017, with nearly one million visitors, marking a 63.5 per cent increase from the same period last year. Popular destinations including the border province of Quang Ninh and the coastal city of Da Nang welcomed tens of thousands of Chinese visitors on a monthly basis.
It is safe to assume that after Thailand's clampdown, the dodgy companies are looking for alternative destinations.
Those who follow the news might remember pictures of seemingly endless lines of Chinese visitors queuing up at the Mong Cai Border Checkpoint to enter Viet Nam. They may also remember reports of a large number of unusual shops, selling only to Chinese tourists while denying entry to anyone else. Numerous accounts from industry insiders revealed that these events were all part of the same sinister circle.
Tourism experts have long identified "zero dollar tours" as a serious threat to the country's tourism industry, even as a form of fraud that must be stopped to protect Chinese tourists and local companies.
Many pointed out that other factors, on top of financial loss, must be taken into account. The stress on local infrastructure networks, the impact on the environment and the negative influence the practice may have on tourists from other countries are all cause for concern.
In late March, the Quang Ninh authorities closed some 15 of the shops, a positive development in the ongoing fight against "zero dollar tour" companies. However, for the future health of its tourism business, Viet Nam must take serious action to shut down the companies and individuals involved, just like the Thai government.
Inevitably, Thailand's strong action precipitated a drop in the number of Chinese tourists, but most experts at the Bangkok summit agreed with the decision and believed it would benefit the tourism industry in the long run.
In the meantime, my Thai friends are putting on a brave face.
"Those tours have plagued our industry for years. We are happy to welcome back Chinese visitors. Hopefully, this time around they won't be on one of those rip-off tours," said a Thai tour guide who goes by the name of Tom.
"We cannot allow the image of our country and our people to be ruined in the name of greed," a Thai reporter who goes by Laura said, "I am confident that even without those 'zero dollar tours' Chinese people will come back to see my beautiful country."
Chinese visitors amounted to nearly 30 per cent of the total number of visitors to Viet Nam last year and this figure is expected to rise in the years to come. It is of great importance that the country's tourism authority starts working on measures to prevent the rise of "zero dollar tours", not just to protect local tourism but also the image of a hospitable country and the honest, friendly people of Viet Nam. 
by Hoang Anh
Source: VNS