Vietnamese developer BIM Group and InterContinental Hotels Group (IHG), one of the world's leading hotel operators, on Thursday opened their five-star property Crowne Plaza Vientiene in Laos' capital city.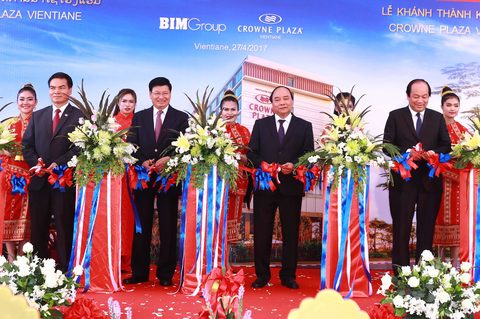 A view of Crowne Plaza Vientiane. 
Prime Minister Nguyen Xuan Phuc (second right) and other delegates cut the ribbon inaugurating Crown Plaza Vientiane, the first five-star hotel in Laos. 
The ribbon-cutting ceremony was attended by Prime Minister Nguyen Xuan Phuc and his Lao counterpart Thongloun Sisoulith.
The five-star hotel marks IHG's entry into Laos, and the completion of the first stage of BIM Group's major investment project in the country.
Crowne Plaza Vientiane is the first internationally branded upscale hotel in Laos, offering quality accommodation and a comprehensive range of facilities to meet the needs of business and leisure travellers.
Nestled in the heart of Vientiane, on Samsenthai Road, the 197-room hotel is a short 10-minute drive from Wattay International Airport and is ideal for meetings and events as well as a convenient base from where travellers can explore the city.
"We are proud to bring the first international five-star hotel chain to the capital city of Laos," said Doan Quoc Huy, a representative of BIM Group. "Crowne Plaza Vientiane is a part of Royal Square, a first-class hotel-office-shopping mall complex. This project represents BIM Group's first investment in Laos and shows our trust in the development of the country and of Vientiane."
"BIM Group is working with prestigious design houses, reputable construction contractors and top property management companies to implement all our real estate projects," Huy said.
Leanne Harwood, vice-president for IHG's operations in Southeast Asia and Korea, said Laos had seen significant economic growth in the last decade because of its growing infrastructure, which in turn has played a significant role in boosting tourism and attracting foreign investment into the country. "We are delighted to celebrate the opening of our first hotel in Laos," Harwood said, adding that Laos was gaining popularity as a tourist destination and had huge untapped potential.
The hotel has premium rooms and suites decorated with traditional Lao elements, and modern amenities, stylish restaurants, lounge bar, beer garden, infinity pool, 24-hour fitness centre and spa.
Crowne Plaza Vientiane is proof of not only the strategic cooperation between BIM Group and IHG but also of cultural exchange and economic integration between Viet Nam and Laos. 
VNS