Over 37% of apartment units put up for sale on the HCMC market are situated along Metro Line No.1 which connects Ben Thanh Market in District 1 and Suoi Tien Park in District 9, according to real estate consulting firm Jones Lang LaSalle (JJL).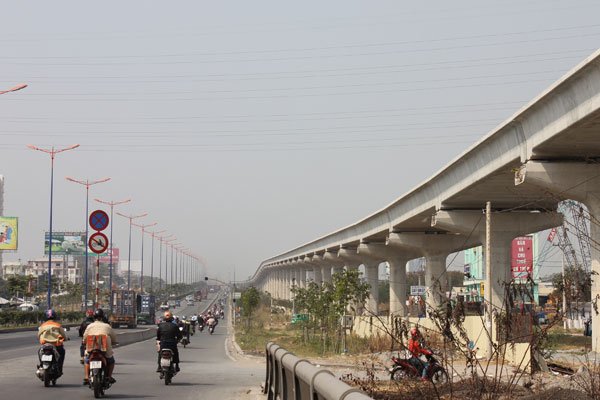 Metro Line No.1 is under construction in HCMC. Over 37% of apartment units put up for sale on the HCMC market are situated along Metro Line No.1
In many countries, metro routes have significant effect on real estate developments, resulting in land prices rising and property projects booming. 
Especially, retail and office premises are often located further away from the city center.
For instance, there have been marked changes in real estate buying behavior and travel habits of residents in Bangkok, Thailand since metro lines came into service.
Thais have become dependent on cars instead of motorcycles and they have travelled frequently to suburban areas. 
Notably, the number of property products along metro routes has increased by an average of 10% compared to other areas.
When the first metro line of HCMC comes into operation, it will take around 20 minutes to travel from Suoi Tien Park to Ben Thanh Market. 
Meanwhile, motorbike riders will need 25 to 50 minutes to travel between the two sites depending on weather and traffic conditions, according to JLL Vietnam's country head Stephen Wyatt.
Therefore, multiple housing projects have been developed along the metro line since 2012.
About 37,000 apartment units were put up for sale along Metro Line No.1 in the 2012-2016 period, with an extra 40,200 units ready by 2020, said Wyatt. 
Therefore, the 77,200 units account for 37.9% of the total on the city market between 2012 and 2020.
The number of apartment units available for sale grew 203% in District 2 in 2012-2016, followed by 160% in Thu Duc District, and 143% in Binh Thanh District.
Property investors prefer locations near metro stations for their projects, Wyatt added.
Of eight metro projects in HCMC, Metro Line No.1 with a total length of 19.7 kilometers is the only one under construction. 
Many real estate projects have been implemented along the line, including Thao Dien Pearl of SSG2 Construction and Real Estate Co, Masteri Thao Dien of Thao Dien Investment Joint Stock Co, Lavita Garden and Moonlight Garden of Hung Thinh Corp, and Him Lam Phu An of Him Lam Real Estate Trading Joint Stock Co.
There have been some projects along the planned Metro Line No.2, linking Ben Thanh Market and Tham Luong in District 12, such as Depot Metro Tower, Rich Star, Southern Dragon, Melody Residence, and Idico Tan Phu.
Property prices are expected to rocket along the planned metro lines thanks to high liquidity and adequate infrastructure.
Property service provider CB Richard Ellis Vietnam has forecast land prices within 10-minute walking distance to metro stations may be 10-20% higher than those in other areas.
SGT