Despite a drop in total dealflow, 2016 was a vibrant investment year for Vietnamese startups, according to a recent Topica Founder Institute (TFI) report.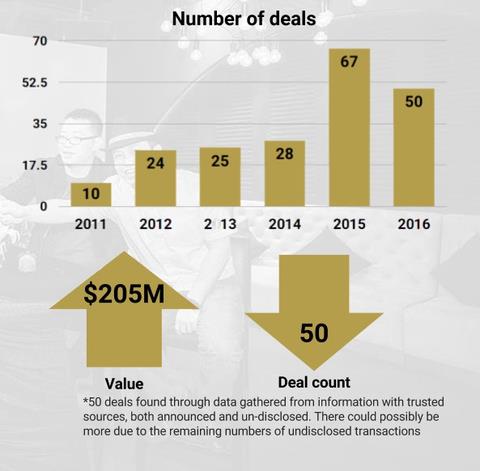 Deal count was down 25 per cent year-on-year from 67 to 50 last year. Meanwhile, startup deal value set a new record with $205 million last year, up 46 per cent year-on-year from $137 million.
"The market is fresh and still full of opportunities", said TFI in its report.
Most of the dealflow came from early stage funding (Seed and Series A), with some big deals going to F88 (Mekong Capital - $10 million) and GotIt! (Capricorn - $9.1 million).
Of these, nine TFI graduates got funding, accounting for nearly 30 per cent of all early stage funding deals in Viet Nam (Seed and Series A) in 2016.
The sweet spot continued to be medium-sized investments (less than $5 million), a trend that began in 2015.
The breakout sector was Fintech, with more than $129 million poured in. Notable deals went to Payoo, E-pay, Momo, and F88.
E-commerce was still the most active sector with 12 deals closed. However, e-commerce deals' combined value was only $34.7 million, one fourth of Fintech deal value.
Edtech also grew strongly last year, topping $20 million with six deals. Meanwhile, mediatech suffered a slow-down with only four deals and $4 million in total, reduced significantly from 15 deals and $15 million in 2015.
The report is prepared annually by Topica Founder Institute, a top-five accelerator in Southeast Asia.
Founded in 2011, TFI has successfully incubated five batches of 60 company graduates, with a total of $20 million funding, and all values at $100 million combined. Some notable TFI alumni are 3S, Appota, Beeketing, Giaytot, Kyna, Monkey Junior, Meete, Hoayeuthuong, and Atadi.
Viet Nam poses promises for fintech startups
With a total population of 90 million, Viet Nam promises to be a potential market for fintech startups.
Viet Nam's population is young and 80 per cent of the nation's population is expected to use credit cards by 2020.
Those conditions are quite promising for the future development of local fintech startups.
Major names among the new fintech generation include Money Lover, BankGo and F88.
The development of local fintech startups has drawn attention from overseas investors, for example, the Singapore-based fintech investment fund FinLab.
FinLab continues to closely watch the development of FinTech startups in Viet Nam.
Vietnamese startups had been developing strongly, FinLab's managing director Felix Tan told the e-paper Vnexpress in a recent event held by FinLab and the United Overseas Bank in early March. The investment fund noticed some interesting projects, proving that local fintech startups were entering the stage of rapid development.
However, developers of local fintech projects had been unable to convince potential investors that the projects would truly solve current issues, Felix said.
To develop further, Vietnamese fintech startups would have to invest strongly in their marketing strategies to promote the projects to customers and investors, he said.
VNS