VietNamNet Bridge – Deputy Minister of Industry and Trade Do Thang Hai tells the Vietnam News Agency that the nation will have to deal effectively with new-generation FTAs as it deepens its international integration.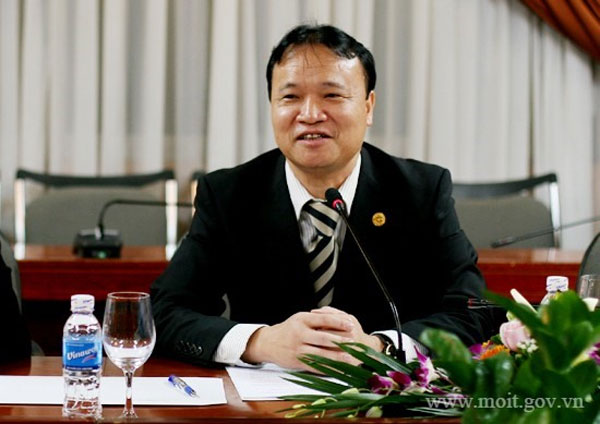 Do Thang Hai
As soon as he took office, US President Donald Trump announced that the US will withdraw from the Trans-Pacific Partnership (TPP). Do you think this will affect Viet Nam's global integration?
Viet Nam has implemented and is implementing the policy of proactively integrating into the global economy. We have negotiated for the TPP with a number of key targets, including reforming economic institution; getting access to external resources needed for the economic restructuring and sustainable development; expanding export markets through tariff reductions, opportunities to join supply chains, and so on.
TPP is yet to take effect, and this fact will certainly impact these targets. However, although TPP is very important, it is just a multilateral co-operation framework that we wish to join within the country's global economic integration process.
I think whether we have TPP or not, it will not change the integration orientation. It can certainly have certain impacts on short-term plans but will not change the long-term target of global economic integration.
Renewing and restructuring economic institutions is a basic need and is also Party and State policy. In both resolutions at recent Party Congresses or the Sustainable Development Strategy of Viet Nam for 2011-2020, the restructuring of economic institutions has been one of three strategic breakthroughs sought.
TPP would have been just a catalyst for the reform, shortening the duration of the process. Even without the TPP, we still actively build and complete the institutional reforms.
TPP was expected to create favourable conditions to access external resources and markets, particularly in the US. Without the agreement, it will certainly be more difficult to reach that target.
Our exports and foreign investment inflows will be affected. But I believe that we will adjust plans in the new context at both macro levels, for each sector and each business.
Effective use of internal and other resources has become a must for sustainable development, anyway.     
Regarding the scale and reach of integration, TPP is an important free trade agreement (FTA) but is not the only one. Apart from TPP, Viet Nam has signed ten other FTAs that already in force. Besides, the country is negotiating four other FTAs and has ended negotiations for another one. These FTAs include key trade partners like the ASEAN, EU, Japan, Russia, China, Republic of Korea and Australia.
The trade and investment relations between Viet Nam and the US have for a long time been adjusted by the US-Viet Nam Bilateral Trade Agreement (BTA), the Trade and Investment Framework Agreement (TIFA) and the World Trade Organisation (WTO) commitments.  
What do you think are main challenges facing the country's integration process in the coming time without the TPP?
Proactive and active participation in the global economy has helped Viet Nam promote its economic and institutional reforms, increase competitiveness, expand export markets, improve the business environment and support businesses in joining global value chains.
Many Vietnamese products have gained a firm foothold in international markets and are internationally competitive including garment and textiles, electronics and farm produce like rice, coffee and pepper.
The absence or delay of TPP does not mean that there is no space for the economy and the integration process to move on.
When the negotiations were taking place, TPP created a momentum towards reforming and completing institutions, drawing investment, positively influencing the labour market and production factors and the State-owned economic sector, and improving competitive capacity. This process will continue.
Moreover, relative advantages in terms of production costs, geological position, geopolitical context and free trade agreements that Viet Nam has signed or negotiated with major economies like the EU, Japan and the Republic of Korea will still provide important momentum trade and economic development and for attracting foreign investment.
Opportunities for Viet Nam to join other new-generation FTAs and bilateral FTAs with each member of the TPP still remain.
How does the Ministry of Industry and Trade plan to promote the integration process in the coming time?
Party General Secretary Nguyen Phu Trong last November signed and issued the Resolution on effectively implementing the international economic integration process will maintaining social and political stability as Viet Nam joins new-generation FTAs.
As the Resolution was being worked on, the ministry proposed six groups of measures to promote the effectiveness of FTAs:
- Increasing public awareness of the country's international economic integration and participation in FTAs, particularly new-generation FTAs. This includes increasing consensus within the whole society, particularly among enterprises and businesspeople, on international agreements, particularly opportunities, challenges and requirements related to joining and implementing new-generation FTAs through effective information dissemination and preparation of content for each sector, association, business and the community at large;
- Finalising the legal system and improving the legal capacity to effectively carry out new-generation FTA commitments. Raising legal awareness and capacity, particularly of international laws and international trade, for key officials of sectors and authorities at all levels, businesses, lawyers, officials whose work relate to litigation and those whose work directly engages with international economic integration;
- Improving operational effectiveness of the National Steering Committee on International Economic Integration and related committees. Increasing the competitiveness of the economy, of each sector, locality and business, and renewing and improving operational efficiency of the State apparatus, continuing to implement three strategic breakthroughs; finalising socialist-oriented market economy institutions, improving the investment and business environment, developing socio-economic infrastructure in a comprehensive, modern manner, and developing human resources to meet the needs of development and integration, improving and promoting the prestige and position of Viet Nam in the international arena to create a favourable environment for development by speeding up and actively deepening relations with partners; and
Effectively handling social issues emerging from the joining the new-generation FTAs, adjusting social relations, particularly labour relations and other issues. Proactively building and implementing policies to ensure social support for vulnerable groups during the implementation of new-generation FTAs; and
- Effectively dealing with environmental issues when implementing FTA commitments and considering receiving foreign investment projects, building, completing and implementing regulations on social responsibilities of businesses towards consumers and the environment.
VNS