Noticeable in the VNG Corporation's latest financial statement was that it recorded a loss from its investment in the Ti Ki JSC (Tiki) of about $4.3 million in the last quarter of 2016.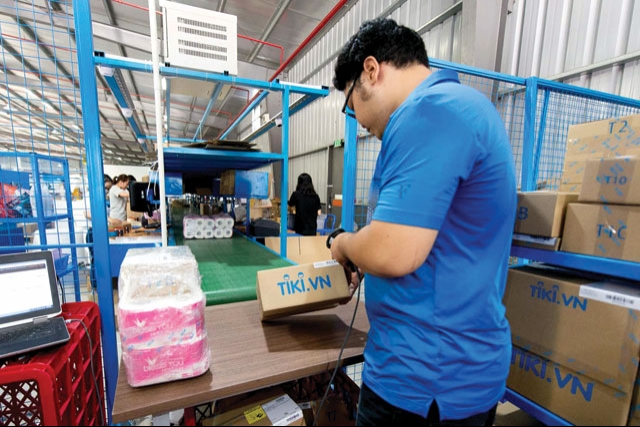 Based on figures in the VNG report, Tiki's losses in February and March last year totaled $916,000, which climbed to $2.54 million in the second quarter and $3.4 million in the third quarter. 
VNG's total losses in the Tiki investment stood at nearly $11.2 million in the eleven-month period.
Founded in March 2010 by Mr. Tran Ngoc Thai Son, Tiki was one of Vietnam's first e-commerce companies. 
It was initially created as an online bookstore, before becoming an e-commerce website with a fairly effective business performance that saw it attract investment from major funds. 
It gradually diversified into different types of technology, cosmetics, and household commodities and reported growth of 130 to 190 per cent over the last seven years compared to average growth of between 20 and 33 per cent in the sector as a whole.
Big spenders
Vietnam's e-commerce market in early 2016 was marked by the merger and acquisition (M&A) deal whereby VNG purchased 38 per cent of Tiki, the owner of Tiki.vn, for nearly $17 million, which valued the e-commerce business at about $45 million. 
It was considered one of VNG's largest transactions in the e-commerce sector. Tiki shares were also held by Seedcom, CyberAgent, and Sumitomo Corporation before VNG arrived on the scene.
In a document sent to VET, Tiki's leader did not mention anything about the losses and appeared to remain optimistic about his company's business results. 
He only noted the company's achievements in the past year, including its impressive growth rate, gross merchandise volume (GMV) reaching 131 per cent against 2015, and its net promoter score (NPS) of around 85 per cent. 
As the owner of another local e-commerce platform told VET at the end of last year, "most newly-founded e-commerce companies selling products online have suffered losses over the last few years." 
However, the loss levels will depend on the investment scale of the company.
Domestic e-commerce platforms have been struggling amid fierce competition due to low profit margins. 
Moreover, high operational costs remain a thorny issue for any investor despite the amazing growth in Vietnam's e-commerce market, of about 35 per cent. 
With more than 10,000 sq m of warehousing put into operation plus around 500 staff in storage and sales order management, Tiki's stock costs are estimated at $1 or $2 million every year. 
This is a major financial challenge for any startup in e-commerce.
Marketing expenses can also be a burden. 
Lazada Vietnam, for example, spent too much money on both TV and online advertising in its early stages to attract consumers and obtain market share. 
Shopee.vn, meanwhile, invested in direct online marketing to the community, with free delivery for orders above $6.60. 
With more than 10,000 orders a day, the cost of supporting its delivery service reached into the tens of thousands of dollars a month.
Tiki's 2016 losses, by quarter
Source: Ti Ki JSC

E-commerce enterprises also face the risk of losing orders. 
Cash payments remain popular in Vietnam, and sometimes orders are cancelled when the company delivers the product. 
As a new market, e-commerce providers are hit by costs being higher than revenue. 
Once they have a stable customer base, though, costs fall and profits can be made. 
Tiki's losses show that it was successfully fulfilling more orders, according to industry insiders. 
As Mr. Nguyen Thanh Hung, Chairman of the Vietnam E-commerce Association (Vecom), commented, "in order to become the leading e-commerce platform in Vietnam, enterprises must invest capital and it is very difficult to record profits initially."
The local e-commerce market has seen the departure of some e-commerce websites over the past year. 
The B2C site Lingo.vn closed in August last year after five years in the business, with a lack of capital cited as the reason. 
Big names such as Deca.vn and mother and child products retailer Beyeu.vn also departed the scene, due to "insufficient investment". 
Others were sold to foreign companies, including Lazada, which was sold to China's Alibaba, and Zalora to Thailand's Central Group, while Foodpanda.vn was acquired by local rival Vietnammm.
Nevertheless, a number of new names have taken their place. 
South Korea's Lotte Group jumped into e-commerce last October and hasn't hidden its ambition of becoming the market leader in the fiercely competitive sector, and already has a market share of about 20 per cent. 
Giant mobile retailer MobileWorld JSC (MWG) also announced the launch of its Vuivui.com website in the first days of this year, which heated up the competition.
Future potential
According to reports from Google and Temasek, Vietnam's e-commerce market is expected to grow between 33 and 35 per cent from 2015 to 2025; three-fold the growth in traditional retail. 
Mr. Tran Trong Tuyen, CEO of the DKT Technology JSC, said there is positive development in Vietnam's e-commerce market. More customers are moving towards e-commerce in place of traditional shopping. 
Mr. Pine Kyaw, Managing Director of Shopee Vietnam, said the local market is characterized by a large and young population that absorb new technology, especially smartphones.
According to Mr. Tuyen, the market continues to have potential but much needs to be done to equal the growth of 4.7 per cent seen in Japan and 7.3 per cent in the US. 
"I still expect Vietnam's e-commerce market to be successful if reasonable strategies are adopted, including in after-sales services and website function," said Mr. Tran Duc Tam, CEO of Z.com. 
At this point in time, it seems the challenges facing Vietnam's e-commerce market exceed the advantages. 
E-payments remain a critical issue, as cash-on-delivery (COD) is still the dominant payment method. 
There are also issues with product quality, information management and security, and reliable delivery. 
From a business perspective, local e-commerce providers are continually being squeezed by foreign competitors. 
Nonetheless, the future remains bright. 
Internet penetration is growing and more people are taking a liking to shopping online. 
The market's potential is simply waiting to be properly tapped. 
VN Economic Times