Foreign firms have shown increasing interest in supplying environmentally-friendly equipment for coal-fired power plants in Vietnam, as coal looks to retain its hold on the national power grid over the next decade.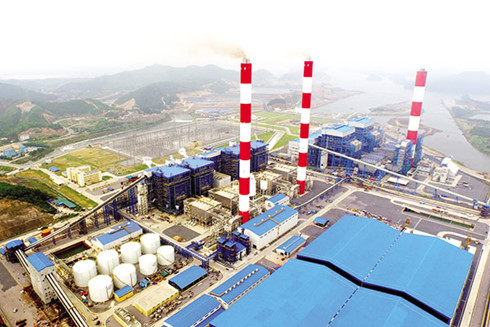 "The demand for advanced thermal power generation will increase as the government requests new thermal stations to protect the environment. 
This field offers ample business opportunities for foreign companies with cutting edge technology," said Nguyen Bach Khoa, country sales manager at Bosch Rexroth Vietnam.
Khoa told VIR that hydropower has almost reached its full potential in Vietnam, while plans for the nation's first nuclear power plants have been shelved.
Under the Power Development Plan (PDP) VII revised from 2016, the share of coal thermal power is supposed to increase to almost 50 per cent by 2025. 
In Vietnam, coal-fired  power plants have the lowest feed-in-tariffs – 7 US cents per kWh. 
The investment capital for a coal thermal power station is lower than that of hydropower, solar, wind, and nuclear power stations. 
However, pollution caused by coal-fired power stations has raised environmental concerns.
According to Khoa, Bosch is looking at possibilities of supplying environmentally-friendly equipment for new coal thermal power plants in Vietnam. 
The firm is currently conducting market research, to be concluded by July this year. 
Bosch has started meeting with many potential investors to seek business collaborations in the field.
Mitsubishi Hitachi Power Systems (MHPS), a newcomer to Vietnam, also has plans to become involved in the local market. 
The firm set up a representative office in Hanoi in November last year to secure its presence.
T. Aihara, senior vice president of MHPS, said that Vietnam is one of the most important markets for the firm in the near future. 
Already, MHPS has experience to supply main equipment for Phu My 1 and O Mon 1. 
Furthermore, the firm supplied de-nox system for Mong Duong 2 and provided dust removal system for Thai Binh 1.
"We are carefully watching progress in the PDP VII to adjust our business strategy. MHPS also has plans to find local suppliers in order to maximise localisation rate in the country," he said.
Meanwhile, South Korean firm Kepco, one of the world's largest power providers, is partnering with Japan's Marubeni Corporation on the implementation of the $2.3 billion Nghi Son 2 power project in the central province of Thanh Hoa.
Park Bogon, chief representative of the Kepco Southeast Office, said that the firm sees a high potential ahead for coal in Vietnam. 
It is currently seeking opportunities for developing coal-fired power projects in the south.  
According to Bogon, the firm is on track to begin construction on Nghi Son 2 within the year. 
After the investment agreement was signed last November, Kepco is now proceeding to the financing stage. 
Kepco is looking to receive an investment certificate for the project from the Ministry of Planning and Investment.
However, he said, there are some challenges for foreign investors in Vietnam. 
In particular, the Vietnamese government's policy for currency conversion does not meet the prerequisites for lenders like international banks or export credit agencies.
When it comes to environmental concerns, he stressed that construction of coal-fired plants should be left to trustworthy developers, those which have proven technology and experience in minimising potential environment risks.
According to Nguyen My Lan, commercial leader of Steam Power Systems at GE Vietnam, coal-fired power plants can be a practical solution for meeting Vietnam's power demands, but in order to implement them without sacrificing the environment it is crucial to have the right approach. 
To help coal thermal power operators all over world boost efficiency while at the same time reducing emissions, GE offers a suite of innovative  and advanced technologies including ultra-supercritical technology, air quality control systems, and flue gas desulfurisation technology.
"Our Steam Power Services business has expanded to provide the newest technologies, including digital solutions, on one of the world's largest installed bases for coal power, allowing GE to provide greater value to customers and support our business growth plans," Lan said.
VIR