There's no evidence showing that fertiliser imports have damaged local fertilser products to apply trade defence measures for the imports, according to a report by the Viet Nam Competition Authority (VCA) under the Ministry of Industry and Trade.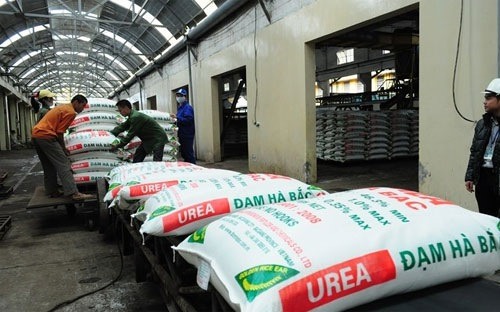 Production line at Ha Bac Nitrogenous Fertiliser Plant. Ha Bac and Ninh Binh fertiliser plant have faced losses due to difficulties in production but not imports. 
According to the report sent to the ministry, the authority said two nitrogenous fertiliser production enterprises in Viet Nam, Ha Bac and Ninh Binh, faced many difficulties due to an increase in coal price over the past months.
Viet Nam has four plants producing nitrogenous fertiliser, including two plants producing fertiliser from gas - Phu My and Ca Mau - with an annual capacity of 800,000 tonnes each. 
The two remaining plants, Ha Bac and Ninh Binh, use technology producing fertiliser from coal, with an annual capacity of 480,000 tonnes and 560,000 tonnes, respectively.
The authority said Phu My and Ca Mau had still earned profit because their selling price at VNĐ5,600 per kilo is higher than production cost at VNĐ4,500-4,800 per kilo.
Meanwhile, the production cost is at a higher level of VNĐ10,000 per kilo for the Ninh Bình fertiliser plant and VNĐ7,600 per kilo for the Ha Bac plant. Therefore, the two plants' products were unable to compete with imported fertiliser products.
Ninh Binh plant has been forced to suspend its production while Ha Bac plant has also temporarily stopped production since August 2016 due to high inventory and annual output reaching just half of the capacity.
The VCA said the two enterprises producing fertiliser from coal had incurred losses because they were using outdated technology, while the global trend was the production of fertiliser from gas. Additionally, the two plants were buying coal at a higher price against the global price, baodautu.vn reported.
Therefore, there was not enough proof to conclude that the main reason they were facing difficulties currently was because of imports.
The fertiliser plants themselves have said the primary reasons for difficulties included the unreasonable value added tax policy and the higher purchase price of coal against the world coal price. 
VNS